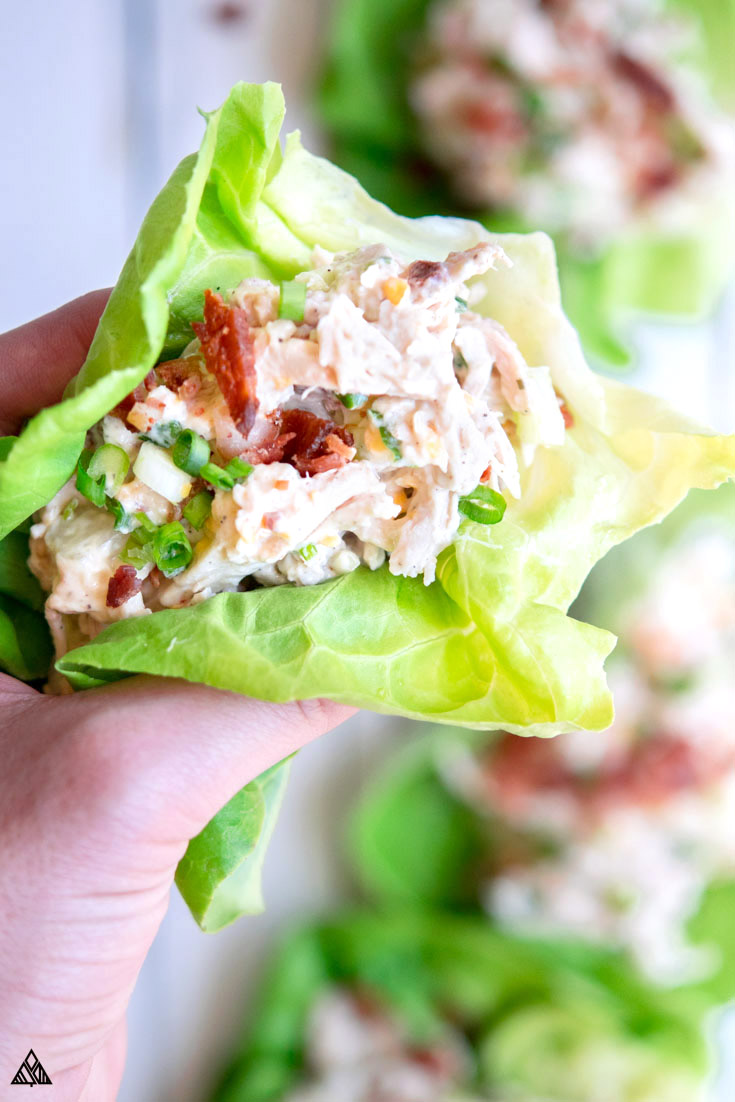 Rotisserie chicken is good, but this rotisserie chicken salad is better. And may just be the best thing you've ever tasted…
Because it's made of ranch dressing + green onions + bacon + cheddar cheese + rotisserie chicken. Need I say more? Creamy, crunchy, cheddar-y, bacon-y goodness, mixed into a portable, protein packed low carb lunch.
Wrap your rotisserie chicken salad up in lettuce, throw a dallap on some avocados, stuff it inside a hollow tomato — heck even on its own this stuff is irresistable! Perfect for low carb meal prep picnics, even fancy lunch ins!
No matter the occasion, I know you're gonna love this rotisserie chicken salad. So, let's get mixing friends!
Low Carb Chicken Salad Ingredients
As you know, there are a billion ways to make low carb chicken salad. A traditional chicken salad recipes or simple rotisserie chicken salad is made using mayo, celery and onions — all low carb foods, and super delicious, but we've been there and we've eaten that. So, I decided to fancy up these rotisserie chicken salad ingredients to get it tasting extra delicious.
First, there's the chicken. I chose rotisserie chicken as it's got a juicy, delicious, flavor, especially compared to alternative cooking methods. I shredded the chicken into bite sized pieces using my hands, leaving off the skin. Then I found this hack to quickly shred chicken, how cool???
If rotisserie chicken isn't an option, you can swap it with:
Basic Chicken Salad Recipe
A basic chicken salad recipe calls for baked or boiled chicken. If you'd prefer this, replace the rotisserie chicken with cooked, shredded/diced chicken. Some stores sell pre cooked chicken to save you some time!
Canned Chicken Salad Recipe
This recipe can easily be turned into a canned chicken salad recipe by swapping the ingredient and using the same measurements. If you use canned chicken, be sure to drain any liquid before adding it it!
Every rotisserie chicken salad needs something crunchy. This is most commonly done with celery. You can also add low carb nuts or seeds (I love tossing in sliced almonds, pepitas or sunflower seeds!)
Then, any flavorful additions you'd like. Always onions, and who hasn't tried rotisserie chicken salad with grapes, cranberries, and/or raisins? A southern chicken salad recipe typically adds a nice crunch using pickles (yum!)
In staying consistent with our low carb recipes, I decided to add a handful of low carb shopping list items even non low carb-ers LOVE: bacon, cheddar cheese and green onions. Bam! You can also get creative with spices:
curried chicken salad
Try curried chicken salad if you're looking for a funky take on this traditional dish. It utilizes a handful of different veggies and spices, that are hard not to love!
Then there's the creamy, saucy part of any rotisserie chicken salad recipe. Mayo is the most common ingredient used, which just so happens to be a low carb shopping list item. In this recipe I used a combination of low carb Greek yogurt and keto ranch dressing. Because they're both low carb and they're both amazingly delicious!
If you'd like to save yourself even more carbs, use ½ mayonnaise and ½ ranch dressing. Here's a little more about your options:
Keto Ranch Dressing
Ranch is a delicious, creamy, flavor packed ingredient that works wonders as a sauce in this rotisserie chicken salad recipe. Be sure to check the nutritional labels of the products you use, as some ranch dressings are higher in carbs than others. You can also make your own keto ranch dressing!
greek yogurt chicken salad
I much prefer the taste, texture, and macronutrient breakdown of Greek yogurt chicken salad. As an ingredient, low carb greek yogurt adds more protein and less fat to this rotisserie chicken salad recipe than mayonnaise. It'll also add a few more carbs to the equation — use whatever works best for you!
Save Your Favorite Recipes!
Create an account and save all your favorite recipes for easy access!
avocado chicken salad
A delicious way to make this rotisserie chicken salad healthy – er, is to skip to mayo, greek yogurt and ranch dressing all together and mash up some avocados instead! Avocado chicken salad is every bit as creamy as the alternatives, although it tends to brown more easily, so eat it quickly!
There you have it! Everything you need to know about how to make chicken salad at home, with a handful of tasty variations.
How to Eat this Keto Chicken Salad
If you're anything like me, you'll be eating this keto chicken salad straight from the mixing bowl. But if you're looking for a more socially acceptable presentation, try:
low carb lunch meal prep!
Aside from being super delicious, I love this rotisserie chicken salad because it makes for an easy low carb lunch to meal prep! I make a giant batch at the beginning of the week, and use one of the variations above each day. No dirty dishes to clean, and lunch is ready in minutes! Making it easy to stick to low carb goals, and enjoy what you eat.
Best Rotisserie Chicken Salad Recipe
Without further ado, let's get making this rotisserie chicken salad recipe! I hope you love it as much as I do, let me know what you think in the comments below! Did you try any of the variations? How do you eat low carb salads? Enjoy!
Rotisserie Chicken Salad
This rotisserie chicken salad is full of creamy, crunchy, cheddar-y, bacon-y goodness, mixed into a portable, protein packed low carb lunch! What more could you ask for?
Ingredients
4

Cups

Rotisserie Chicken

shredded

1/2

Green Onions

chopped

1/2

Cup

Bacon

crumbled, about 8 bacon slices

1

Cup

Cheddar Cheese

shredded

2

Celery Sticks

chopped

1/2

Cup

Low Carb Greek Yogurt

to save carbs swap with mayonnaise

1/2

Cup

Keto Ranch Dressing

be sure to check nutritional labels of ranch dressing or make your own

1/2

Teaspoon

Salt

1/4

Teaspoon

Black Pepper
Instructions
Chop, shred, cook and crumb ingredients above.

In a small bowl, mix together ranch, salt, pepper and

Greek yogurt

.

In a large bowl, mix the remaining ingredients.

Pour ranch/yogurt combo into large bowl and stir until combined.

Store in the fridge, and enjoy!
Notes
To save carbs:
Use mayonnaise, it's lower in carbs that low carb Greek yogurt
(but higher in fat and lower in protein).
If using store bought ranch, be sure to read nutritional labels
If using Greek yogurt, read labels. I stick to Fage, or Trader Joe's brand as they're often lowest in carbs and highest in protein.
  I find the best lettuce for lettuce wraps is Romaine, as it holds it's form best!
Nutrition
Calories:
155
kcal
|
Carbohydrates:
0
g
|
Protein:
14
g
|
Fat:
10
g
|
Saturated Fat:
3
g
|
Cholesterol:
46
mg
|
Sodium:
205
mg
|
Potassium:
136
mg
|
Fiber:
0
g
|
Sugar:
0
g
|
Vitamin A:
3.4
%
|
Vitamin C:
0.4
%
|
Calcium:
8.5
%
|
Iron:
3.6
%
©Little Pine Low Carb. Content and photographs are copyright protected. Sharing of this recipe is both encouraged and appreciated. Copying and/or pasting full recipes to any social media/website/blod is strictly prohibited.