Creamy, crunchy, and customizable – smoked paprika, crisp onions, and PICKLE JUICE make this easy egg salad far from the ordinary. It's the perfect make ahead lunch, and can be enjoyed a handful of ways, let me show you why this is the best egg salad recipe!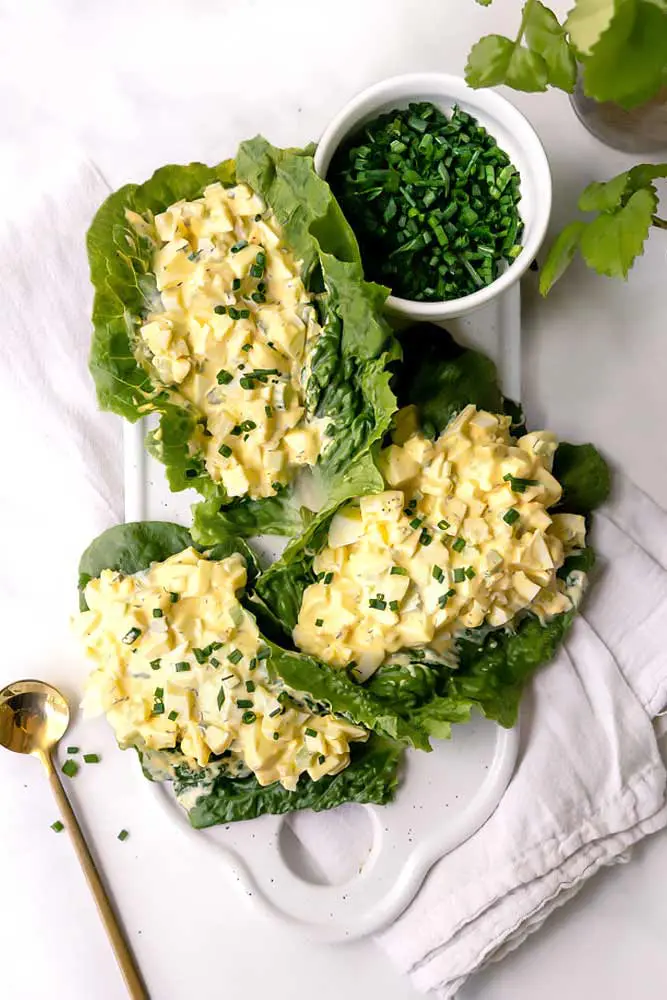 Want to Save This Recipe?
Enter your email below and we'll send it straight to your inbox. Plus you'll get great new recipes from us every week!
Before we dive in, here's the key to an egg-cellent salad. The little things in cream-based salads are often overlooked and need to be in perfect order to make a salad as cravable as it can be. The key components are:
A bit of CRUNCH
The right amount of CREAM
Some sort of ACID or TANG
Something INTERESTING
Doesn't describe the egg salad from your local deli? Follow my egg salad recipe and learn to LOVE it. 💛 – Linds x
Classic Egg Salad Ingredients
As mentioned, what makes this the best egg salad is the perfect combination of necessary fixings:
Crunch: freshly chopped celery and white onions are the perfect crunchy components. Without it, this easy egg salad can be soggy and taste more like diced hard-boiled eggs. Make sure your veggies are FRESH so they maintain that beautiful crispness in every bite.
Cream: mayonnaise is the classic choice. Although if you'd like a low carb egg salad without mayo, try Greek yogurt for a stellar substitute (more protein + carbs, less fat). Or mash an avocado instead of mayo for avocado egg salad.
Acid/tang: common ingredients here are lemon juice or vinegar. I prefer dill pickle juice, as it's far more flavorful.
Something interesting: my secret to any and all cream-based sauces is to add a bit of spice. Not to actually add spice, but to make the cream sauce more complex–really, it adds a lot! And dried dill amps up the dill pickle flavor.
Variations + Substitutes
Here are a few simple ingredient swaps to this classic egg salad:
Make a lower-fat version by using egg whites only. Consider subbing mayo for Greek yogurt as well.
Adding spice, such as sriracha, your favorite hot sauce (check out my buffalo chicken salad for inspo), or even more smoked paprika (ala deviled egg salad).
BACON is always a great addition. Or ham, ala ham salad.
Different spices + veggies: you know the key components. Now swap them out for your faves. Try bell peppers instead of green onions, avocado instead of mayo, or taco seasoning instead of cayenne.
How to Make Egg Salad
Just like deviled eggs, egg salad is incredibly easy to make, the hardest part is prepping the eggs! (Psst–you can always use store bought hard boiled eggs!).
1 – Cover eggs in 1″ of water and bring to a boil. Nestle lid on top and turn off the heat, allow eggs to cook like this for 18 minutes.
2 – Drop eggs in an ice bath to prevent them from cooking further.
3 – Peel, then dice the eggs.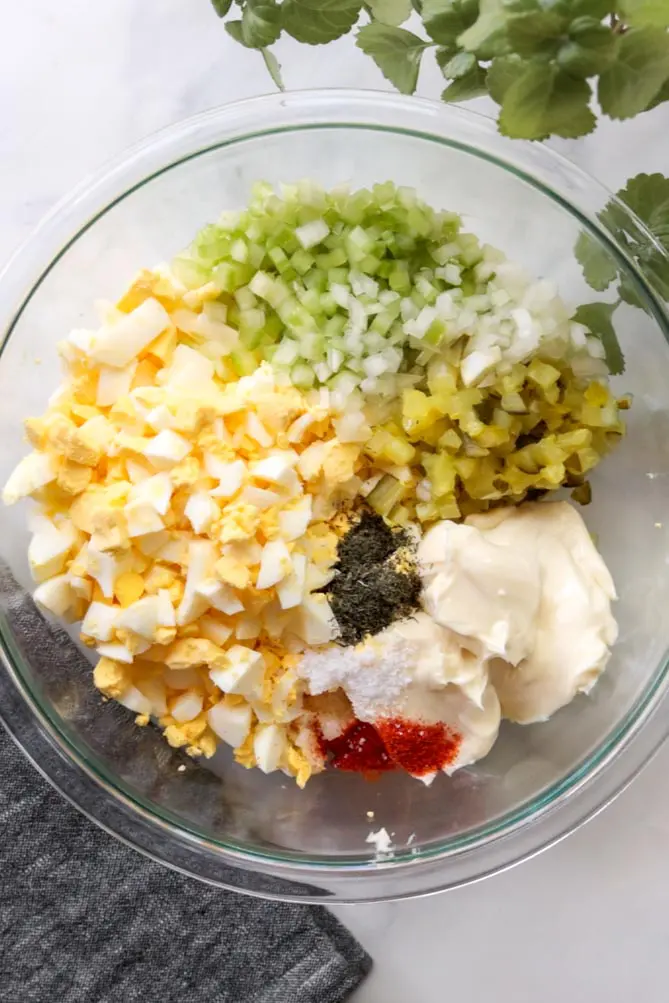 4 – Place all ingredients together in a bowl and toss to combine. That easy!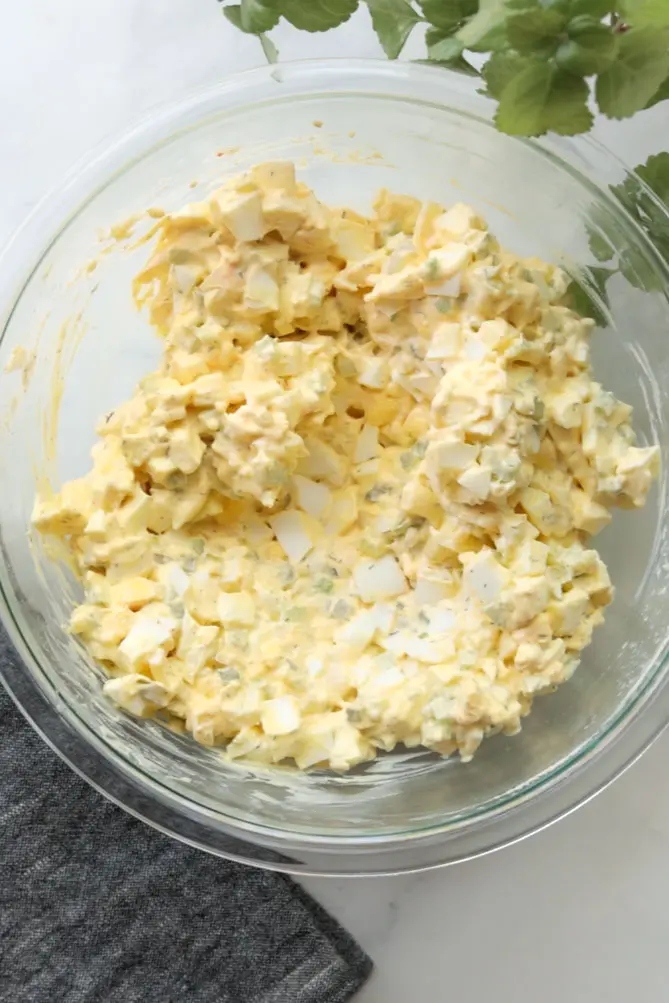 How to Eat Easy Egg Salad
Eat this healthy egg salad as you would any other egg salad, here are our favorite ways:
Straight from the bowl with a spoon.
With crackers, keto crackers, cucumber slices, or celery sticks.
Toasted bread, keto bread, or even wrapped in lettuce.
Stuffed into your favorite vegetables, like hollowed-out bell peppers, tomatoes, cucumbers, or avocados.
Storing your Egg Salad + How Long it Lasts
Your egg salad will be even tastier the next day! Be sure to store it in an air-tight container in the fridge. Pack your toast or lettuce leaves on the side, to keep them fresh and crisp for serving.
Best Egg Salad Video Tutorial
More Egg Recipes You'll Love
Egg Salad
Print Recipe
Pin Recipe
Ingredients
12

Large Eggs

(note 1)

1/2

Cup

Celery

chopped

1/4

Cup

Yellow Onions

chopped

1/2

Cup

Mayonnaise

2

Teaspoons

Dill Pickle Juice

(note 3)

1/4

Teaspoon

cayenne pepper

1/2

Teaspoon

Dried Dill

1/2

Teaspoon

Kosher Salt
Instructions
Combine. Add all ingredients to a large bowl and stir to thoroughly incorporate.

Serve. Cover the bowl with plastic wrap and allow it to rest in the fridge for 30 minutes before serving (note 4). Eat it with a spoon, scoop it onto toast, or into lettuce wraps, and enjoy!
Rate this Recipe
Fans Also Made These Low Carb Recipes:
Lindsey's Tips
Variations:
Classic – Recipe as shared above.
Relish – Add 3 tablespoons of relish. Opt for dill relish if keto.
Avocado – Mash 1 medium avocado with the back of a fork, along with your pickle juice. Leave out the mayonnaise
Deviled – Remove cayenne pepper, and add 3 1/4 teaspoons of smoked paprika.
Smoked salmon – Add 6 ounces of chopped smoked salmon, 3 tablespoons of capers, and 1 tablespoon of dill. Swap mayonnaise for 1/4 cup of cream cheese, and lemon juice for pickle juice.
Buffalo – Add 1/2 cup of Frank's Red Hot, 1/4 cup blue cheese, and 1/2 cup additional chopped celery. Use green onions instead of red onions.
Recipe Notes:
Easy hard-boiled eggs – Cover eggs with 1 1/2″ water in a large saucepan and bring water to a boil. Remove from heat, secure lid, and set aside to rest for 18 minutes. Use a slotted spoon to place eggs in a large bowl of water and ice. Once cool enough, peel + chop.
Easier hard-boiled eggs – Purchase hard-boiled eggs from Costco or Trader Joe's! Just be sure there are no preservatives added, as this will affect the taste.
Pickles – I prefer dill to sweet pickles, but either will work.
Egg salad tends to taste better after a few hours in the fridge. It's hard, I know! But worth it.
Nutritional information is based on 1 serving if you divide this recipe into 6 servings (about 1/2 cup) and is for the "traditional" variation:
Nutrition
Calories:
258
kcal
Total Carbohydrates:
2
g
Protein:
11
g
Fat:
22
g
Sodium:
454
mg
Fiber:
1
g
Sugar:
1
g
Net Carbs:
1
g
©Little Pine Low Carb. Content and photographs are copyright protected. Sharing of this recipe is both encouraged and appreciated. Copying and/or pasting full recipes to any social media/website/blog is strictly prohibited.