Whenever I'm craving quick and flavorful low carb chicken recipes, this zucchini enchiladas recipe always comes to mind as a favorite.
You'll be blown AWAY by how many flavors and textures are packed into this zucchini recipes layers!!
Utterly scrumptious and so easy, this innovative dish is one of those low carb dinners that make you say, tortillas who?? Juicy Mexican chicken combined with creamy cheese and tender zoodles make dinner a fiesta!
Low carb recipes this delicious are what make this lifestyle sustainable! Enough talking – let's dive in!
Looking for more keto dinners? Check out my keto eggplant lasagna, or pizza chicken roll ups.
What I Love About This Keto Zucchini Enchiladas Recipe
Besides the fact that it's super mouthwatering? Well….
You have all of these ingredients already, or can get them easily! This is a basic recipe with a few new (but easy!) techniques.
Ready in under an hour, and half of that is bake time!
Amazing flavors, giving you that comforting, fiery dinner you crave, sans carbs!
Enchilada Recipe Notes
Anytime I make a new recipe, it takes a little getting used to. Here are some of the things I learned to make this keto zucchini enchiladas recipe a breeze:

Ingredient Notes
You're probably familiar with most of these basic ingredients, but here are a few insider tips:
Chicken – For this recipe you'll want to pre-cook your chicken. You can do it in a pan or in an instant pot. OR! Buy a rotisserie at the grocery store and shred it. You can also use leftover Mexican chicken, or whatever you have.
Cottage cheese – Thought this was just for breakfast? Think again! This mild and fresh keto cheese is low in calories and packed with protein!
It makes an amazing filling in these keto zucchini enchiladas, but you can also use sour cream or greek yogurt if that's what you prefer or have on hand. 
Enchilada sauce – This thin tomato sauce and spices can come in red or green, plus a variety of spice levels! It may be worth it to get a few and experiment to find a brand you love, because it can make a big difference, and is a pretty individual choice.
My current fave? Trader Joe's Brand! OR! This homemade enchilada sauce that only takes 5 minutes to make!
Tools To Make
Vegetable peeler – you probably have this basic tool around the house already, but did you know this actually comes in a few varieties? A Y-peeler may be a new gadget for you but it will be immensely helpful if you are planning to make a lot of recipes with wide zucchini noodles like these keto zucchini enchiladas call for. You can also use a mandolin, like I do when making zucchini lasagna
Casserole dish – This keto casseroles great in a 9×13 casserole dish, or a large skillet.
Cooking Tips
Sweating the zucchini is important, skipping this step means this keto zucchini enchiladas will be pretty darn watery!
I'm sharing 2 ways to make this keto zucchini enchiladas: the prettier version (filling rolled inside slices zucchini) and the EASY ONE (just toss everything together in a casserole dish). The flavor is the same! So you decide which you'd prefer.
Can You Freeze This?
You sure can, before or after baking. If you freeze before, wrap in several layers of plastic wrap and foil. Thaw before baking, or add some extra bake time to make sure it cooks through.
Keep your toppings in the fridge to add freshly after baking or reheating. 

Recipe Variations
Want to spice it up? I got you – let's try something new!
Use a different type of meat for the filling. What kind of enchiladas are you craving? You can use ground beef or turkey (like keto taco casserole) or even flaked and drained tuna for vegetarian enchiladas (ala keto tuna casserole!)
Add more vegetables. Keto vegetables are EASY to sneak in with tasty dishes like this one. Opt for subtle tasting veggies like cauli rice (for a cauliflower rice casserole), spinach, or kale. Veggies with a totally different texture do better in their own dish (think: keto green bean casserole).
Swap zucchini for a different veggie. You can use yellow summer squash instead of zucchini for a keto squash casserole. If you're going with the "easier" method, you can turn this into a spaghetti squash casserole.
More Zucchini Recipes
Is zucchini your FAVE low carb veggie?  I have plenty of recipes to curb your cravings! (Hey, I'm here to help!) Check these out: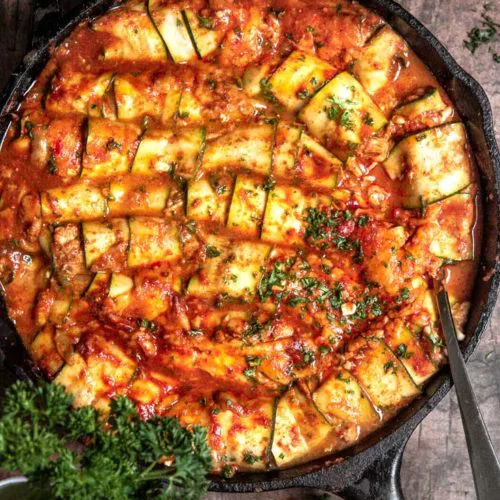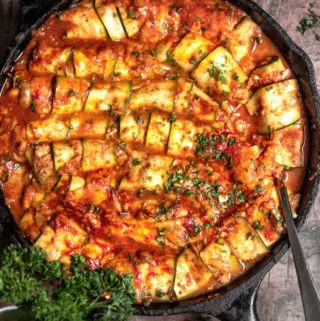 Zucchini Enchiladas
Print Recipe
Pin Recipe
Ingredients
4

Medium

Zucchinis

2

Tablespoons

Mild Tasting Oil (see notes below)

1

Cup

Onion

chopped

1

Teaspoon

Kosher Salt

1/2

Teaspoon

Pepper

4

Ounce Can

Green Chilies

diced

4

Tablespoons

Taco Seasoning

 or 1 (1.25-ounce) package taco seasoning

1/4

Cup

Water

3

Cups

Chicken

cooked + shredded (rotisserie works great!)

1

Cup

Cottage Cheese

greek yogurt, or sour cream

2

Cups

Sharp Cheddar Cheese

shredded

12

Ounce Jar

Red Enchilada Sauce

1

Cup

Monterey Jack Cheese

shredded
Instructions
Zucchini:
Remove the ends of the zucchinis (4 medium size) and cut in half lengthwise.

Use a vegetable peeler to cut the zucchini into long/thin strips.

OPTIONAL (but highly recommended, see notes below**): Place the zucchini slices in a colander and generously salt them. Allow the zucchini to sweat for 15 minutes, then rinse with water and toss them in heavy kitchen towels to gently ring out and release excess water.
Filling:
Heat vegetable oil (2 tablespoons) in a large skillet over medium heat.

Once shimmering, add chopped onion (1 cup), salt (1 teaspoon), and pepper (1/2 teaspoon) and saute until soft -- about 10 minutes.

Add taco seasoning (4 tablespoons) and toss to coat the onions. Cook until fragrant, about 2 minutes.

Add diced green chilis (4 Ounces), water (1/4 cup). and cooked + shredded chicken (3 cups). Stir until the taco seasoning dissolves in the liquid and everything is well coated in sauce.

Remove from heat and stir in cottage cheese (1 cup) --or sour cream/Greek yogurt--, and shredded cheddar (2 cups). Stir until well combined and the chicken is coated in sauce.
Assembling (see tips below*** for an EASIER method):
Spread the enchilada sauce (1 cup) evenly along the bottom of an 11x14 casserole dish, or large skillet.

Lay the zucchini (3 slices) on a flat surface, overlapping their edges a bit.

Place a dollop of filling toward one end of the sliced zucchini.

Roll the zucchini over the filling.

Lay the rolled zucchini seam side down in your prepared casserole dish.

Continue until you've done this for all the zucchini.

Cover the zucchini with the remaining enchilada sauce and sprinkle with jack cheese (1 cup).

Bake in the preheated oven for 20-25 minutes, you'll know the enchiladas are done once the cheese is golden brown.

Top with cilantro, avocado, sour cream and enjoy!
Rate this Recipe
Fans Also Made These Low Carb Recipes:
Lindsey's Tips
Mild Tasting Oil.

You want an oil with a high smoke point and mild flavor -- think avocado, vegetable, safflower, sunflower, peanut. Skip EVOO, coconut, or sesame oil.

Sweating the zucchini. This step isn't necessary, but we much prefer it. If you skip this step, your sauce will have water in it, however, it'll still be tasty!
To save time, turn this into a casserole instead of rolling enchiladas. Simply toss all ingredients together (except shredded jack) and spread them into a casserole dish. Sprinkle the top with the shredded jack. Increase bake time to 35 minutes, you'll know it's done once the casserole is heated through. 
I was able to make 24 enchiladas using this recipe. If you do the same, nutritional information is based on 4 enchiladas:
Nutrition
Calories:
427
kcal
Total Carbohydrates:
10
g
Protein:
26
g
Fat:
29
g
Sodium:
1906
mg
Fiber:
4
g
Sugar:
11
g
Net Carbs:
6
g
©Little Pine Low Carb. Content and photographs are copyright protected. Sharing of this recipe is both encouraged and appreciated. Copying and/or pasting full recipes to any social media/website/blog is strictly prohibited.