You've heard of pizza rolls… now let me introduce you to the chicken roll. We're talking melty mozzarella, pepperoni, and sauce… there's even a crispy crust. You've never had chicken like this before.
Wanna see what else chicken can do? Try my mozzarella stuffed chicken, cream cheese stuffed chicken, or get in some greens with asparagus stuffed chicken.
Want to Save This Recipe?
Enter your email below and we'll send it straight to your inbox. Plus you'll get great new recipes from us every week!
[wpforms id="103279"]
Turn Your Next Chicken Dinner Into Pizza Night
I know that there is lean, healthy protein at the base of this dish. But my inner child still rejoices. This is pizza. A few classic toppings set the tone. Then the chicken is coated with seasoned parmesan– That's where the crispy crust comes in— the parm will get crunchy and delicious. Easily my favorite part. Then it all gets dipped in marinara sauce.
So to review: pizza sauce, mozz, pepperoni, chicken, and parm. Yep, this is pizza. Delicious, easy, satisfying, and fun. That's just how chicken rolls. 😂 – Linds x
Ingredient Notes
Boneless Chicken Breasts – Getting your chicken nice and thin (see notes below) is key in maximizing the flavor of the filling here.
Pepperoni – Our favorite pizza topping, see below for variations.
Cheese Sticks – Way easier than using shredded cheese. You can also use sliced mozzarella if that's what you have.
Parmesan cheese – grate your own, or buy a product from the refrigerator section (skip the processed shelf-stable options, it doesn't have the same flavor and level of salt).
Pizza Sauce – If low carb, check labels carefully for a keto pizza sauce, as many products contain added sugar.
But Wait, no Breadcrumbs?
We tested this chicken roll recipe with and without breadcrumbs and honestly found the breadcrumbs didn't add extra crunch (the parm really does the trick!). If you want to add a bit of carb to the dish, replace 1/4 cup of parmesan with bread crumbs and toss it all together before coating your chicken roll.
How to Make Chicken Rolls
Slice chicken breast in half
Place chicken in a large plastic bag, remove air and seal. Or between 2 sheets of plastic wrap. Use a meat mallet to pound until the meat is an even 1/4th inch thick. Psst — don't have a mallet? Use a rolling pin!
Place a cheese stick and 8 pepperonis at the bottom of your chicken.
Tightly roll the chicken over the cheese stick, making sure to tuck the filling in as you roll.
Place a toothpick to secure the filling.
Dip the rolls in a shallow bowl with the whisked egg.
Dip the rolls in parmesan and Italian seasoning.
Place on a baking sheet and bake in the preheated oven until the chicken is cooked through (the juices will run clear).
Pour pizza sauce over the cooked chicken roll, garnish with parlsey, and enjoy!
Top Tip For For Easy Chicken Roll Making…
No one likes pounding chicken. But, it's necessary for this chicken roll recipe. So, my favorite trick is step #1, slice the breast in half first (basically butterfly the chicken, but cut it in half), then pound the chicken. This cuts down your work by a lot! Another hot tip is to use a large plastic bag instead of plastic wrap to dramatically cut down on the mess!
Storing + Reheating Tips
This chicken rolls recipe is best served immediately– as the crust will get soft when stored in the fridge. If you do have leftovers, store sauce on the side. Reheat your chicken roll in the microwave and cover in warm sauce before serving again.
Recipe Variations
Swap the filling for your favorite pizza toppings. Think diced veggies, such as onions, tomatoes, garlic or spinach — olives, pineapple, and sliced ham.
Fried chicken rolls – you'll want to heat 2-3 inches of vegetable oil in a frying pan to 325 F over medium heat. Then dunk each chicken roll in all purpose flour, then whisked eggs, followed by panko. Fry on each side for about 5 minutes, until chicken is cooked through.
Add breadcrumbs – as mentioned above, you can add these to the coating by replacing 1/4 cup of parmesan.
More Chicken Recipes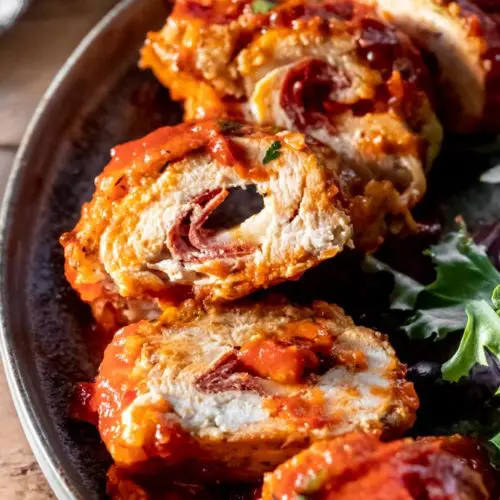 Pizza Chicken Roll
Print Recipe
Pin Recipe
Ingredients
2

Chicken Breasts

32

Slices

Pepperoni

4

Mozzarella Cheese Sticks

2

Teaspoons

Italian Seasoning

3/4

Cup

Parmesan

grated

1

Egg whisked

1

Cup

Pizza Sauce
Instructions
Prep. Preheat oven to 400 F and line a baking sheet with parchment paper.

Chicken. Lay chicken (2) down on a cutting board. Place your hand on top of the chicken and carefully slice each breast in half. Place 1 breast as a time in a large resealable bag, remove the air, and seal. (Alternatively, you can place each breast between 2 sheets of plastic wrap). Use a meat mallet to pound the chicken until it's 1/4" thick.

Roll. Place a cheese stick at one end of the chicken, as well as 8 slices of pepperoni. Tightly roll the chicken over the cheese and pepperoni. Use a toothpick to keep the chicken and filling in place.

Coating. In a wide-mouthed bowl, whisk the egg. In a second wide-mouthed bowl, combine Italian seasoning (2 teaspoons) and parmesan (3/4 cup). Dip chicken in the egg, then in the parmesan and place on your prepared baking sheet.

Bake in the preheated oven for 40 minutes, or until the chicken is cooked through. Wait 10 minutes before slicing. Cover your chicken roll in warm pizza sauce and enjoy!
Rate this Recipe
Fans Also Made These Low Carb Recipes:
Nutrition
Calories:
396
kcal
Total Carbohydrates:
6
g
Protein:
42
g
Fat:
22
g
Fiber:
1
g
Sugar:
2
g
Net Carbs:
5
g
©Little Pine Low Carb. Content and photographs are copyright protected. Sharing of this recipe is both encouraged and appreciated. Copying and/or pasting full recipes to any social media/website/blog is strictly prohibited.
On your phone? Check out my web story here.