Thank God (and vegetables) eating low carb doesn't mean giving up everyone's most beloved dish. Our good friend the eggplant provides the perfect base to sink your teeth in without guilt or remorse–just an extra serving of veggies. Cover each slice with your favorite toppings, and allow your eggplant pizza to soak up all the saucy goodness.
Looking for more keto pizza recipes? Check out my fathead pizza, keto cauliflower pizza, and keto pizza chips.
Want to Save This Recipe?
Enter your email below and we'll send it straight to your inbox. Plus you'll get great new recipes from us every week!
[wpforms id="103279"]
Keto Eggplant Pizza Recipe Video Tutorial
All Hail Pizza
Is there anything better than the easy, cheesy, gooey love affair that is pizza? (Spoiler alert: No. No there is not.) And now, my friends… KETO EGGPLANT PIZZA adds everyone's favorite dish back to the low carb menu (*gasps dramatically*).
One thing I love about this keto eggplant pizza recipe, in particular, is how customize-able it is–Just top it with whatever you want. Pepperonis? Yes. Banana Peppers? Duh. Cheese? Come on now. Anything that you can put on a pizza belongs on here.
Another reason to make this keto eggplant pizza crust recipe TONIGHT? Unlike other vegetables, eggplant acts as a sponge that magically soaks up the flavors of whatever sauce you use, giving you even MORE pizza flavor.
Tips + Tricks
Here's everything you need to know about how to prepare keto eggplant pizza:
Slicing. Be sure to cut your eggplant into uniform slices so they cook evenly.
Sweating, which is sprinkling the eggplant slices in salt, then dabbing off the pooled liquid with paper towels. This helps to remove the baked eggplant slice's naturally bitter flavor. It also helps to pull liquid from this veggie, so our cooked eggplant pizza isn't soggy. Full details on how to sweat eggplant on the recipe card below.
Baking sheet. Be sure to grab a RIMMED baking sheet, to prevent a giant mess in your oven. Also, parchment paper makes clean up a breeeeze.
Looking for crispy keto eggplant pizza? You'll want to bread the eggplant before adding your toppings. Dip them first in a whisked egg, followed by panko (or crushed pork rinds for a lot carb alternative). Bake the coated eggplant slices, and allow their surface to crisp up before adding your toppings.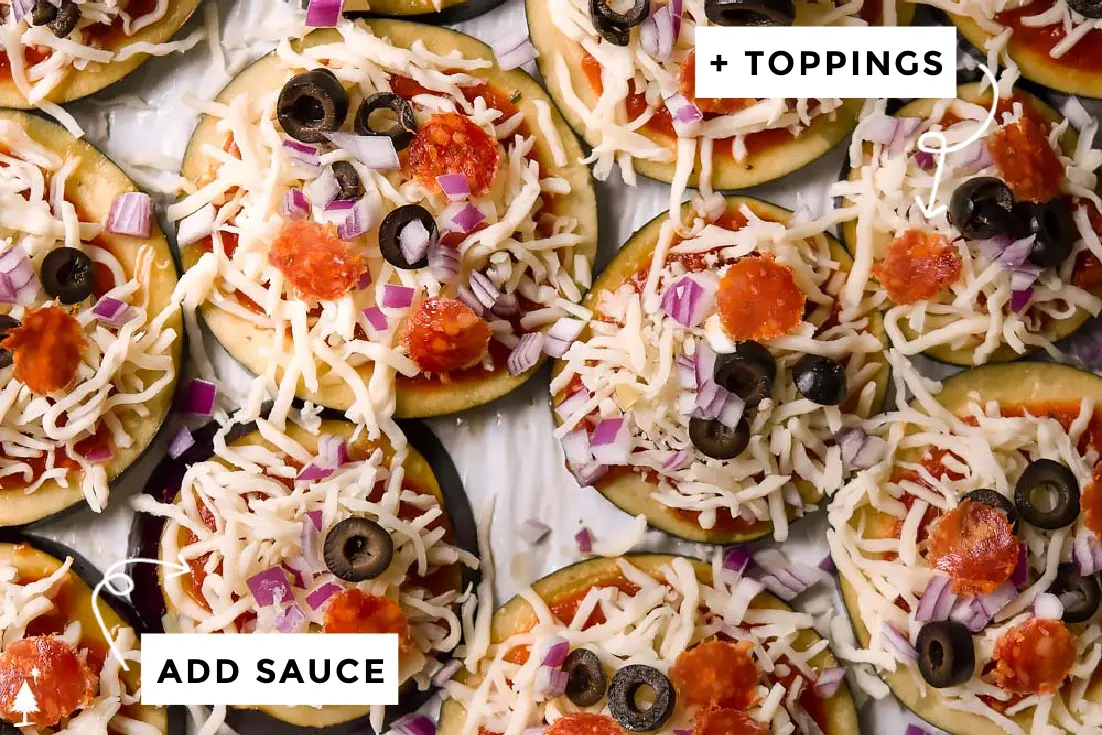 Important Ingredients Notes
Eggplant – you'll want to grab a globe eggplant (the most common eggplant). They're wider, meatier in texture, and the best variety for slicing.
Sauce – If watching your carbs, consider the sauce you use. I love my (no sugar added) homemade pizza sauce.
Toppings – get funky and do you! If adding meat, be sure to cook it first.
Are Eggplants Keto? Is This Pizza?
Rejoice my carb counting pals, YES. Both eggplant and this pizza are keto… if you follow my topping tips. As far as the carbs in eggplant go, there are 4.8 g carbs in 1 cup sliced. Bam. Keto.
Now, for the toppings (as mentioned), the sauce is where you'll want to be cautious. Here are some low carb options:
Pesto
Keto alfredo
Now, the keto cheese: go wilddd. Because, yes, cheese IS low in carbs.
Finally, the toppings: When in doubt, check out my guide to keto vegetables. Also keep in mind that proteins (chicken, bacon, sausage, and pepperoni) are great keto choices.
Storing/Reheating Tips
Eggplant recipes like this one are best served warm and immediately for maximum crisp-factor, as eggplant gets soggy over time.
If you do end up with leftovers it's best to reheat them in the oven (or toaster oven) to help crisp them back up. Make sure your oven is nice and hot when you pop your pizza in, so the bottom of the eggplant crisps quickly without burning the cheese and toppings.
Wondering how long can you keep cooked eggplant in the fridge? I stick to a max of 3 days.
Recipe Variations
Turn this into bite-sized no crust pizza by using Japanese or Chinese eggplant (the thinner/longer eggplants).
Make a keto pizza casserole by layering your sliced eggplant, then all the toppings in a 9×13 casserole dish. You can even create multiple layers (like a lasagna).
Crank up the protein, by adding pepperoni, Italian sausage, shredded chicken, or ground beef (ala meatzza) to your eggplant pizza.
Any and all toppings. Seriously, healthy eggplant recipes like this one are BEGGING for you to cover them with all the toppings. Use my sauce and cheese ratio, but mix and match to your heart's desire.
More Pizza Recipes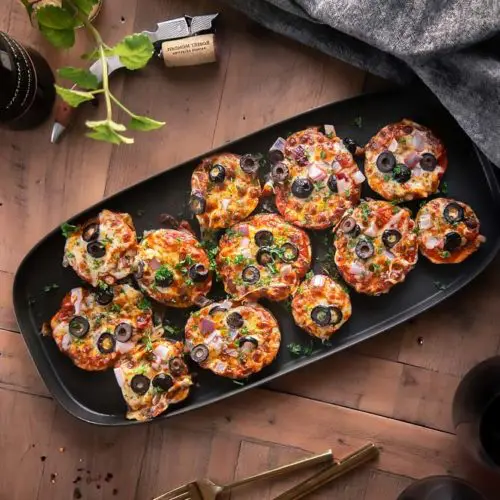 Keto Eggplant Pizza
Print Recipe
Pin Recipe
Ingredients
1

Large

Eggplant

(note 1)

1

Cup

Keto Pizza Sauce

or pizza sauce of your choice (note 2)

2

Cups

Mozzarella Cheese

shredded
Toppings (note 3):
1/4

Cup

Black Olives

1/4

Cup

Red Onions

chopped

Italian Seasoning
Instructions
Prep. Preheat oven to 400 F and line a rimmed baking sheet with parchment paper.

Eggplant. Slice eggplant (1 large) into ½" slices. Now, sweat the eggplant, which can be done 1 of two ways:

1. With salt: Place slices on a baking sheet lined with parchment paper and sprinkle with salt. Allow the eggplant to sweat for 10-12 minutes. Dab off the water with a paper towel, and repeat these steps on the other side.

2. In the microwave: Place sliced eggplant on a paper towel-lined plate and cook on high for 5 minutes. You may need to do this in batches.

Top + Bake. Add pizza sauce (1 cup), sprinkle with cheese (2 cups), then add your toppings. Bake in the preheated oven for 10 minutes, or until the cheese becomes golden brown around the edges. Serve warm and enjoy!
Rate this Recipe
Fans Also Made These Low Carb Recipes:
Lindsey's Tips
Eggplant: Use a globe eggplant (the most common variety), as it has the best texture for this dish.
Pizza sauce: most store-bought pizza sauces are loaded with sugar, so if you aren't making homemade, read labels carefully.
Toppings: feel free to use whatever you prefer here.
Nutritional information is for 1 slice if you slice your eggplant into 10 slices (or divide your pizza into 10 servings), and includes the toppings listed above: 
Nutrition
Calories:
91
kcal
Total Carbohydrates:
5
g
Protein:
6
g
Fat:
6
g
Sodium:
322
mg
Fiber:
2
g
Sugar:
3
g
Net Carbs:
3
g
©Little Pine Low Carb. Content and photographs are copyright protected. Sharing of this recipe is both encouraged and appreciated. Copying and/or pasting full recipes to any social media/website/blog is strictly prohibited.