Thanks to chicken crust pizza, being carb conscious and loving pizza is no longer an oxymoron…
That's right my friends, us low carb-ers are banishing useless high carb foods and opting for protein rich or veggie based alternatives, without compromising the mouth-watering addictiveness of pizza we all know and love.
That is why I'm so thrilled to offer a simple low carb pizza recipe suited for a king, queen, or even a picky kiddo! Introducing chicken crust pizza, the easy and delectable pizza alternative for health conscious butt-kickers everywhere.
Let's dive in…
How to Make Chicken Crust Pizza
Chicken crust pizza is a delicious low carb recipe variation to the Italian classic.
Think of it as a more wholesome low carb pizza crust, made from (you guessed it) chicken, which bakes together beautifully and aces the slice-factor.
Here's how easily this chicken crust pizza comes together: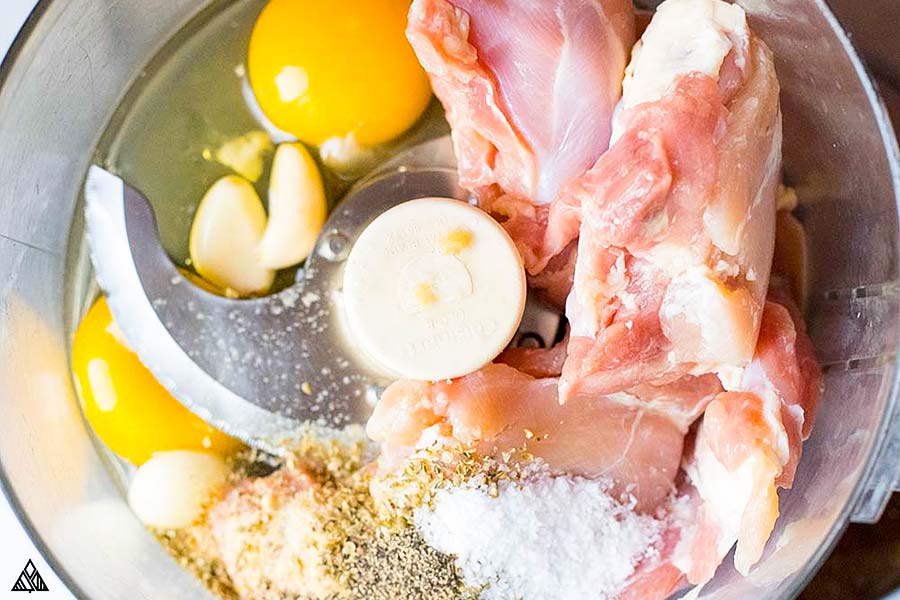 Combine the Ingredients.
To get started, toss the chicken, eggs, and seasonings into a food processor and process to combine thoroughly.
I recommend using chicken thighs, as they're a little fattier and make for a more delicious chicken crust pizza. Chicken breasts and canned chicken work too, but they'll yield a slightly drier crust. Whatever kind of chicken you currently check off of your low carb shopping list will do the trick.
You can also use ground chicken to save some dishes and time — just incorporate all ingredients together in a bowl. As with any low carb meatloaf recipe, I suggest doing this with your hands to incorporate everything thoroughly.
Form the Pizza.
After processing, you'll want to spread the mixture on to a pan using a spatula.
To get the chicken crust nice and thin, cover in saran wrap and smoosh with the bottom of a pot or pan. Alternatively, you can use a rolling pin (if you're feeling fancy like that.)
Make the crust whatever size you like. You can go from a big, family-sized pizza to small, personal chicken crust pizza.
All the Rest.
Bake the crust at 400 F for 20 minutes, or until it begins to brown and looks cooked through.
Then, pull that sucker out and cover with your favorite toppings! (If you're using fresh herbs, add those after!) Crank the oven up to 500 degrees, pop that bad-boy back in there, and check every few minutes to see when the cheese has melted to your liking.
Save Your Favorite Recipes!
Create an account and save all your favorite recipes for easy access!
Herbaceous low carb pizza sauce and shredded cheese are a must, or get creative with a barbecue chicken style pizza or chicken taco pizza! The sky's the limit when it comes to low carb dinner design.
If you'd like to cook your keto vegetables longer to soften them, without drying out your chicken crust pizza, do this while you're forming the crust, so they have adequate time in the oven.
It's as easy as that. 🙂
How to Make Paleo Chicken Pizza Crust
To make this chicken pizza crust recipe paleo, simply skip the cheese on top.
I know, I know, pizza may not be the same without cheese—but fret not! Adding flavorful low carb vegetables like olives and artichoke hearts, fresh garlic, and fresh basil is a sure fire way to evoke the beloved Italian flavor pizza palette and keep you coming back for more.
Dare I say, top it right and you may not even miss the cheese?
If you're wondering if your favorite low carb foods toppings are paleo, use this easy rule of thumb: If a caveman couldn't eat it, then it's probably not paleo.
Best Topping for This low carb pizza crust
Ahh, toppings. The place your creativity can shine.
First and foremost, did you know there are hardly any carbs in cheese!? Which means, if low carb is your goal, then there's no need to go light on this sprinkled low carb pizza crust topping.
BBQ Chicken Crust Pizza:

My favorite toppings

turn a ground chicken pizza crust keto base into a barbecue chicken symphony with the addition of low carb barbecue sauce, red onion, bell peppers, and cilantro.

Yum!

Zesty Chicken Crust Pizza: Why not marry Mexican and Italian cuisines by swapping out the crust spices with low carb taco seasoning, and adding three cheese blend, jalapeños, and pico de gallo salsa! Ole!
Traditional Chicken Crust Pizza:

Evoke the craveable flavors in a low carb chicken parmesan by topping with low carb tomato sauce, mozzarella, fresh basil, cherry tomatoes, and a drizzle of pine nut pesto.
Psst, Just a friendly word of warning, pizza sauce is one of those store bought ingredients where sugar and a ton of carbs may be lurking– read your labels!
If you're looking for a flavorful, delicious way to step up your sauce game, while making your house smell amazing, try my keto pizza sauce!
Freezing This Keto Pizza
Who has the time and energy to make fresh pizzas every time your craving emerges? Not me! Low carb chicken recipes that you can store in the freezer aren't the easiest to come by, which makes this keto pizza special…
Double the recipe, dirty up your kitchen once, and make personal-sized pizzas for the whole week!
Change up the toppings to keep it fun and interesting! Cook up a whole slew, and freeze whatever doesn't get eaten on the first night. Then, whenever the mood strikes, you'll be prepared with healthy low carb dinner ideas.
If making this for low carb meal prep, I recommend baking the crust, but not the toppings — wait until you plan to eat this chicken crust pizza to melt your toppings (reheating the chicken can dry it out).
Plus, making pizza yourself is so much cheaper (and more fun!) than the chicken crust pizza kroger offers in their frozen section. Just heat and enjoy!
More Low Carb Pizza Recipes
Pizza is pretty much the most crave-able, delicious comfort food on the planet. With recipes like this, sticking to low carb meals no longer means kissing it goodbye…
Who knows, these low carb pizza variations may become your new favorite. Here are some tasty low carb pizza alternatives:
Fathead pizza crust

Portobello mushroom pizza

Zucchini pizza

Eggplant pizza
Chicken Crust Pizza Recipe
Hope you LOVE this chicken crust pizza as much as we do! Leave me a comment below and let me know what you think!
Psst — chicken crust pizza nutrition is listed below the recipe.
Chicken Crust Pizza
Calling all carb-conscious-pizza-lovers: Chicken Crust Pizza is here, and it's gonna rock your low carb world!
Ingredients
The Crust:
1

Lb

Boneless

skinless chicken thighs

2

Eggs

1

Teaspoon

Salt

2

Cloves

Garlic

1

Teaspoon

Onion Powder

2

Teaspoon

Oregano

1/4

Teaspoon

Pepper
Toppings (for BBQ chicken):
2

Cups

Mozzarella

1/2

Red Onion

sliced

1/2

Cup

Mini Peppers

sliced

1/2

Bunch

Cilantro

chopped
Instructions
Put all the ingredients for the crust in a food processor.

Start the processor and continue until all ingredients have combined and the chicken has broken down completely. You may need to stop the processor every-so-often and clean off the sides of the processor with a rubber spatula to ensure everything combines properly.

Form the chicken-combo into a ball and drop onto a pan lined with parchment paper.

Spread onto a pan in the desired shape. I used the back of a spatula. Cover the top in saran wrap and use the bottom of a pot or pan to even out the top of your pizza crust. Alternatively, you can use a rolling pin.

Bake at 400 degrees for 20 minutes, or until crust begins to brown and the chicken is cooked through.

Cover with toppings. If you're using fresh herbs, add those after!

Crank oven up to 500 degrees, check every few minutes to see when cheese has melted to your liking!

Allow the pizza to cool, cut into slices, and enjoy!
Notes
*Toppings not included in nutritional information below
Nutritional information is based on 1 slice, if you cut this pizza into 8 slices.
Nutrition
Calories:
94
kcal
|
Carbohydrates:
0
g
|
Protein:
14
g
|
Fat:
3
g
|
Saturated Fat:
1
g
|
Cholesterol:
76
mg
|
Sodium:
334
mg
|
Potassium:
233
mg
|
Fiber:
0
g
|
Sugar:
0
g
|
Vitamin A:
1.4
%
|
Vitamin C:
0.3
%
|
Calcium:
1.8
%
|
Iron:
3.8
%
©Little Pine Low Carb. Content and photographs are copyright protected. Sharing of this recipe is both encouraged and appreciated. Copying and/or pasting full recipes to any social media/website/blod is strictly prohibited.