It's crusty, bready, and it can support all those toppings without crumbling in your hands. This fluffy keto pizza crust recipe is my #1 favorite and soon it'll be yours too!
Pining for more keto pizza? Try my meatzza, keto cauliflower pizza, and turkey pizza.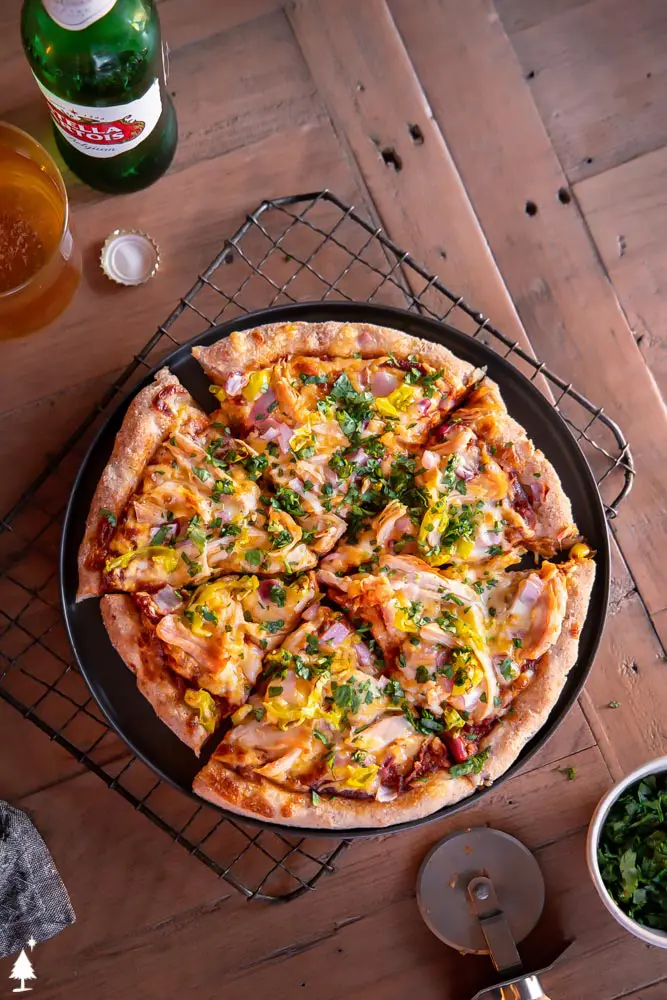 Want to Save This Recipe?
Enter your email below and we'll send it straight to your inbox. Plus you'll get great new recipes from us every week!
[wpforms id="103279"]
Keto Pizza Crust Video Tutorial
This Low Carb Pizza Takes Gold
The 2020 Summer Olympics were canceled last year and that was a gigantic bummer, but I've been running my own competitions for a while now. Dun dun dun–presenting the Low Carb Pizza Olympics!
Tons of crusts have been competing for gold. The competition was brutal and the judgments were severe. But one crust stands above them all, and it's time to unveil it as the official gold medal winner.
The victor: this recipe for low carb pizza!
This low carb pizza crust recipe is my absolute favorite. Don't get me wrong, I've tried lots of other pizza crust recipes which used veggies or meats as a base–and they were definitely winners too. But sometimes what the heart wants is a more classic pizza experience. That's why this recipe is my go-to. It's got a mouthfeel and flavor that's pretty similar to a traditional wheat-based crust.
Plus, you can cut it and pick up a slice without it crumbling into a pile of sadness, toppings, and broken dreams.
Eat the pizza of champions and slather this crust with sauce and pile on that mozzarella for a slice of gold.
Important Ingredient Notes
There may be a few new ingredients in this fluffy keto pizza crust, but fear not, they're all keto staples, and you'll use them for all your baking needs:
Almond flour – for best results, use fine-grained almond flour–this most closely resembles wheat flour.
Pizza sauce – Most storebought products contain added sugars. I usually make my own sugar free version (it stores well in the freezer!) or read labels carefully to find a product without added sugars.
Toppings – go wild with your keto cheese. Veggies are also great options (check out my guide to keto vegetables), as well as proteins like chicken, pepperoni and sausage.
And the final almond flour pizza crust ingredient to bring your attention to deserve its own section:
What is Psyllium Husk?
If you've baked many keto bread recipes, you know that keto flour (like almond or coconut) is:
Denser than traditional flour
Has no natural fluff.
Gluten free, so it can't bind on its own.
Which is where psyllium husk comes in. Psyllium is a soluble fiber made from the husks of Plantago ovata seeds. It absorbs moisture and becomes gel-like, adding structure to recipes while binding ingredients together (similar to gluten). Added bonus? Its flavor closely resembles that of wheat.
Psyllium husk is the most important ingredient for a truly fluffy keto pizza crust!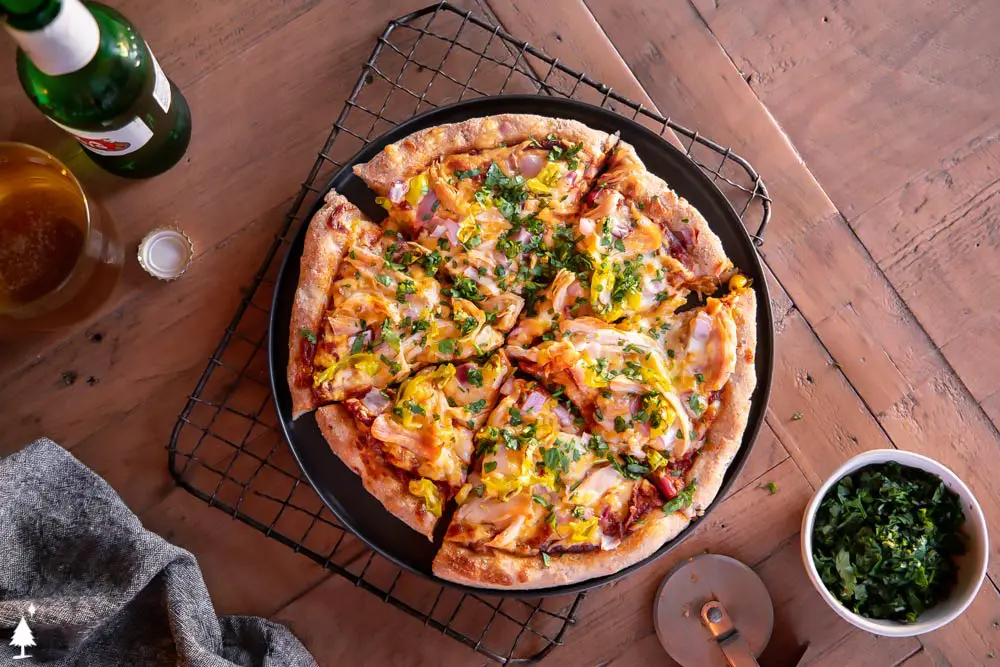 How to Maximize Pizza Crust Fluffliness…
The trick to getting your keto pizza crust nice and fluffy is psyllium husk. And the trick to psyllium husk is using the right brand. I cannot stress this enough: buy NOW psyllium husk. It's not expensive and is EASY to grab on Amazon. This is because each brand of psyllium husk:
Absorbs liquid differently, creating varying amounts of keto pizza crust fluffiness.
Can turn baked goods purple. That's right. No one wants a purple pizza crust.
The solution for this is using NOW psyllium. I've had the best results as far as liquid absorption, and not changing the color of my keto pizza crust recipe. America's Test Kitchen agrees!
If you use a different brand, you will see a difference in your pizza crust.
Can I Eat Pizza on Keto? How to Perfect Keto Pizza:
This depends on your eating plan and goals. So here are the facts:
A traditional slice of pizza has 46g carbs per slice. Now, this healthy pizza crust has 2g net carbs per slice. BAM! Where you'll want to be careful is the toppings. A few ingredients to avoid include:
Sauces, like sugar-filled pizza or BBQ sauce (10g carbs/tablespoon). Instead, try a low carb version.
Fruit, such as pineapple.
Starchy veggies, like beets and potatoes.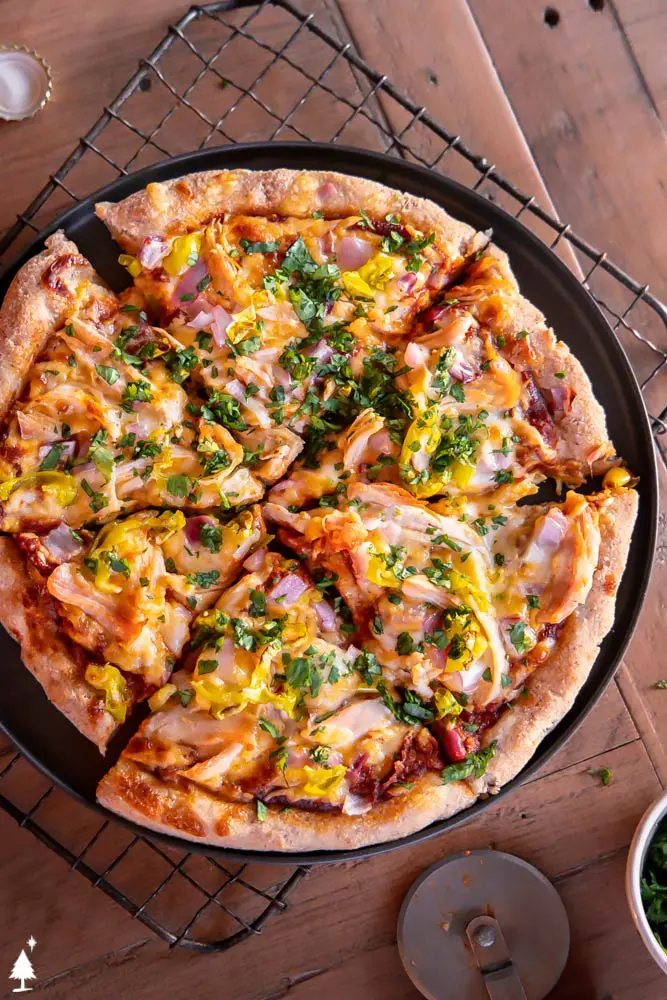 Recipe Variations
Make pizza bites by shaping the pizza dough into bite sized pizzas. Adjust your keto pizza chips bake time accordingly.
Make a keto calzone using this dough.
Cheese stuff your crust.
Add your favorite toppings.
More Keto Pizza Recipes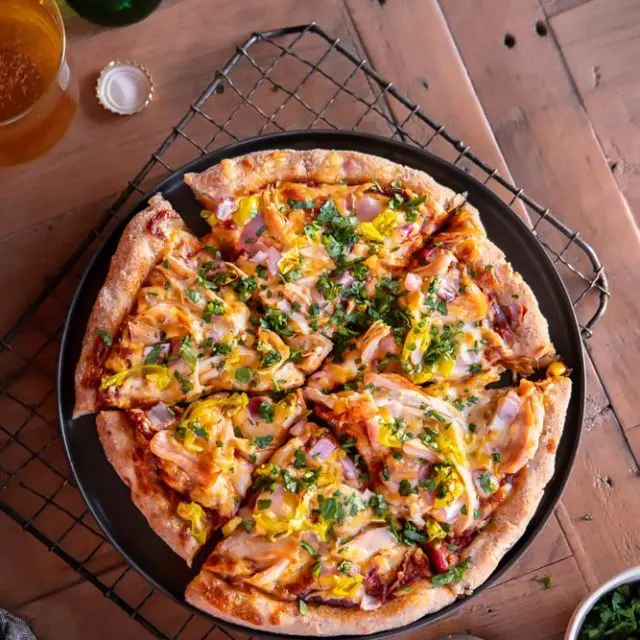 Low Carb Pizza Crust
Print Recipe
Pin Recipe
Ingredients
Toppings
1

cup

Mozzarella

shredded
Instructions
Prep. Preheat oven to 425 F and line a rimmed baking sheet with parchment paper. Place a bowl of water above your work station (you'll need this to form the dough).

Combine. Mix almond flour (1 3/4 cup) (note 1), baking powder (1 teaspoon), salt (1/2 teaspoon), and psyllium husk (2 tablespoons) (note 2) together in a large bowl. Pour boiling water (2/3 cup) over the dry ingredients. Stir and fold to combine, then form the dough into a ball.

Shape. Dip your hands in the bowl of water and transfer dough to your prepared baking sheet. Use wet hands to press the dough into a 10" circle. Fold over the edges to form a crust. Use wet hands to smooth any cracks that have formed in the dough so your surface is smooth.

Top + bake. Top your dough with sauce, then cheese (1 cup), then toppings. Bake in preheated oven for 18-22 minutes, or until the toppings are golden brown and the dough is cooked through. Wait 8 minutes before slicing, and enjoy!
Rate this Recipe
Fans Also Made These Low Carb Recipes:
Lindsey's Tips
Almond Flour.

Using fine-grained almond flour, such as

Bob's Red Mill

, Trader Joe's, or Costco brands will give your pizza the best texture.

Psyllium Husk, if using a brand other than NOW, your pizza may turn blue-ish purple and will absorb different amounts of liquid. For this reason, I only recommend

NOW Psyllium Husk Powder

Prebaking the crust? Go for it! You may want to brush the crust with oil to prevent the surface from burning.
Nutritional information is based on 1 slice, if you cut your dough into 8 slices and includes the cheese and pizza sauce (but no additional toppings):
Nutrition
Calories:
128
kcal
Total Carbohydrates:
6
g
Protein:
4
g
Fat:
10
g
Sodium:
145
mg
Fiber:
4
g
Sugar:
0
g
Net Carbs:
2
g
©Little Pine Low Carb. Content and photographs are copyright protected. Sharing of this recipe is both encouraged and appreciated. Copying and/or pasting full recipes to any social media/website/blog is strictly prohibited.