I don't know how you've eaten cloud bread in the past, but how you eat it in the future should be as a crust for cloud bread pizza. Because holy cow, is it goooood.
And how can it not be??
With a cheese based dough, some sauce and delicious toppings—you've got all the best low carb foods piled into one mound of deliciousness.
It sure is a crowd pleasure, and I can't wait to hear what think! So let's get started…
How to Make Cloud Bread Pizza
Have you made cloud bread before? It's so simple you'll be shocked you didn't come up with it yourself. Plus, you get to feel like a chef while whipping the eggs into peaky perfections.
The first step in making cloud bread pizza is to bake a fresh batch of bread.
You can either do this as I did, mini cloud bread pizzas, or you can make one giant pizza and cut it into slices. Adjust the amount of batter you put on the baking sheet according to the size you'd like your pizza(s) to be. Keep in mind cook times will vary.
While the low carb bread is baking, you'll prep your toppings (recs below). Top your pizzas, then pop 'em bake in the oven for a few to melt any additional cheese and roast your veggies. And voila!
Easy as cloud bread pizza pie!
As you can imagine, it's easy to get creative with cloud bread variations. I love making this low carb pizza crust with the following:
Oopsie Bread
A great option is to use the traditional oopsie bread recipe with the addition of psyllium husk—this adds a bit of "bread like" consistency and contributes a few grams of fiber per serving.
Oopsie Rolls
This is my secrect recipe that I'm sharing with you and everyone else who's reading: in my oppsie rolls recipe, I swap cream cheese for Boursin—or whatever creamy, herb filled cheese you have on your low carb shopping list. This is my preferred cloud bread pizza base, because, I mean duh.
If your store doesn't carry this, opt for cream cheese and add your own minced herbs.
keto cloud bread Pizza topping ideas
Remember, the base of this keto cloud bread is cheese, so even for someone like me, who can't get enough cheese, I don't go overboard with the topping. Here's where I sneak in some low carb veggies and proteins.
Everyone has their own favorite toppings—for this recipe I used cherry tomatoes, basil and burratta. Another option is low carb BBQ sauce, chicken, cilantro and red onion. How about plain ole pepperoni and low carb pizza sauce?
Or, check out some inspiration (TOPPING ONLY!) from this video. Remember this cloud bread pizza can be EVERY BIT as delicious as that carby crust!:
What Does Cloud Bread Taste Like
I'm so glad you asked, as it's good to set the proper expectations for this unique concoction.
Cloud bread doesn't taste like regular bread, rather a delicious bread substitute. The flavor is more egg-like, and the texture more foamy—people either love it or hate it. As stated above, I find the psyllium husk brings more of a "bread like" consistency to this keto bread.
If cloud bread isn't your favorite, cloud bread pizza may still be worth a try. Pizza sauce and toppings can hide whatever you didn't love about the low carb bread recipe on its own.
More Cloud Bread Recipes (Incase you can't get enough)
For those of us sticking to a low carb food list, it's crazy exciting to have a vehicle for your favorite toppings! If you can't get enough of this low carb bread recipe, then by all means, keep baking!
Here are some of my favorite cloud bread recipes:
Make a cloud bread loaf
A cloud bread loaf is an awesome way to make a sandwich, and bring your low carb lunch wherever you're headed.
Sweet Oopsie Bread Recipe
I know, it may seem weird to use the same oopsie bread recipe for pizza and dessert—but it's totally possible to create low carb desserts if you add some sweetener, cinnamon and low carb fruits after baking. You can even try making cloud bread cookies!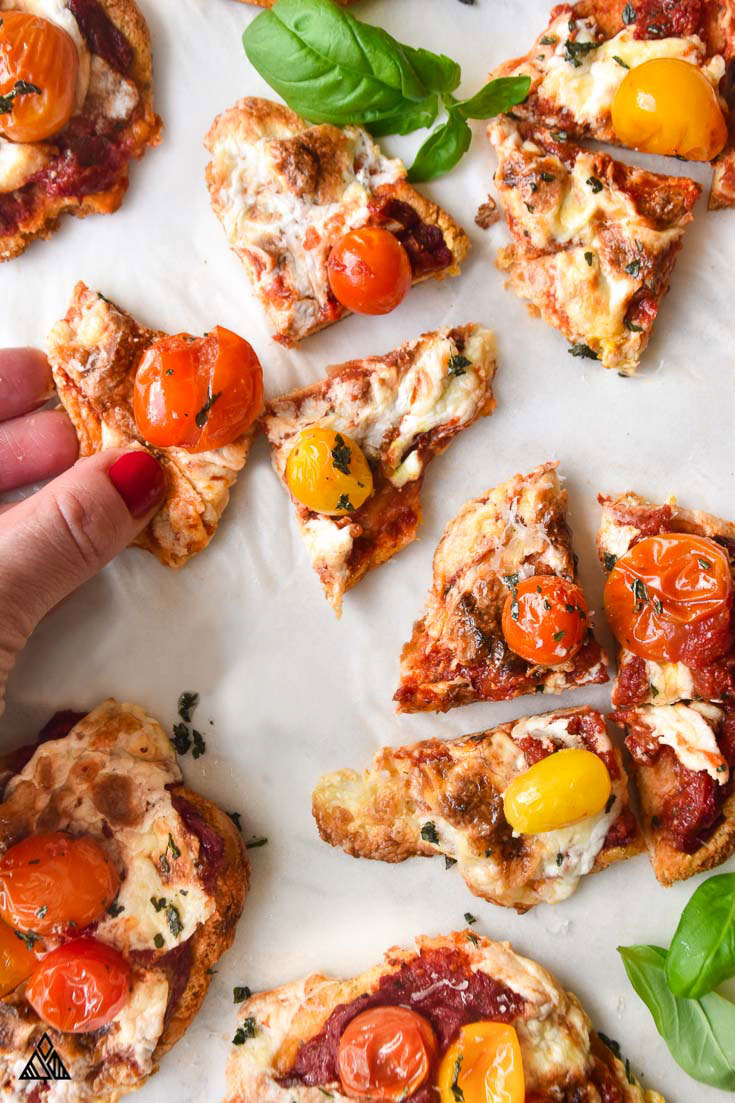 Pizza cloud bread recipe
I'm so excited to see what pizza cloud bread recipe you create, and I truly hope you enjoy this cloud bread pizza keto recipe as much as I do!
Cloud Bread Pizza
When you thought there couldn't be more cloud bread recipes, you discover cloud bread pizza crust, and your low carb life forever changed...
Ingredients
3

Eggs

½

Cup

Cream Cheese

can also use greek yogurt, creamed cottage cheese or boursin

¼

Teaspoon

Salt

1/8

Teaspoon

Cream of Tartar

½

Teaspoon

Baking Powder

½

Tablespoon

Psyllium Husks

(optional)

Pizza toppings

(I used burratta cheese, cherry tomatoes and basil)
Instructions
Preheat the oven to 300°.

Separate the egg whites from the egg yolks into two medium bowls -- I do this by cracking the egg in half and passing the yolk between the two halves of the egg shell, at the same time allowing the egg white to spill into the bowl. You can also crack the egg into your hand, and use your fingers as a "drain", allowing the egg white to spill into the bowl.

In the egg yolk bowl, add cream cheese, baking powder and psyllium husk (if you choose to use it) and mix until there are no remaining lumps. If you plan to use the same utensil to mix the egg white, clean off the utensil and dry - you don't want any yolks in the egg white mixture.

In the egg white bowl, add the cream of tartar and salt. Using an electric hand mixer mix until the eggs whites form firm peaks.

Gently fold the egg whites into the egg yolks, you want to keep as much of the air in the mixture as possible (the airy-er the fluffier)

Using a spoon, place by the dollop (depending on how large you'd like your bread slice to be) onto a parchment paper lined baking sheet, making sure to leave at least an inch between each dollop.

Bake for 25 minutes, or until they become golden brown.

Pull tray out out and put oven on broil.

Top each mini pizza with pizza toppings.

Place back in the oven and watch closely as ingredients may burn easily at this temperature. Check after 5 minutes, and again every 2 minutes.

Once cheese has melted to your liking, pull from the oven and add any fresh herbs. Allow pizzas to cool before eating, and enjoy!
Nutrition
Calories:
59
kcal
|
Carbohydrates:
1
g
|
Protein:
2
g
|
Fat:
5
g
|
Saturated Fat:
2
g
|
Cholesterol:
61
mg
|
Sodium:
113
mg
|
Potassium:
60
mg
|
Fiber:
0
g
|
Sugar:
0
g
|
Vitamin A:
4.5
%
|
Calcium:
2.9
%
|
Iron:
1.5
%
©Little Pine Low Carb. Content and photographs are copyright protected. Sharing of this recipe is both encouraged and appreciated. Copying and/or pasting full recipes to any social media/website/blod is strictly prohibited.
Low Carb Pizza for the Win!
When you started eating low carb recipes, did you think you'd still be eating pizza? I sure didn't, and have gotten so excited that I can—so I've worked up quite a list of low carb pizza recipes. If you'd like to try something different, give one of these recipes a try:
Crustless Pizza
That's right—crustless pizza—meaning the crust is crispy, crunchy, delicious cheese. No further explanation required.
No Crust Pizza Bites
Same concept as above, but these no crust pizza bites are handheld chip size, think of it as a marriage between pizza and nachos—what's not to love??
Meatza
Whoever came up with the idea for meatza is pure genius. It's almost like a giant hamburger (turkey or beef) topped with pizza toppings.
Chicken Crust Pizza
Chicken crust pizza is just like meatza, except with (you guessed it) chicken! Both of which can be turned into paleo pizza, just skip cheese as a topping.
Low Carb Pizza Casserole
This may be the most glutinous low carb meal you've ever had—low carb pizza casserole is literally just cheese, sausage and pepperoni baked into casserole dish. I always add low carb vegetables to make myself feel a little better.