Calling ALL pizza lovers, fathead pizza is full of all the melted cheesy, low carb goodness you could ever crave!
Literally, it's one of those low carb dinners that makes you forget you're eating low carb pizza…
That's right!! Pick it up with your hands and savor the warm doughy deliciousness that overshadows all the other low carb recipes. It's one of those low carb snacks for a crust that just may be the best you've ever tasted — it's certainly a staple in our kitchen!
Melty, cheesy, mouth watering-ly good. Fathead pizza is where it's at! Now let's do this…
Looking for more keto dinners? Check out my keto cauliflower pizza, chicken crust pizza, or my keto eggplant lasagna.
What I Love About This Recipe
The question should really be, what do I not love about fathead pizza, but if I had to name a few reasons as to why you should make this pizza TONIGHT, then here they are:
Aces the slice factor and handheld quality of pizza
Perfect dough-like texture
Crazzzy low in carbs (4g per slice!!!)
Fathead Pizza Crust Background
Fathead Pizza crust utilizes a precise combination of cheeses and almond flour to produce an incredibly tasty warm pizza, that you can eat with your hands.
Plus, it's sooo simple to make – no yeast, no long wait time on rising dough. Just two simple steps to warm scrumptious pizza that you can top with your favorite items.
This is Google's #1 low carb pizza recipe. It comes from Tom Naughton and his brother of Fathead-Movie.com. They found the basic recipe on another site and made some much-needed modifications to give us Fathead Pizza. Thanks guys!!

Keto Pizza Crust Recipe Notes
Making Fathead Pizza dough is so simple. Honestly, for me the hardest part is not eating it until it's done!!
Here's what you need to know about this keto pizza crust before getting started:
Tools To Make This Keto Dinner
A microwave is a handy kitchen accessorize that'll save you some time (and dirty dishes) when making this low carb dinners fathead pizza crust. If you don't have one, (I don't either) melt your cheese in a double boiler or a makeshift double boiler using a bowl and a saucepan.
Grab some parchment paper, and the rest is pretty standard…
Healthy Dinner Cooking Tips
Fathead pizza crust is one of easiest healthy dinner ideas to throw together. Here are a few tips for perfection:
WET YOUR HANDS. The dough WILL be sticky (it's melted cheese). So use damp hands to spread your fathead pizza dough into the perfect pie shape you're craving.
STRINGY DOUGH. If the dough is hard to press out, and seems stringy, it has cooled/harden too much. Simply place it back in the microwave (or over the double boiler) to soften your fathead pizza back up.
POKING HOLES. The holes allow air to escape instead of forming bubbles in your dough.
Storing Tips
Stash any leftovers (if there are any) in the fridge. Keep the fresh herbs on the side so they don't lose their crispness when you reheat a slice of pie.
You can also use this dough to form a keto calzone! For an easier pizza option to enjoy on the go.
Can You Freeze This?
I know a lot of you (like me) are all about low carb meal prep, and this Fathead Pizza dough is perfect for that! You can just freeze the raw dough, or you can bake the crust and then freeze it.
BAM! Your low carb frozen pizza is ready when you are.
Reheating Tips
Fathead pizza reheats best in the oven or toaster oven — microwaves don't have the characteristics to do this pizza justice on the reheat.
Fathead Pizza Dough Recipe Variations
This fathead pizza is SO customization, it can absolutely handle any toppings and still tastes incredible! Here are a few topping ideas and healthy recipes variations:
Turn it into a casserole.

Press your fathead pizza dough into a greased casserole dish instead. Top it with your toppings, and slice it up for a

keto pizza casserole

that'll feed the whole crew.

Make bite sized pizzas! 

Everyone loves

cauliflower pizza bites

and

no crust pizza bites for midday snacks. Make a variation of them using this dough to REALLY curb your cravings! When forming your fathead pizza into shape, opt to make small personal sized rounds instead. Keep in mind, the cook time will vary, so keep a watchful eye on your crust.

Add some protein-packed toppings.

I like to pick a protein that'll complement our sauce, veggie and cheese combo — from

meatzza

made with ground beef, to shredded chicken for a

chicken crust pizza

inspired slice,

here are a few other ideas:

Traditional meat like sausage, ham, pepperoni or some Top-notch meats like steak, chicken, meatballs. Wowza!

Add vegetables.

Pick whichever

keto vegetables

fit the fathead pizza flavor profile you're craving! peppers, onions,spinach, kale, fresh herbs, or

zucchini pizza

would be a great idea!
More Healthy Pizza Recipes
Once you discover rich, decadent healthy pizza recipes that make take-out taste like a cardboard box, you'll never miss traditional pizza again! Here are some amazing recipes that're so de-lish, you'll have to taste them to believe it!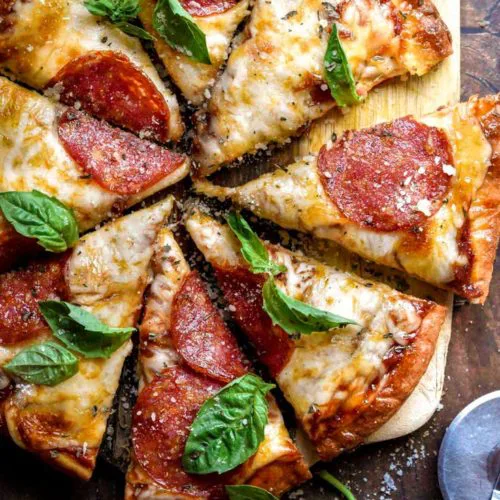 Fathead Pizza
Print Recipe
Pin Recipe
Ingredients
PIZZA DOUGH:
1 1/2

Cups

Shredded Mozzarella

3/4

Cup

Almond Flour

2

Tablespoons

Cream Cheese

1

Egg

Garlic Salt
Instructions
Preheat oven to 425 F and line a baking sheet with parchment paper.

Combine shredded mozzarella (1 1/2 cups) and cream cheese (2 tablespoons) in either a heat safe bowl to microwave, or in the top of a double boiler.

If microwaving, use 30 second intervals to melt the ingredients together. Stir ingredients together between intervals. If using a double boiler, stir to combine as the ingredients melt.

Once melted, add egg (1) and almond flour (3/4 cup) and stir/knead to combine.

Use damp hands to press the dough into a 10" circle on your prepared piece of parchment. If the dough is difficult to spread, simply warm it back up to melt the cheese.

Use a fork to poke holes in the dough.

Pop the crust in your preheated oven for 8 minutes.

Remove the crust and poke holes where any bubbles may have formed.

Add toppings, and place crust back in the oven for 12-14 minutes, or until the cheese on top starts to brown slightly.

Allow the pizza to cool before slicing, and enjoy!
Rate this Recipe
Fans Also Made These Low Carb Recipes:
Lindsey's Tips
Almond Flour.

Using fine-grained almond flour will yield the most "flour-like" results. My favorite brands are

Bob's Red Mill

, Trader Joe's, or Costco brands.

Nutritional information is for 1/8th of the pizza, and includes the toppings:
Nutrition
Calories:
234
kcal
Total Carbohydrates:
4
g
Protein:
14
g
Fat:
19
g
Sodium:
451
mg
Fiber:
1
g
Sugar:
2
g
Net Carbs:
3
g
©Little Pine Low Carb. Content and photographs are copyright protected. Sharing of this recipe is both encouraged and appreciated. Copying and/or pasting full recipes to any social media/website/blog is strictly prohibited.