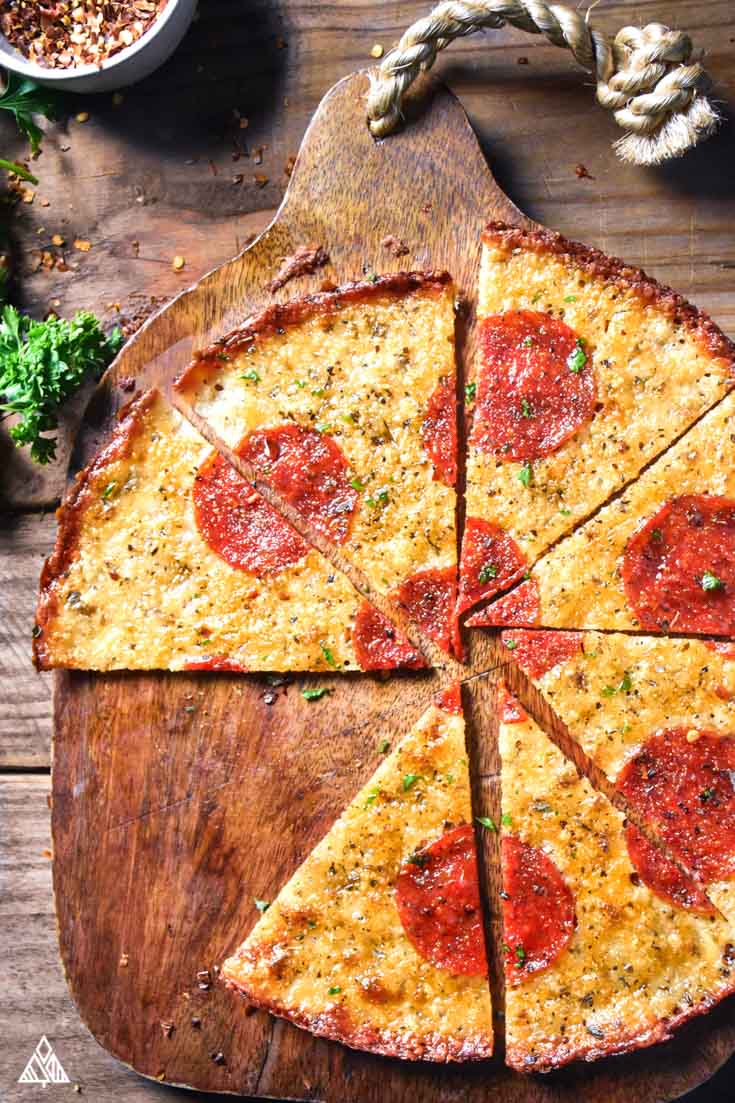 In my house, crustless pizza night is hands-down the happiest night of the week.
Gooey and crispy cheese, hearty and flavorful toppings, savory Italian herbs, dipped in a zesty low carb spaghetti sauce—it just doesn't get any more heavenly than that.
Or does it? YOU are the boss of this effortless delicacy.
I'm simply thrilled to offer you a low carb crustless pizza recipe so easy, you can make it in your sleep!
Note: I don't recommend operating a stovetop while sleeping, but if you're going to do it, this is the recipe to attempt.
Try it once, and you just may join in my daydream of opening a chain of crustless pizza restaurants. Are you ready for a simple snack-time addition to your low carb food list? Well read on, my friend!
What is no crust pizza?
This healthy no crust pizza recipe will remind you of a pizza-nacho lovechild in the most delicious and divine way possible!
The superstar of this dish is shredded cheese—everything else is optional and totally up to you!
Sprinkle a layer of cheese in a nonstick pan, cover, and listen to the crackle as the magic starts to happen. Cheese sprinkles become a creamy and crispy chip, perfect to slice and dip into your favorite sauces…
Low Carb Pizza Sauce, Made for dipping
Low carb pizza sauce is always a hit, or spice it up with some low carb alfredo sauce, low carb pesto, and ranch dressing too! The possibilities really are endless.
Top with pepperoni and pair with spaghetti sauce for a quick family-friendly appetizer, or spin this keto crustless pizza into a dinner party hit by topping with your favorite low carb vegetables and serving with an exotic ham chutney!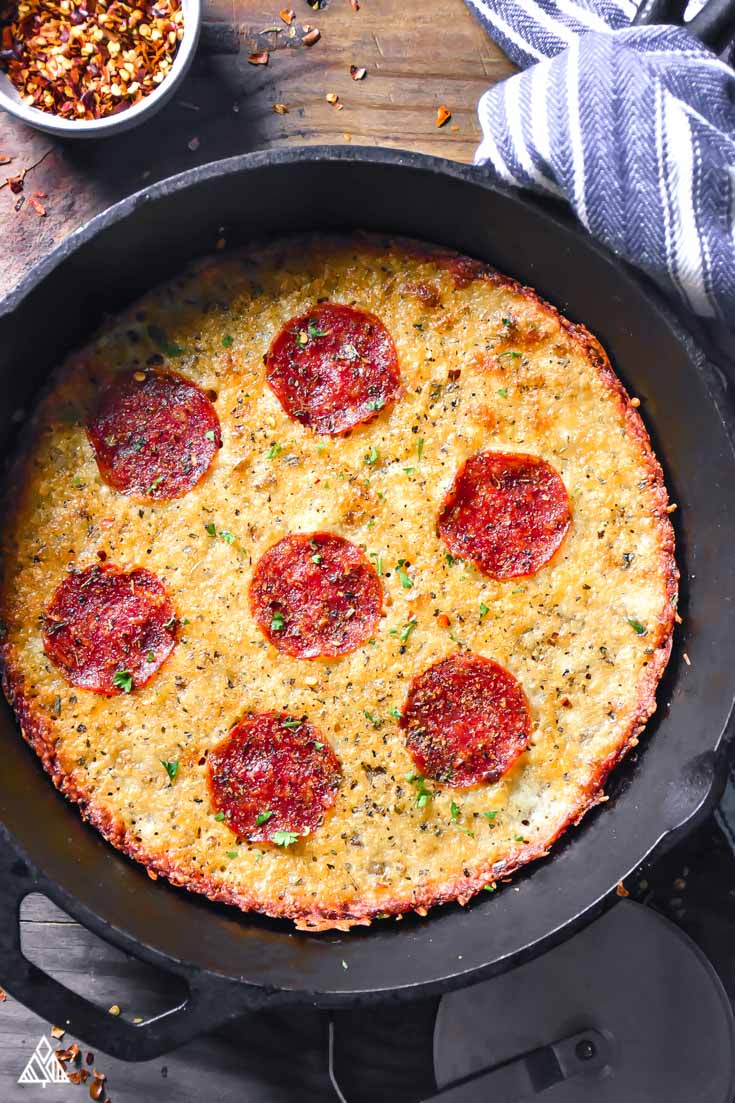 Crustless Pizza Recipe Notes— Perfecting this low carb pizza crust:
Before I hand you the reigns and set you free to build your crustless pizza creations, here are a few tricks-of-the-trade when constructing this low carb pizza crust.
Check out this video for a visual, or skip below to my suggestions 🙂
1. Be sure—100% sure, that you're using a nonstick pan. I like using my trusty iron skillet, because I know that it will distribute the heat evenly and predictably for an all-around crisp.
If you forget to use a nonstick pan, your crustless pizza will forever be trapped on the bottom of your skillet, completely useless for the purpose of dipping and eating.
Double and triple check that your cookware is actually nonstick, and you can be sure to avoid such tragedies.
2. Since there is only one critical ingredient to this fabulous dish, the cheese, it's important to use the right kind for your vision.
When making a traditionally-flavored Italian crustless pizza, I go for good ol' mozzarella shreds.
If you prefer, you can switch up the cheeses you use, just be sure they have a hard and dry texture, and that they melt easily (skip the feta).
Cheddar cheese shreds can make a fun, southwestern inspired crustless pizza if you top with shredded chicken and serve with pico de gallo salsa, and multi-cheese blends are always a big hit with the kiddo demographic.
Stay away from super crumbly our soft offerings like Brie and blue cheeses, as they will melt and crumble before reaching that delightful crispy texture you seek.
3. The only other important consideration is the seasoning. For Italian pizza, I use oregano, garlic powder, and basil—the Italian herb trinity.
As delicious as they are, those seasonings would be out-of-place if you're evoking a different flavor palette. Tinker around with your seasonings and don't be afraid to switch it up to match the seasonal offerings, whatever's growing in your garden, and most importantly, your mood!
How do you make crustless pizza with cream cheese?
Crustless pizza with cream cheese is another savory twist…
…by adding a thin layer of cream cheese to the skillet, the shredded cheese takes on the role of a low carb pizza crust, and the cream cheese adds body, richness, and heartiness to the dish.
There's a crustless skillet pizza for any occasion, and with only one crucial component, I always keep ideas for a crustless pizza near me. You most likely have everything you need to make this low carb recipe in your refrigerator and on your low carb shopping list right now!
Recipes like this keto pizza keep me on low carb track!
Don't get caught in the healthy eating rut of making the same low carb meals over and over again, or you may get bored and let go of the healthy low carb lifestyle altogether!
(Check out below the recipe for all my favorite keto pizza variations!)
Fill your kitchen with ingredients for simple, delectable, and adaptable recipes like this crustless pizza casserole, and you will set yourself up for long-term healthy-eating success!
The best part? Crustless pizza is so universally appealing, it may inspire your friends and family to join you on your wellness crusade…
…Amazing recipes, and amazing lifestyles, are always better when shared with the lucky ones you love.
This is a playful dish, meant to be joyfully devoured. Champion your own recipe, challenge your loved ones to do the same, and share often. This crustless pizza is a perfect dish to introduce to the littles in your life to inspire their creativity in the kitchen and love of low carb foods.
Who doesn't love a personalized pizza, am I right?
Without any further ado, here is The Little Pine's effortless crustless pizza recipe:
Crustless Pizza
This low carb crustless pizza recipe will remind you of a pizza-nacho lovechild in the most delicious and divine way possible!

Ingredients
2

Cups

Cheese

shredded

Pepperoni

sliced

Seasonings

(optional) I love a combo of oregano, garlic powder and dried basil

Low Carb Pizza Sauce

(optional, great for dipping)
Instructions
In a nonstick skillet, add a thin and even layer of shredded cheese.

Top with whatever toppings you'd like.

Cover with a glass lid and cook over medium heat, until the cheese melts and the bottom and edges become golden.

Remove from heat and allow the cheese to cool before taking out of pan.

Cut into pizza slices and serve with your favorite dipping sauce!

Notes
Nutritional information was calculated to include 10 pepperonis.
Nutrition
Calories:
113
kcal
|
Carbohydrates:
0
g
|
Protein:
7
g
|
Fat:
9
g
|
Saturated Fat:
5
g
|
Cholesterol:
29
mg
|
Sodium:
175
mg
|
Potassium:
27
mg
|
Sugar:
0
g
|
Vitamin A:
5.7
%
|
Calcium:
20.4
%
|
Iron:
1.1
%
©Little Pine Low Carb. Content and photographs are copyright protected. Sharing of this recipe is both encouraged and appreciated. Copying and/or pasting full recipes to any social media/website/blod is strictly prohibited.
Low Carb Pizza Variations
Lots of low carb pizza variations have popped up over the years, but this one is delightfully different. It stands out in a crowd, as it's completely crustless, a snap to make, and serves as a delightful low carb appetizer or snack (low carb chips anyone)!
If you LOVE pizza as much as I do, check out some of my favorite low carb recipes for pizza:
Low Carb Pizza Casserole
Low carb pizza casserole is full of so much saucy, cheesy goodness, you have to eat it with a fork. Make it ahead and enjoy pizza all work week long!
Meatza
Pizza crust made from, you guessed it, ground beef or turkey! Meatza is a SERIOUS crowd pleasure. Full of protein, flavor, and ready to be topped with whatever you're craving!
Chicken Crust Pizza
Chicken crust pizza is literally the same as above, just with chicken. Who woulda thunk, a lean protein pizza crust actually does exist!
zucchini pizza
We all know about zucchini pizza, and for good reason!
cloud bread pizza
Probably my favorite, most glutinous of the low carb pizza variations, cloud bread pizza is full every cheesy delicious — You simply wont be able to resist!