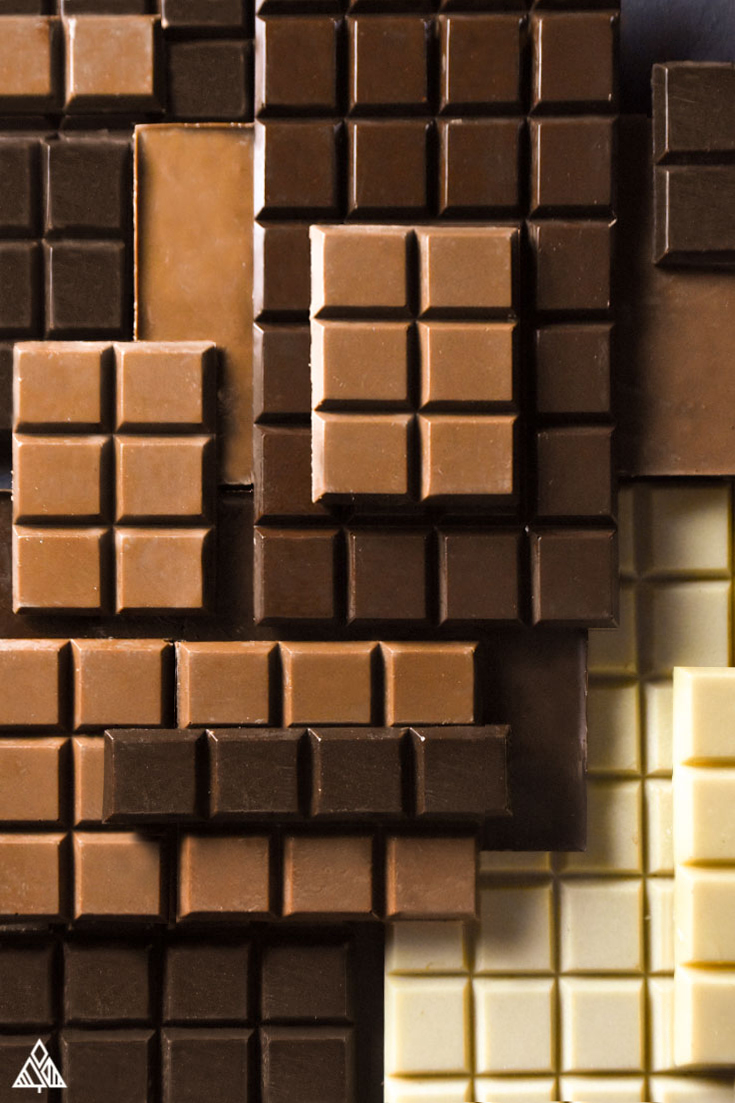 Oh ya, you read that right, low carb chocolate is here, it's delicious, and it's gonna make you forget you're cooking low carb recipes!
Let's be real friends, what's the one thing you miss the most when you give up carbs?
Probably bread— probably beer— but definitely, without a doubt, chocolate.
Because in the land of the most crave-able foods, chocolate, or dare I say, low carb chocolate reigns supreme.
Whether it's low carb chocolate chips, low carb chocolate mousse or low carb chocolate cake, low carb chocolate recipes of all kinds are undeniably the most delicious, day-dream-worthy treats you can find!
So my fellow chocolate lovers— are you ready to learn how to make the perfect low carb chocolate?
Let's get this party started with my tried and true low carb chocolate bar recipe. It's a surefire way to quench those chocolate cravings. Plus it's an awesome base for most of my low carb chocolate candy recipes.
Low Carb Chocolate Ingredients
The first thing you'll need for this recipe is some food grade cocoa butter. You can find this ingredient at some health food stores (I've purchased it at Whole Foods in the past), but I find it's typically cheaper online.
Next you'll need to find some unsweetened baking chocolate and some Swerve Confectioners Powder. The baking chocolate can be used sparingly if you like a milder chocolate, or—if you're a low carb dark chocolate fanatic like me—you may use a more gracious amount.
This ingredient can be found at most grocery stores, but again I find it's much less expensive online.
Swerve Confectioners Powder is a natural, non-glycemic sweetener made from erythritol, a sugar alcohol with a somewhat gritty texture. The confectioner's powder balances the grit of the erythritol to an extent, but the final product will have a faint grit to it compared to most store-bought chocolate.
I should note here as well that the ingredients in Swerve are ZERO NET CARBS, as they do not affect blood sugar. While they do technically contain carbs, they are considered non-impact—good news for those of us embracing the health benefits of low carb foods!
While I haven't been able to find this ingredient in stores, I've purchased plain-ole-erythritol (not confectioner) at Whole Foods. Believe it or not, the difference in consistency makes a big difference when making your own chocolate!
Erythritol (whether you purchase Swerve, or erythritol without the brand name) is known to be a pricier sugar substitute. But trust me, I find the end result to be well worth it.
To learn a little more about erythritol, check out this video!

Top your ingredient list off with some vanilla and salt and you're good to go!
How to Make Low Carb Chocolate
The first thing you'll need to do is to melt the cocoa butter and baking chocolate together. The best way to do this is to combine the ingredients in a bowl on top of a pot with boiling water in it, effectively giving you a double boiler—or if you have a double boiler, just use that.
Stir the cocoa butter and baking chocolate together until they are both fully melted and combined.
Next, add the Swerve Confectioners Powder, salt and vanilla.
The Swerve will likely clump together in the center during this step—don't worry! This may not currently look like any of the low carb desserts you can buy at the store, but soon it will 🙂
Now, this step is one of the most important steps, and I know what you're already planning on skipping it. But trust me, it makes all the difference…
Pour the chocolate combo into a heat safe blender and blend until the ingredients have thoroughly combined.
Skipping this step means your sweetener will land in uneven clumps throughout your chocolate bar. Ergo, one bite pure chocolate, one bite too sweet— you get the picture.
Finally, pour contents into a chocolate mold. I find that silicone molds, like this one I bought on Amazon, will typically last longer and are easier to pop the chocolate out of than traditional, hard plastic molds.
PS, I find a rubber spatula is key to getting as much chocolate out of these containers as possible. If you're like me, you can't waste a drop…
At this point you've got your chocolate in your mold, and it's looking uneven, lumpy and super not Instagram-worthy. Not to fear, simply hitting the mold on the counter a few times will even out that top layer and dispel any lurking air bubbles.
Pop the mold into the fridge for an hour—or into the freezer if you're very eager—then enjoy!
In addition to the steps above, feel free to experiment a bit with other low carb foods and flavors…
Before tossing your chocolate in the fridge, how about sprinkling some low carb nuts, low carb fruits or sugar free gummy bears on top? For something a bit more decadent, you could add an ingredient like peanut butter to create your own low carb peanut butter balls.
Or, try making your own low carb peanut butter cups using the chocolate recipe as your base. Doesn't get much better than that…
…Because with chocolate this good, whatever you make will likely become a new family favorite!
Sugar Free White Chocolate
If you're more of a sugar free white chocolate fan, you're in luck, you get to skip the expensive baker's chocolate! This stuff is so easy to whip up and even creamier and more delicious than the store bought kind. I add powdered heavy cream to my recipe, check it out by clicking the link above!
Low Carb Chocolate Chips
If you're wanting to make low carb chocolate chips for everyone's favorite low carb chocolate chip cookies, this is the perfect base to work with.
Instead of pouring the chocolate into a mold, simply add it to a pastry bag with the tip cut off, and simply squeeze or "pipe" little dots onto a sheet of parchment paper. To create the point in the middle of each chip, use your finger or a toothpick and gentle touch the center of each dot, bringing the chocolate up to a point.
Better yet, pour your low carb chocolate into a food grade silicone pot holder mold, with a shape you'd enjoy sprinkled on top of your low carb hot chocolate.
I will mention that Lilly's Chocolate Chips are pretty darn delicious— However, at almost $12.00 a bag (current Amazon price), they should be. Ps, these are the preferred pre-made chocolate chips for most low carb-ers.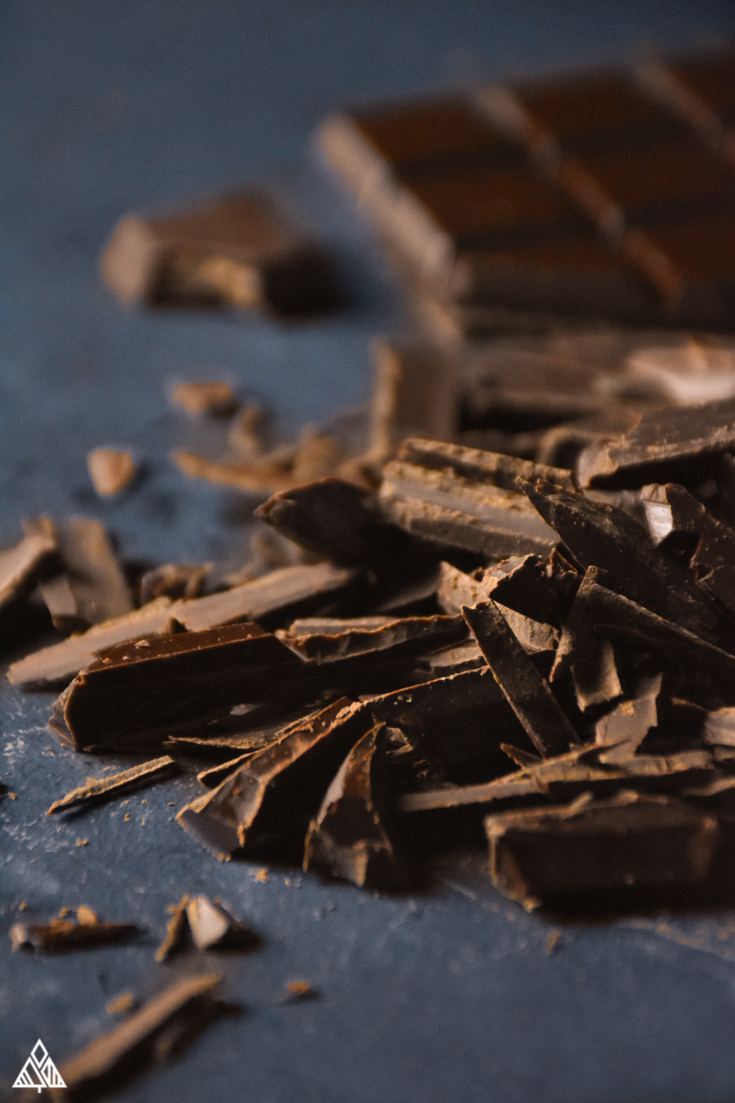 What is a Low Carb Candy?
Traditional chocolate gets a majority of its carbs from sugar— Therefore replacing sugar with sugar free sweeteners like stevia and erythritol allow us low carb-ers to indulge in our favorite treats AND stick to our low carb goals— without missing out on any of that flavor we all love and crave.
Another common ingredient in candy is milk— think milk chocolate— which can really crank up the carb count. Although the recipe above it completely dairy-free, you can also try adding in low carb milk and heavy creams for a helpful alternative.
Is there Carb Free Chocolate?
The carbs in beans, while not sugary, are still carbs— This includes the carbs found in cocoa beans. That means any carb free chocolate you find isn't from actual cocoa.
Is Sugar Free Chocolate Low Carb?
Believe it or not, sugar free doesn't always equate to low carb.
Many sugar free recipes contain carbs from milk and or other carb sources—Werther's Original Hard Candies for example. Whether or not sugar free chocolate is low carb will depend on the brand, the recipe, etc—and for the record, this recipe, is both sugar free and low carb.
Store Bought Low Carb Chocolate Bars
If you're an unabashed chocolate lover like myself, finding low carb chocolate at your local grocery store can be a challenge. The low carb chocolate bars hershey and other mainstream brands have yet to make have left us low carb chocolate lovers hopelessly waiting!
As far as actual low carb chocolate bars go, there are very few options out there, which is I've been able to taste test everyone I know of! (probably shouldn't be proud of that, right??)
These bars can be hard to find in stores— I've found a few at Whole Foods, but for taste testing purposes I've always purchased them via Amazon.
I won't be offended if DIY isn't your thing and you're really just looking for a low carb chocolate brands to satisfy your sweet tooth. In my opinion, here are the best low carb chocolate bars:
ChocZero
Sweetened with Monkfruit. Carbs in this product are fiber
Per 10g serving: 40 calories, 6 carbs
ChocoRite
Sweetened with Erythritol, stevia and inulin
Per 12g serving: 35 calories, 7 carbs
Sukrin Chocolate Bars
Sweetened with sukrin and stevia
Per 40g par: 177 calories, 4 carbs
For what it's worth, I love my homemade stuff. More than the low carb chocolate bars I've purchased and tried.
Low Carb Chocolate — Dark Chocolate
Low carb chocolate is here, it's delicious, and it's gonna make all your low carb desserts next level good! 3 ingredients, some boiling water and a serious sweet tooth are all you need to make this delicious sugar free recipe!

Instructions
Using a double boiler, melt the cocoa butter and baking chocolate together. Stir until these ingredients are both fully melted and combined.


Add the sweetener, salt and vanilla, and stir until they're incorporated. (You'll notice the sweetener will not want to fully combine with the liquids, we'll take care of that next).

Process/blend until all ingredients have combined.

Pour the melted chocolate into a mold and place it in the fridge. The chocolate will set in about an hour, you can always place it in the freezer if you're craving it sooner! Enjoy!
Nutritional Information
Nutrition information will vary based on the specific products. To be safe, check the nutrition facts labels of your products. Optional object listed above have been left out of nutritional data.
Nutrition Facts
Low Carb Chocolate — Dark Chocolate
Amount Per Serving
Calories 211
Calories from Fat 189
% Daily Value*
Total Fat 21g 32%
Total Carbohydrates 13g 4%
Protein 4g 8%
* Percent Daily Values are based on a 2000 calorie diet.
Low Carb Desserts
Alright, if you're like me this article has got you all sort of excited for every type of low carb dessert you can possibly imagine. Low carb desserts help me stay focused on my low carb journey with far less "woe, is me" moments, and far simple pleasures.
With sugar alternatives, a little know how, and a needy sweet tooth, the low carb desserts world is at your fingertips! What will you make first?? Up next from my kitchen is a delicious low carb fudge recipe 🙂