Enjoying a low carb protein shake for low carb breakfasts is a healthy, delicious way to start the day!
This recipe makes smooth and luscious low carb smoothies every time! Blended together with some protein powder, it's one of those treats that'll fill you up and help to curb your appetite until your next low carb meals.
Not to mention, this low carb recipes a quick, no brainer for busy mornings, and, it tastes like dessert! This low carb protein shake is versatile, smooth and dreamy.
Now that your mouth is watering, let's make some low carb drinks!
[no_toc]
Low Carb Protein Shake Ingredients
Fresh, high-quality ingredients are the cornerstone of this delectable low carb protein shake — and you probably already have most of these low carb foods and keto fruits on your low carb shopping list! Here's what we'll be using:
Low Carb Milk.
While there are plenty of low carb milks to choose from, opt for one that tastes great by itself. If you wouldn't drink a glass of it, then you don't want it in your low carb protein shake! I use almond milk in this recipe because it's very low in carbs, and has a subtle flavor.
Ensuring you use the best of these two ingredients will help you create a brilliant protein shake that will quickly become one of your favorite low carb recipes!
Peanut Butter.
One last thing, let's talk about low carb peanut butter.
Many store-bought brands are chalked full of unsavory ingredients that will wreck the nutritional value of your low carb snacks. Read the labels (you're looking for no added sugar) and if you can't find one that is suitable, improvise!
Buy a jar of peanuts and throw them in a food processor with a little bit of sunflower oil and voila! Low carb peanut butter that tastes incredible with no added sugar.
Most Importantly, You Want a Tasty Low Carb Protein Powder
The trick to making an irresistible low carb protein shake is to ensure that you start with the best tasting protein powder you can find. Your low carb protein powder is going to be the base of your keto shake, so taste it dry to be sure the flavor is palatable.
Best Low Carb Protein Powder
I have 2 favorite protein powders I switch between. They both have an awesome flavor and minimal ingredients — however they're made from different protein sources. Pick whichever works best for you!
How To Make Low Carb Shakes
Who doesn't love dessert for breakfast?
That's right, no one! Which is why this scrumptious low carb protein shake is one of the best breakfasts ever. This low carb protein shake not only tastes A-MA-ZING, but it comes together in a snap…
The one important thing to remember when making low carb protein shakes is to add liquids to the blender, first. Then add your powders, small stuff next and bigger stuff last.
This helps ensure that nothing gets caught under the blade and you don't have to waste precious time jostling ingredients.
I know how crazy busy mornings can be. Whipping up a fast, nutritious breakfast in the blink of an eye is a valuable skill that will help fuel your day without stealing any of those pivotal morning moments!
Save Your Favorite Recipes!
Create an account and save all your favorite recipes for easy access!
Place the ingredients into the blender in the order listed.

Blend until smooth and enjoy!
Note: You won't be able to taste the spinach in this recipe, but it's a great way to sneak some greens in for breakfast. If you like your low carb shakes extra cold, store a bag of spinach in the freezer just for this purpose!
Low Carb Breakfast Smoothie Variations
One of the great qualities about this low carb breakfast smoothie recipe is its versatility. Tweak it to make great meals on busy weeknights or incredible take-along snacks when you're on the go!
Your low carb protein shake your rules — here are a few swaps and variations I enjoy that'll get your creativity going:
Add a variety of fruit (I stick to berries) to sweeten things up

Try using vanilla protein powder for a whole new flavor

Switch out your nut butters for a subtle flavor change

Use chopped low carb nuts instead

Try using shredded coconut instead of nuts and nut butters.
The possibilities really are endless!
Finding time to stop and enjoy a meal can be difficult, but a heavenly dessert bowl is a great motivator! To do this, simply:
Reduce the amount of milk in the recipe for a dessert-like smoothie bowl you can eat with a spoon. Make it a "milkshake" and top it with a dollop of keto whipped cream or keto granola. Toss the straw, grab a utensil and go to town!
Low Carb Peanut Butter Smoothie Toppings
This low carb peanut butter smoothie is quite honestly one of the greatest meals in the world, as it's quick, easy, and full of nutrient dense foods! Toppings are purely a matter of taster's choice:
Turn this into a smoothie bowl and top with some low carb granola for a tantalizing treat that satisfies your hunger.
Top with flax seeds, chia seeds or chopped nuts for a protein-packed punch.
Sprinkle with some fresh fruit for a succulent sweetness that just can't get any better!
Low Carb Meal Replacement Shakes For Meal Prep
Low carb meal prep for a keto protein shake is simple: Just store ingredients (minus the milk) in a resealable bag in the freezer, and you're done!
Make these baggies ahead of time so you can just grab them in the morning and add milk. You'll have a fast, easy and incredibly yummy keto protein shake ready to go for those busy days!
More Low Carb Smoothies to Love!
Low carb smoothies are more than just protein packed shakes and low carb breakfast without eggs. With the right ingredients, they can offer many health benefits beyond just fueling your day. Check out these other recipes: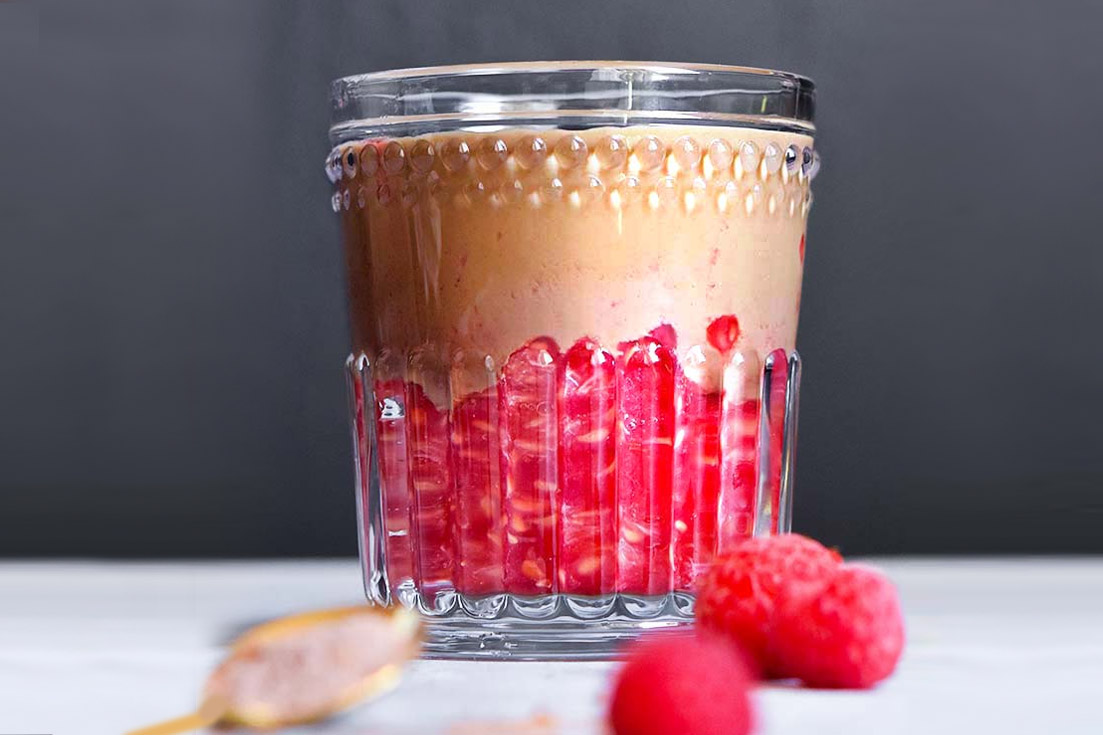 This low carb protein shake recipe marries the best of dessert with dietetics. You just can't beat it! The best part is that you can enjoy this for almost any low carb meal!
See for yourself. Give this recipe a try and let me know what you think in the comments below! Enjoy!
Low Carb Protein Shake
This low carb protein shake makes a divinely inspired nutrient dense silky-smooth refreshment that closely mimics a low carb milkshake.
Instructions
Place ingredients into your blender in the order listed above (Minus the raspberries if you'd like to mash them as I did in the photos).

Blend until smooth, and enjoy!

Option: mash the raspberries in the bottom of your cup. Once you're done drinking your smoothie, enjoy the mashed raspberries with a spoon.
Notes
*Make sure you like the taste of your protein powder!! If you don't like the taste, you won't like this shake.
**You won't be able to taste the spinach, and it's a great way to sneak some greens in for breakfast! I store a bag of spinach in the freezer to make my shakes extra cold.
Nutritional information is based on entire recipe:
Nutrition
Calories:
249
kcal
|
Carbohydrates:
9
g
|
Protein:
26
g
|
Fat:
12
g
|
Saturated Fat:
1
g
|
Cholesterol:
0
mg
|
Sodium:
74
mg
|
Potassium:
103
mg
|
Fiber:
4
g
|
Sugar:
1
g
|
Iron:
0.3
mg
©Little Pine Low Carb. Content and photographs are copyright protected. Sharing of this recipe is both encouraged and appreciated. Copying and/or pasting full recipes to any social media/website/blod is strictly prohibited.
Reader Interactions