Don't let the title fool you, crustless spinach quiche is every bit as decedent and delicious as it's carb filled predecessor—only without the crust there's more room for the creamy, cheesy low carb foods we love!
Every delectable bite of this quick crustless quiche is filled with the perfect amount of cheese and veggies, to help you feel a little less guilty. It goes down well with a cup of coffee or tea—heck, even a glass of wine if you're doing breakfast for dinner!
I'll share all my favorite ways to make this recipe; from crustless to crust—from mini quiche, to full size so you can decide which of the low carb recipes you'd like to go with.
Let's get this quiche party started!
Crustless quiche Ingredients
As you know, at the core of every basic crustless quiche recipe, there eggs. The rest of the ingredients are more flexible, and can be swapped around according to what you're looking for:
Low Carb Vegetables
The most important part when using low carb vegetables in any quiche recipe is to cook them before adding them to the quiche. This allows them to release their liquid—crust or no crust, a soggy quiche is never a good thing!
For this crustless spinach quiche, I opted for (duh) spinach and onions. Feel free to mix, skip or swap the veggies according to your low carb food list—just be sure to keep the ratio of vegetables to eggs the same as I did here.
Crustless spinach mushroom quiche? Use less spinach to lieu of the mushrooms. Delish!
Low Carb Milk
Traditional quiche calls for cow's milk—which isn't a low carb shopping ingredient due to its high sugar and carb content. A low carb milk alternative will do the trick for this recipe—use unsweetened almond or coconut milk for a lower fat healthy crustless spinach quiche recipe.
Or do as I did, and opt for heavy cream! With hardly any carbs in cream, you'll get a lot of creamy taste and texture for your buck!
Carbs in Cheese
Since there are very few carbs in cheese, it's easy to find a low carb cheese for this recipe. I love mozzarella—it's neutral, tasty, and works well with the other ingredients. Feel free to use whatever you have on hand. A crustless spinach feta quiche would be marvelous!
How to Make Spinach bacon quiche Using this recipe
In attempt to make more low carb vegetarian recipes, I didn't add bacon to this crustless spinach quiche.
However, for us meat eaters, it's a fact: bacon makes everything taste better.
The only additional requirement for making a spinach bacon quiche is to cook the bacon before adding it to the quiche, and dab off the surface grease (again, the less liquid we bring into the quiche, the better). Chop your bacon into desired bite-sized bits and that's all!
Bonus points if you cook the veggies in the pan's bacon fat in lieu of vegetable oil—it'll make this crustless spinach and bacon quiche next level good! Or, for the less healthy option, skip the greens and go for a crustless bacon quiche.
Save Your Favorite Recipes!
Create an account and save all your favorite recipes for easy access!
Crustless quiche recipe Tips
The main tip to making a crustless quiche recipe that your family will cherish for years, is to cook the ingredients before adding them to the pan. I know I've said this before, but it makes such a difference in the consistency of the dish!
Another important tip—when making crustless quiche vs. quiche with a crust, you'll want to use a pie pan, NOT a quiche or tart pan. It may seem silly I'm even mentioning this, but I've seen one too many recipe flops to not warn you guys.
If you have no idea what I'm talking about, a quiche/tart pan is made with a removable base so you can more easily pull you finish goods out of the pan. Well, when you don't have a low carb quiche crust to protect the insides, you'll get one, big ole mess.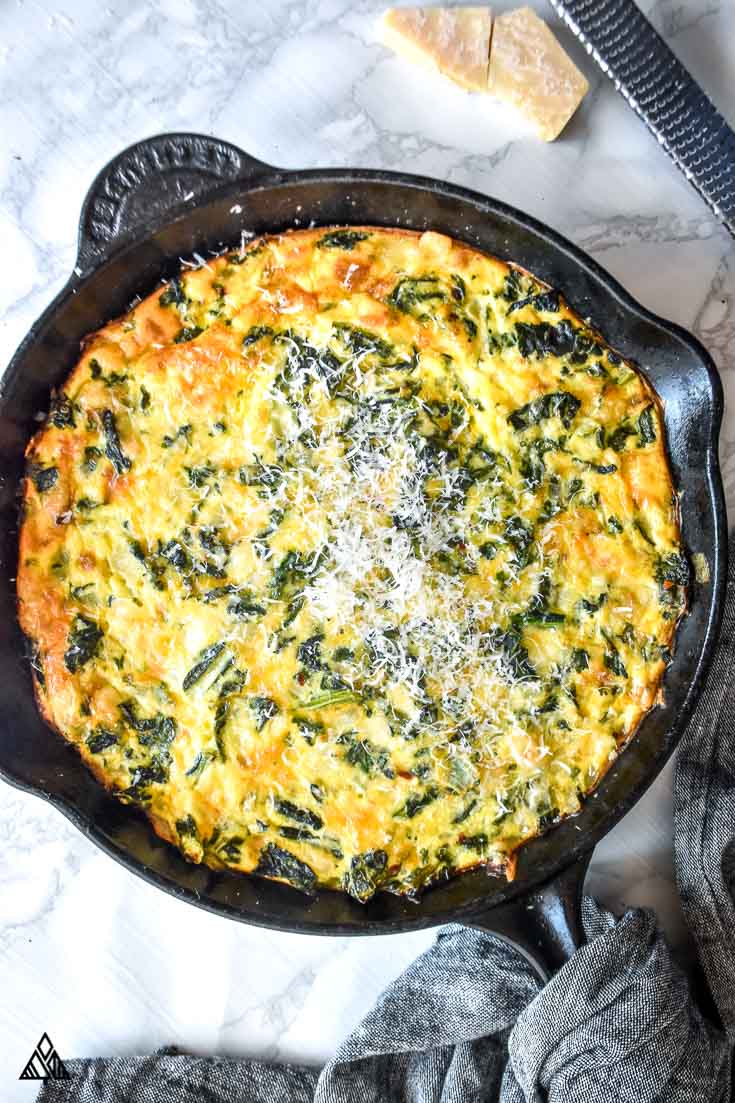 Storing Your Keto quiche
Duh, this keto quiche must be stored in the fridge—what I mean is, let's talk about the long term storage and low carb meal prep potential of this dish, so you can hit the snooze button and eat like a queen (or king) before starting the day…
Crustless spinach quiche, or any low carb quiche for that matter, is an awesome breakfast meal prep—and if you're on the meal prep bandwagon, you know that this is potentially the hardest of low carb meals to prep for.
What you do is bake the quiche. Allow it to cool. Cut it into slices per your desired portion. Place each slice in a zip lock (don't forget to label) and into the freezer.
Then, when you're getting ready in the morning, toss a slice of your quiche on a baking sheet and into the oven, and it's ready when we're ready! Delicious low carb breakfast with no dirty dishes.
Now that you've got your crustless spinach quiche formula down, go wild with what you bake inside! I was super inspired by all the delicious variations in this video:
Crustless quiche recipes Variations
Crustless quiche recipes are the low carb breakfast ideas gift that just keeps on giving—you can customize them every which way, it's truly hard to get sick of this classic! Here are a few different ways to work up this dish…
Turn this into a Low carb breakfast casserole
If you don't have a pie pan, this dish can easily be turned into a low carb breakfast casserole by pouring the contents into a casserole dish. Bake times will differ with different sized dishes—and depending on the size of your dish you may need to double the recipe. 
How to Make Crustless mini quiche
Talk about a week's worth of premade low carb meals! Turning this recipe into a crustless mini quiche gives you the perfect portioned serving. Simple pour this quiche recipe into a coated muffin tray. (again baking times will vary)
Crustless Bacon spinach quiche
How about this for next level—make your bacon spinach quiche using bacon as your crust! You'll want to bake the bacon in a muffin tin before adding the rest of the quiche ingredients.
Crustless quiche Lorraine
Who doesn't love crustless quiche Lorraine, heck plain ole quiche Lorraine for that matter! Check out our low carb quiche Lorraine recipe—you can make this without the crust as well.
Low carb quiche crust (just incase)
You gave it a good college try, but at the end of the day, you love your crust! What can you say??
Great news is, this low carb quiche recipe turns out beautifully when baked inside our low carb pie crust. It's a bake ahead crust, so pour the quiche contents into the crust, bake and dig in!
Crustless Spinach Quiche
Don't let the title fool you, crustless spinach quiche is every bit as decedent and delicious as it's carb filled predecessor—only without the crust there's more room for those creamy, cheesy low carb foods we love!
Ingredients
2

Tablespoons

Vegetable Oil

2

Cups

Onion

chopped

2

Garlic Cloves

minced

10

Ounces

Spinach

fresh

1

Teaspoon

Salt

¼

Crushed Red Pepper

6

Large Eggs

¼

Cup

Heavy Cream

1 ½

Cup

Shredded Mozzarella
Instructions
Heat oven to 375° and grease a 9" pie pan (quiche/tart pan won't work for this crustless quiche).

In a large skillet, heat the oil on medium. Add chopped onion and cook until softened.

Add garlic, and cook for an additional minute—stirring constantly.

Add spinach to skillet. You may need to do this in batches depending on your pan size; when the spinach releases water, there'll be more room in your skillet. Turn spinach using tongs until all of it is wilted.

Add 1/2 teaspoon salt and crushed red pepper.

Place veggies evenly into the prepared pan.

In a large bowl, whisk together the eggs heavy cream and remaining salt until combined. Stir in the mozzarella.

Make sure the veggies in the prepared pan aren't too hot. Then pour the contents of bowl into the pie dish over veggies.

Bake quiche for 20-25 minutes. The quiche is done when the edges begin to brown and the center is firm.

Allow the quiche to cool for 10 minutes before cutting and enjoy!
Notes
Nutritional information is based on 1 slice, if you slice this quiche into 8 slices.   You can swap the fresh for 10 oz frozen spinach --  Just be sure to thaw and thoroughly drain the spinach before adding it in (you want to remove as much liquid as possible).
Nutrition
Calories:
191
kcal
|
Carbohydrates:
6
g
|
Protein:
10
g
|
Fat:
14
g
|
Saturated Fat:
8
g
|
Cholesterol:
149
mg
|
Sodium:
501
mg
|
Potassium:
323
mg
|
Fiber:
1
g
|
Sugar:
2
g
|
Vitamin A:
75
%
|
Vitamin C:
15.9
%
|
Calcium:
17.5
%
|
Iron:
9.5
%
©Little Pine Low Carb. Content and photographs are copyright protected. Sharing of this recipe is both encouraged and appreciated. Copying and/or pasting full recipes to any social media/website/blod is strictly prohibited.
Hope this crustless spinach quiche gets your day off to a beautiful start! Let me know what you think in the comments below 🙂