When omelets just aren't getting you out of bed, look no further than this low carb egg mcmuffin recipe to satisfy your deepest, darkest, fast food for breakfast desires.
But why put all your eggs in one basket? Try more keto breakfast recipes — like keto egg muffins, keto breakfast muffins, and keto deviled eggs.

Want to Save This Recipe?
Enter your email below and we'll send it straight to your inbox. Plus you'll get great new recipes from us every week!
[wpforms id="103279"]
Keto Egg Mcmuffin Video Tutorial
On your phone? Check out my web story here.
Ba-Da-Ba-Ba-Breakfast.
I have a shocking admission to make: I like Mcdonalds. Not all Mcdonalds, per se — but I do have a soft spot in my stomach for their Egg Mcmuffins. And if you're reading this, you probably do as well. I've got you covered.
The first time you sink your teeth into two layers of scrambled eggs sandwiching a super juicy, herb-seasoned chicken sausage — with a little pop of freshness from sliced tomato, and a layer of gooey cheddar, try not to whisper I'm lovin' it. 😂 – Linds x
*A little disclaimer: These keto egg mcmuffins aren't fast food. And by that I mean they take a bit of time to make. I recommend whipping them up in larger batches — as meal prep/ make-ahead breakfast. If it's fast you're looking for, check out my keto smoothies or keto oatmeal.
Ingredient Notes
The eggs. As far as taste and texture go, whisked eggs work best for these keto egg muffins. If you don't mind biting into a cooked egg yolk, feel free to crack 1 egg directly into each egg ring (they certainly look prettier that way!).
The meat.

I prefer ground chicken here. Since it's such a lean meat, I add oil to enhance the flavor — don't skip! The homemade chicken sausages are not nearly as good without it.

The sweetener. One reason I prefer homemade sausage is that I get to control the ingredients — many store-bought sausages contain questionable additives such as sugar or corn syrup

. So, to give our homemade mcmuffins that "maple syrup" flavor, we'll add a bit of golden Swerve/Lakanto.

The seasoning. These are my favorite combo of homemade breakfast sausage seasonings, feel free to mix and swap to your taste.
The keto cheese. Do yourself a favor and go for sharp — it's got a stronger (sharper) flavor.
COOKING SPRAY! Have you used egg forms before?? They can be a total pain to clean… so spray spray spray.
Special Tools
Egg forms – You'll want egg forms to get your eggs into that classic round shape — I use these, which I bought from Amazon. If you don't have forms, use mason jar lids sprayed with nonstick spray.
Pan with a lid – You're going to steam your egg rounds, so make sure you have a good-sized pan with a nice fitting lid. 
Store, Freeze + Reheat
Store these keto egg mcmuffins in the fridge wrapped individually for an easy to reheat breakfast. I like to warm them up in the microwave, wrapped in a damp paper towel, using 30 second intervals (until they've reached the desired temp). They also freeze well, so wrap them individually in freezer paper and toss them in a resealable bag together.
Make it Yours:
Craving something a bit more sandwichy? Serve your sausage, egg, and cheese between one of my (warm!) sliced keto biscuits or on top a slice of toasted keto bread.
Add some veggies. Sliced tomatoes? Spinach? Sauteed mushrooms? Avocado? Do you.
Swap sausage for bacon.
Use a different type of meat for the sausage. Swap chicken for ground turkey or pork. If you'd prefer fattier meat (like Italian sausage), skip the oil (and seasoning if you opt for Italian sausage). Also, keep in mind the baking times will vary with different types of meat.
More Low Carb Breakfast Recipes
Oh! And be sure to check out my guide to keto McDonalds here!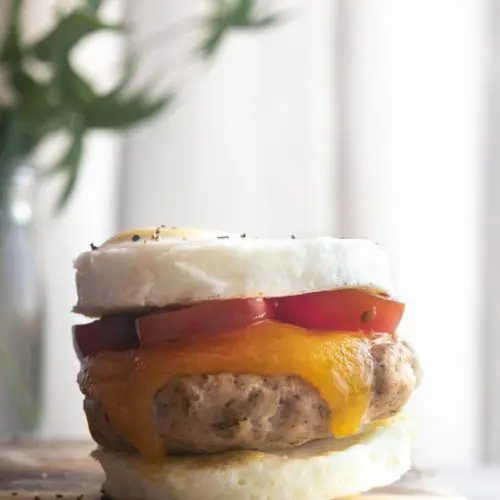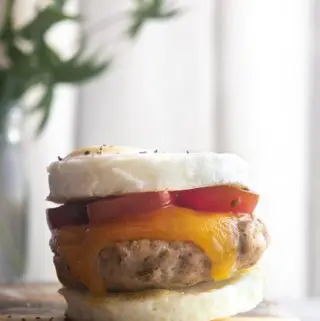 Keto Egg McMuffins
Print Recipe
Pin Recipe
Ingredients
Sausage:
1

Pound

Ground Chicken

(Note 1)

2

Tablespoons

Mild Tasting Oil (see notes below)

(Note 2)

4

Teaspoons

Golden Swerve or Lakanto (see sweetener notes below)

(Note 3)

1

Teaspoon

Kosher Salt

1/2

Teaspoon

Black Pepper

1

Teaspoon

Dried Sage

1

Teaspoon

Dried Fennel Seeds

1

Teaspoon

Dried Thyme

1/4

Teaspoon

Crushed Red Pepper Flakes

Pinch

Ground Nutmeg
Sandwich:
6

Sliced

Sharp Cheddar Cheese

12

Eggs

1/2

teaspoon

kosher salt

1/2

teaspoon

Black Pepper
Instructions
Make the sausage. Preheat oven to 400 F and line a baking sheet with parchment paper. Combine the sausage ingredients in a large bowl. Form them into 6 patties that are 1/2" thick. Place them on the prepared baking sheet. Bake in the preheated oven for 10 minutes, flip the patties, then bake on the other side for 5-7 minutes -- you'll know they're done once their internal temp reaches 165 F. Place a slice of cheese on top of each sausage and return to the oven for another 2 minutes, just until the cheese melts.

Eggs. Meanwhile, whisk (Note 4) the eggs (12) in a large bowl, along with 1/2 teaspoon of both salt and pepper. If you'd like to add any veggies (I like to add 1/2 cup of chopped spinach), stir them in. Stovetop method (MUCH preferred!): Place 2 egg forms (Note 5) or 3.5" mason jar lids in a pan and generously spray the sides of the form and bottom of the pan with cooking spray (Note 6). Heat pan to medium and add whisked eggs to the center of each form. Pour water into the pan so it reaches halfway up each form, and place a lid on top of the pan. Cook the eggs for 3-5 minutes, until they're completely set in the center.Oven method: Preheat oven to 400 F and spray a rimmed baking sheet generously with cooking spray. Pour the whisked eggs into the baking sheet, and carefully place in the oven. Bake for 10-12 minutes, or until the eggs in the center are completely set. Use a 3.5" mason jar lid to cut the eggs into shape. With the scraps: I like to fold them into the sandwiches, between the egg "bun" and sausage.

Assemble. Sandwich a sausage between 2 eggs and enjoy!
Rate this Recipe
Fans Also Made These Low Carb Recipes:
Lindsey's Tips
Different types of meat. Feel free to use ground turkey or pork (this will change the flavor). If you want to use high fat meat like ground beef, skip the oil.
Mild Tasting Oil.

You don't want to overpower the seasoning flavors -- I love avocado oil for this recipe. The oil helps to bring flavor to the sausage, as ground chicken is very lean.

Lakanto, Swerve, or Erythritol.

Brown erythritol gives us that "maple breakfast sausage" flavor". This recipe was calculated using

Lakanto

or

Swerve

which are a 1:1 swap with traditional sugar. If using a different brand of Erythritol, keep in mind it's 70% as sweet as sugar, so you may need to add more to taste. 

Eggs. You can whisk or keep the eggs whole -- as far as taste/texture, I MUCH prefer whisked eggs (I don't like biting into a cooked yolk).
Cooking spray is your best friend here. Egg forms can be a total pain to clean!
I use these egg forms which I purchased from Amazon.
Nutritional information is for 1 sandwich is you make 6 sandwiches using this recipe, and does not include the tomato slice:
Nutrition
Calories:
281
kcal
Total Carbohydrates:
4
g
Protein:
25
g
Fat:
20
g
Sodium:
566
mg
Fiber:
1
g
Sugar:
1
g
Net Carbs:
3
g
©Little Pine Low Carb. Content and photographs are copyright protected. Sharing of this recipe is both encouraged and appreciated. Copying and/or pasting full recipes to any social media/website/blog is strictly prohibited.