Who would've thought the phrase "fat bomb" could bring so much happiness?! Or…. JOY?! (Get it??) Certainly not me, but I'm thrilled to have been proven wrong. These things are the BOMB. (I'll just see myself out).
FYI–these aren't the only indulgences around here: you GOTTA check out my other fat bombs recipes, such as peanut butter fat bombs or cream cheese fat bombs–they make mouth-watering low carb desserts.
Low Carb Nostalgia
One of my favorite parts of being a kid was Halloween: pillowcases laden with treats, weighing me down as I lugged it around with the neighborhood kids. I was a banana one year, but it's probably best we don't get into that.
Instead, I'll talk about rooting around in the bag for the Almond Joys, batting away the Dumdums and Candy Corn (seriously why were those a thing? And don't get me started on the people who gave away APPLES. WHAT.)
Anywho, even the Snickers were cast aside once my fingers grasped a beloved Almond Joy. I'd eagerly rip it open, ignoring my Mom's instructions to only eat one. And when I popped one in my mouth? Well. Joy is literally the best way to describe it.
Now you can recapture the exquisite taste of one of your favorite candy bars and indulge in a little childhood bliss. Bonus? They're Super. Easy. You don't even have to bake, and these babies are the perfect snack or dessert when you're craving something sweet but also counting carbs. So what are we waiting for? LET'S GET FAT (BOMBS):
Important Ingredient Notes
Peanut butter. Depending on how old or dry your peanut butter is (some products are drier than others), you may need to add coconut oil. Otherwise, the "dough" will be too dry to shape into fat bomb form. Also, when purchasing PB, check the label–A lot of products contain added sugars, which I'm guessing you don't want.
Protein powder. I always add protein powder to my fat bombs to help balance the macros. If you're looking for all FAT (and little to no PROTEIN), you can sub protein powder for more almond flour. You may also want to add more sweetener depending on your palette. Luckily, you can taste test the dough as you mix.
Sweetener. I switch between the keto sweeteners Swerve and Lakanto. If using a different brand of erythritol, keep in mind they're probably 70% as sweet, so you may want to add more.
Almonds. Use roasted low carb nuts! They taste better and are crunchier.
Storing Tips + Freezing (Oh my!)
YES, these do marvelously well in the freezer. In fact, I store most of my fat bombs in there for little treats when I get a hankering (also so I don't eat too many in one sitting). To freeze: place them on a baking sheet in the freezer for 1 hour. Once slightly frozen, you can toss them all together in a large resealable bag.
They also stash well in the fridge, in a single layer along the bottom of an air-tight container.
Sometimes You Feel Like a Nut, Sometimes You Want Something Different…
Here's how you can make these almond joy fat bombs yours:
Use a different kind of nut butter. Almond butter, sunflower seed butter…
Or different nuts. ROASTED pecans, peanuts, hazelnuts, oh yum.
Coat it in chocolate! Melt low carb chocolate together with coconut oil in the microwave at 50% power, then dunk your almond joy fat bombs in. You can also do this with sugar free white chocolate.
Add chocolate chips, as I do in my cookie dough fat bomb.
More Fat Bomb Recipes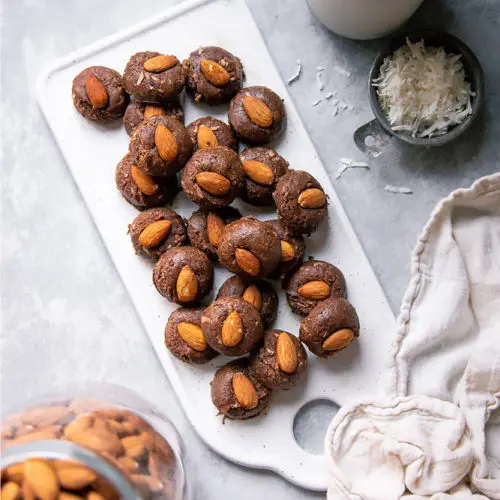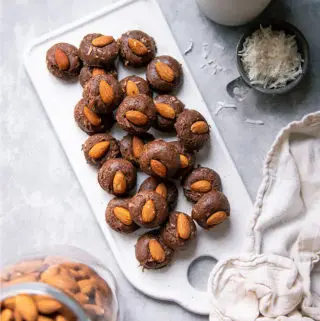 Almond Joy Fat Bombs (No Bake!)
Print Recipe
Pin Recipe
Servings :
28
Bites (Note 7)
Instructions
Prep. Line a baking sheet with parchment paper, and soften the peanut butter (1 cup) in the microwave at 50% power using 30-second intervals.

Combine. Place peanut butter, protein powder (1/2 cup), almond flour (1/2 cup), cocoa powder (1/2 cup), erythritol (1/2 cup), and salt (1/2 teaspoon) in a large bowl and combine using an electric mixer. Your dough should look "wet" (Note 2), with larger clumps that can easily press together to form a ball. If yours looks dry and crumbly, this is just because your peanut butter is slightly dry. Simply add a tablespoon of melted coconut oil, and mix again. Feel free to add more coconut oil until your dough will hold its shape (don't add too much, as this will affect the flavor). Fold in the shredded coconut (3/4 cup). Taste the dough! And adjust to your liking.

Shape. Use a cookie scoop (Note 5) or tablespoon to form the dough into 28 small balls. Place them on your prepared baking sheet, and press an almond into the top of each. Allow bites to set in the fridge, and enjoy!
Rate this Recipe
Fans Also Made These Low Carb Recipes:
Lindsey's Tips
Sugar in PB

read labels carefully! I love

Justin's

or

Trader Joe's brand

.

Make sure your peanut butter is "wet", older peanut butter has a tendency to dry out, which will make it difficult to combine your ingredients. This is usually easiest to tell once you mix everything together. If it is dry, don't worry! Just add melted coconut oil until you can easily form the dough into balls.
Not feeling the protein powder? Substitute more almond flour in its place. You may want to adjust the amount of added sweetener as well.
Sweetener notes: This recipe has only been tested with Lakanto or Swerve. If using a different brand, you may need to increase the amount added, as plain erythritol is 70% as sweet.
The cookie scoop. I used this small cookie scoop to shape the bites. You can also use a tablespoon and roll them into a ball.
Storing tips. These will hold their shape in the fridge if stored in a single layer. They also do great in the freezer.
Nutritional information is for one bite if you make 28 bites using this recipe. Each bite contains 3.25 g erythritol carbs, so if calculating your net carbs, there are 2.75 g per bite:
Nutrition
Calories:
98
kcal
Carbohydrates:
7
g
Protein:
5
g
Fat:
8
g
Cholesterol:
1
mg
Fiber:
2
g
Sugar:
1
g
Net Carbs:
2
g
Sugar Alcohol:
3
g
©Little Pine Low Carb. Content and photographs are copyright protected. Sharing of this recipe is both encouraged and appreciated. Copying and/or pasting full recipes to any social media/website/blog is strictly prohibited.