These keto peanut butter balls are one of those low carb recipes I have to hide from myself… because they're SO.INCREDIBLY.GOOOD!
Some call them buckeyes, others call them energy bites. I call them perfection.
The great news about this keto candy is that it comes together in under 20 minutes of prep! And stores beautifully in the freezer, so you always have delicious low carb desserts that are sure to curb your cravings.
Trust me, you'll savor every one of these creamy chocolate and low carb peanut butter bites. Let's start!
Looking for more keto desserts? Check out my peanut butter fat bombs, keto peanut butter cookies, or my keto ice cream recipe.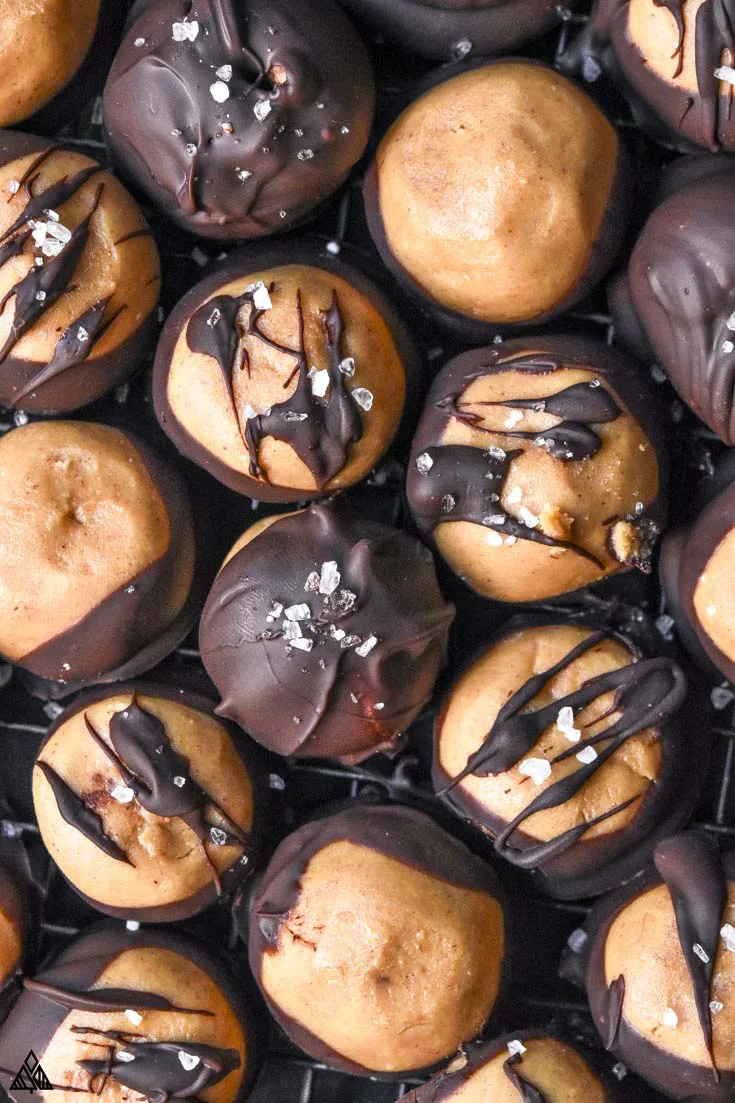 What I Love About This Low Carb Peanut Butter Balls Recipe
Lush. Decadent. Satisfying. Out of this world. They're amazing! Plus:
Recipe Notes
These keto peanut butter balls are high protein keto snacks disguised as dessert! Plus, they are SO easy!
Ingredient Notes
You're just a few everyday ingredients away from one of the most delicious healthy desserts you can dream up!
Low carb peanut butter – A lot of store-bought peanut butters have hidden sugars, so make sure to check those labels!
If you want, you can always make your own… Take 2 cups raw, unshelled peanuts, a dash of salt, and pulverize in a food processor. Add a little erythritol if you want and boom, you have peanut butter!
Erythritol – This is my favorite of the keto sweeteners. Zero carb, zero calorie, plant based – it's amazing! You'll want powdered erythritol for this recipe, as it blends best with the PB, and will give you less of the sugar alcohol "crunch".
Don't have powdered? That's ok – go ahead and pop some granulated in a (VERY DRY) blender and pulse a few times. Voila!  
Chocolate – You'll want a sugar free chocolate for this recipe — I love Lily's chocolate chips for this (they make dark, semi-sweet and milk chocolate versions!) but you can always make your own by following my super each keto chocolate recipe!
Tools To Make
Blend, Roll, Freeze, Dip – this recipe is ridiculously easy!
Storing Tips
Store these delectable low carb peanut butter balls in an airtight container. Personally, I'd keep them in the fridge because I love these keto snacks nice and cold with a glass of low carb milk! (And it stops me from eating them all in one sitting!)
Recipe Variations
More Keto Dessert Recipes
Need some more dessert recipes? Every single one of these is low carb and they're some of my faves!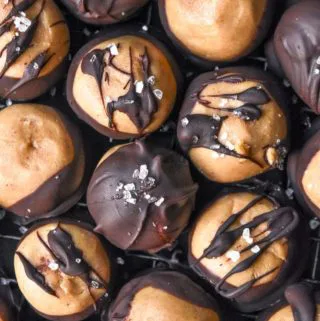 Keto Peanut Butter Balls
Print Recipe
Pin Recipe
Instructions
Line a large baking sheet with parchment paper.

In a large bowl, cream together the softened butter (1/4 cup) and peanut butter (1/2 cup) using a hand mixer until creamy and completely smooth, about 2 minutes.

Add erythritol (1/2 cup), vanilla (1/2 teaspoon), salt (1/2 teaspoon) and peanut flour (1/2 cup). Beat for about 2 minutes, until everything is combined. The ingredients will look soft yet crumbly, we'll use the warmth from our hands to bring everything together.

Roll the mixture into 1" balls and place them on the prepared baking sheet. Continue until you've formed 21 balls. If the "dough" is too soft to form, place in the fridge until you can.

Place the baking sheet in the freezer for 30 minutes.

A few minutes before they're done, melt chocolate (1/2 cup) and coconut oil (1 tablespoon) together in the microwave using 30-second intervals at 50% power.

Dip the peanut butter balls into the chocolate, then return them to your baking sheet, and place the baking sheet back in the freezer until the chocolate has hardened - about 10 minutes.

Store in the fridge/freezer, and enjoy!
Rate this Recipe
Fans Also Made These Low Carb Recipes:
Lindsey's Tips
Chocolate. I love Lily's chocolate chips for this (they make dark, semi-sweet, and milk) but you can always make your own low carb chocolate by following my recipe!
Peanut flour should only contain defatted peanuts and salt and is a different product than peanut butter powder (which is often sweetened with sugar). Each brand defats the peanuts in varying amounts, I prefer Protein Plus Peanut Flour!
Peanut Butter often contains added sugar. Read labels carefully before purchasing -- I love Justin's or Trader Joe's brand.
Lakanto, Swerve, or Erythritol. I stick to Lakanto and Swerve which are a 1:1 swap with traditional sugar. If using a different brand of Erythritol, keep in mind it's 70% as sweet as sugar, so you may need to add more to taste.
Powdered Erythritol. Don't have any laying around? Toss your granular erythritol in a food processor and process until powdered. Allow the dust to settle before opening the lid!
Nutritional information was calculated using Lily's Semi-Sweet Chocolate Chips and includes 1.75g of erythritol per ball -- each PB ball has 1.25g of net carbs if you make 21 balls from this recipe:
Nutrition
Calories:
95
kcal
Total Carbohydrates:
9
g
Protein:
3
g
Fat:
8
g
Sodium:
103
mg
Fiber:
1
g
Sugar:
3
g
Net Carbs:
3
g
Sugar Alcohol:
5
g
©Little Pine Low Carb. Content and photographs are copyright protected. Sharing of this recipe is both encouraged and appreciated. Copying and/or pasting full recipes to any social media/website/blog is strictly prohibited.