What I love to make (and how to them your own!). And since I can't make everything from scratch, I have some trusted store-bought goodies too.
Everything you need to know about high protein snacks. On the off chance that perhaps, sometimes you too, need SOMETHING TO EAT RIGHT NOW.
High Protein Snacks You Can Buy
For me, getting the right snack (at the right time!) is a bigger part of what I believe healthy (and delicious!) food can do for all of us. And since this is real life, we all need a few store bought high protein snacks. Here are my faves: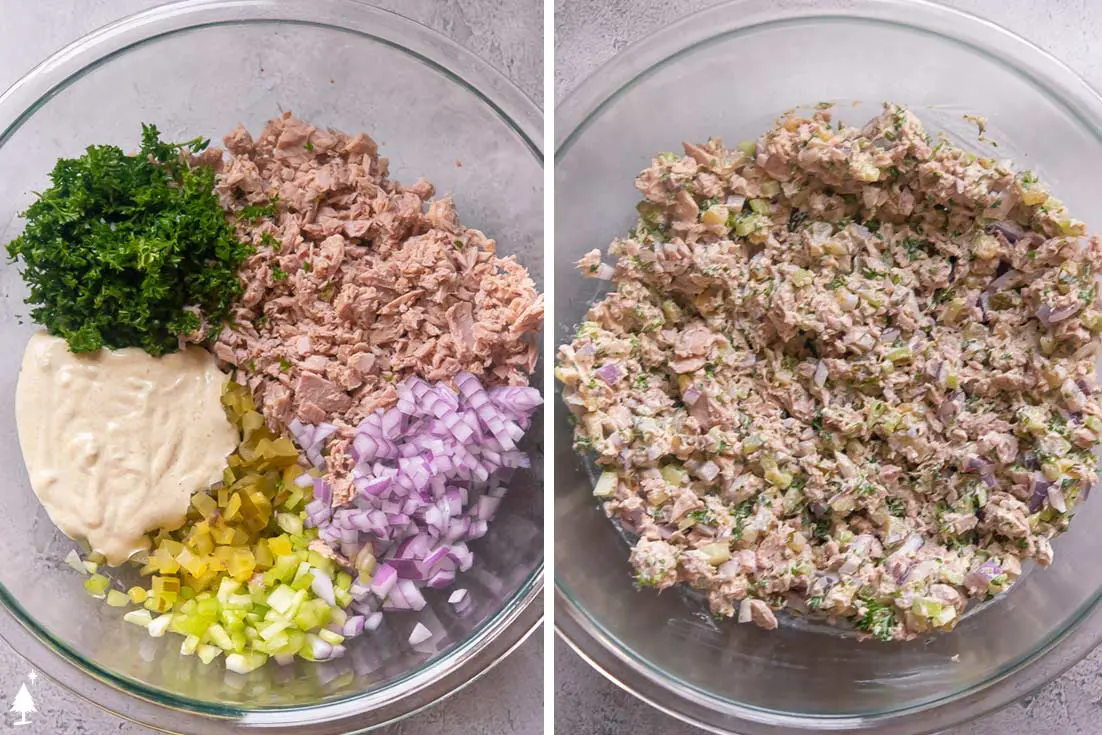 1. Canned Tuna
1 Can Drained: 20 g protein | 0g carbs | 0g net carbs
With 20 grams of protein, tuna is a great snack. We like it most mixed into a salad. There are a million ways to make it: try a light version with Greek yogurt. Avocado tuna salad is an easy dairy free swap. Make a spicy tuna salad with a little sriracha, or go traditional like this keto tuna salad.
2. Hard Boiled Eggs
1 Egg: 6.3g protein | 0.4g carbs | 0.4g net carbs
Hardboiled eggs are as easy as it gets. Buy them already made for you at Trader Joe's or Costco — or prep a big batch at the beginning of the week. Eat them on their own, dipped in sauce (like cauliflower hummus or keto guacamole), or topped with a sprinkle of Everything but the Bagel Seasoning.
3. Cheese
1 Ounce: 6.8g protein 0.6g carbs 0.6g net carbs
Keto cheese is a fantastic snack — grab string cheese, cottage cheese, or sliced for an easy grab-and-go high protein snack.
4. Edamame
1/2 Cup: 7g protein | 10g carbs | 7g net carbs
Edamame is significantly lower in carbs and higher in protein than other beans like chickpeas or pinto beans. They're delicious on their own or dipped in soy sauce. Dry roasted edamame is a great way to take this high fiber snack on the go.
5. Cold Cuts
1 Slice: 4.7g protein | 0.1g carbs | 0.1g net carbs
Cold cuts are easy to store in the fridge, and the ideal snack to have around. Roll a few slices up and dip them in your favorite spread, or wrap them around a cheese stick. My favorites to have on hand are sliced ham and turkey.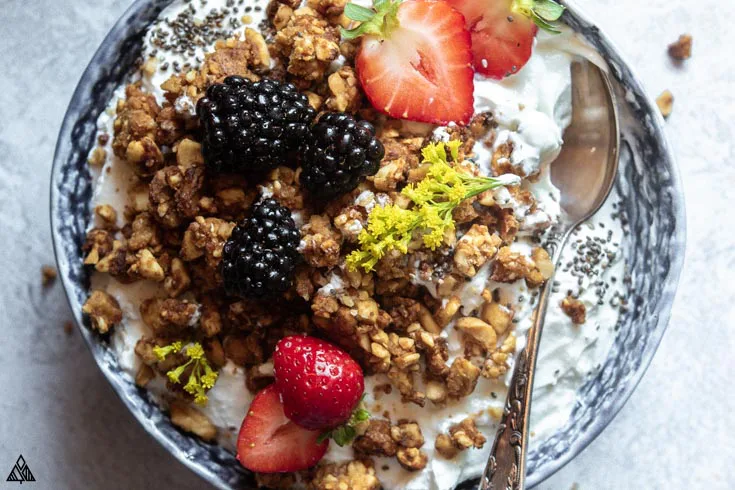 6. Greek Yogurt
1 Cup: 12g protein | 1.9g carbs | 1.9g net carbs
Creamier, higher in protein, and lower in carbs than regular yogurt, keto greek yogurt will keep you full between meals. It's easy to eat on its own, or with a swirl of sweetener. Top it with fresh fruit or keto granola for a more sustainable meal.
7. Pepperoni
1 Ounce: 6g protein | 1g carbs | 1g net carbs
Tired of deli meat? Consider stashing some charcuterie in your cheese drawer. Pepperoni is the easiest to find, but we love salami, prosciutto, and chorizo. Try them all and find your faves! Psst, we always purchase nitrate-free charcuterie. It has a shorter shelf life, but is healthier!
Best Protein Snacks on Amazon
I can get hangry. I know it. My husband knows it. Which is why I keep snacks. In the car, in my purse, and more in the diaper bag. You should see my backpack on a hike! Anyway, here are the high protein snacks from Amazon in my secret stash:
8. Biltong or (some) jerky
1 Ounce: 16g protein | 0g carbs | 0g net carbs
There's no better way to stave off hunger than with this protein-rich snack. Most brands of beef jerky are loaded with sugar, so check labels carefully. Biltong is typically a safe bet!
9. Nut Butters
2 Tablespoons: 7g protein | 6g carbs | 5g net carbs
Keto peanut butter is a must in every pantry! It pairs well with almost everything — think celery sticks and keto fruits. It's important to know that some brands add sugar, so check labels carefully. The only necessary ingredients are peanuts, and sometimes salt!
10. Protein Chips
1 Bag: 19g protein | 5g carbs | 4g net carbs
These keto-friendly chips come in a handful of different flavors (BBQ, nacho cheese, sour cream, and onion) and are an incredibly convenient way to curb crunchy cravings. Did I mention they're LOADED with protein and only have 4 grams of net carbs per serving? I've only been able to find these on Amazon and sometimes Costco.
11. Nuts
1 Pack: 4g protein | 4g carbs | 2g net carbs
Keto nuts are a no-brainer when it comes to high protein low carb snacks. There are so many different nuts to choose from, each with different healthy fats and nutrients. The portioned snack packs are great to carry around in your bag!
12. Pumpkin Seeds
1/4 Cup: 8g protein | 4g carbs | 1g net carbs
Both delicious and nutritious (they're loaded with omega-3s), pumpkin seeds are a great replacement for chips. They're salty AND a superfood. Plus they're jam-packed with protein. Toss them into your yogurt, granola, or smoothie for an added boost.
13. Protein Powder
1 Scoop: 25g protein | 1g carbs | 1g net carbs
Keto protein powder is great to whip into a quick keto protein shake or smoothie. It's important to find a product that you like the taste and texture of — personally I'm not a fan of plant-based vegan products. Some products also contain added sugar. My fave is Dymatize ISO 100 Whey Protein in vanilla.
14. Meat Sticks
2 Links (Original): 7g protein | <1g carbs | <1g net carbs
Meat sticks are easy to keep on hand for portable snacks. My favorite brand is Duke's — they're not dry, MOST of their varieties are sugar free, and they come in a handful of tasty flavors. Chicken included!
15. Protein Bars
1 Bar (Vanilla): 14g protein | 11g carbs | 10g net carbs
There are lots of tasty bars that work for high protein low carb snacks, but these Power Crunch bars are the highest protein and lowest carb product I've found. My favorite flavors are Salted Caramel, Vanilla, and Very Berry. If keto is your goal (higher in fat with less protein), some of the keto varieties may be a better fit.
High Protein Low Carb Snacks to Make
I know that I'll crash with a sugary snack—I need an energy boost that's well-balanced. When you make your own, you know exactly what the ingredients are. Plus you can get creative with flavor combos and make the snack of your dreams. Sweet? Salty? Both?
Here are my favorite recipes for high protein low carb snacks:
16. Ham Roll Ups
1 Serving: 7g protein | 1g carbs | 0g net carbs
Ready in 15 minutes, these ham roll ups are crazy addicting! Made with ham, cream cheese, chives, and cornichons. I like to have these in the fridge for a quick bite.
17. Cucumber Subs
1 Serving: 13g protein | 6g carbs | 4g net carbs
Make a sub-style sandwich with a hallowed cucumber instead. These cucumber subs are a delicious way to enjoy deli meat, cheese, and sauce.
18. Cheese Crackers
1 Serving: 9g protein | 3g carbs | 2g net carbs
Cheese crackers are super tasty and shockingly easy to whip up – a combo of shredded cheese and almond flour allows these to crisp up and taste just as buttery (no butter necessary) as a Ritz cracker.
19. Deviled Eggs
1 Serving: 6g protein | 1g carbs | 0g net carbs
There are a handful of ways to whip up deviled eggs — all of them are perfect for meal prepping high protein low carb snacks. For more variations, check out my avocado deviled eggs, or these classic deviled eggs.
20. Parmesan Cheese Crisps
1 Serving: 7g protein | 1g carbs | 0g net carbs
Parmesan crisps are shockingly easy to make and crisp up into the perfect snack. All you need is parmesan, although add-ons are welcome. Think jalapeno slices, pepperoni, or Everything but the Bagel seasoning.
21. Chocolate Almond Butter
1 Serving: 8g protein | 19g carbs | 3g net carbs
You'll never want plain almond butter againnn. This recipe is super easy to whip up using a food processor and a handful of ingredients. It stores beautifully in the fridge. Have a spoonful to tide you over between meals, or spread a dollop on a slice of low carb bread.
22. Egg Muffins
1 Serving: 17g protein | 4g carbs | 3g net carbs
Perfect for prep, this is one of those high protein low carb snacks that doubles as a snack AND breakfast. My favorite way to make these is with sausage and cheese, but you can add whatever you like!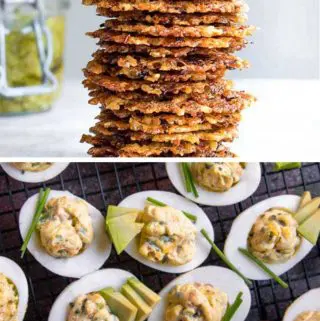 22+ High Protein Low Carb Snacks
Print Recipe
Pin Recipe
Ingredients
2

Cups

Parmesan

1/4

Cup

Pesto

2

Teaspoons

Sun Dried Tomatoes

diced
Instructions
Preheat oven to 400 F and line a baking sheet with parchment paper.

In a bowl, stir together parmesan cheese (2 cups), pesto (1/4 cup) and diced sun dried tomatoes (2 teaspoons) until combined.

Place by spoonful onto the lined baking sheet. Mounds should be about 2 inches apart and slightly flattened on top.

Bake for 5. Crisps will be done as soon as the edges are golden brown. If not done in 5 minutes, check every 2 minutes as they burn easily. Once cool, you can take them off the baking sheet. Enjoy!
Rate this Recipe
Fans Also Made These Low Carb Recipes:
None found
Nutrition
Calories:
87
kcal
Total Carbohydrates:
1
g
Protein:
6
g
Fat:
6
g
Sodium:
317
mg
Fiber:
0
g
Sugar:
0
g
Net Carbs:
1
g
©Little Pine Low Carb. Content and photographs are copyright protected. Sharing of this recipe is both encouraged and appreciated. Copying and/or pasting full recipes to any social media/website/blog is strictly prohibited.