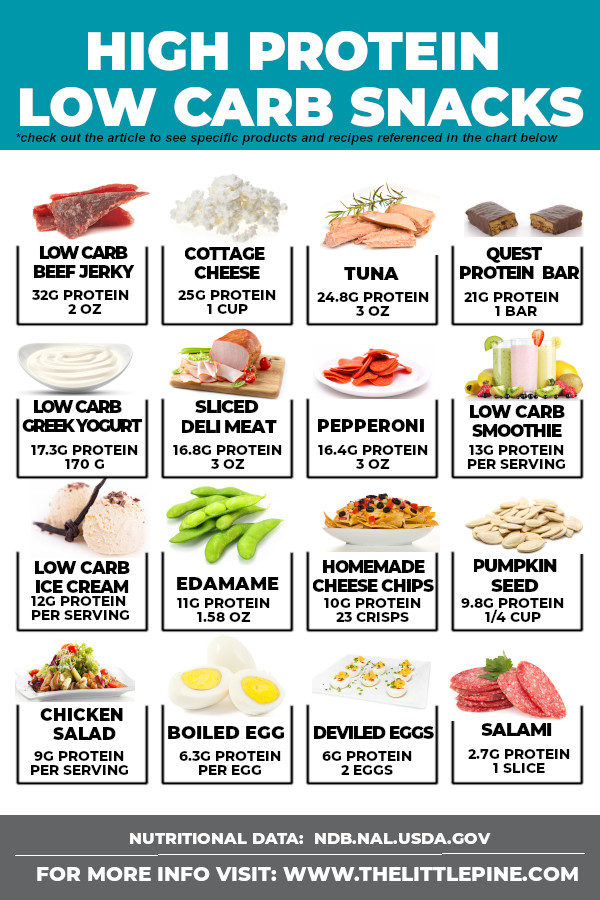 This list of high protein low carb snacks is here to keep you happy, satiated and full between low carb meals!
Protein is an important addition to most low carb meal plans — it helps keep you full longer, fuels your cells and doesn't spike your blood sugar — which is exactly what your body needs come snack time!
Sadly, these high protein low carb snacks can be hard to find in a world where sugar/carb filled options line the shelves — which is why I put together this guide of the tastiest high protein low carb snacks you can find, so you're never tempted by the wrong stuff again!
Use this table of contents to skip to the section you're looking for:
[toc]
Ultimate List of High Protein Low Carb Snacks
Whether you're in a rush or you have some time to kill, there are plenty of high protein low carb snacks to choose from, and this list is here to prove it!
I broke these high protein low carb snacks into two sections, so you can find what works best for you: low carb recipes that require more time (but can be made as part of your low carb meal prep!) and snacks you can grab on the run:
Low Carb Snacks to Buy
Here's a list of the tastiest and most convenient low carb snacks to buy!
I love stocking up on nonperishable high protein low carb snacks to store in the pantry — they're great to have on hand, and eliminate the "I got too hungry" excuse! Stash some nonperishables in your bag when you're heading out, and always pack a few high protein low carb snacks when you're traveling.
Pst, you may have trouble finding some of these high protein low carb snacks at your local grocery store — check out my list of where to buy them below…
Low Carb Snacks Recipes
These low carb snacks take a bit more time to prep, but are SO worth it!
Start your week off right by making some high protein low carb snacks ahead — hard boil some eggs, make your own chicken salad and have them portioned out and ready to grab for when the week gets busy.
Craving Buster: Salty High Protein Low Carb Snack Ideas
High protein low carb snacks are an awesome tool to help combat cravings. When I'm in the mood for something salty, I reach for these low carb snack ideas instead of something "naughty"!
Edamame

Protein Chips

Pumpkin Seeds

Salami/Pepperoni

Hard Boiled Eggs
Craving Buster: High Protein Low Carb Sweet Snacks
Sweets are my weakness, and these low carb sweet snacks have helped me through many-a-cravings!
Sugar Free Ice Cream

Low Carb Smoothie

Low Carb Greek Yogurt (with erythritol and berries)

Low Carb Protein Bar
Where to Buy These Healthy Low Carb Snacks
Some of these high protein low carb snacks are easy to grab from the store, while others can be hard (and expensive) to find!
Here are the top places I've had luck finding healthy low carb snacks:
For the easy to find items, stocking up at

Costco

.

(Especially those high protein low carb snacks with a longer shelf life!)

Meats, cheeses, low carb nuts and low carb protein powder are MUCH less expensive here.

I also grab a lot of these snacks on

Amazon

— they have the best selection of specialty high protein low carb snacks!

For example,

it's hard to find

low carb beef jerky and meat sticks

at most stores,

so I always grab them on Amazon!

Trader Joes

sells inexpensive

keto nuts, seeds and cheeses!

I also love their

Greek yogurt and cottage cheese.
Tips For Bringing Low Carb Snacks On The Go
As I mentioned above, keeping low carb snacks on the go handy is important, because getting too hungry can result in an accidently splurge.
Since my house is fully prepped with these high protein low carb snacks, I often eat a combination of them for low carb lunches on busy days! Here's how I prep my fridge and pantry:
Pantry
Jerky, meat sticks, protein powders nuts and seeds are no brainer high protein low carb snacks to stash here.
Fridge
Stock up on cottage cheese, Greek yogurt (sometimes you can find individual portions of these which are great when you're busy), cheese, and deli meat.
Cheese Drawer
Empty your cheese drawer and stash these high protein low carb snacks here for grab and go options. Make some of the recipes above during your weekly low carb meal prep — portion them out, and toss them in your drawer.
Looking For Some No Carb Snacks?
If you're saving up your carbs for meals, try some of these no carb snacks! Many of them are also on this high protein low carb snacks list, while other are higher in fat and didn't make the cut.
Why Low Sugar Snacks Are KEY!
Here's a deeper dive into what these low sugar snacks do to our bodies, and why high protein foods are so important!
Protein is a vital component in most low carb meal plans. To put it simply, protein makes you what you are and keeps you that way — in other words, it makes up our body parts/tissues, and regulates important bodily functions.
As far as macronutrients go, protein is the best suppressor of ghrelin, i.e. the "hunger hormone" which makes you feel hungry — meaning when you eat high protein low carb snacks, your body takes significantly longer to become hungry again.
This may not come as a surprise, but consuming carbohydrates suppresses ghrelin, at first, then spikes it with a vengeance — making you hungrier than you were before your meal!
Conclusion
Whether you're looking for high protein snacks weight loss or high protein snacks bodybuilding, I hope you found the high protein low carb snacks you were looking for on this list!
Let me know in the comments below if I left forgot your favorite high protein low carb foods. What's your favorite snack from this list?