[no_toc]
Low carb smoothies make for the most deliciously refreshing low carb meals to start your day!
Unlike traditional smoothies, these low carb recipes are packed with protein, vitamins and nutrients, without the added sugar and carbs. Basically, low carb drinks done right!
They'll keep you, full and energized until your next meal, plus, they're an awesome way to low carb meal prep easy and delicious low carb breakfasts for your busy work weeks.
Are you ready to make your own low carb smoothies?! Then, let's get blending!
[toc]
Top 6 Low Carb Smoothie Recipes
Looking for a new, delicious, quick and easy way to start the day? Look no further than these recipes! Here are the 6 tastiest low carb smoothies:
5. Low Carb Peanut Butter Smoothie
Do you LOVE the idea of sipping on a Reeses-esk treat to start your day? ME TOO!
And this low carb peanut butter smoothie is just that! It may not contain any added sugar, but you sure wouldn't know by tasting it…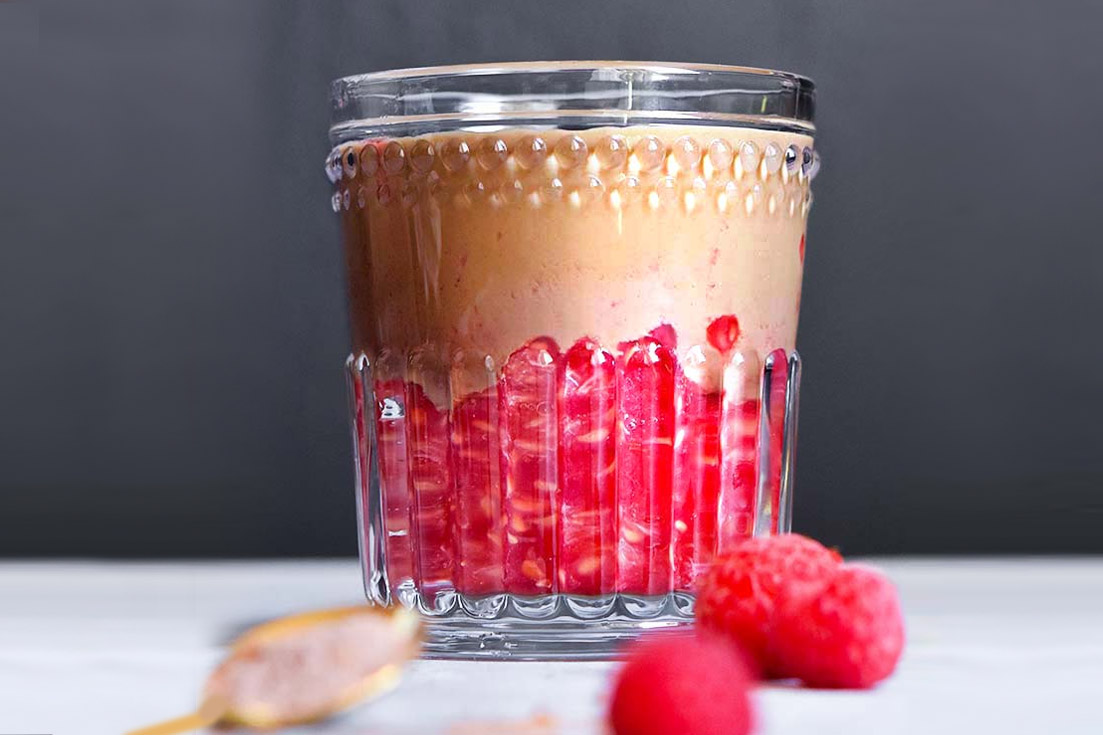 6. Low Carb Protein Shake
Need a little protein to power through the day, but craving dessert? May sound like an impossible request, but it isn't…
…introducing the most lusciously delicious low carb protein shake! Mash some raspberries on the bottom for bonus points!
How Do I Make Low Carb Smoothies?
Although you may not taste the difference in low carb smoothies vs. Jamba Juice smoothies, you'll sure feel it!
Because these low carb smoothies won't send you into a mid-morning sugar coma, as we'll be sticking to low carb foods, and balancing out the carbs with high fat and protein ingredients.
Here's a breakdown of low carb smoothies worthy ingredients, so you can get creative:
Low Carb Smoothie – Ingredients to Use (And What to Avoid)
LOW CARB FRUITS
Fruit and fruit juice are typically the foundation of smoothies. When making a low carb smoothies, we'll need to stick to specific low carb fruits.
Here's what you should know for your low carb smoothies:
Skip the fruit juice.

Fruit juice is basically

concentrated sugar

(carbs)

and water from fruit. It lacks protein, fat or fiber. Bad on bad for a low carb meal plan!

Measure your fruit.

It's crazy easy to overdo the fruit — especially when you're "eyeballing" your portion sizes. Write out your carb goals, measure it, and stick to it.

Stick to low carb fruit.

Obviously, there are less carbs in some fruits than others — as a rule of thumb, strawberries, blackberries and raspberries will give you the most bang for your low carb buck. Avocados are another great choice, as they're extremely low in NET carbs.

Be aware of high carb fruits.

Depending on your low carb goals, you may want to avoid sweet fruits such as

bananas

and

passionfruit

. Each of these options have over 50 grams of carbs per cup —

pst, that's more than a

snickers bar

!

Frozen fruit can save money.

I buy frozen fruit in bulk at Costco. If I buy fresh fruit that I can't finish before it goes bad, I freeze it! Less waste and more money saved.
PROTEIN.
Next let's you'll want to add some protein to your low carb smoothies. There are a few ways to do this, and each ingredient has its pros and cons:
Low carb protein powder. I switch between a this plant based protein powder and this whey protein powder. It's good to get some recommendations on these before you purchase one, as they're expensive and don't always taste great! I suggest

 purchasing on Amazon or at Costco to save a few bucks.

Low carb greek yogurt.

This is one ingredient I can't live without. That said, it does have more carbs than some people are comfortable with — the

macronutrient

breakdown per 1 cup of 2% is: 4.5g of fat, 23g of protein, 7g of carbs. Read the labels before you purchase a product as not all products labeled "greek yogurt" are true greek yogurts. To be safe, I stick to Fage or Trader Joe's brand.

Hemp seeds

are an awesome source of plant based protein — in 3

Tablespoons

they've got 10 grams of protein and only 2 grams of carbs.
MILKS.
One of the most important ingredients of any low carb protein shake is the liquid. Water is a boring option that dulls the flavor of low carb smoothies, and we won't be using high carb ingredients such as fruit juice.
Instead, opt for a delicious, low carb and creamy solution such as low carb milks. This includes everyone's favorite plant-based option: coconut milk, almond milk, hazelnut milk… the list goes on!
VEGGIES.
The protein powder and fruit used in low carb smoothies adds just enough sweetness to mask a handful of low carb vegetables.
Stick to milder greens so the flavor isn't affected (think spinach or kale).
ADD INS.
Beyond the required ingredients above, you have full creative license to make your very own low carb smoothies! Some additional ingredients to consider are:
Ice
Flax Seeds / Chia Seeds
Spirulina

— has a strong flavor, not for every smoothie

Cocoa Powder
Lemon / Lime Juice
Cinnamon / Nutmeg
Mint / Rosemary
TOPPINGS.
Some people find low carb smoothies are too "light" for a meal (my fiance included).
To fill him up, I make him a low carb breakfast smoothie bowl! I blend one of the low carb smoothies above with a few handfuls of ice, and half the amount of liquid — making the smoothie thick enough to eat with a spoon.
I then serve it in a bowl, and sprinkle a generous amount of low carb granola on top!
Conclusion
I sure hope you found the smoothie of your dreams on this list! Let me know in the comments below your favorite low carb smoothies, or send me a recipe request if you didn't find what you were looking for. Cheers!