Shockingly, there are plenty of keto alcohol options to enjoy while sticking to a low carb meal plan!
Because reality is, the majority of us enjoy a drink from time to time, and being on a low carb eating plan or following a low carb way of life, doesn't mean you have to kiss you social life goodbye. So no matter what your poison is, this guide to keto alcohol has got you covered! From the carbs in beer, to the carbs in wine, to the carbs in mixed drinks, here's everything you need to know about keto alcohol, so you can choose your drinks wisely and stay on low carb track!
And for those of you who aren't a fan of vodka soda or whiskey on the rocks, I've got an awesome collection of keto alcoholic drinks to share with you…
Let's dive in! Use this table of contents to find the section you're looking for:
[toc]
Keto Alcohol Options
Here's a quick glance at the carbs in alcohol — Keep in mind, these can be worked up into all sorts of lip smackingly delicious low carb cocktails! But we'll start with the basics…
The top keto alcohol options are:
Liquor, such as Tequila, Gin, Vodka, Whiskey. On the rocks, neat, with a diet soda or seltzer: 0 grams of carbs per shot.
Red Wine, such as Merlot, Pinot Noir, Cabernet Sauvignon and Syrah all have under 4 carbs per 5 oz glass.
White Wine, such as Chardonnay, Pinot Gris and Sauvignon Blanc have right around 3 carbs per 5 oz.
Champagne. A 5 oz glass contains only 2 carbs.
Beer, such as Bud Select 55: 1.80 carbs, Michelob Ultra: 2.60 carbs, Miller Lite: 3.20 carbs.
Now let's dive in further, because as you can imagine, there's a lot more to the carbs in alcohol than just these basic drinks…
Keto Wine
Believe it or not, wine is relatively low carb in nature, and personally, I couldn't be happier about it! Most red wines fall between 3 and 4 carbs per glass—which is pretty minimal, especially if you're treating yourself.
The problem with carbs here isn't so much standard red or white low carb wine, rather the ultra sweet varieties, like port. So stick with the options below for the best low carb alcohol choices…
For a 5 oz serving, the best low carb red wines are:
Merlot: 122 calories, 3.69 carbs
Pinot Noir: 121 calories, 3.40 carbs
Cabernet Sauvignon: 122 calories, 3.83 carbs
Syrah: 122 calories, 3.79 carbs
Zinfandel: 129 calories, 4.20 carbs
For the same 5 oz serving, the best low carb white wines are:
Chardonnay: 123 calories, 3.18 carbs
Pinot Gris: 122 calories, 3.03 carbs
Sauvignon Blanc: 119 calories, 3.01 carbs
Champagne is also another great low carb alcohol choice — A 5 oz glass has got about 100 calories and 2 carbs.
Wines that are higher in carbs include:
Burgundy: 127 calories, 5.46 carbs
Riesling: 118 calories, 5.54 carbs
Dessert Wines. A few types of dessert wines are Sherry and Muscat… typical serving size for these is 3.5 oz, which will run you are 165 calories, 14.10 carbs
Fortified Wines. Fortified wines have a distilled spirit (like brandy) added to them. They tend to be much sweeter—a few varieties are Port, Sherry, Marsala and Vermouth.
Keto Beer
Most of us would assume that the phrase "low carb beer" sounds like a total oxymoron, especially considering it's made from water, grains, hops and yeast — basically liquid bread!
But fear not my friends, if beer is the low carb alcohol you're craving, there are some choices that'll give you that coveted beer fix. Fair warning, if you're a heavy-duty beer drinker, you may find the lowest carb beer choices less than impressive.
Your best keto beer choices are going to be:
Bud Select 55: 55 calories, 1.80 carbs
Michelob Ultra: 95 calories, 2.60 carbs
Bud Select: 99 calories, 3.09 carbs
Miller Lite: 96 calories, 3.20 carbs
Busch Light: 95 calories, 3.20 carbs
Becks: 64 calories, 3.20 carbs
Bud Light Platinum: 137 calories, 4.40 carbs
Bud Light: 103 calories, 4.60 carbs
Keystone Light: 101 calories, 4.70 carbs
Coors Light: 102 calories, 5 carbs
Corona Light: 99 calories, 5 carbs
Your highest carb beer choices include:
Porter (Fuller's London Porter, 12oz): 181 calories, 20.59 carbs
IPL (Colorado Native Double IPL): 245 calories, 18.40 carbs
Pale Ale (Sierra Nevada): 176 calories, 14.16 carbs
Belgian Ale(Blue Moon): 168 calories, 14.10 carbs
Pabst Blue Ribbon: 144 calories, 12.80 carbs
Miller High Life: 141 calories, 12.20 carbs
Miller Genuine Draft: 140 calories, 12.20 carbs
Stella Artois: 141 calories, 10.90 carbs
Budweiser: 146 calories, 10.60 carbs
Another beer-esk drink to watch out for is cider—with 199 calories per serving, and 21.02 carbs, it's no wonder why this drink tastes so sweet!
As you can see, beers range in carb counts pretty dramatically, and unfortunately for us watching our carbs, nutritional data isn't printed on the back of every can. When in doubt, stick to the low carb beers listed above.
Keto Liquor
Liquor lovers, rejoice! Straight liquor typically has no carbs, or a nominal amount. Order low carb alcohol neat or on the rocks and you'll find it relatively easy to stick to your guns.
As far as low carb liquor goes, you've got zero carbs in:
Tequila: 96 calories, no carbs
Gin: 110 calories, no carbs
Rum: 110 calories, no carbs
Vodka: 110 calories, no carbs
Whiskey: 110 calories, no carbs
The reason you have no carbs in gin, no carbs in tequila, and no carbs in rum is due the fermentation process, which essentially converts carbohydrates into ethyl alcohol via yeast enzymes.
Low Carb Drinks to Avoid
Now, liqueurs are another story — Despite their similar names, these two low carb drinks are completely different products. Liqueurs are sweetened spirits infused with a range of flavors. Many start with a base of whiskey, rum, or brandy, then they're sweetened with ingredients like sugar syrup.
Because there's a wide range of flavors and additives present in liqueurs — think coffee-esque Kahlua, almond-y Amaretto, Bailey's, and everything sweet and fruity — carb counts differ tremendously. But as a general reference:
Kahlua (1.6 oz): 144 calories, 22 carbs
Crème de Menthe (1.5 oz): 186 calories, 20.80 carbs
Now back to liquor. When it comes to carbs, it isn't the liquor you've got to watch out for, rather the mixers… Juices, sodas, all manner of sugary cocktails are what you need to watch out for.
Keto Alcoholic Drinks Recipes
If you're mixing things up yourself, you can afford to get a little more creative with your low carb alcoholic drinks! There are tons of ingredient that'll help take boring low carb alcohol up a few notches, without sugar.
Here are my favorite low carb alcohol cocktails to shake up:
Low Carb Whiskey Sour

Low Carb Cosmopolitan

Low Carb Mulled Wine

Keto Strawberry Margarita
Best Keto Drinks For Mixers
Here are some of the tastiest keto drinks, perfect for your very own keto alcoholic drink, or low carb non alcoholic drink recipes:
1. Diet sodas
Flavors: Most regular sodas can be found in a diet version.
2. Zevia
Flavors: Cola, Ginger, Root Beer, Cream Soda, Dr. Zevia, Orange, Grape, Etc.
3. Bai
Flavors: Tons! I love the Watermelon, Coconut, Strawberry Lemonade and Mango
4. Flavored Sparkling Waters
Flavors: Depends where you purchase from. Traditional flavors are lemon and lime—boring—I live for the Trader Joe's flavors, they're always coming up with new and delicious ones. Perrier makes and awesome pink grapefruit I love as well.
Tip: Since these don't add sweetness to your drink, top off your cocktail with some keto fruits or stevia drops.
5. True Lime + True Lemon
Flavors: Currently addicted to their Mango Orange flavor. They've also got Watermelon, Limeade, Lemonade, Black Cherry Limeade, Raspberry Lemonade, Peach Lemonade, Wildberry Lemonade, Etc.
6. Crystal Light
Flavors: Lemonade, Pink Lemonade, Orange, Fruit Punch, Etc.
7. Keto Chocolate Milk, or Keto Hot Chocolate!
Sweetener: Erythritol
In addition to low carb drinks, here are some tasty keto foods you may choose to incorporate in your cocktails:
Spritz of Lemon, Orange or Lime. A hint of keto fruits.
"Twist" of Lemon, Orange or Lime Peel
Olives
Herbs
Muddled Berries. Keto fruits like berries add a nice sweetness without artificial sugars.
Pickle juice. Since there are no carbs in scotch, pour a glass on the rocks with pickle juice to chase, yum!
How to Order Keto Alcohol at a Bar
At a bar or restaurant, your keto alcohol choices are going to be limited. Your best option will likely be a highball mixed with seltzer or diet soda—think calorie and carb free mixers + your low carb alcohol of choice. Ask your bartender what they carry and what they'd suggest. You never know, they could have diet tonic hiding back there…
The top five low carb mixed drinks to order at a bar are:
Vodka + soda + lime
Tequila + soda + lime
Whisky + Diet Coke
Gin + Diet Tonic + Lime (some bars will have it, might as well ask!)
Gin + Diet Sprite + Lime
Can You Drink Alcohol on a Keto Diet?
Drinking alcohol on a low carb diet is up to you, your goals and your health. If you choose to drink, stick to the low carb alcohol options shared above. There are a few additional concerns with drinking on a low carb meal plan…
Keto and Alcohol – What to Watch Out For…
No matter what type of alcohol you choose, it's the other things you need to keep an eye on…
…and I'm not just talking about the mixers, I'm talking about the way alcohol effects our blood sugar, how our bodies react to alcohol when we don't consume many carbs, and of course the drunken' munchies — all of which can be a bigger challenge than the alcohol content itself.
The most important key here is moderation.
It's the same message you've heard your whole life, but take this seriously — although I haven't been able to find any definitive research, common sense and personal experience have lead me to believe that my body reacts differently to alcohol when I eat less carbs. The lower carb I eat, the lower my alcohol tolerance becomes. Be careful, be safe. You know what to do.
Then there's your blood sugar.
As a diabetic, I've discussed consuming alcohol thoroughly with my doctor. Let's just say the way I drink now has changed dramatically from the way I used to drink. Since this article isn't about drinking with diabetes, I'm going to assume this isn't relevant for most, so I'll keep it brief. The fact is that: "moderate amounts of alcohol may cause blood sugar to rise, excess alcohol can actually decrease your blood sugar level — sometimes causing it to drop into dangerous levels, especially for people with type 1 diabetes" — Web MD
I'm not a doctor, nor am I giving any sort of medical advice. It's important to discuss with your doctor your personal needs and concerns. 
Ugh, last but not least, the drunken munchies and its ugly cousin, the hangover munchies.
When we hit the bottle too hard, alcohol can mess with our blood sugar levels, therefore creating a feeling of hunger. Additionally, alcohol can cause dehydration (it's a diuretic, which is why you'll see an increase in trips to the bathroom), which sometimes our brains mistake for hunger signals.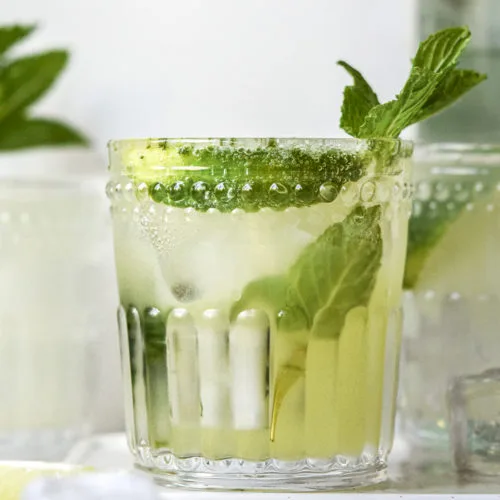 Keto Alcohol
Print Recipe
Pin Recipe
Instructions
Add fresh mint (6 leaves) to a cocktail shaker and lightly muddle, making sure not to over-muddle as this will give your cocktail a grassy taste.

Add erythritol (2 teaspoons), white rum (1 1/2 Ounces), lime juice (2 tablespoons), and crushed ice (1 cup). Cover and shake.

Strain mojito over ice in a highball glass.

Top with club soda, garnish with mint leaves, and enjoy!
Rate this Recipe
Fans Also Made These Low Carb Recipes:
None found
Lindsey's Tips
Nutrition
Calories:
109
kcal
Total Carbohydrates:
3
g
Protein:
0
g
Fat:
0
g
Sodium:
20
mg
Fiber:
0
g
Sugar:
0
g
Net Carbs:
3
g
©Little Pine Low Carb. Content and photographs are copyright protected. Sharing of this recipe is both encouraged and appreciated. Copying and/or pasting full recipes to any social media/website/blog is strictly prohibited.
Conclusion
Let's be real, eating low carb can be hard at times, but it certainly doesn't mean you need to kiss all of life's great pleasures goodbye. Thoughtful research and planning are the first steps, so congratulations! Between the spirits, cocktails, beers and wines, if you're adding keto alcohol to your low carb shopping list, there are plenty of options to choose from.
I'd love to hear from you! Do you have any keto alcohol hacks? Whether it's an herbal seltzer water cocktail or a secret low carb beer you've just discovered, let me know in the comments below! 
*Unless otherwise noted and linked, all nutritional data was pulled from the USDA Food Composition Database.