This list of keto foods is here to prove that eating low carb can be DELICIOUS and flavor-packed!
I know, I know. Making the switch can feel overwhelming and, frankly, like a total bummer at first. But it doesn't have to be…
You've got mother nature's finest foods on your side: from vegetables to meats and cheeses, even some fruits make the cut!
So whether you're just starting a low carb diet, or you're a seasoned low carb recipes veteran looking for more resources, here's everything you need to know about low carb foods!
Want to Save This Recipe?
Enter your email below and we'll send it straight to your inbox. Plus you'll get great new recipes from us every week!
[wpforms id="103279"]
Best Keto Foods
Here's a list FULL of the tastiest keto foods! Enjoy these on their own, or combine them with each other to create your very own low carb recipes.
Be sure to grab a printer friendly version of this below!
All nutritional information for this article was pulled from the USDA Nutritional Database.
Here are the best Keto Foods:
High Fiber Keto Foods
Most people on a low carb eating plan count their NET carbs, which is the total carbs in any given food, minus fiber (and sugar alcohols). Which makes these high fiber keto foods your friends!
High fiber foods include everything from veggies, to fruits, to nuts, to grains, to beans.
Here's what you should know…
---
Keto Vegetables
These keto vegetables have less than 5g NET carbs per CUP:
Brussels Sprouts – 4.5g net carbs
Bell Pepper – 2.6g net carbs
Tomatoes – 3.6g net carbs
Cauliflower – 3.2g net carbs
Cabbage – 3g net carbs
Zucchini – 2.7g net carbs
Asparagus – 2.4g net carbs
Eggplant – 2.3g net carbs
Radishes – 2g net carbs
Mushrooms – 1.6g net carbs
Swiss Chard – 0.8g net carbs
Collard Greens – 0.5g net carbs
Lettuce – 0.5g net carbs
Spinach – 0.3g net carbs
Broccoli Rabe – 0g net carbs
Pro Tip: Vegetables that grow above the ground are lower in carbs than vegetables that grow below ground.
---
Keto Fruits
Here are the keto fruits with less than 10g of NET carbs per cup:
Strawberries – 8.7g net carbs
Raspberries – 6.7g net carbs
Blackberries – 6.2g net carbs
Coconut Meat –  5g net carbs
Gooseberries – 4.4g net carbs
Avocado – 0.7g net carbs
Pro Tip: I always measure my fruit, I find these low carb foods are easy to overdo.
---
Keto Beans
Beans are not often thought of as low carb foods, but you may be surprised! Here are the best options for keto beans:
Green Beans (1 cup) – 4.2g net carbs
Edamame (1 cup) – 5.7g net carbs
High Protein Keto Foods
High protein keto foods are often your lowest carb options — think meats, cheeses and protein powders. This category of low carb foods is here to fill you up! And keep you satiated until your next meal.
---
Meat + Seafood
Here are a handful of nearly zero carb foods! In just 3 ounces, you've got:
Chicken – 0g net carbs
Turkey – 0g net carbs
Beef – 0g net carbs
Lamb – 0g net carbs
Pork – 0g net carbs
Fish/Seafood – 0g net carbs
Eggs (per egg) – 0.6g net carbs
Keto Beef Jerky – Varies by brand — Look for no sugar added products.
---
Keto Cheese
Basically, all cheese is keto cheese, yay! Just steer clear of specialty cheeses, with added ingredients such as wine, fruit, or chocolate, as these will ultimately change the carb count.
To give you an idea here's the breakdown per 1 ounce serving:
Cheddar Cheese: 0.9g carbs
Monterey Cheese: 0.2g carbs
Mozzarella Cheese: 0.6g carbs
Parmesan Cheese, Hard: 0.9g carbs
Regular Cream Cheese (1 Tablespoon): 1g carbs
---
Yogurt
If you're craving yogurt, keto greek yogurt is your friend!
Just be sure you're grabbing a container of TRUE greek yogurt, as many products that call themselves this but are loaded with sugar.
Greek Yogurt, Fage (7 oz.) –  7.8 g carbs
---
Keto Protein Powder
This low carb foods an awesome way to add some sweet and delicious flavoring to dessert recipes, while the unflavored variety works wonders in baked goods by adding "fluff" and making them more "bread-like".
I always have 2 containers of keto protein powder in my pantry: unflavored, and vanilla…
Not all protein powders are low carb, so check out the label before buying a product! Here are my two favorites:
High Fat Keto Foods
A staple in the keto diet, these high fat keto foods are here to fill you up!!
Mix, match, and weave them into your favorite recipes. These low carb foods are high flavor and high satiability!
---
Keto Nuts, Seeds + Nut Butters
Keto nuts and seeds are AWESOME snacks or crunchy toppings to your low carb recipes.
Pumpkin Seeds (1 cup) – 5.7g net carbs
Almonds (1 cup) – 3.2g net carbs
Chia Seeds (1 cup) – 2.1g net carbs
Sesame Seeds (1 cup) – 1g net carbs
Flaxseeds (1 cup) – 0.2g net carbs
Pro Tip: Buy unsalted! These guys are easy to snack on, and eating a lot can add up in carbs — buying unsalted makes them less cravable.
---
Keto Flour
The two most popular keto flour options are almond and coconut, both of which are extremely high in fat and low in net carbs. Combined with a few additional ingredients, you can whip up almost any bread or dessert you're craving!
Almond Flour
Coconut Flour
---
Butter + Oils
Another ZERO carb food group, butter, ghee, vegetable oil, and olive oil are a great way to bring on some flavor without the carbs!
No Carb Foods
There are loads of no carb foods on this list! To name a few…
No carb vegetables (if you're counting your NET carbs) include: broccoli rabe, spinach, lettuce, and collard greens!
Meats
Cheeses
Butters + Oils
Protein Powder
High Carb Foods To Avoid
As you probably have gathered, high carb foods are not included in this list. They include:
Sugar
Grains + Products Made from Grains
Starchy Veggies
Corn + Beans
Cow's Milk
Fruit Juices
Sodas
---
Downloadable List Of Keto Foods
Use this keto food list printable as a keto shopping list, or keep it on your fridge so you always have the nutritional breakdowns handy!

More Keto Resources:
Can't get enough low carb low carb goodness?! Check out these recipe collections!
Each recipe utilizes a combination of the foods listed above to form magical deliciousness you won't be able to get enough of!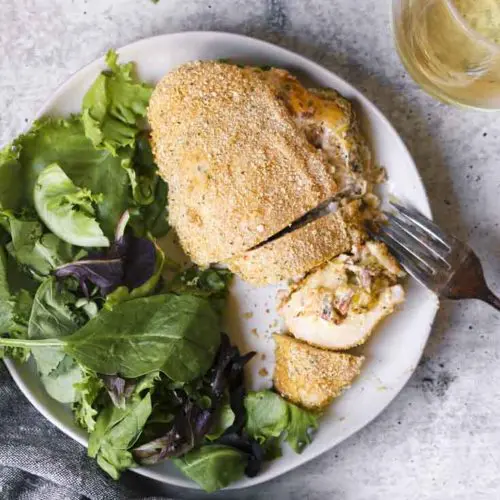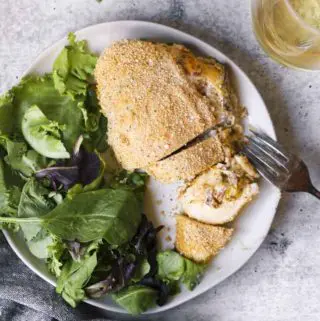 55+ Top Low Carb Foods
Print Recipe
Pin Recipe
Ingredients
8

Oz

Cream Cheese

softened

1/4

Cup

Mayonnaise

8

Slice

Bacon

Cooked + Diced

1

Cup

Sharp Cheddar Cheese

shredded

1/4

Cup

Green Onions

chopped

4

Chicken Breast

1

Cup

Breadcrumbs or Crushed Pork Rinds

2

Eggs

whisked
Instructions
Prep. Preheat oven to 400 F and line a rimmed baking sheet with parchment paper. Place the breadcrumbs/pork rinds (1 cup) in a wide-mouthed. Whisk the eggs (2) in a second wide-mouthed bowl -- set aside.

Combine softened cream cheese (8 Oz), mayonnaise (1/4 cup), and ranch dressing( 1 packet) mix in a large bowl with an electric mixer. Add bacon (8 slices) and cheddar cheese (1 cup), and mix until combined. Set the bowl aside.

Prep + stuff the chicken. Cut a pocket in the center of each of the chicken breasts (4 breasts) -- I find this is easiest to do by placing your hand over the top of the chicken breast and carefully using a sharp knife to cut into the center of the breast. Try not to pierce through to the other side. (Alternatively, you can butterfly the chicken and use toothpicks to hold it together!). Evenly distribute the filling into each of the breasts. Dip each of the breasts in the whisked eggs, then in the breadcrumbs/pork rinds, then place on your prepared baking sheet.

Bake + enjoy! Bake in the preheated oven for 26-28 minutes, or until the internal temp of the chicken reaches 165 F. Allow the chicken to rest for 10 minutes before slicing into it's cheesy, creamy GOODNESS!
Rate this Recipe
Fans Also Made These Low Carb Recipes:
None found
Lindsey's Tips
Leftover filling? Save it! It's a delicious dip for crackers/veggies.
Nutritional information is for 1 chicken breast if you evenly divide the filling into 4 breasts, and uses pork rinds (not breadcrumbs):
Nutrition
Calories:
1031
kcal
Total Carbohydrates:
4
g
Protein:
84
g
Fat:
73
g
Sodium:
1565
mg
Fiber:
1
g
Sugar:
2
g
Net Carbs:
3
g
©Little Pine Low Carb. Content and photographs are copyright protected. Sharing of this recipe is both encouraged and appreciated. Copying and/or pasting full recipes to any social media/website/blog is strictly prohibited.
Conclusion
See what I mean?! There are SO many tasty keto foods to add to your repertoire.
Leave me a comment below, and let me know your favorite keto foods from this list! Enjoy!