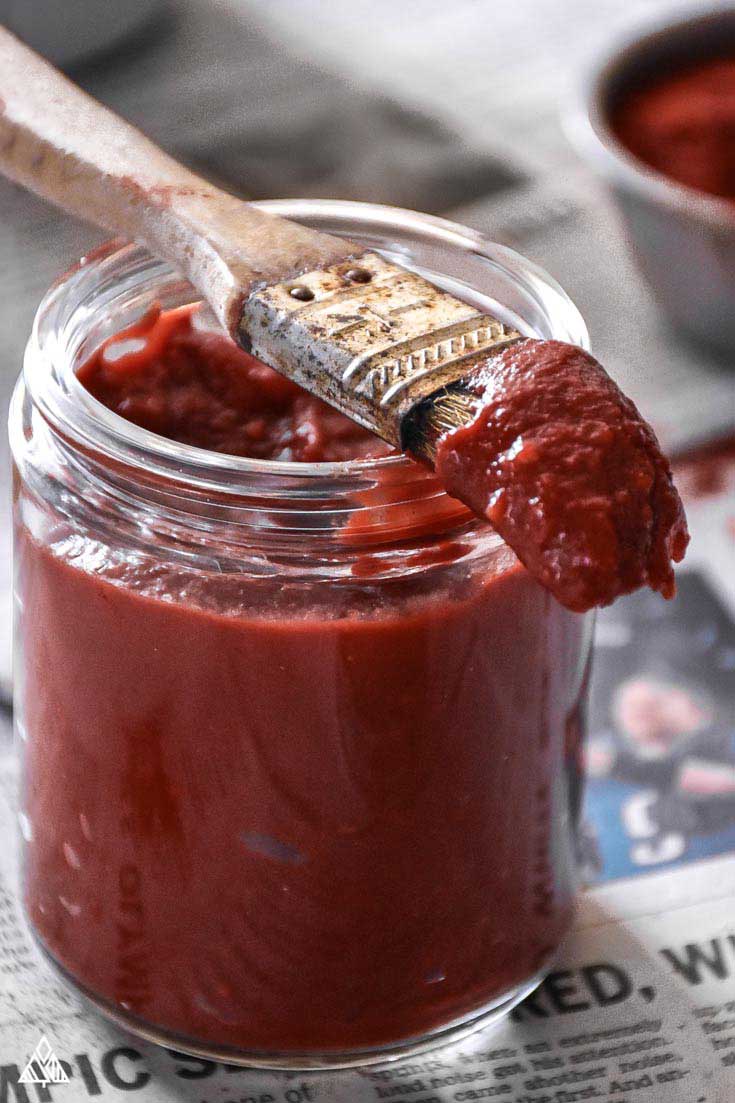 Homemade low carb BBQ sauce is instant meal inspiration in a pot.
Because all of us, low carb or not, LOVE BBQ sauce, and recognize how easily this simple kitchen gem can transform a mehhh meal into a grilled masterpiece.
Unfortunately, most store bought BBQ sauces are loaded with ingredients that don't make the cut for a low carb food list—brown sugar, high fructose corn syrup, or simple syrup.
But this low carb BBQ sauce contains only pure, low carb deliciousness…
The same meals you've loved for years are about to get a tasty, saucy makeover. Summer cookouts will smell even better than ever before. Oh—and don't forget to congratulate your favorite lean protein, because it just found it's tangy, smooth soulmate!
Are you ready for a serious saucy upgrade? Read on to find out how effortless throwing together a homemade low carb BBQ sauce really is!
This keto carb barbecue sauce recipe has so many upsides:
You can be creative and add your own signature to the barbecue flavor (suggestions listed below)
It contains a fraction of the sugar of store-bought BBQ sauce
The simple preparation makes your kitchen smell amazing!
Uses only a handful of ingredient you probably have waiting for you in your pantry
No sauce pairs better with lean meats than a sweet and savory barbecue sauce!
Here's why, as a low carb-er, I steer clear of store bought BBQ sauce:
For the most part, barbecue sauce is made with a combo of standard ingredients, all of which fall into the simple carbs category...
…brown sugar, high fructose corn syrup, or simple syrup.
These are used to give the sauce that sweetness we all know and love—which also means, they're all crazy high in sugar.
Even barbecue sauces who advertise as low carb BBQ sauce brands, such as the low carb barbecue sauce Walmart stocks—or even the low carb bbq sauce recipe food network promotes can have icky sugar content levels!
Which is one of the many reasons why I started making my own low carb BBQ sauce!
And I didn't stop there—low carb ketchup and low carb pizza sauce are two other staples I make at home because of the high sugar content in store bought brands.
If homemade isn't your thing, there are plenty of options to buy low carb BBQ sauce—just be sure to scan the nutrition facts label for sugar, carbs, and fake sweeteners!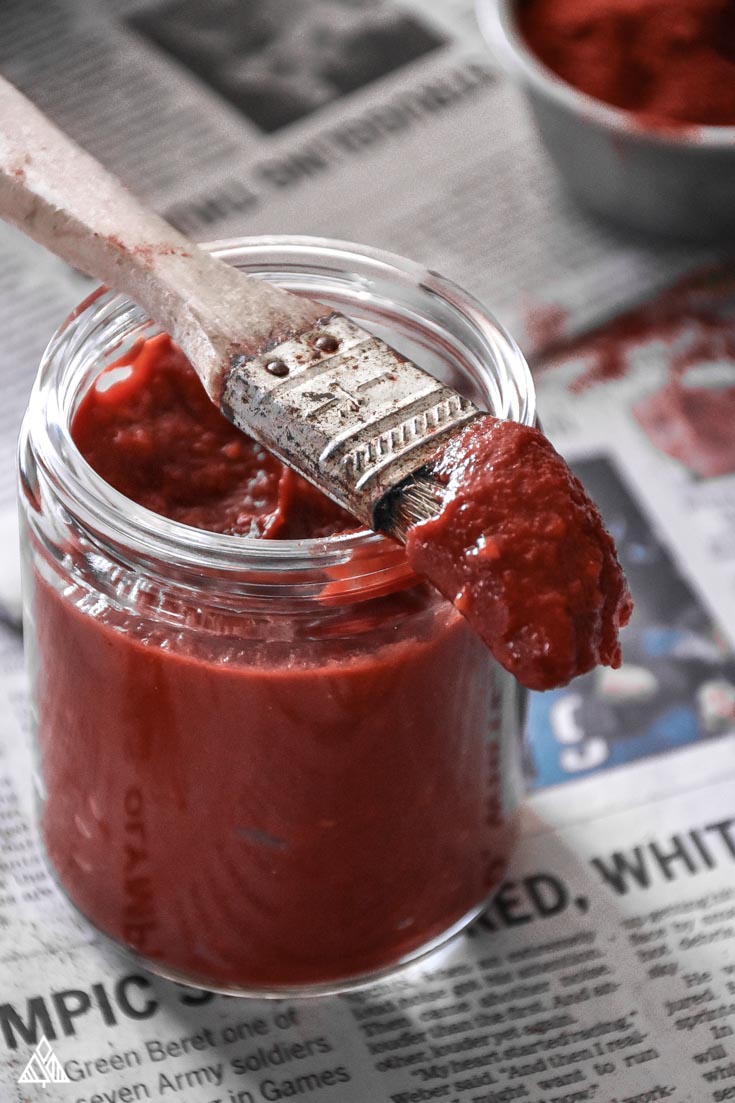 How often do you stumble across a recipe that's delicious, paleo, low carb, and a snap to throw together with only a handful of ingredients?!
To make it: literally just combine, and heat, and you've got yourself a low carb bbq sauce for ribs, tofu, and beyond!
Because the ingredients are so inexpensive and such a snap to throw together, you may end up eating BBQ-inspired meals all year 'round!
If you're like me and your grill is your favorite appliance, then homemade low carb barbecue sauce is about to become your favorite recipe. You'll wonder how you ever got by without it!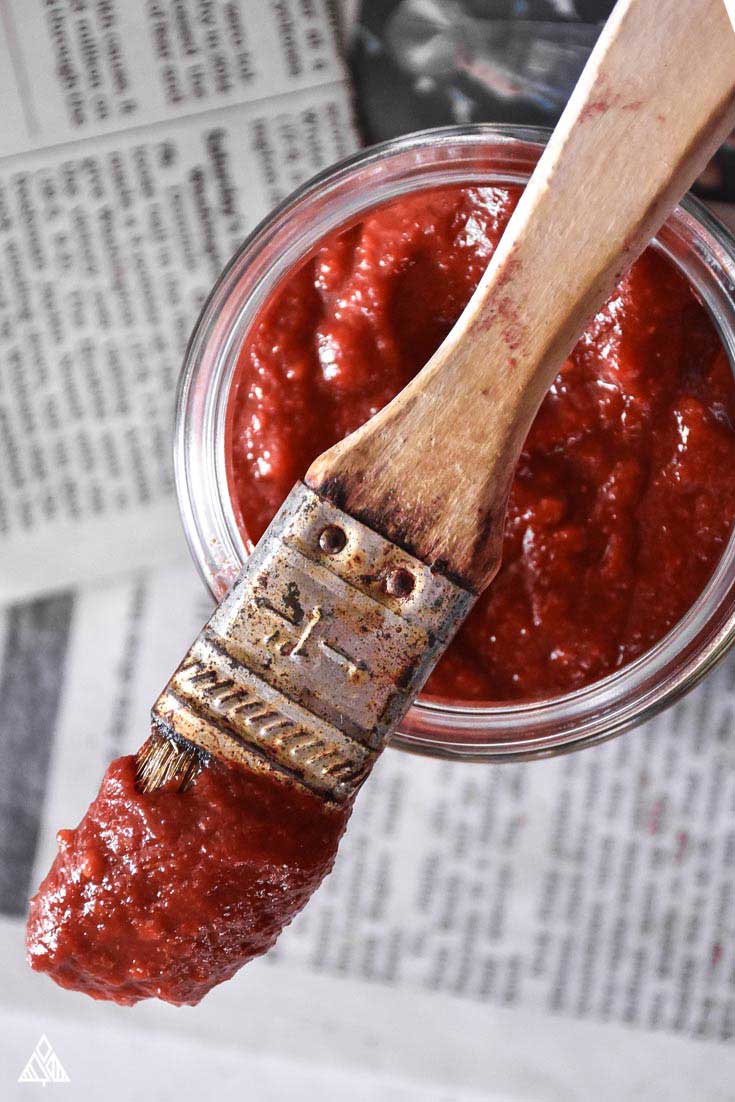 It can magically transform a boring dinner into a family favorite…
Simple as covering a healthy serving of protein and grilled vegetables with this sauce and bam! You're done!
Dinner has never been so delicious, adaptable, and efficient.
Use this low carb BBQ sauce to convince loved ones that healthy, low carb foods can be just as savory and satisfying as their old, starchy comfort counterparts!
Low carb BBQ sauce is the perfect flavor element to complement those gorgeous sunny days that compel you to the porch to dine. My perfect summer dinner formula consists of this low carb bbq sauce recipe diet coke, farmer's market vegetables, and fresh, lean cuts of meat.
Summertime cookouts are, of course, the best place to showcase your brag-worthy homemade BBQ sauce, but no matter what time of year, just add sunglasses and a lounge chair and you are ready to relax and unwind with a breezy, scrumptious low carb meal.
This low carb BBQ sauce is good on everything…
Homemade low carb sauces are a simple and worthwhile upgrade to your rotation of low carb recipes… 
Literally, every single meat and veggie dish under the sun are improved by the addition of homemade low carb BBQ sauce. To name a few of my favorites…
Low carb chicken recipes are instantly elevated when served with a sweet and smoky slathering.
Does your low carb meatloaf need a little makeover? Start with ditching the bottle and bringing life into your barbecue sauce!
Taking the time to make your own low carb BBQ sauce will make staples like your low carb casseroles pop. 
Think outside the box, try slathering your low carb pizza or chicken crust pizza with BBQ, cheese, red onions and cilantro!
Never get bored of low carb BBQ sauce with a few variations:
A little sweet…
Low carb BBQ sauce recipe stevia sweetened is my favorite way to achieve that pleasing sweet-and-sour barbecue quality. Try using a half teaspoon of liquid stevia for guaranteed sweet-tooth approval. If you prefer to use a keto/raw diet-friendly low-glycemic sweetener like agave nectar, start with a half teaspoon, and add more to taste.
A little spicy…
If you're on a sriracha kick, add a splash!
A little smokey…
Don't be afraid to take this recipe and make it your own. If you love smokehouse flavors, sprinkle in a few drops of liquid smoke.
Pst… I always add liquid smoke to this recipe.
Originally I was freaked out by it, because how the heck did they get smoke into a bottle?! Then I read that it's made from smoke collected from hickory or mesquite burned at high temperates! Bring it on!
Playing with smoke and spice is a fun way to add personality to your low carb meals, with only a little bit of effort. Plus, keeping your seasonings fun, seasonal, and fresh, and this versatile recipe can take on a whole new personality every time you make it!
Pull out your measuring spoons and can opener and get ready to simmer, because I can't wait any longer to introduce my favorite guilt free low carb BBQ sauce recipe:
Low Carb BBQ Sauce
This low carb bbq sauce recipe is not only easy, it's sugar free and will fulfill all your low carb BBQ dreams!

Instructions
Add all ingredients to a sauce pan and stir to combine.

Heat on medium heat until you start to see bubbles form, then bring the sauce to a very low simmer.

Simmer until your sauce reaches desired thickness (the longer you simmer, the more liquid will evaporate—however the sauce is already pretty thick as its base is tomato paste). I usually heat mine for about 5 minutes.

Allow sauce to cool and enjoy!
Notes
* Serving size: Everyone will cook a different amount of liquid out of their low carb BBQ sauce when thicken — I like my BBQ sauce really thick so hardly any of the water is left (both from the added water and the water in each of the ingredients if that makes sense). The easiest way to calculate an exact serving size is that there are 24 servings in the sauce you have, so divide and enjoy accordingly.  You can also calculate it based on the tablespoons we add — all the liquids equal 19 Tablespoons, before being cooked down.
** A note about the sodium content: Sea salt, Worcestershire and chili powder are the biggest contributors to the sodium in this recipe. If you'd like to cut down the amount of sodium, go a little easier on these ingredients.
*** To add some heat to this recipe: I suggest using cayenne pepper powder or tabasco!
Nutrition
Calories:
10
kcal
|
Carbohydrates:
2
g
|
Protein:
0
g
|
Fat:
0
g
|
Saturated Fat:
0
g
|
Cholesterol:
0
mg
|
Sodium:
187
mg
|
Potassium:
96
mg
|
Fiber:
0
g
|
Sugar:
1
g
|
Vitamin A:
4.1
%
|
Vitamin C:
2.2
%
|
Calcium:
0.7
%
|
Iron:
2.1
%
©Little Pine Low Carb. Content and photographs are copyright protected. Sharing of this recipe is both encouraged and appreciated. Copying and/or pasting full recipes to any social media/website/blod is strictly prohibited.
That's it!
A small handful of ingredients, some basic seasonings, and a couple minutes on the stove is all that separates you from indulging in a decadent and core-warming low carb BBQ sauce—enjoy!