Stop pretending to like salmon, and learn how to love it. Already a fan of the fish? Great! Not so much? Shhhhh. This crispy, saucy, sesame crusted salmon is really for you.
Looking for more salmon recipes to love? Check out this salmon piccata, or this pistachio crusted salmon.

No More Swimming Upstream
We start every year with a cleanse—to feel better and refocus our food goals. This year, part of our goal was to have salmon for dinner at least once a week. Here's where I have to be honest: We just aren't that into salmon. Most recipes I've tried can turn out dry or mushy. No one wants that!
So I set out to create a recipe worthy of sharing with you.
Because I don't want to eat salmon because it's good for me. I want to want to eat it! And now— I do.
Sesame seeds and a saucy wasabi crema guarantee flavor and texture in every bite. Inspired by traditional Chinese cooking, the sesame seed coating adds a toasty nuttiness and crisps up to a beautiful, golden, crunchy exterior—all while protecting the tender salmon inside. A drizzle of crema is a bright, creamy compliment to the crispy fish. You'll want some on every bite. So drizzle… or douse…
And never doubt salmon again.
Sesame Crusted Salmon Ingredient Notes
This Asian salmon recipe comes together with just a few simple ingredients. Here are some notes to consider when getting everything together:
Skinless salmon – I prefer salmon without the skin for this recipe, as the sesame seeds adhere better to the flesh than the skin. That said, skinless salmon can be hard to find if you're buying fresh. Check out this video for a quick tutorial on how to remove the skin yourself–Basically, place the salmon skin-side down and use a sharp knife to slice between the flesh and skin.
Wild vs. farmed salmon – I always buy wild-caught salmon, as farmed is higher in contaminants. BONUS: At Costco, they're almost the same price.
What color sesame seeds to use? Both white and black work here, although I much prefer white sesame seeds as you can tell once they've browned in the pan (black seeds are easy to burn). As far as the flavor: white seeds are more subtle, while black seeds are stronger in taste and slightly bitter.
Want to Save This Recipe?
Enter your email below and we'll send it straight to your inbox. Plus you'll get great new recipes from us every week!
How to Make Sesame Crusted Salmon
Follow these instructions for no-fail dinner every time. Keep a close eye on your pan seared salmon, it's easy to burn the sesame seeds!
Storing and Reheating Tips
If you happen to have leftovers, here's how to make the most out of them:
Store leftover sesame crusted salmon in an airtight container in the fridge–I prefer a container to a resealable bag, as it better protects the crust and keeps it intact. Store your crema on the side.
Reheat your sesame crusted salmon in the oven on a skillet to re-crisp both edges and top with additional crema.
Leftover ideas: serve this as a salmon salad, over a bed of fresh or sauteed veggies. Check out my smoked salmon salad for even more dressing ideas.
Serving Recommendations
We love this sesame crusted salmon as is. But if you'd like to bulk it up with some sides, consider serving it with rice, sauteed bok choy, cauliflower fried rice or broccoli rice.
Common Questions
Here are some answers to any questions you may have about this salmon recipe. And yes, you read it right, no salmon marinade necessary!
How long do I bake the salmon? How long to bake salmon will depend on the thickness of your filets. I usually check mine after 8 minutes. The easiest way to tell if your sesame crusted salmon is cooked is to press into the center with a fork–if it flakes easily, it's done cooking. Check out my baked salmon tutorial here.
Can I use salmon with the skin on? Sure! However, seeds won't adhere well to the salmon skin. If you'd prefer to use salmon with the skin, I suggest coating the skinless side only or reserving it for non-coated salmon recipes like my stuffed salmon or salmon curry.
Can I make the crema spicier? YES! Simply add more wasabi. Or, add sriracha for a different kind of zest (like in my spicy tuna salad).
Can frozen salmon be used here? Salmon is great because you can easily bake it from frozen. However, the sesame seeds won't adhere to frozen salmon, so this isn't the best recipe to bake frozen salmon.
Crusted Salmon Video Tutorial
More Fish Recipes to Love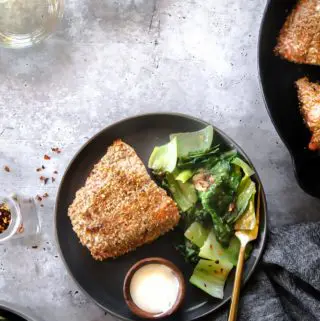 Sesame Crusted Salmon
Print Recipe
Pin Recipe
Ingredients
Sesame Crusted Salmon:
1

lb

salmon

skin removed. 1" thick, cut into 4 even pieces. (Note 1)

1

teaspoon

Kosher Salt

1/2

teaspoon

pepper

1/2

cup

sesame seeds

(Note 2)

1

tablespoon

Mild Tasting Oil

(Note 3)
Wasabi Crema:
1/2

cup

sour cream

2

tablespoons

heavy cream

1

tablespoon

lemon juice

2

teaspoons

soy sauce

1 1/2

teaspoon

wasabi paste
Instructions
Prep. Preheat oven to 325 F. Mix ingredients for wasabi crema together in a small bowl. Taste, and adjust to your liking. Then set aside.

Coat. Pat dry the salmon (1 lb) and sprinkle with salt (1 teaspoon) and pepper (1/2 teaspoon). Press to ahead. Sprinkle sesame seeds (1/2 cup) in an even layer on a large plate. Press the salmon into the sesame seeds, making sure to get an even coating.

Cook. Heat oil (1 tablespoon) in a large oven-safe skillet over medium-high heat. Once heated (oil should be shimmering), place the salmon fillets in the pan. Watch carefully as you don't want to burn the sesame seeds–this should take about 1-3 minutes on each side, but will depend on the heat of your pan. You want the sesame seeds to be golden. Make sure not to crowd the salmon, this may need to be done in 2 separate skillets. Flip the salmon and place the skillet in the oven. Cook for 10-15 minutes, or until the salmon is cooked through (Note 5).

Assemble. Place cooked salmon on each plate along with a side of wasabi crema, and enjoy!
Rate this Recipe
Fans Also Made These Low Carb Recipes:
Lindsey's Tips
Have salmon with the skin on? It's easy to remove with a sharp knife, simply place the salmon skin-side down on a cutting board and grab ahold of the tail end. Slice between the flesh and skin.
Sesame seeds, white vs. black. I prefer white sesame seeds as you can monitor how brown they get when you sear the salmon. That said, black sesame seeds have more natural crunch and a stronger flavor. Both will work, just watch black sesame seeds more carefully as they cook.
Mild tasting oil. You want a mellow flavored oil that can take a lot of heat. I use avocado oil, vegetable oil works as well.
Salmon is done cooking once it easily flakes with a fork inserted into the center or thickest part.
Nutrition
Calories:
387
kcal
Total Carbohydrates:
7
g
Protein:
27
g
Fat:
28
g
Sodium:
812
mg
Fiber:
2
g
Sugar:
1
g
Net Carbs:
5
g
©Little Pine Low Carb. Content and photographs are copyright protected. Sharing of this recipe is both encouraged and appreciated. Copying and/or pasting full recipes to any social media/website/blog is strictly prohibited.