Let me tell you something… I crave Taco Bell's Crunchwrap Supreme. It's an experience for all the senses. The fragrance of the savory spice blend, the melding flavors of meat and cheese, and the juxtaposing sensations of soft and crunch. Buuuuuut Taco Bell's version doesn't exactly fit into a low carb lifestyle; So rather than live without, I took matters into my own hands.
Enter… *drumroll* The Low Carb Crunchwrap Supreme!
Made of keto tortillas (today we'll use cabbage wraps), crispy cheese taco shells, and my perfected keto queso.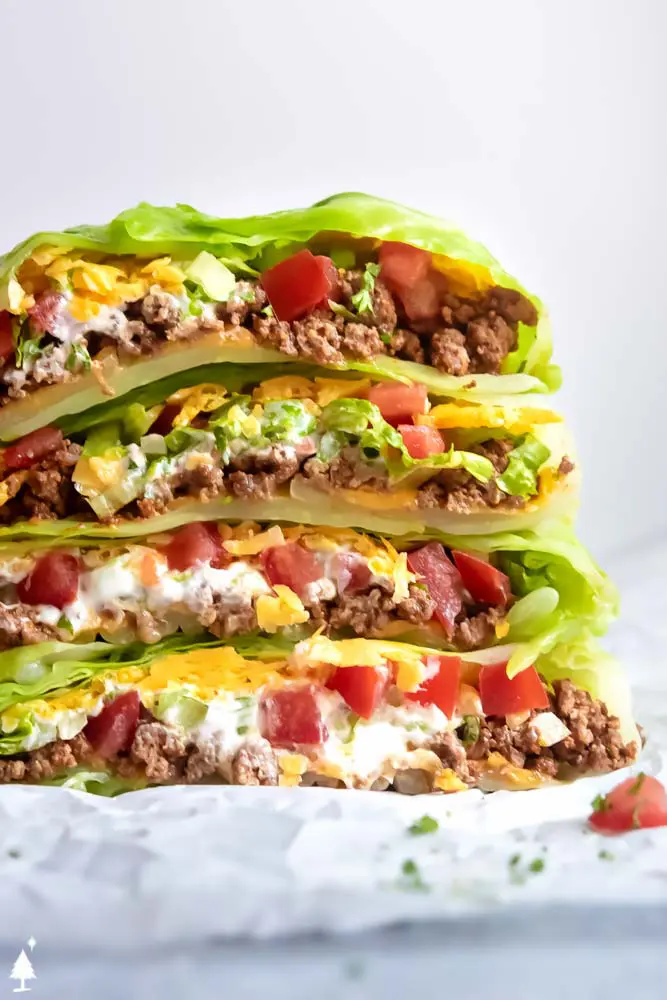 Low Carb Crunchwrap Supreme Video Tutorial
On your phone? Check out my web story here.
The Perfect Substitute.
Have you ever had the satisfaction of a midnight crawl through the Taco Bell drive-thru? You roll through, the attendant is tired and there's no judgment in their voice. You order a Crunchwrap Supreme. Then you pullover in the parking lot, let out your snack-cravings gremlin, and you devour that delicacy.
But, what if I told you, you don't have to leave your home to enjoy a Crunch Wrap? And you don't have to derail your low carb eating plan?
The solution is to MAKE THIS KETO CRUNCHWRAP TONIGHT.
It's the perfect substitute. Literally, this baby has got it all: that lovely taco aroma, that beautiful harmony of meat and nacho cheese, and yes, even that delightfully soft and crunchy dichotomy. When those cravings threaten to send you on a midnight crawl through the Taco Bell drive-thru, take a trip to your kitchen instead. You can throw this recipe together in a snap.
For real, this low carb Crunchwrap supreme will satisfy that little snack-craving gremlin inside of all of us.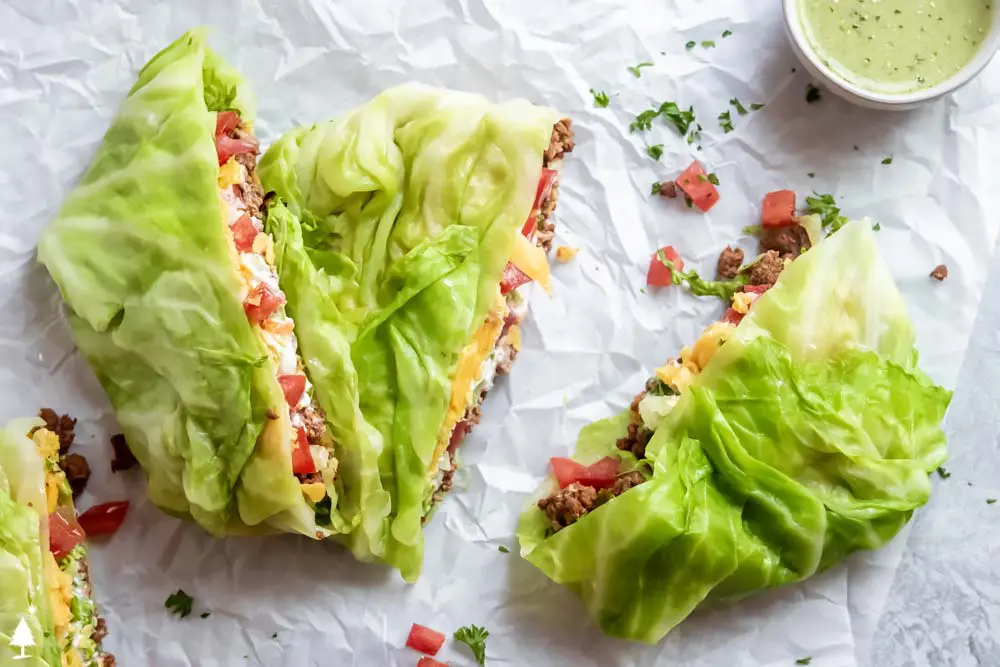 Healthy Crunchwrap Ingredient Swaps
As you can imagine, basically every ingredient in a traditional Crunchwrap is high in carbs. So here's the ingredient list, and what we'll be using instead:
Tortillas –> Cabbage.
Tostada –> Cheese crisp.
Taco seasoning –> Low carb taco seasoning.
Nacho cheese –> Low Carb nacho cheese.
Psst–Most storebought taco seasonings and nacho cheeses are loaded with carbs. You can follow my recipe for homemade, or if you know of low carb products, feel free to use them instead!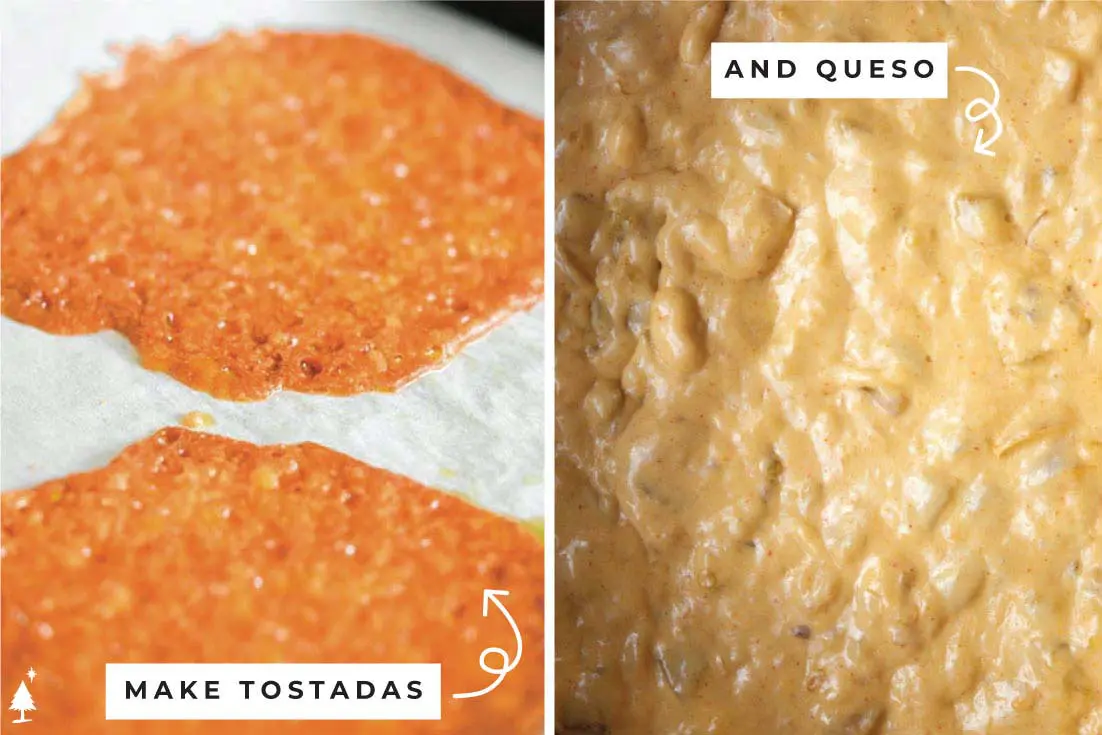 How to Make a Cruchwrap: Cooking Tips
Although pretty easy to make, this keto Crunchwrap may use cooking techniques that are new to you–be sure to check out my low carb Crunchwrap video tutorial, or leave a comment below so I can help clarify! Here are a few important tips to point out:
Start boiling the water first, then make the crisps. Everything else can be handled while these 2 items are in the works.
If you see yourself making Crunchwraps often, then boil your cabbage ahead of time. We'll only need 12 cabbage leaves for this recipe, so you can easily freeze the rest for future use. This will take away a bit of the cabbage leaf's crunch, but it doesn't bother us! The queso is also great to make in bulk and freezing in portioned baggies.
Make sure to remove as much of the core as possible from the cabbage. This will make removing the leaves as easier.
If the leaves are hard to remove, simply allow the cabbage to soak a bit longer.
Remove the thick part of the cabbage spine (CAREFULLY!) by sliding a sharp knife over it, for better texture and ease in folding.
Storing + Reheating
If you're making this low calorie Crunchwrap ahead of time, I suggest storing your cheese crisp separately. Right before you'd like to eat it, re-crisp your cheese in the oven for a few minutes, and microwave the rest of your Crunchwrap. The crispy texture adds a lot to this dish!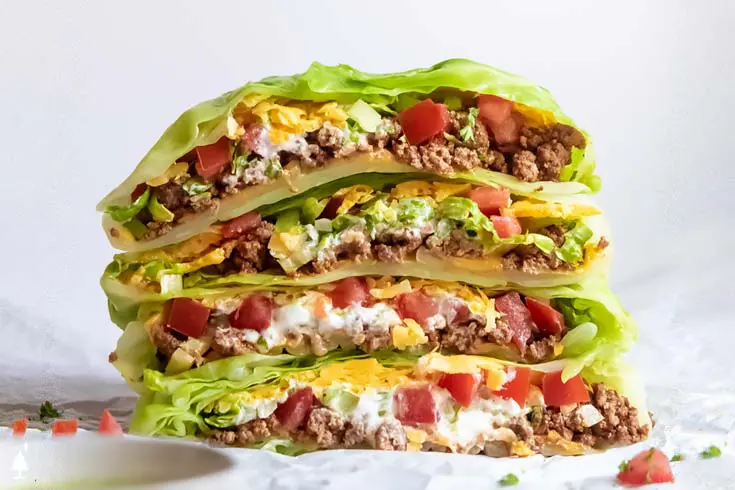 Recipe Variations
Use butter lettuce instead of cabbage. Keep in mind it won't wrap as well, or fully cover your ingredients, but swapping these two keto vegetables is a great way to save time and dishes.
Turn this into a salad, similar to my keto taco salad with a few upgrades.
Turn into low carb nachos, sort of like a deconstructed Crunchwrap–use my keto tortilla chips or even baked cauliflower, and layer everything else on top.
Swap the meat. Want a Crunchwrap Supreme with chicken, sub-ground chicken for the beef.
How Many Carbs Are in a Crunchwrap Supreme?
Now, for the fun part. A traditional Crunchwrap contains 71 g carbs per. This low carb Crunchwrap? 7 g TOTAL carbs, 5 g NET carbs. Take that!
More Low Carb Beef Recipes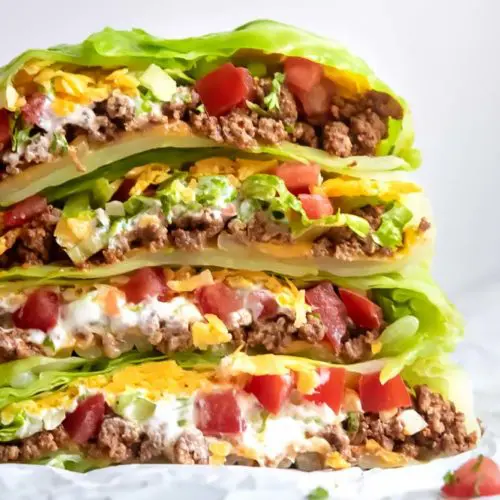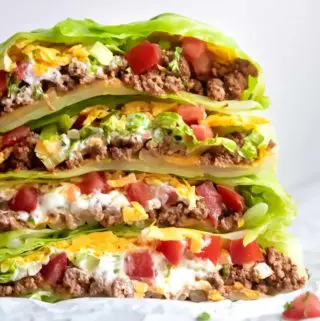 Low Carb Crunchwrap Supreme
Print Recipe
Pin Recipe
Ingredients
1

Head Cabbage

cored (note 1)

1

Cup

Sharp Cheddar Cheese

2

Tablespoons

Mild Tasting Oil

(note 2)

1

Pound

Ground Beef

or ground turkey

4

Tablespoons

Keto Taco Seasoning

or 1 (1.25-ounce) package taco seasoning (note 3)

1

Cup

Keto Queso

(note 4)

1/2

Cup

Sour Cream

2

Cups

Lettuce

shredded

1

Tomatoes

diced + deseeded
Instructions
Prep. Preheat oven to 400 F and line a baking sheet with parchment paper. Bring a pot of water large enough to submerge your cabbage (1 head) to boil.

Steaming the cabbage. Once the water is boiling, add the cored cabbage (note 1) and allow it to cook for two minutes. Use 2 sets of tongs to remove 1 cabbage leaf at a time from the cabbage--it's easiest to pull the leaf using 1 set of tongs from the base (where the core was removed). Use the second set of tongs to hold the cabbage steady as you do so. If they aren't easy to remove, just cook the cabbage a little longer (note 5). Well only need 12 cabbage leaves for our Crunchwraps, so save the center of the cabbage for another recipe.

Removing some of the cabbage stem. Place each leaf spine side up on a cutting board. Carefully remove the thick part of the stem by sliding a sharp knife over the top. Set cabbage aside on a plate while we prep the filling...(note 7)

Make the crisps. Sprinkle cheddar (1 cup) into flat 4" round circles on the prepared baking sheet. Bake in preheated oven for 6 minutes, or until the edges start to brown around the edges.

Make the nacho cheese if following my recipe, or heat up your favorite low carb store bought version.

Cook the meat. Meanwhile, heat vegetable oil (2 tablespoons) (note 2) in a large skillet over medium-high heat. Add ground beef (1 pound), breaking up with the back of your spoon into small pieces as it cooks. Cook until completely brown. Drain excess fat from the pan (note 6), then return pan to heat. Stir in taco seasoning (4 tablespoons) (note 3) and water (2/3 cup). Cook for 2-4 minutes, or until the sauce thickens.

Assemble. Place 3 cabbage leaves, spine side down, on a flat surface with the center of the leaves slightly overlapping in the middle. Start with a dollop of nacho cheese (or shredded cheddar) (1cup), then meat, a cheese crisp, sour cream (1/2 cup), diced tomatoes (1 piece), shredded lettuce (2 cups), and last another dollop of nacho cheese (note 4). Tear each cabbage leaf in half so it is able to fold more easily, and fold each half toward the center. Cut crunch wrap in half, and enjoy!
Rate this Recipe
Fans Also Made These Low Carb Recipes:
Lindsey's Tips
Remove as much of the core as possible. Otherwise, the leaves will be impossible to remove.
Mild Tasting Oil,

I always use avocado oil, but vegetable, safflower, sunflower, or peanut will work too.

Taco seasoning. Most storebought products are loaded with sugar, check labels carefully, or throw together a batch of my keto version.
Nacho cheese. Again, most storebought products have loads of carbs, so try making my homemade version. (It's worth it!)
Hard to remove the leaves? Just soak the cabbage longer, and make sure you've removed enough of the core.
Draining excess fat from the pan. To do this, I like to move all the meat to one side of the pan and tilt the pan on the other side, allowing the fat to pool on one edge. Carefully, use paper towels to soak up the grease.
Time-saving tips: You can prep the cabbage and nacho cheese ahead of time, the freeze both so they're ready next time you want a Crunchwrap!
Nutritional information is for 1 Crunchwrap Supreme if you make 4 using this recipe. It was calculated using my queso and taco seasoning recipes:
Nutrition
Calories:
684
kcal
Total Carbohydrates:
7
g
Protein:
34
g
Fat:
58
g
Sodium:
482
mg
Fiber:
2
g
Sugar:
4
g
Net Carbs:
5
g
©Little Pine Low Carb. Content and photographs are copyright protected. Sharing of this recipe is both encouraged and appreciated. Copying and/or pasting full recipes to any social media/website/blog is strictly prohibited.