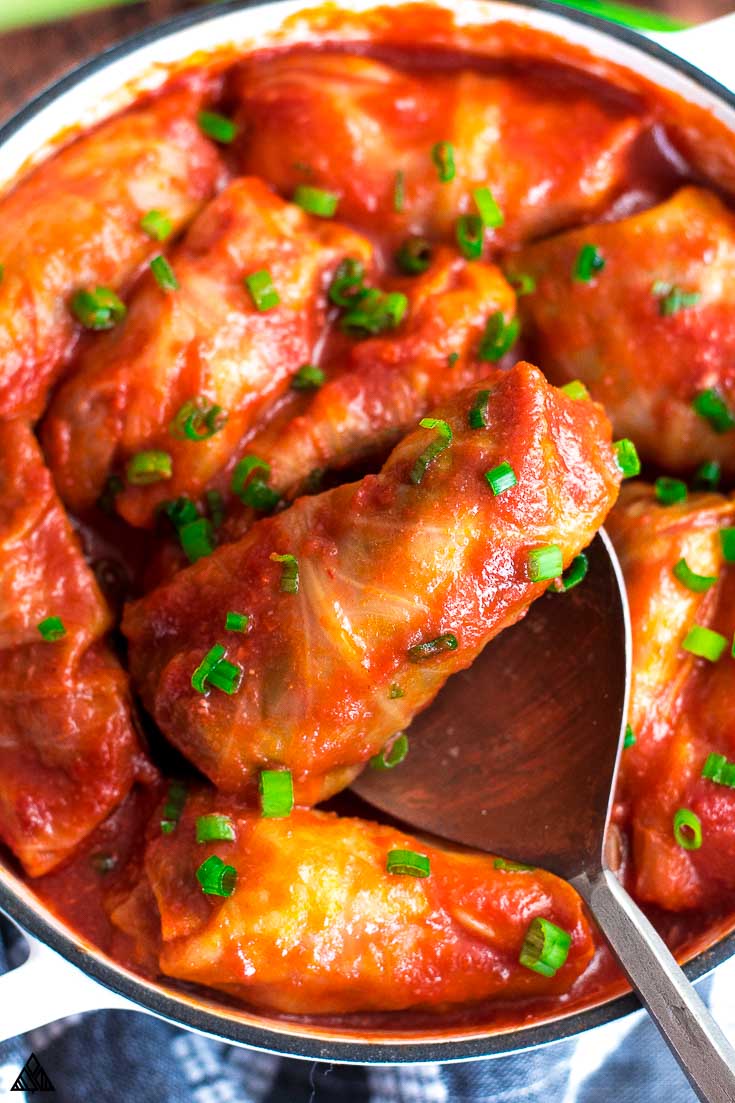 After traveling to Poland, I couldn't wait to come home and try low carb versions of some of their staples, keto cabbage rolls were of course at the top of my list!
In Poland, these keto cabbage rolls are called Gołąbki.
With a quick Google search, I learned they weren't compliant with my low carb eating plan — the Polish tradition is to stuff them with ground beef and rice, then cook them in a "sweet and sour" tomato sauce (usually made of sugar, brown sugar, or another not-so keto sweetener).
So, my travel partner ate them while I thoroughly enjoyed pork knuckles and kielbasa, and I returned home, determined as ever to make the best dang keto cabbage rolls this world has ever tasted!
[no_toc]
How to Make keto cabbage rolls
You know how most of the low carb recipes on this site are easy to throw together? These healthy cabbage rolls are a bit more labor intensive, but they're worth it!!
Here's a little info on the steps that may cause confusion! Be sure to check out the how to make keto cabbage rolls photos below to help clarify.
Removing the leaves.
First you'll want to remove the thick core of you cabbage with a sharp knife.
Then, place your cored cabbage into a large pot of boiling water. You want the entire head of cabbage to be submerged — I do this by holding the cabbage down with one set of tongs.
Wait about 2 minutes, and your cabbage leaves should be soft enough to peel. Do this by holding the cabbage with a set of tongs in one hand, and removing the leaves with a second set of tongs in the other. You should be able to easily fit the tongs between the leaves to remove them. If they don't come off easily, allow the cabbage to boil in water for a minute or two, then try again!
Use a sharp knife to remove some thickness from the stems of each cabbage leaf, this will make them easier to fold.
Sauce + Filling.
In a large bowl, combine the keto cabbage rolls filling  with you hands until thoroughly combined (just like you would keto meatloaf).
In a separate bowl, whisk together the sauce ingredients and set aside.

Folding your cabbage keto rolls.
Now for the fun part — place a dollop of the beef combo on an unfolded cabbage leaf, leaving some space at the bottom.
Fold the left and right edges of your cabbage in over the meat.
Then roll from top to bottom.
Arranging your cabbage roll casserole.
Cut the leftover cabbage into 8ths, then place them at the bottom of your dutch oven — this will prevent your keto cabbage rolls from burning.
Place each of the keto cabbage rolls seam side down.
Pour the sauce over the top, place the lid on top and toss those keto cabbage rolls in the oven!
I learned all of these tips from my Lebanese Grandmother who raised me making Lebanese cabbage rolls! Growing up, they were one of my favorite foods. I'm not sure that the techniques I'm sharing for this keto stuffed cabbage casserole are part of Polish tradition, but I promise they'll make your life easier!
Carbs in Keto Cabbage Rolls
You may notice this keto cabbage rolls recipe is slightly higher in carbs than most of the recipes on my site…
Unfortunately, that's due to the tomato sauce we're cooking the keto cabbage rolls in.
I wanted to keep this recipe as close to the traditional Polish recipe as possible — swapping the rice with cauliflower rice was an obvious solution. Eliminating the sugar/brown sugar as well — but the tomato sauce? Changing that would completely change the flavor of these keto cabbage rolls…
What I would like to mention, is that most of us will just be eating a little bit of the sauce with each of our keto cabbage rolls — we won't be drinking it from the pot. For this reason, I don't feel the carb count for these keto cabbage rolls is 100% accurate.
If you'd like to save yourself some carbs, cook this low carb cabbage roll casserole in water and 1 can of crushed tomatoes (this is more in line with Lebanese cabbage rolls!) — this is a flavorful means of cooking the keto cabbage rolls as opposed to creating a sauce for them (as we do in the recipe below).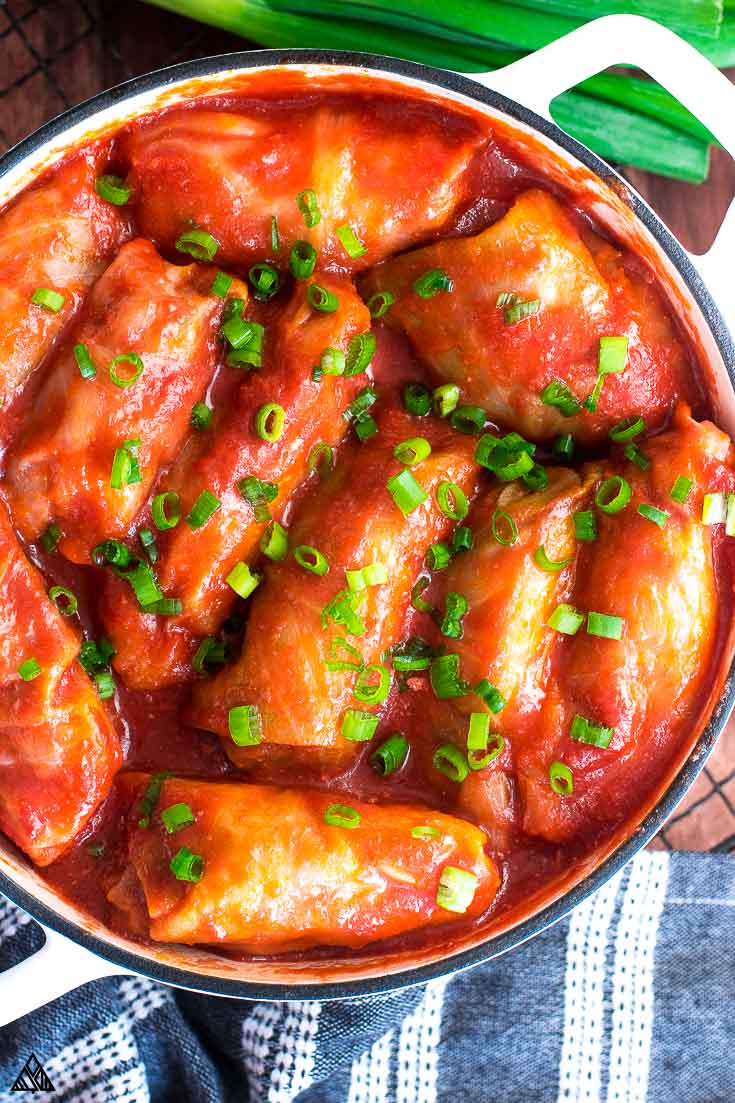 How to Eat These Keto Cabbage Rolls
These keto cabbage rolls are traditionally enjoyed as a hearty main dish, in which the sauce they're cooked in is spooned over the top.
If you'd like to continue with Polish tradition, enjoy them with a glass of low carb mulled wine (one of the tastiest ways to enjoy low carb alcohol), or a side of keto dumplings (similar to Polish perogies!).
The Lebanese way to enjoy these keto cabbage rolls would be without the sauce, served with low carb Greek yogurt or lebni and some cauliflower tabbouleh! As I mentioned above, Lebanese cabbage rolls aren't traditionally cooked in a sweet and sour sauce, but I find dipping this keto cabbage rolls recipe in low carb yogurt is still delicious!
Keto Cabbage Rolls Variations
Since there aren't many ingredients in this recipe, there isn't much to swap — but your kitchen your rules! Here are a few variations you can try if they better suit your cravings:
Swapping the Meat.
Swap the beef and try turkey
cabbage rolls no rice for a leaner alternative.
Mixing in Some Spices.
As with any low carb ground beef recipe, you can
stir in whatever herbs and spices you're craving.
Maybe you'd like to try keto greek cabbage rolls for a little zest?
Go for it!
Save Yourself Some Time With Cabbage Roll Soup.
If you're looking to save some time, whip up a batch of cabbage roll soup instead. Think of it as keto unstuffed cabbage rolls, all these ingredients cooked in a broth for some soul soothing deliciousness.
Keto Cabbage Rolls Recipe
I hope you LOVE this keto cabbage rolls recipe as much as I do!
Leave me a comment below and let me know what you think — were they just like the stuffed cabbage rolls recipe you used to love? Do you miss the rice? (I sure don't!) Enjoy!
Keto Cabbage Rolls
Print Recipe
Pin Recipe
Ingredients
1

Head of Cabbage

medium

3

15 Oz

Can of Tomato Sauce

no sugar added

1

14.5 Oz

Can Chicken Broth

4

Tablespoons

Swerve or Lakanto (see sweetener notes below)

granular

1

Cup

Cauliflower Rice

uncooked

1/2

Cup

Onion

yellow, chopped

2

Lb

Ground Beef

85%/15%

2

Teaspoons

Kosher Salt

1/2

Teaspoon

Black Pepper
Instructions
Preheat your oven to 350 F.

Bring a pot of water large enough to submerge your entire head of cabbage to a rolling boil.

Carefully cut and remove the stem of your cabbage with a sharp knife (see picture above).

Once water is boiling, carefully drop the cabbage into the pot of water.

Allow cabbage to boil for about 2 minutes, then, using 2 sets of tongs and a plate, remove the leaves one at a time. This is most easily done from the center (where we just removed the core). If the leaves don't come off easily, wait a minute or so then try again (they may need to soften a little more).

Stop once the leaves get smaller (I was able to get 24 leaves off 1 head of cabbage before they became too small).

Remove mini cabbage head from water and set aside (we'll be using that later!)

Use a sharp knife to remove some thickness from the stems of each cabbage leaf — You want the stem to be only as thick as the rest of the leaf.

In a large bowl, stir together the tomato sauce, chicken broth and erythritol — this is our sauce.

In a second large bowl, combine the beef, onion, cauliflower rice, salt, pepper, and ¼ cup of the sauce. Use your hands to incorporate everything evenly.

Now we'll roll our cabbage rolls — do this by laying each cabbage leaf flat on a cutting board and placing a dollop of the meat mixture in the middle. Fold the left and right side in, then roll from top to bottom. (see photos above as a reference) You don't want to overstuff your cabbage rolls, as they'll fall apart when you bake them.

Cut the mini head of cabbage we set aside into 8 pieces. Place these on the bottom of a dutch oven.

Place the rolled cabbage leaves seam side down over the cut pieces of cabbage.

Cover with the rest of our sauce.

Place lid on the dutch oven and place it in the oven for 1 ½ -2 hrs, or until the meat inside a cabbage roll in the center of your dutch oven is cooked all the way through!

Serve warm with the tomato sauce spooned over each cabbage roll. Enjoy!
Rate this Recipe
Lindsey's Tips
This recipe can be made with ground turkey instead.

 

If you'd like to make this lower in carbs, cook your cabbage leaves in 1 can of tomato sauce, and enough water to cover the top of you cabbage rolls.

The nutritional information below is based on 2 cabbage rolls, if you're able to make 24 rolls from this recipe.
A note about the nutritional info: most of us will just be eating a little bit of the sauce with each of our keto cabbage rolls — we won't be drinking it from the pot.

For this reason,

I don't feel the carb count for these keto cabbage rolls is 100% accurate.

Nutrition
Calories:
113
kcal
|
Carbohydrates:
2
g
|
Protein:
7
g
|
Fat:
7
g
|
Saturated Fat:
3
g
|
Cholesterol:
40
mg
|
Sodium:
233
mg
|
Potassium:
196
mg
|
Fiber:
1
g
|
Sugar:
1
g
|
Vitamin A:
55
IU
|
Vitamin C:
17.3
mg
|
Calcium:
26
mg
|
Iron:
1
mg
©Little Pine Low Carb. Content and photographs are copyright protected. Sharing of this recipe is both encouraged and appreciated. Copying and/or pasting full recipes to any social media/website/blog is strictly prohibited.
keto cabbage soup
Of all the keto vegetables, cabbage is one of my favorites. It's delicious in this keto cabbage rolls recipe, and stirred into keto cabbage soup.