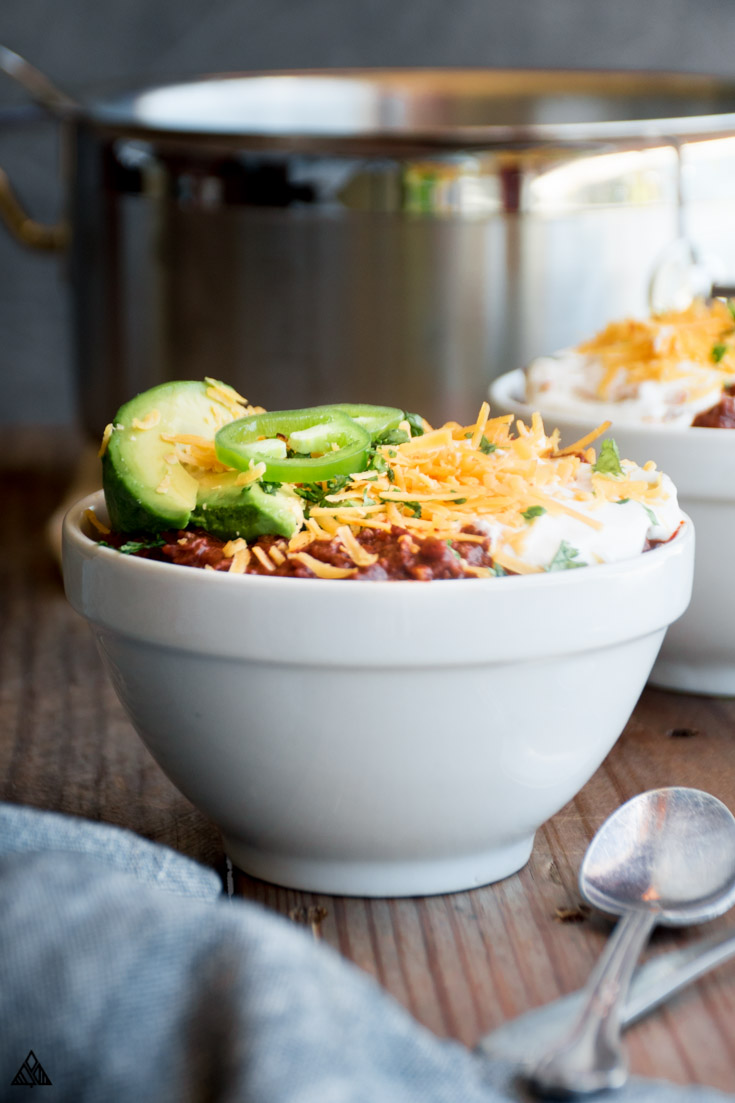 [no_toc]
Low carb chili is a soul soothing meal, full of meat, spices and saucy flavor — the perfect recipe to warm us from inside out and keep us full and happy for hours to come!
Although beans are often the foundation of chili recipes, this low carb chili uses meat instead — and trust me friends, after just one spoonful of this low carb chili you'll be glad they're gone.
Protein packed, meal prep worthy, delicious, cheap and easy, low carb chili is the perfect dish to keep the entire family happy, satiated, and full! So let's get simmering one of the tastiest of low carb recipes!
How to Make Low Carb Chili
This low carb chili is as straightforward as they come! But, there are a few important tips to know before getting started, that can transform this low carb chili from good to AMAZING.
Here's how to make low carb chili + all the tips and tricks you'll need along the way:
1. Cook the beef
Add beef to a large saucepan and cook over medium heat.
You may want to do this in batches so the meat browns vs. steams — trust me, this makes a big difference in flavor! As the meat cooks, break it up with the back of a wooden spoon, or, buy one of these nifty meat choppers. I LOVE these things!
You'll know the meat is done once it's no longer pink — remove it to a paper towel lined plate and set aside.
2. Veggie time.
If there isn't enough grease left in the pan, add some veggie oil (I prefer avocado oil), to saute the veggies.
Now, you may be tempted to skip this step. But cooking the aromatic veggies (onions and garlic) in this low carb chili before adding liquid helps to brown and caramelize their surfaces, resulting in more flavor!
We'll add the garlic towards the end, as it doesn't require as much time to cook and can burn easily.
3. Toast the Spices.
Another recipe trick that makes a HUGE difference in flavor is to toast the spices before adding in liquids. It's a quick step — should only take a minute or 2.
Save Your Favorite Recipes!
Create an account and save all your favorite recipes for easy access!
You'll know they're nice and toasted when they become fragrant.
Pst, be sure your spices are fresh, as they can go bad! Stale spices = bad low carb chili.
4. Add everything back into the pan.
Know we'll add the meat, diced tomatoes, chicken broth and bay leaves to the pan. Give everything a good stir and reduce the heat so the low carb chili is simmering. Cook it this way until it's reached your desired consistency.
This trick to a flavorful low carb chili is cooking it low carb slow. This allows the liquid to escape, and all the flavors to marry together.
The cook time will vary a ton, depending on how thick your pan is, how much moisture is in the air, how much liquid you cooked out of the veggies, and the simmer you are cooking your low carb chili at — it takes me between 1hr 45min to 2hrs until the chili is as thick as I'd like.
This is what a simmer should look like:

Low Carb Chili Slow Cooker
Alternatively, you can cook low carb chili in a slow cooker! Simply brown the meat and saute your aromatics — then toss all the low carb chili ingredients in the slow cooker on low heat for 8 hours.
Meal Prepping Chili Without Beans
Low carb meal prep is extremely helpful in staying on track — and this chili without beans is ideal for that! Make a double batch, heck even triple! Allow the low carb chili to cool in the fridge overnight, then portion it out into labeled baggies and toss them into the freezer.
Defrosting Chili Recipe No Beans
Next time you and the fam are looking for low carb dinners, just place this chili recipe no beans in a pot with some chicken broth and break it up with the back of a spoon. Cook low, slow, and uncovered. This will help to cook off some of the liquid.
Alternatively, you can let the low carb chili defrost in the fridge the night before you plan to eat it.
Carbs in Chili
Due to the beans, beer and corn, there are an awful lot of carbs in chili when traditionally prepared. Unfortunately, even tomatoes are high in carbs. According to the USDA Nutritional Database, 1 cup of chili has 33.8 grams of carbs — and who the heck eats just one cup??
Check out the nutritional info for this low carb chili before the recipe — you'll be pleasantly surprised!
How to Cut Carbs in No Bean Chili
First and foremost, let's cut the beans, because there are a lot of carbs in chili beans. And the flavor in chili comes from the spices, broth and meat anyway — beans are there as a filler to add carbs and calories to the dish. Whether you eat carbs or not, many find no bean chili even more delicious — in fact, Texans have been making their chili this way all along!
Another carb heavy ingredient in traditional chili is beer, which is used to add a flavorful liquid to the equation. Yes, most of the alcohol cooks off as the dish simmers, but what about the carbs? Either way, beer isn't on your low carb shopping list, so let's swap it with a less carb-y, just as flavorful liquid: chicken/beef broth!
Keto Chili Toppings
This keto chili can become not-so-keto is with a handful of traditional toppings: cornbread, croutons, beans, corn, you catch my drift. Let's not dwell. Instead, let's talk about all the exciting and DELICIOUS low carb foods we can use as toppings to make this low carb chili even most addicting:
Shredded cheese

, I love cheddar or pepper jack

(pst — there are hardly any carbs in cheese)

Sour cream
Avocado (considered low carb fruits based on their NET carbs)
Jalapenos
Low carb greek yogurt

, make sure the product you buy is actually low in carbs

(I stick to Trader Joe's brand or Fage)

Toasted

low carb bread recipe

(bake this recipe into low carb croutons if that's what you're craving)

Chopped Cilantro
If I missed your favorite topping, let me know in the comments below!
Paleo Chili Variations
As delicious as this paleo chili is, we all have different preferences. Here are some swaps you can try:
low carb turkey chili — 

If using turkey, 

add vegetable oil

to the pan before cooking the turkey, and again before you add in the onions.

(turkey is lower in fat)

Add More Low Carb Vegetables —  Mushrooms perhaps? Bell peppers?
Spices — Leave out, swap, or increase the spices as you see fit. If you'd prefer a spicy low carb chili keto recipe, then crank up the chili powder, or swap it with cayenne pepper.
low carb chili brands
Those of you looking for a low carb chili canned to grab from the store, here are the best options I've found, although both of these are considerably higher in carbs than this low carb chili recipe!
Low Carb Chili Recipe
Alright friends, let's get cooking! I hope this low carb chili recipe atkins would approve of will keep you warm and cozy all year round. What toppings did you add to your low carb chili? Did you try any variations? Let me know in the comments below!
Low Carb Chili
Protein packed, meal prep worthy, delicious, cheap and easy, low carb chili is the perfect dish to keep the entire family happy, satiated, and full!
Ingredients
2

Pounds

Ground Beef

80/20

Vegetable Oil

as needed

2

Cups

Yellow Onions

chopped

1

Bell Pepper

chopped

2

Tablespoons

Garlic

minced

1

Tablespoon

Cayenne Pepper

more if you like spice!

2

Tablespoons

Ground Cumin

1

Tablespoon

Smoked Paprika

1

Tablespoons

Oregano

2

Teaspoons

Salt

2

Teaspoons

Black Pepper

2

Bay Leaves

2 - 14 oz

Cans

Diced Tomatoes

no salt added

2 1/2

Cups

Chicken Broth
Instructions
Add beef to a large saucepan and cook on medium heat.

Break the meat up with a wooden spoon as you brown.

Once meat is no longer pink, pull it out of the pan and place it on a paper towel lined plate to remove any excess grease, leaving grease in the pan (if there isn't enough grease left, add some vegetable oil).

Add onions and bell peppers. Cook until onions are translucent and soft.

Add garlic, cayenne pepper, cumin, paprika, and oregano. Stir until fragrant (about 1 minute).

Add meat back to pan with salt, pepper, diced tomatoes, chicken broth, and bay leaves.

Bring contents of the pan to an aggressive simmer, and simmer uncovered for 1 hour, 45 minutes to 2 hours — or until the sauce is thick (see note below).
Notes
** Cook times vary based on the size of your pot, the type of pot, your burners and the type of simmer. The time listed above is how long is took me to cook the chili until most of the liquid evaporated. You may need to cook it longer to achieve the same results.
This chili isn't super spicy. If you like spice add more cayenne pepper.
To cut some carbs: Add less onion. The bell pepper can be left out.
Nutrition
Calories:
276
kcal
|
Carbohydrates:
9
g
|
Protein:
17
g
|
Fat:
18
g
|
Saturated Fat:
7
g
|
Cholesterol:
64
mg
|
Sodium:
1335
mg
|
Potassium:
583
mg
|
Fiber:
2
g
|
Sugar:
4
g
|
Vitamin A:
1045
IU
|
Vitamin C:
30.3
mg
|
Calcium:
78
mg
|
Iron:
4
mg
©Little Pine Low Carb. Content and photographs are copyright protected. Sharing of this recipe is both encouraged and appreciated. Copying and/or pasting full recipes to any social media/website/blod is strictly prohibited.
Reader Interactions