Pipin' hot chicken, veggies, creamy broth, and (legit!) buttery dumplings, this keto chicken and dumplings is here to warm you from the inside out. Cozy up and dig in!
Can't keto enough soup for keto dinners? Check out this keto chicken soup, rotisserie chicken soup, or keto taco soup.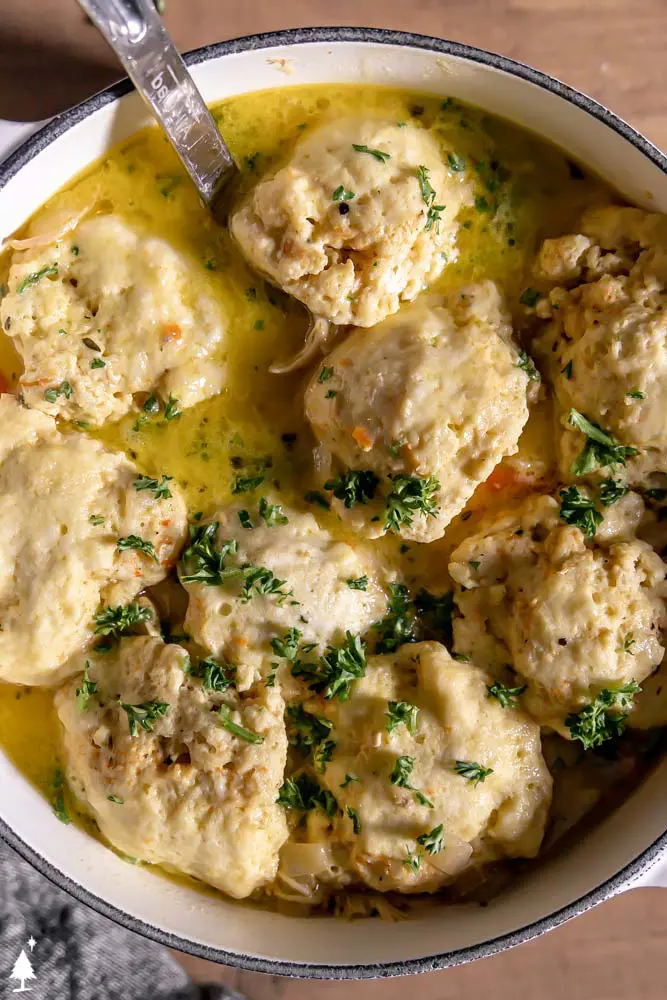 I didn't grow up eating chicken and dumplings (why Mom?!), in fact, I'd never even tried it until the recipe requests started rolling in (And boy, did they roll) Needless to say, I didn't understand how comforting, hearty, and delicious a bowl of it could be…
So, when I first set out to make a low carb version, I thought, a simple veggie sub for biscuits would do. Cauliflower works so well as a pizza, pasta, and bread swap. Can't it be a biscuit too? I got the creamy, herbaceous broth down, sauteed that mirepoix just right, and browned the chicken into juicy perfection. Then I tossed cauliflower in, and… man. Did it disappoint.
The truth is, chicken and dumplings is such a complex combination of delicious things–but what it needs most is buttery, fluffy, soakable little orbs of flavor floating on top. And a veggie substitute just won't do. So with a bit of low carb magic (thank you whey protein powder!!), we've got a substitute that'll soak up all the broth and complement every flavor with hardly any extra work at all.
I truly hope you love this keto chicken and dumplings, not veggies, as much as we do! 🍲❤️ – Linds x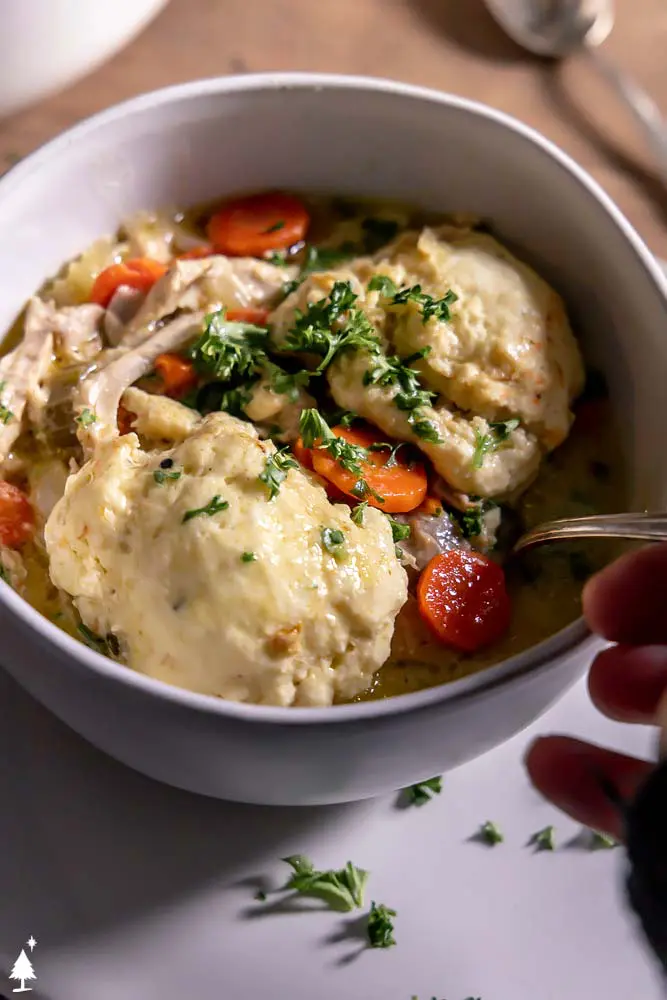 Ingredient Notes
This low carb chicken and dumplings recipe comes together with a few kitchen staples. Here's what you should know:
The chicken – Chicken thighs are higher in fat, juicier, and more flavorful. Feel free to use chicken breast if you prefer. You can also use precooked chicken, just add it in at the very end.
The veggies – A traditional mirepoix  – celery, onions, and carrots.
The broth – Chicken stock, better than bouillon, herbs, cream, and cream cheese.
And most importantly…
The dumplings
Our keto dumplings are made of almond flour, whey protein powder, xanthan gum, baking powder, butter, a large egg, and a handful of herbs. Each of these ingredients plays an important role in binding our biscuit dough together, so, unfortunately, there are no subs or swaps.
Be sure to shape the dumplings into marble-sized balls — you'll be shocked at how large they become once they absorb to soup's creamy broth!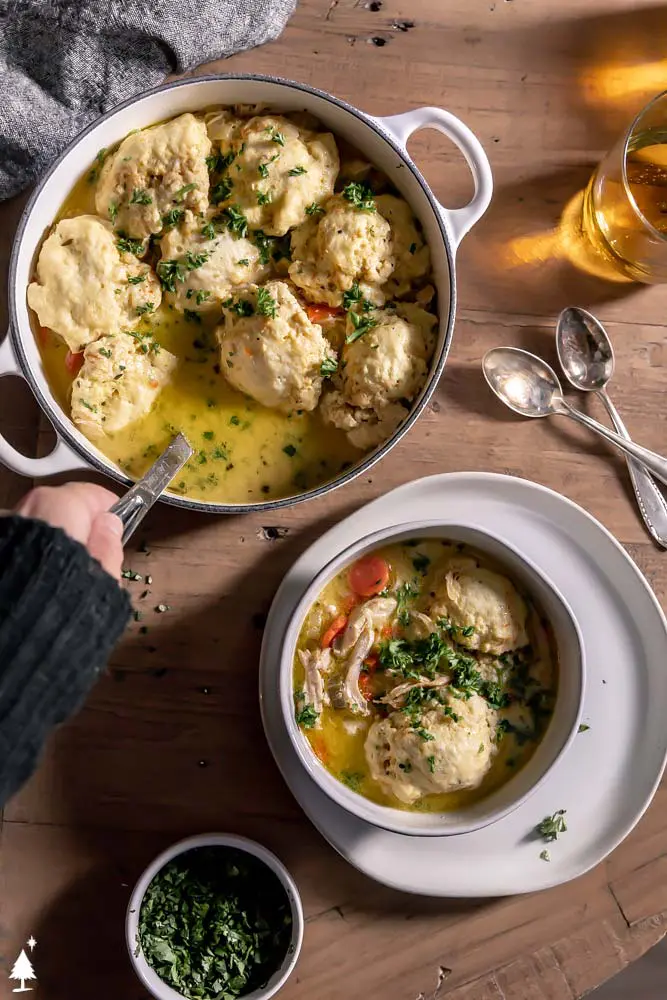 How to Make Keto Chicken and Dumplings
Brown chicken on each side and remove to a plate.
Saute veggies until soft, then add your garlic and thyme.
Add sherry, and cook until no liquid is left while you dislodge any brown bits from the bottom of your pot.
Add remaining broth ingredients, plus chicken and juices to the pot. Bring to a simmer and cook for 30 minutes uncovered.
Combine all dumpling ingredients together in a medium bowl.
Shape the mixture into marble-sized balls.
Remove chicken from the pan and dice it into bite-sized pieces.
Add cream cheese, heavy cream, and parsley until the cream cheese dissolves.
Place a lid on the pot and cook until the dumplings have doubled in size.
Return chicken to the pot, ladle your low carb chicken and dumplings into bowls, and enjoy!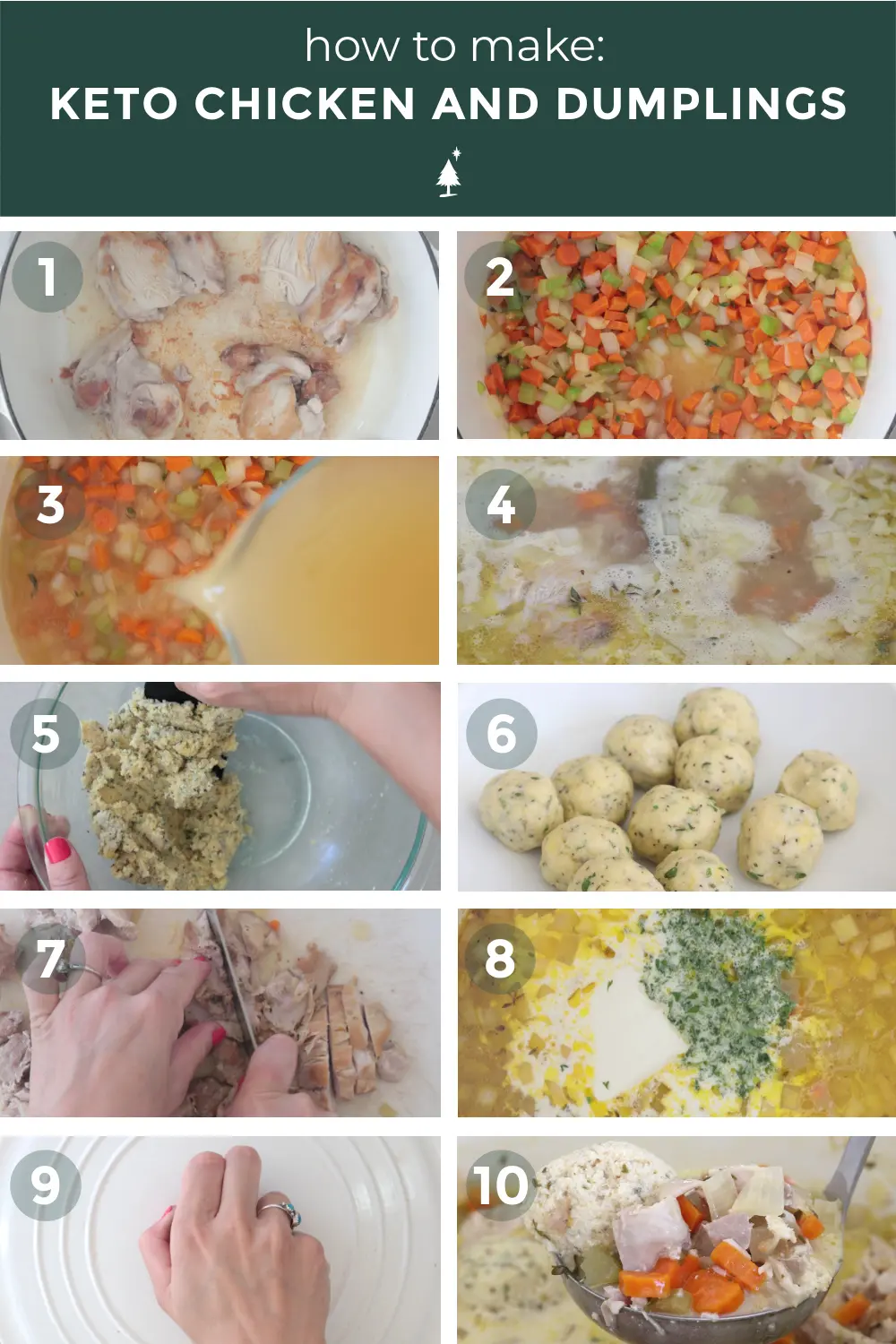 Storing Tips
PRO TIP! Store your dumplings and soup separately — otherwise, the dumplings will become soggy. Simply reheat your dumplings in the microwave, soup can be done over the stove or in the microwave as well.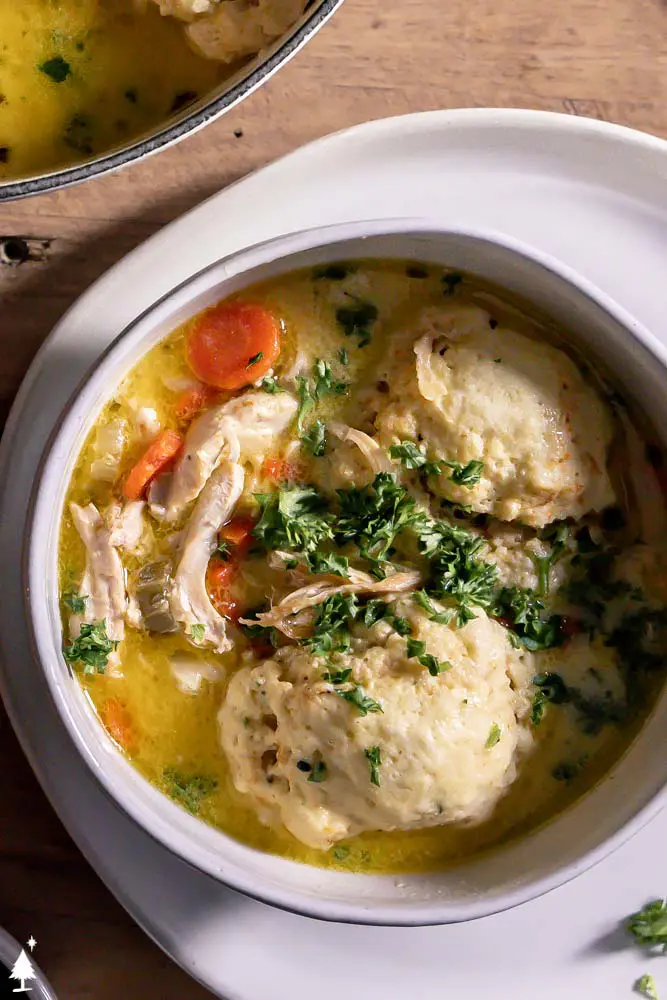 Answers to Your Questions…
Is there a substitute for whey protein powder? Unfortunately, no. Whey protein is the only ingredient that'll absorb the broth and fluff the dumpling into their plump shape. Other types of protein powder won't work for this gluten free chicken and dumplings recipe.
Can I skip the dumplings? Yes, you can skip the dumplings if you prefer. If you go this route, add 1.5 cups less broth (yes, the dumplings absorb that much liquid!).
Can I make this dairy free? Sure! Skip the cream cheese and heavy cream, for a less traditional, non-creamy, but paleo! version of low carb chicken and dumplings. You'll also want to skip the dumplings if going this route.
How many carbs are in homemade chicken and dumplings? One serving of traditional chicken and dumplings.
More Low Carb Soup Recipes
On your phone? Check my web story here.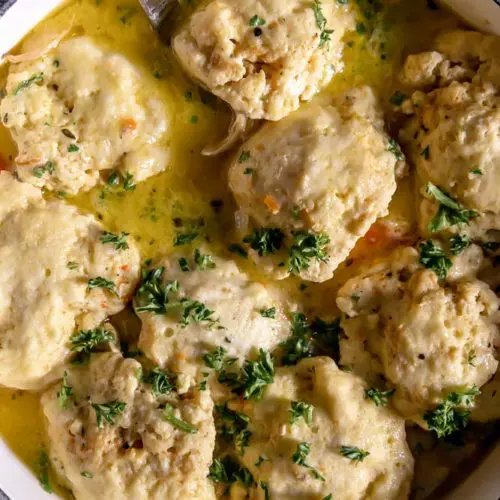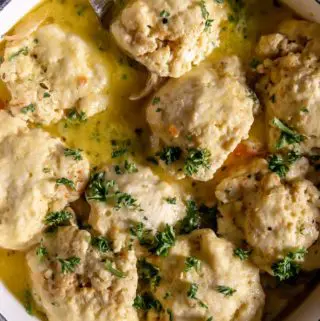 Keto Chicken and Dumplings
Print Recipe
Pin Recipe
Ingredients
Soup:
2

Pounds

Chicken Thighs

boneless, skinless

3

Tablespoons

Mild Tasting Oil

divided (note 1)

2

cups

yellow onion

chopped

2

Celery Ribs

sliced 1/4" thick

4

Carrots

peeled and sliced 1/4" thick

1

Tablespoon

Garlic

minced

1/2

Teaspoon

Thyme

fresh, leaves only

1/4

Cup

Sherry

dry

6

Cups

Chicken Broth

(note 2)

2

Teaspoons

Better than Bouillon

Chicken Flavor

1/2

Teaspoon

Black Pepper

2

Bay Leaves

3

Tablespoons

Fresh Parsley

fresh, chopped

1/2

Cup

Heavy Whipping Cream

4

Ounces

Cream Cheese

softened
Instructions
Brown chicken. Heat 2 tablespoons of oil in a large saucepan over high heat. Add chicken thighs (2 pounds) in batches, and brown both sides--we just want to brown the edges, we'll cook the chicken all the way through in the next steps. Remove browned chicken to a plate and set aside.

Saute veggies. Add the remaining tablespoon of oil, and reduce the heat to medium. Add chopped onion (1 large), celery (2 ribs), and carrots (4) until soft, about 8 minutes. Stir in minced garlic (1 tablespoon) and thyme (1/2 teaspoon) and cook until fragrant, about 2 minutes. Add dry sherry (1/4 cup) and stir, loosening the brown bits at the bottom of your saucepan.

Simmer. Add the chicken broth (6 cups), chicken flavor Better Than Bouillon (2 teaspoons), black pepper (1/2 teaspoon), bay leaves (2), browned chicken, and any juices that have accumulated on the plate. Bring soup to a boil, then reduce to a simmer. Cook uncovered for 30 minutes--check to make sure a thick part of the chicken has reached 165 F.

Dumplings. Meanwhile, combine the almond flour (3/4 cup) whey protein isolate (1/4 cup), xanthan gum (1/2 teaspoon), baking powder (1 teaspoon), salt (1 teaspoon), pepper (1/2 teaspoon), dried oregano (1 teaspoon) and thyme (1 tablespoon). Add the butter (1 tablespoon) and egg and stir to combine. Use wet hands to form marble-sized dumplings.

Uncover. After 30 minutes, remove chicken from the soup and place on a cutting board. Remove and discard bay leaves. Stir in the cream cheese (4 ounces) and heavy cream (1/2 cup), and parsley (3 tablespoons), until the cream cheese has dissolved into the broth. Add the dumplings, and cover pot. Cook dumplings until they've doubled in size, around 15 minutes. Add chicken back to the pot before ladling the soup into bowls and enjoy!

Psst - if storing leftovers, see tips below (note 5).
Rate this Recipe
Fans Also Made These Low Carb Recipes:
Lindsey's Tips
Oil - I use avocado oil, but any vegetable oil will do. The goal is a mild-tasting oil with a high smoke point

.

Chicken thighs - you can use chicken breast if you prefer, just keep in mind thighs will be juicier and more flavorful.
Whey protein powder adds fluff to our dumplings, this ingredient can't be skipped, subbed, or swapped.
Xanthan gum binds the dumplings together, and can't be skipped or replaced.
STORING TIPS! Have leftovers? Store your dumplings and soup separately, as the dumplings will dissolve if stored in the broth.
Nutritional information is based on 1 bowl of soup if you divide this soup into 8 bowls:
Nutrition
Calories:
588
kcal
Total Carbohydrates:
11
g
Protein:
32
g
Fat:
46
g
Sodium:
873
mg
Fiber:
3
g
Sugar:
4
g
Net Carbs:
8
g
©Little Pine Low Carb. Content and photographs are copyright protected. Sharing of this recipe is both encouraged and appreciated. Copying and/or pasting full recipes to any social media/website/blog is strictly prohibited.