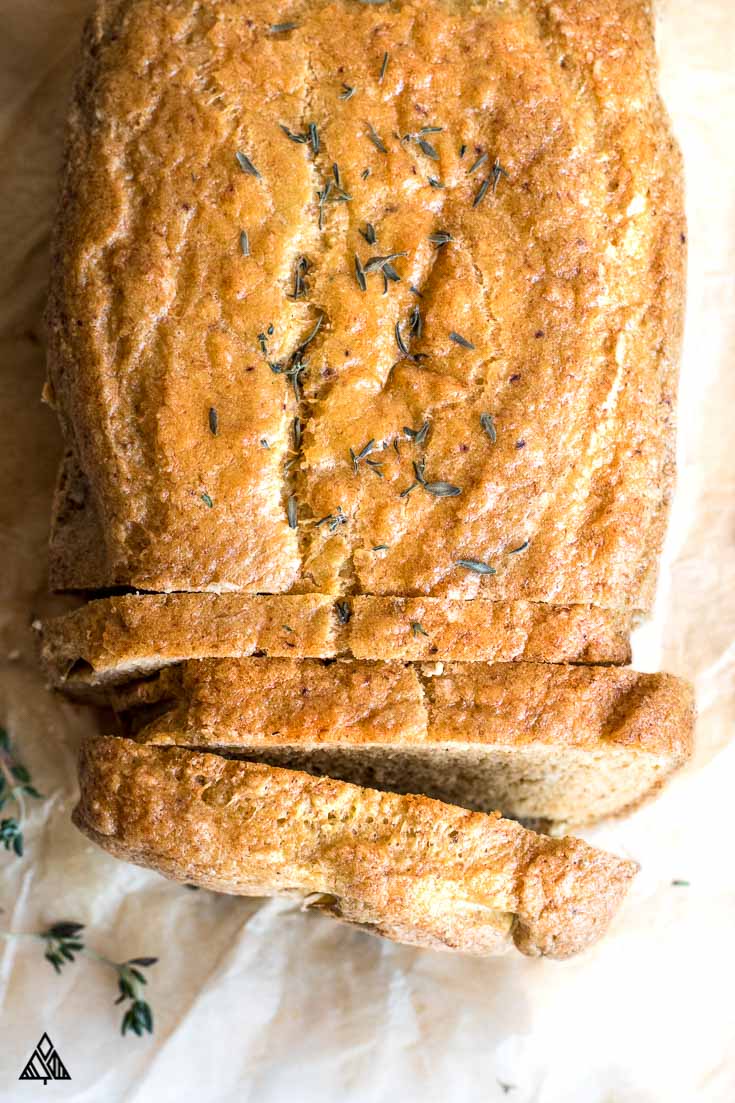 [no_toc]
Trust me friends, low carb almond flour bread doesn't have to taste eggy, or dense, or "healthy".
In fact, it can taste pretty dal-gon-delicious—with the right low carb bread recipe, that is.
I assume, like me, you've tried half a dozen low carb recipes for bread. All of which have tasted somewhere between "ok" and "meh"—basically a bread pan filled with wasted ingredients, money and time. This recipe doesn't play that game…
…and it's here to shift your stance on almond flour bread—and shine light on how beautiful, delicious, and bread-like it can taste! Let's get to baking!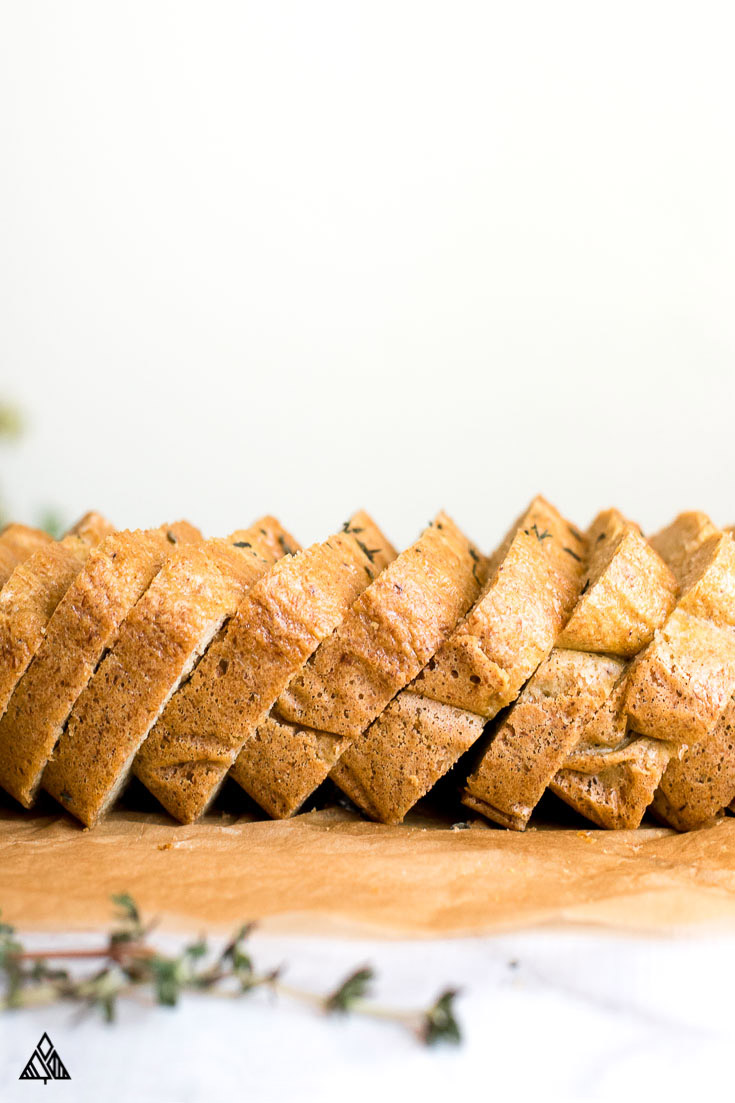 What Makes This Low Carb Bread the Best?
I hear you! You want a low carb bread that actually tastes like bread. Not a bland quiche. Not a soggy bread-like…something…
If you're feeling what I'm saying, here's why I think you should try this recipe:
The egg to flour ratio is balance (hallelujah!)
It slices well
Has a bread-like, delicious texture
Compliments all low carb foods, from meats, to cheeses, to low carb veggies
It's paleo too!
Ingredients in This Paleo Bread Recipe
Other than the basics (eggs, salt, baking soda and water), here are the low carb shopping list items used to make this paleo bread recipe so darn delicious:
Low Carb Flour
Coincidentally, my favorite low carb flour happens to be paleo too! Introducing almond flour. In case you're wondering how many carbs you'll be saving with this simple swap:
Almond Flour: ¼ cup = 6 grams of carbs
Regular, White Flour: ¼ cup = 23 grams of carbs
How to Make Almond Flour
How to make almond flour is as simple as processing almonds in a food processor until they're a fine texture. You'll want to continually "pulse" the almonds so it doesn't turn into almond butter.  
As easy as it is to make at home, I'm lazy! And typically buy it premade (unless the store is already closed and I'm craving low carb cookies). Trader Joe's sells my go-to almond flour. If that isn't an option, Bob's Red Mill has a great "super fine" almond flour, which you can buy on Amazon (for a great price!) or at most grocery stores.
Baking with Almond Flour
As with any type of new flour, almond flour has a bit of a learning curve. It's more dense than other flours, and needs help getting that "fluffy" texture. Which is why Psyllium husk is so helpful when baking with almond flour…
Psyllium Husk
Sure, you're familiar with psyllium husk as an…ahem…digestive aid…ahem…but did you know it gives this almond flour bread its bread-like texture? Plus, a delicious flavor!
What You Need to Know When Baking Low Carb Breads:
I get a lot of questions about swapping low carb flours around, so wanted to address this up front. Here's the deal with baking low carb breads:
Each of the low carb grains have different baking tendencies—For example, coconut flour is dry and requires additional liquid, while almond flour is dense and needs an ingredient to add that "fluff". When baking low carb recipes, it's best to stick to the flour that's recommended in the recipe. (Sorry friends)
Save Your Favorite Recipes!
Create an account and save all your favorite recipes for easy access!
Here's a little more info on the difference between almond and coconut flour:
Tips for This Low Carb Bread Recipe
This low carb bread recipe is pretty straight forward! I will warn you of one thing: if you're familiar with baking traditional flour breads, the dough will not form the same way.
Instead it will be rather "wet" and will pour into your pan—don't let that worry you. It'll bake into a delicious almond flour bread without issue!
How to Eat This Almond Bread
Most of us probably don't need an excuse to eat more almond bread — but if you're looking for ideas, here are some of the delicious ways I've out this almond flour bread recipe to use:
Sandwiches
Eggs + Toast
PB + Erythritol (low carb sweetener)
Dice it up, toast it, and make some low carb bread crumbs!
Additions and Swaps for This Keto Bread
Most of the ingredients in this keto bread are here to stay! However, there are a few swaps you can make, depending on which low carb meals you'll be centering around your almond flour bread:
Olive Oil
I've make this bread with butter and coconut oil without noticing a change in the bread's texture (crazy, I know!). I decided to go with olive oil because I absolutely love the flavor it brings! If you're making this bread for PB&J's or French toast, then try coconut oil!
Fresh Herbs
If you're using this recipe to make sweet bread, I'd skip herbs all together. But if you're going the savory route, then the more herbs the merrier! My favorite herbs to add to almond flour bread are thyme and rosemary, what about you?
Almond Flour Bread Recipe
No fuss, no muss, just the most delicious low carb almond flour bread recipe, here for all your fluffy, toasty, carb-like needs!
Hope you enjoy as much as I do. Let me know below! How did you use this bread? Did you add any herbs??
Almond Flour Bread
No fuss, no muss, just the most delicious low carb almond flour bread, here for all your fluffy, toasty, carb-like needs!
Instructions
Preheat the oven to 350°F. Line a bread pan with a parchment paper.

In a large bowl, stir together dry ingredients.

Stir in the eggs and olive oil, apple cider vinegar, and herbs (if using).

Then add the warm water. Dough will look more "wet" than a traditional dough.

Set the bread aside for 5 minutes to allow the psyllium husk to absorb the water.

Transfer the batter to prepared bread pan.

Bake for 45-55 minutes. The bread is done when a butter knife inserted in the center comes out clean, and the top is firm and crust-like.

Allow the bread to cool before removing from the pan and slicing.
Notes
Nutritional information is based on 1 slice, if you slice this loaf into 16 slices.
* Using a fine grained almond flour will yield better results. I've had great results with both Bob's Red Mill and Trader Joes almond flour.
** Some psyllium husk powders can turn baked goods into a blue-ish purple color. I use NOW Foods psyllium husk powder, and haven't had this issue.
Nutrition
Calories:
135
kcal
|
Carbohydrates:
5
g
|
Protein:
4
g
|
Fat:
11
g
|
Saturated Fat:
1
g
|
Cholesterol:
40
mg
|
Sodium:
229
mg
|
Potassium:
15
mg
|
Fiber:
3
g
|
Sugar:
0
g
|
Vitamin A:
60
IU
|
Calcium:
43
mg
|
Iron:
0.8
mg
©Little Pine Low Carb. Content and photographs are copyright protected. Sharing of this recipe is both encouraged and appreciated. Copying and/or pasting full recipes to any social media/website/blod is strictly prohibited.
Carb Free Bread Free Alternatives
As you can see, there are a few (but very few) carbs in this bread recipe. And although this almond flour bread is certainly carb free compared to a slice of wheat, some of you may be looking for even less. Here are a few options:
No Carb Bread
As stated above, almond flour isn't completely carb-free, neither is psyllium husk, or even eggs (but very very few).
So, if you're looking for a no carb bread, then let's get creative with chicken, meat or cheese! Same concept as our chicken crust pizza, meatza or cheese crisps, just flatten the "dough" a little thinner before baking! Let me know what you think if you give it a try 🙂
Bread Substitute
Not completely carb free, but using a few pieces of lettuce or a hollowed-out cucumber to wrap your low carb lunch will result in less carbs than this almond flour bread.
Best Low Carb Breads
Of all the low carb bread recipes, this almond flour bread is my favorite That said, you may be craving something different! Here are all the best low carb breads for you to choose from:
Oopsie Bread + Oopsie Rolls
Oopsie bread is not for everyone. It's best described as "bread like", not "French baguette-like". We, in my house, can't get enough of it! Follow the oopsie rolls recipe if you love Boirsin cheese! (pst… cloud bread and oopsie bread are the same thing)  
3 Ingredient Low Carb Bread Recipe
You read that right—only 3 ingredients in this low carb bread recipe! I absolutely LOVE this bread. Compared to other low carb breads, it's far less eggy. That said, it does rely heavily on the eggs to give the bread its "fluff".
Reader Interactions