Even when it gets cold out—I get a craving for the grill. I can't live without my favorite grill recipes, so I adapted them to make indoors—Oven baked chicken kabobs—fast, full of flavor—and in this case, fire free!
For my other favorite, flavorful chicken dinners, try this Greek chicken salad or keep it juicy with this Mediterranean chicken.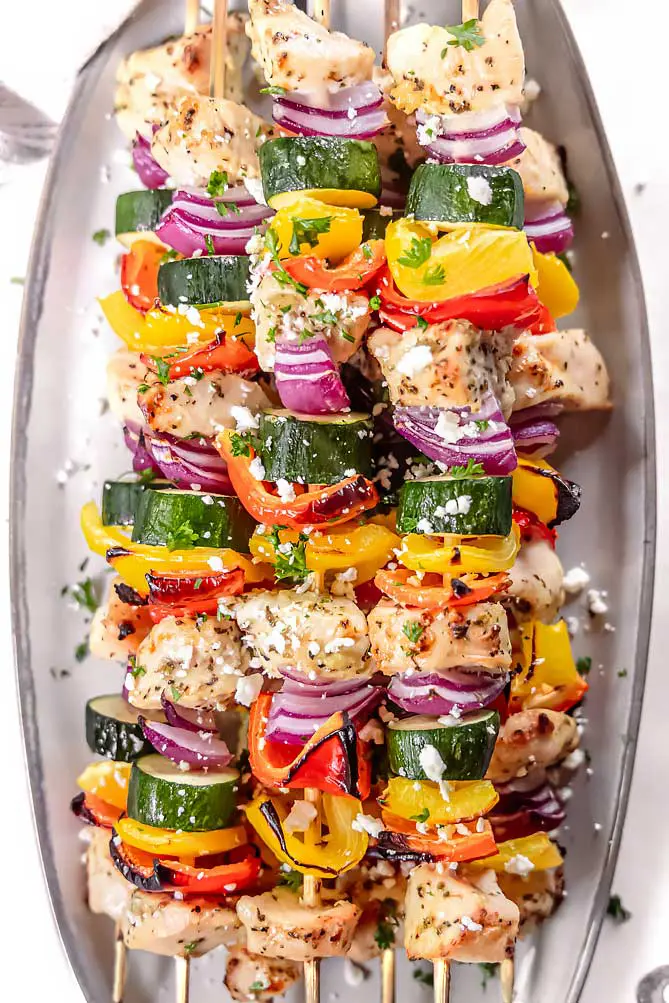 Want to Save This Recipe?
Enter your email below and we'll send it straight to your inbox. Plus you'll get great new recipes from us every week!
Kabob in the Kitchen
I promise you won't miss the grill, at least not much! The trick to getting juicy, mouthwatering flavor is some solid time in a flavor-packed marinade. With proper time, the meat absorbs more flavor and also becomes more tender. It's just more delicious with marinade!
That's why you can rest assured that these are full of flavor—even chicken kabobs in the oven. I like to add a ton of veggies to mine and really make a meal out of it. The more veggies and more colors, the more delicious!
I love this as a great one-bowl meal or serve with some homemade easy keto naan. Enjoy! – Linds x
What's in These Chicken Kabobs?
Chicken breast can be boring. These chicken kabobs are a great way to jazz them up. The chicken marinade infuses loads of flavor while making them juicy. The veggies give you a main and a side all on one skewer! Here's what you'll need, and how you can adjust:
Boneless skinless chicken breasts (duh) – You'll want to cut these into 1″ cubes, do so with a sharp knife. Make such to cut each piece evenly to ensure uniform cooking throughout.
Veggies – These are optional, but why not?? Again, make sure you cut these into evenly sized pieces.
Chicken Kabob Marinade Ingredients
This easy kabob marinade infuses loads of flavor with minimal ingredients that you already have at home. All you need is quality olive oil, dijon mustard, garlic, oregano, salt, and black pepper.
Are These Chicken Kabobs Keto, Low Carb, or Paleo?
Keto + low carb – Absolutely, these keto kabobs (even the marinade) are made entirely from low carb ingredients.
Paleo – Another yes! If making paleo kabobs, you'll want to buy organic chicken as well.
Ingredient Variations
Feel free to add your own spin to these, either with the protein, vegetables, or chicken kabob marinade.
Different Meat? Totally! Shrimp or chuck would also be delicious with this marinade.
Different Veggies? Please! Use your favorites. Mushrooms, summer squash, or broccoli are also delicious kabob companions.
Different Marinade? Totally. Marinate your chicken in whatever you prefer. (Psst–for inspo, check out my Asian chicken marinade or yogurt marinated chicken). If your marinade recipe has lemon in it (like my salmon marinade), don't marinate for more than 2 hours, otherwise, the lemon juice will start to cook the chicken.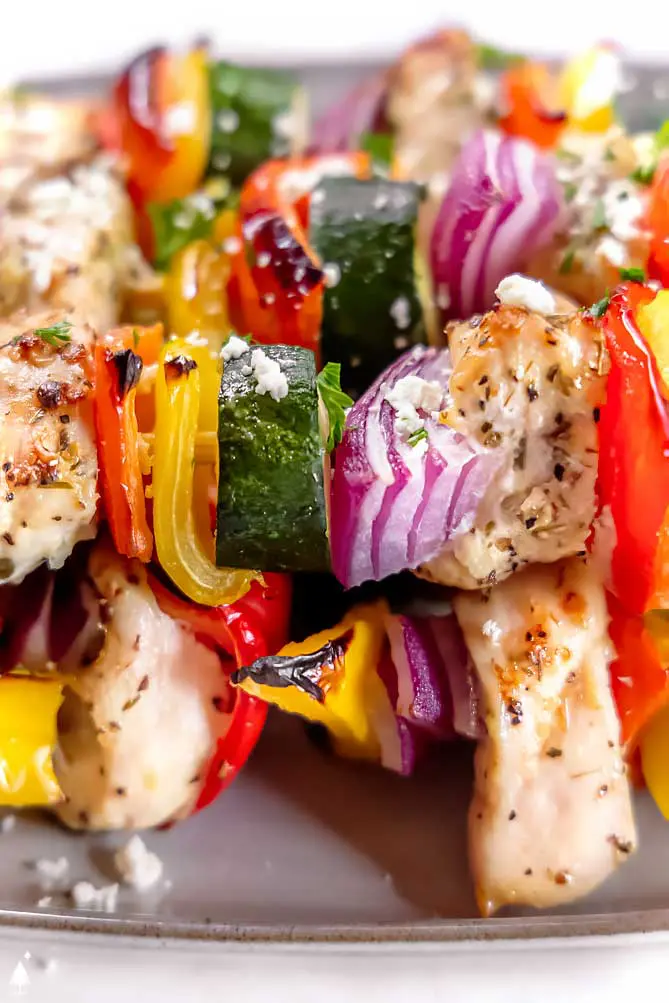 How to Cook Chicken Kabobs in the Oven
1. Whisk together the chicken kabob marinade ingredients.
2. Add chicken and toss to coat. Place in the fridge to marinate.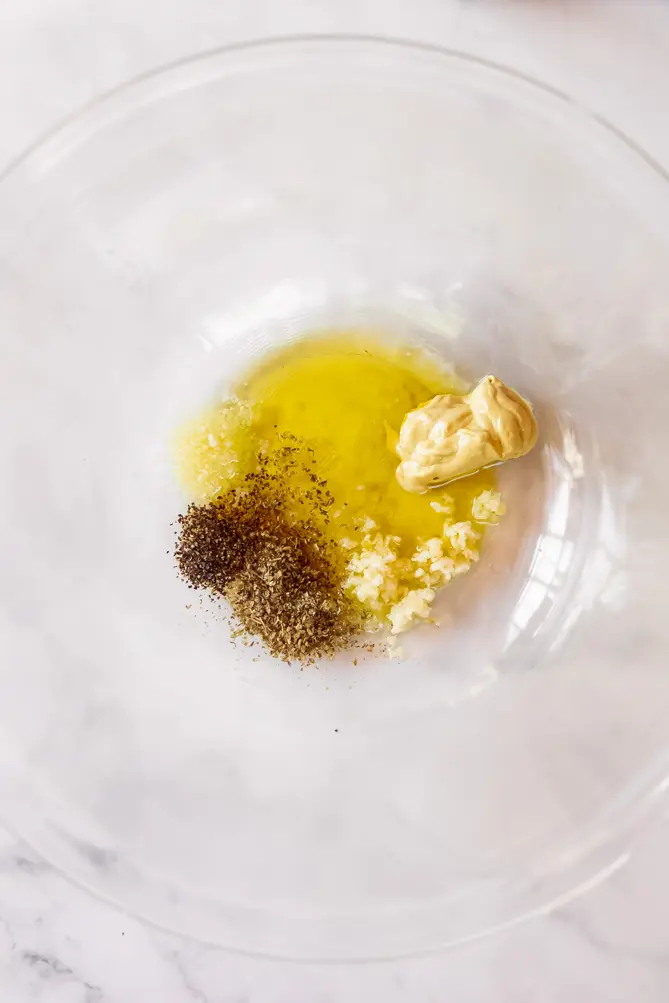 3. Soak skewers in water.
4. Thread chicken cubes and veggies onto skewers and place on a rimmed baking sheet. Bake until the internal temperature of the chicken reaches 165 F.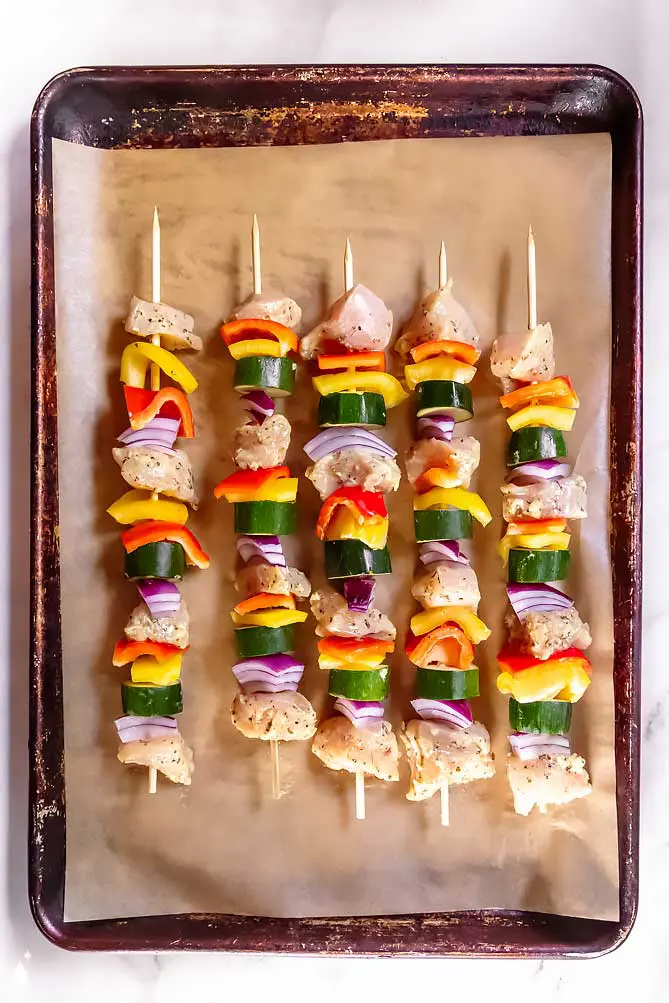 What to Serve with These Chicken Skewers
What I love about these Greek chicken kabobs is they're roasted with veggies, so you don't have to make a side of greens. We do love to serve these alongside a sauce–tzatziki or cauliflower hummus are great options here.
If you're looking for a carb, I recommend rice, orzo, or naan. For low carb swaps, check out this keto naan, or whip up some cauliflower rice. If you're really feeling the veggies, this dish would go incredibly well with oven roasted zucchini or these fried green beans.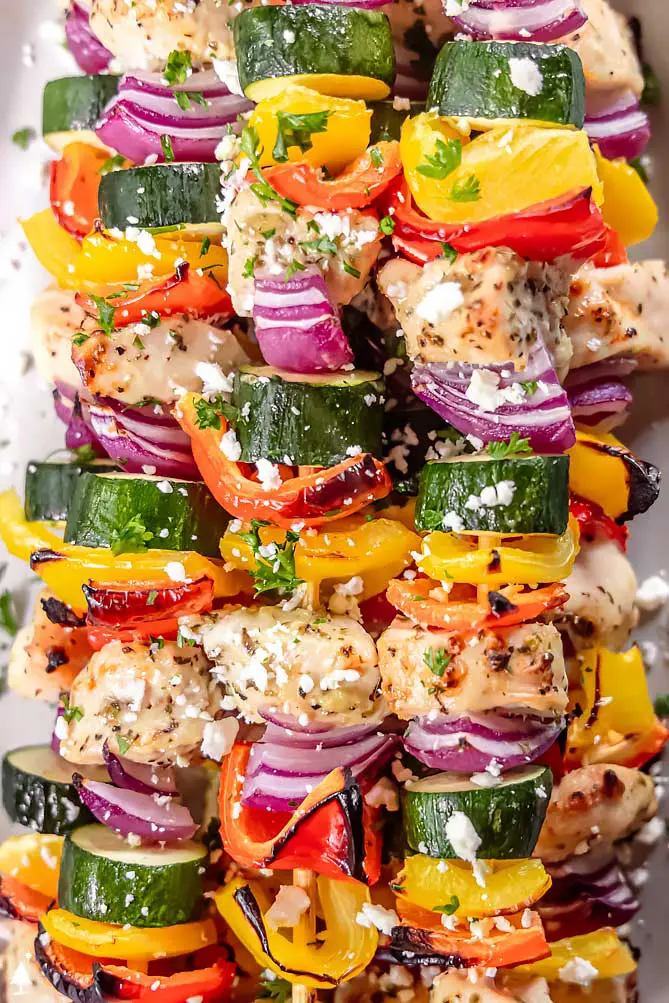 FAQs + Common Questions
How long does it take for kabobs to cook in the oven? Chicken kabobs in the oven should cook for 15-20 minutes. The best way to know they're done is to check their internal temp using a meat thermometer (Psst–this is my favorite tool to not overcook and dry out chicken)
What temperature do you cook kabobs? I like to bake the kabobs in the oven at 425 F, then broil them for a few minutes to give the kabobs a grill-like char.
How do you cook kabobs on the grill? If you'd prefer to grill your chicken kabobs, this kabob marinade works great as well! Heat your grill to high heat, and grill on each side for 5-7 minutes–until the chicken is cooked through.
Should you soak wooden skewers before baking? Yes. Bamboo skewers have a tendency to burn, especially over high heat on the grill or under the broiler. Soaking them in water just before you thread them will help to prevent burning. Or, use metal skewers!
More Oven Baked Chicken Recipes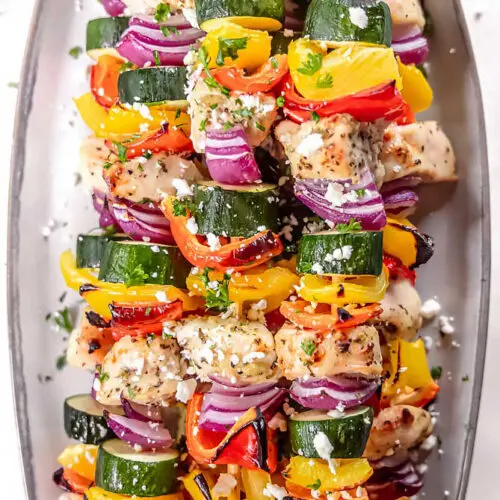 Oven Baked Chicken Kabobs
Print Recipe
Pin Recipe
Ingredients
Chicken + Kabob Marinade:
2

tablespoons

olive oil

1

tablespoon

dijon mustard

4

cloves

garlic

minced

1

teaspoon

oregano

1

teaspoon

kosher salt

1/2

teaspoon

black pepper

1 1/2

pounds

chicken breast

boneless + skinless. Cut into 1" cubes
Veggies (optional):
2

medium zucchinis

sliced into medallions

1

red bell pepper

cut into bite sized pieces

1

yellow bell pepper

cut into bite sized pieces

1/2

red onion

cut into bite sized pieces
Instructions
In a large bowl, whisk together the marinade ingredients. Add chicken (1 1/2 pounds) and toss to coat. Cover the bowl with plastic wrap and place in the fridge for at least 30 minutes, or up to overnight.

You'll want to soak your skewers in water for a minimum of 20 minutes before threading your meat and veggies on.

Preheat the oven to 425 F, and prep the top rack so it's 6 inches away from the broiler. Thread 1 piece of chicken onto a skewer, followed by the veggies, alternating from meat to veggie as often as you like. Place chicken kabobs on a rimmed baking sheet (if you want easy clean-up, line your baking sheet with aluminum foil, not parchment paper).

Bake in preheated oven for 15-20 minutes, you'll know your chicken is done once the internal temp reaches 165 F. Optional (for a little char): set your oven broiler to high, and keep kabobs in there until they're lightly charred on the top–should be 1-2 minutes. Enjoy!
Rate this Recipe
Fans Also Made These Low Carb Recipes:
Nutrition
Calories:
132
kcal
Total Carbohydrates:
1
g
Protein:
18
g
Fat:
6
g
Sodium:
410
mg
Fiber:
0.2
g
Sugar:
0.1
g
Net Carbs:
1
g
©Little Pine Low Carb. Content and photographs are copyright protected. Sharing of this recipe is both encouraged and appreciated. Copying and/or pasting full recipes to any social media/website/blog is strictly prohibited.