Favorite fried food… GO! Welp, I certainly hope you said fried pickles because today I'll be sharing my absolute FAVORITE of fried food recipes… keto fried pickles!
If you like crunchy, salty bites, you're going to adore these for low carb side dishes alongside your low carb fried chicken (or whatever you're serving).
You might be thinking – fried pickles?! Friend, listen. Kind of like low carb fries but with extra vinegary zing, these make great low carb appetizers – if you can bring yourself to share. I may or may not ?‍♀️
This low carb recipes proof that basically any food you love can be health-i-fied and delicious…
Let's get going!
Looking for more keto side dishes? Check out my mashed cauliflower, cauliflower fried rice, or my jicama fries.
Want to Save This Recipe?
Enter your email below and we'll send it straight to your inbox. Plus you'll get great new recipes from us every week!
[wpforms id="103279"]
What I Love About This Low Carb Fried Pickles Recipe
Um… pickles that are FRIED!! Plus… 
Ready in 15 minutes!
Easy, inexpensive ingredients!!!
Treated yourself, right at home!
Recipe Notes
This unforgettable recipe is ready in no time! 
Ingredient Notes
Might be a new ingredient or 2 in here, but no worries! They're all easy to source and inexpensive!
Whey protein isolate, unflavored – this keto protein powder is a super ingredient for making all sorts of snacks.
I know, many of you may not want to splurge on purchasing this potentially new ingredient. BUT TRUST ME… you won't regret it. It's perfect for making all sorts of fried foods (it's what makes our gluten-free coating "batter-like"). But it's also an important ingredient in many of my keto bread recipes (helps add fluff!).
Xanthan gum – This stabilizer is used in a lot of gluten-free cooking to help thicken batters and bind ingredients together. Another low carb staple you'll use time and time again. And yes, even in VERY small amounts, this stuff works wonders.  
Club soda  – The carbonation is going to make our batter super nice and light and airy!
Frying oil – You'll need enough of this to get a good inch of oil in whatever pan you are using, so plan accordingly. Use a neautral flavored oil with a high smoking point.
This article may help you decide which oil works best for you — although we use peanut oil.

Tools To Make
As if you need another reason to love these keto fried pickles, it only takes a few basic tools to make them!
Paper Towels – we're gonna use a lot of these! First, we need them to dry off our pickles and make it easy for the batter to stick. Then we're going to let the pickles rest on the paper towels after they're fried so that any oil blots off. 
Heavy bottom pan – you can use a skillet or a dutch oven or heavy pot, we just want something that can handle the hot oil to fry these babies up.
If you have the tool on hand, you can make air fryer fried pickles instead!
Storing Tips
Like most fried foods, these are best served immediately. Storing them would leave you with soggy snacks. If you insist, I'd store them in an airtight container in the fridge and re-crisp them in the oven or toaster oven.
Microwaving will take away all their crispness. 
Serving Recommendations
These low carb fried pickles make an amazing afternoon snack or side dish for dinner, or AS dinner, if that aligns with your nutrition goals, ha! Serve with a dip, some of our faves are:
Recipe Variations
If you don't want to fry these, and don't have an

air fryer

, you can always bake these like we do with my keto fried chicken! But, it needs a different kind of coating, try parmesan and crushed pork rinds. Just a heads up, we did try this (see photo above) and didn't like the outcome nearly as much, but it's still an option!
Want to try some different flavors of keto fried pickles? You can change up the seasoning however you like! Try garlic and herbs,

smoked salt,

or whatever you crave. 

Fry more veggies, like fried green beans, zucchini, or onion slices.
More No Bake Appetizer Recipes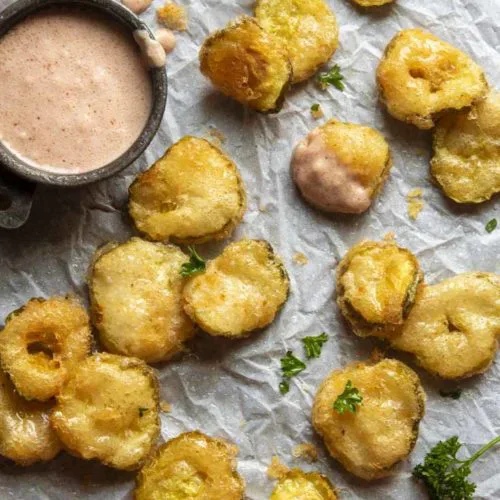 Keto Fried Pickles
Print Recipe
Pin Recipe
Ingredients
32

Ounces

Pickle Slices*

Frying Oil (see notes below)

enough to fill a pan with 1" of oil

1/2

Cup

Whey Protein Isolate*

1

Teaspoon

Xanthan Gum

1/2

Teaspoon

Kosher Salt

2

Teaspoon

Baking Powder

1

Teaspoon

Cajun Seasoning

6

Tablespoons

Soda Water
Instructions
Place pickle slices (32 Ounces) in a single layer on a few sheets of paper towel. Place paper towels on top, and dab up as much liquid as possible (important to get the batter to coat).

Heat 1" of oil on high in a heavy bottom pan (I use a skillet). I like to use a smaller pan for this so I don't need as much oil. Alternatively, you can use a deep fryer.

In a small bowl, combine whey protein (1/2 cup), xanthan gum (1 teaspoon), salt (1/2 teaspoon), baking powder (2 teaspoon), and cajun seasoning (1 teaspoon).

Use a rubber spatula to stir in soda water (6 tablespoons). The mixture will be wet, but don't worry, it will fry up beautifully!

Once the oil is hot, add pickles in batches so they aren't overcrowded in the pan. The pickles will look like they don't have much batter on them when you place them in the skillet.

Flip halfway through. You'll know the pickles are done once they're nice and golden.

Place fried pickles on a paper towel-lined plate, and continue until you've fried all the pickles.

Serve immediately (as with most fried food, these get soggy over time) with ranch, and enjoy!
Rate this Recipe
Fans Also Made These Low Carb Recipes:
Lindsey's Tips
The sauce in the photograph is 2 teaspoons of low carb ketchup combined with 1/4 cup mayonnaise and 1 teaspoon of cajun seasoning. BUT, we much prefer these with homemade ranch dressing!
Frying Oil should have a high smoke point and mild flavor. Please keep in mind that all oils are low in carbs, but some are considered "healthier" based on polyunsaturated fats. If this is a concern to you, opt for avocado oil, or peanut oil (slightly higher). If not, vegetable or canola are great frying oils. I use peanut oil for frying. 
Pickles -

Many pickles contain added sugar, check the labels before purchasing a product. We love

Vlasic

.

Xanthan Gum

is necessary for binding the ingredients of this recipe together, you CAN'T SKIP OR SUB!

Nutritional information will vary based on the type of pickles and whey protein powder you grab. The information below was calculated using ISO Pure Whey Protein Isolate (zero carb), and Vlasic Pickle Chips (pickles can be loaded with sugar so read the label!)
Nutrition
Calories:
87
kcal
Total Carbohydrates:
4
g
Protein:
13
g
Fat:
1
g
Sodium:
2324
mg
Fiber:
3
g
Sugar:
1
g
Net Carbs:
1
g
©Little Pine Low Carb. Content and photographs are copyright protected. Sharing of this recipe is both encouraged and appreciated. Copying and/or pasting full recipes to any social media/website/blog is strictly prohibited.