I'm not sure there is much more you can ask for from a dessert than this decadent and delicious keto cheesecake recipe. Silky smooth with just the right amount of sweetness is what makes this one of my favorite low carb desserts!
This low carb recipes perfect for a romantic dinner, birthday party or regular old thursday, and is a great example of how smart ingredient swaps can morph bad-for-you foods into healthy recipes!
I can't wait for you to taste this low carb cake, let's dive in!
Psst — Looking for more keto desserts? Check out my no bake cheesecake, keto ice cream recipe, or my keto white chocolate.
What I Love About This Keto Cheesecake Recipe
Well it's low carb and its cheesecake, so we're already winning! Also, 
Recipe Notes
OK, simple ingredients, and simple but detailed instructions – stick with me, and we'll have an out of the park keto cheesecake ready for dessert!
Ingredient Notes
Somewhere along the way, the lie got started that cheesecake was complicated. But it's super simple – I mean, check out these ingredients:
Keto graham crackers crust – you guys, the recipe for this crust is ready in about 10 minutes, so don't despair. In fact, you're going to try it and wonder why you've been skipping pie all this time!
Erythritol – this natural keto sweeteners just like sugar in cooking and baking, but with a fraction of the carbs and calories. We'll use it in this recipe in place of the sugar to make our creamy keto cheesecake just the right amount of sweetness.
Cream cheese – you can use whatever brands of whatever ingredients in most of my recipes, but friends, listen. Buy Philadelphia cream cheese. It makes a huge difference, so trust me on this!
Tools To Make
There may be a few new tools in here, but once you learn about them, you'll be wondering what to whip up next!
Storing Tips
You'll want to store this low carb cheesecake in the fridge to keep all the perishable ingredients from spoiling. Wrap it in plastic wrap or put it in an airtight container and store somewhere it won't get smooshed.
And if the temptation to snack, snack, snack is too strong, maybe store it toward the back…. (personal experience speaking!)
Can You Freeze This?
You can absolutely freeze this low carb cheesecake, and it's a great way to prep ahead for an event, or to portion out individual servings. Wrap well and store in an airtight container until the day of, then thaw in the fridge.
Serving Recommendations
This low carb cheesecake is mouthwatering all on its own, but there are always ways to dress it up a bit. Serve it with some fresh berries and sugar free whipped cream, or drizzle with some sugar free chocolate syrup.
Recipe Variations
There are a million ways to make cheesecake, and many of them are insanely delicious. Check out some tips to make this dessert exactly what you're craving!
More Keto Dessert Recipes
Did this low carb cheesecake blow your mind? There are endless possibilities for low carb dessert recipes, and I've included some more right here!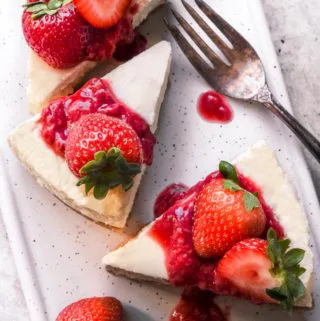 Keto Cheesecake
Print Recipe
Pin Recipe
Ingredients
Crust:
Filling:
32

Ounces (4 - 8 Ounce Blocks)

Cream Cheese

room temp

1

Cup

Sour Cream

room temp

1

Tablespoon

Vanilla Extract

2

Teaspoons

Lemon Juice

3

Eggs
Instructions
Preheat oven to 350 F.

Press Low Carb Graham Cracker Crust (1) into a 7" springform pan (no need to grease).

Use the bottom of a measuring cup to press the crust into an even layer.

Bake (crust alone) in preheated oven for 8 minutes.

Once the crust has cooled, wrap the bottom and lower edge in foil.

Using an electric or stand mixer fitted with a paddle attachment beat room temp cream cheese (32 Ounces) and erythritol (1 cup) together until the combo becomes creamy (lump-free!). This should take about 2 minutes on medium-high speed.

Add room temp sour cream (1 cup), vanilla extract (1 tablespoon) and lemon juice (2 teaspoons) until fully combined.

With the mixer on, add eggs (3) one at a time. Don't overbeat! Just incorporate the ingredients together and stop as soon as the last egg has blended.

Bring water to boil. (You'll need 1" at the bottom of your roasting pan, for me this was about - cups of water.)

Pour cheesecake filling into the prepared crust, and use a spatula to smooth the top out.

Place pan inside a large roasting pan.

Place the roasting pan with cheesecake in the oven. Then, pour 1" of hot water into the roasting pan.

Bake cheesecake in preheated oven for 1 hour. You'll know it's done once the center is almost set (still slightly wobbling when you shake the pan).

Turn oven off, and open the door. Allow the cheesecake to cook here for 1 hour.

Remove the cheesecake from the oven/water bath, and allow it to cool on the counter for another hour.

Place in the fridge for an additional 4 hours.

When you're ready to serve, remove the rim of the springform pan (you may need to loosen the cheesecake, I do this with a butter knife.

Cover with desired toppings.

Slice the cheesecake using a knife dipped in warm water. Be sure to wipe the knife between each slice for a cleaner cut.
Rate this Recipe
Fans Also Made These Low Carb Recipes:
Lindsey's Tips
Make this the quick and easy way -- knowing that your cheesecake will crack in the center (this can be covered up with whipped cream!). To do this, skip the water bath. Allow your cheesecake to cool on the counter until it comes to room temp (instead of cooling in the oven + on the counter). Then place in the fridge for 4 hours. 
I've found cheesecakes are creamiest when ROOM TEMP ingredients are used! To ensure your ingredients are room temp (and not just softened), leave them on the counter for 2 hours before baking.
Cream cheese is one of the few ingredients I ALWAYS buy name brand. Philadelphia (in my opinion) is the best, as it creates the creamiest/thickest results.
TOPPING IDEAS!: Keto whipped cream, sliced or mashed low carb fruits, chopped low carb nuts, sugar free chocolate syrup, low carb chocolate.
Lakanto, Swerve, or Erythritol.

I stick to

Lakanto

and

Swerve

which are a 1:1 swap with traditional sugar. If using a different brand of Erythritol, keep in mind it's 70% as sweet as sugar, so you may need to add more to taste.

Skipping the crust. If you skip the crust, the nutritional information per slice will be: 472 calories | 7g carbs | 9g protein | 46g fat | 0g fiber | 5g sugar
Nutritional information is based on 1 slice if you cut this into 8 slices, and includes the nutritional information for my low carb graham cracker crust:
Nutrition
Calories:
579
kcal
Total Carbohydrates:
28
g
Protein:
12
g
Fat:
53
g
Sodium:
411
mg
Fiber:
1
g
Sugar:
7
g
Net Carbs:
9
g
Sugar Alcohol:
18
g
©Little Pine Low Carb. Content and photographs are copyright protected. Sharing of this recipe is both encouraged and appreciated. Copying and/or pasting full recipes to any social media/website/blog is strictly prohibited.