Listen. I was that kid. The one that liked carrot cake. It was actually my favorite. Make my keto carrot cake and it just may become your favorite too. Keep reading, because we know the frosting is the most important part.
Now I'm a grown-up. So I can have more than one favorite cake. Try keto chocolate chip mug cake, keto strawberry shortcake, keto coffee cake, or see the full menu of keto desserts.
Want to Save This Recipe?
Enter your email below and we'll send it straight to your inbox. Plus you'll get great new recipes from us every week!
[wpforms id="103279"]
24 Carrot
When I think about it now, my love of carrot cake probably had less to do with my childhood tastebuds and more to do with the fact that it was my dad's favorite cake too. It was the only dessert I liked. Every. Single. Birthday. Party.
No other cake would do. No chocolate, no nothing. If you were my friend in middle school, I'm sorry, I'm not sorry. I loved carrot cake. I like others cakes now too, but I was very (very) excited to test this recipe.
All About the Allulose
Cake, and frosting especially, should feel decadent—and I found the trick to luscious texture is Allulose. Not all sweeteners act the same. When used in frosting, erythritol (or any other sugar alcohol) can create a slightly crunchy texture because it recrystallizes as the frosting sets. Allulose doesn't—so this frosting doesn't disappoint.
It's good enough to make you forget that there's a vegetable in this cake. No matter how many birthdays you've had. Enjoy! – Linds x
Ingredient Notes
Oil – gives this cake a moist texture. Traditionally vegetable oil is used, but any mild tasting oil will do — my favorite is avocado oil.
Sweetener – I switch between Swerve and Lakanto which are both erythrtiol-based sugar substitutes with zero net carbs. Any erythritol-based product will work here, just know Swerve and Lakanto are equally as sweet as sugar, whereas erythritol is 70% as sweet. Also, keep in mind that other keto sweeteners, such as allulose, set differently when they bake and may not be the best substitute.
Flour – this keto flour is most similar to wheat as far as taste goes. For a similar texture, be sure to use a fine grained product. I typically use Costco brand, however, Bob's Red Mill and Trader Joe's are both great options. Psst, coconut flour is not a substitute for this keto carrot cake recipe with almond flour.
Fluff – almond flour is significantly more dense than traditional wheat, and whey protein powder is needed to add fluff, and make this moist keto carrot cake, cake-like! No other type of protein powder will add fluff, so there's no great substitute.
Binder – since almond flour is gluten free, we need xanthan gum to help bind our ingredients together. This can't be skipped or substituted!
Frosting sweetener – trust me and use allulose to sweeten this keto cream cheese frosting — erythritol, like all sugar alcohols, will recrystallize when cool, and give your frosting a gritty texture. Allulose is actually a rare sugar, so it doesn't have the same characteristics.
Storing Tips
Toss your keto carrot cake in the fridge until you're ready to eat! I like to slice my keto carrot cake immediately before serving to keep it as moist as possible.
Can You Freeze This?
Yes. With or without frosting, I like to slice this low carb carrot cake into 8 pieces and freeze each slice in a resealable bag. To thaw, let it sit in the fridge until it reaches your desired temp and texture.
Recipe Variations
Muffins/cupcakes – Make keto carrot cake muffins by pouring your batter into a lined muffin tin pan instead. Keep in mind you'll need to reduce your bake time.
Mixins – although not traditional, you can stir some goodies into the carrot cake batter. Think keto chocolate chips, shredded and sugar-free coconut, or swap the chopped pecans for other keto nuts like walnuts. You can also use spices like ginger or nutmeg.
Dairy-free – Feel free to skip the frosting, or, substitute in your frosting of choice. A coconut cream frosting may be perfect here.
Make fewer layers – again, you'll need to adjust your bake time. But feel free to experiment with making 2 cake layers instead.
More Keto Desserts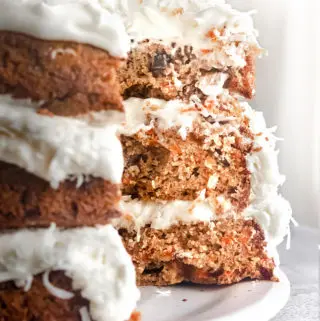 Keto Carrot Cake
Print Recipe
Pin Recipe
Ingredients
Frosting:
8

Ounces

Cream Cheese

softened

1/2

Cup

Unsalted Butter

softened

1

Cup

Powdered Allulose

(note 5)

1

Teaspoon

Vanilla Extract

1/8

Teaspoon

Kosher Salt
Instructions
Prep. Preheat oven to 350 F and grease 3 - 8" round cake pans with butter or vegetable oil.

Batter. In a large bowl, use an electric mixer to beat eggs (4), oil (1 1/4 cups ), erythritol (1 1/2 cups), vanilla extract (2 teaspoons), and apple cider vinegar (4 teaspoons) together. In a second bowl, whisk together the almond flour (2 cups), whey protein isolate (1/2 cup), baking soda (2 teaspoons), baking powder (2 teaspoons), xanthan gum (1 teaspoon), salt ( 1/2 teaspoon) and ground cinnamon (2 teaspoons). Add dry ingredients to the wet ingredients using your electric mixer until well incorporated. Fold in carrots (3 cups) and pecans (1 cup).

Bake. Pour even amounts of batter into each of the prepared pans. Bake in the preheated oven for 40 minutes. You'll know the cake is done once the center is set and the top is golden brown. Allow cake to cool in pans for 10 minutes, then remove the cakes from the pan, and allow them to cool on a wire rack completely.

Frosting. Combine frosting ingredients in a medium bowl until smooth.

Decorate. Once the cake has cooled to room temperature, frost it. Sprinkle pecans on top, and enjoy!
Rate this Recipe
Fans Also Made These Low Carb Recipes:
Lindsey's Tips
Swerve or Lakanto - any brand of erythritol can be used instead, just know they're typically 70% as sweet so adjust accordingly. This batter has only been tested with erythritol, allulose baked goods set differently, so I can't speak to how it will turn out if you swap.
Almond Flour -

Use fine grain flour for the fluffiest texture. Best products include

Bob's Red Mill

, Trader Joe's, or Costco brands. 

Whey protein isolate gives our cake fluff. There is no substitute here (other protein powders will not work).
Xanthan gum binds the cake together, don't skip!
Allulose is used in the frosting, as it's not a sugar alcohol based sweetener and won't recrystallize as it sets. You can use powdered erythritol instead, just your frosting will have a slightly crunchy texture.
Nutrition
Calories:
417
kcal
Total Carbohydrates:
37
g
Protein:
9
g
Fat:
40
g
Sodium:
367
mg
Fiber:
3
g
Sugar:
3
g
Net Carbs:
5
g
Sugar Alcohol:
14
g
Rare Sugar:
15
g
©Little Pine Low Carb. Content and photographs are copyright protected. Sharing of this recipe is both encouraged and appreciated. Copying and/or pasting full recipes to any social media/website/blog is strictly prohibited.