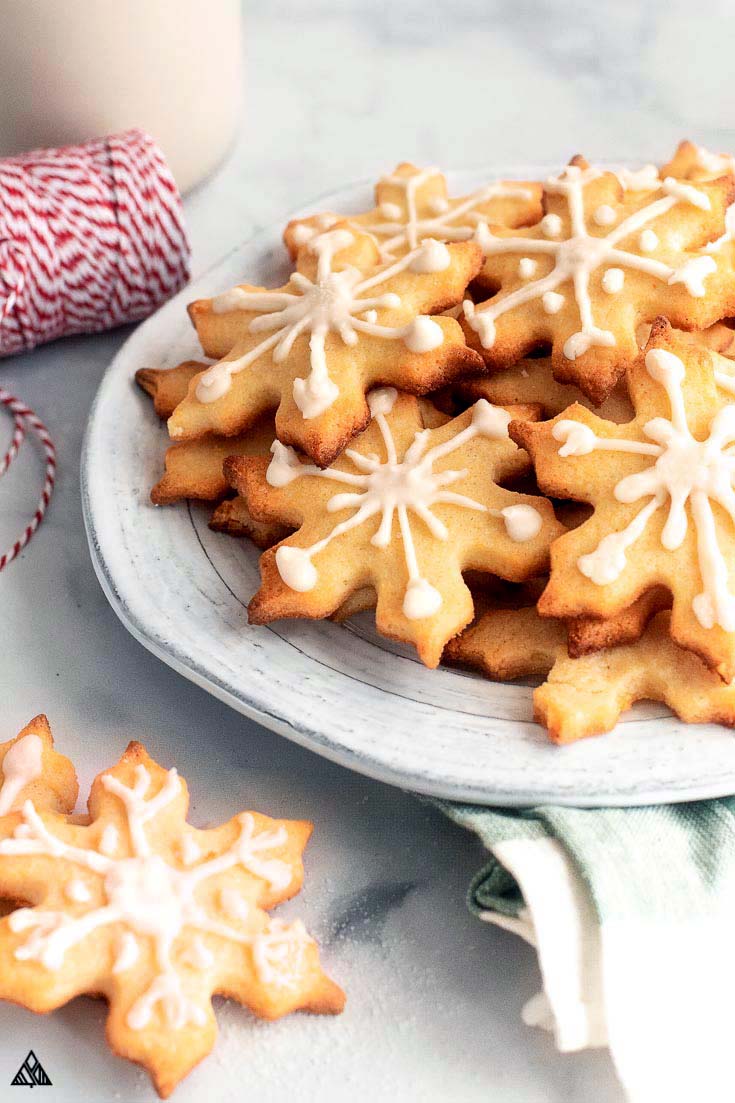 The most magically delicious way to celebrate this jolly season, is with a freshly baked batch of keto sugar cookies!
Whether you're eating low carb foods or not, you'll love this recipe.
They're every bit as delicious as your grandma's sugar cookies — perfectly fluffy, sweet and buttery. They're easy to roll out and stamp into any shape you have in mind. Plus they'll make your house smell absolutely delicious!
So turn on that oven and let's celebrate this holiday season with a batch of these simple keto sugar cookies!
[no_toc]
How to Make Keto Sugar Cookies — Tips For Success!
These keto sugar cookies are super easy to throw together!
The one tip I'd like to impart is that refrigerating your dough will make a big difference in the butter-y, fluffiness of your cookies — It'll also make them easier to stamp and move to the cookie sheet!
Our goal here is to make super fluffy keto soft sugar cookies, so the type of almond flour you use is important. You want to use an almond flour with a super fine grain — I find that Bob's Red Mill, or Trader Joe's almond flour are usually the best products for the job.
I don't recommend using almond meal for these keto sugar cookies, as it'll result in dark brown flecks of skin throughout your cookies.
I tested several low carb flour combinations before landing on keto sugar cookies almond flour. As most of you know, coconut flour is extremely dry — When I added even a small amount to this recipe, the keto sugar cookies coconut flour became dry and crumbled easily — plus they weren't as delicious!
Keep the dough cold!
The only pain in the butt about making these keto sugar cookies is that you have to keep your dough cold! For the same reasons you keep traditional sugar cookie dough cold:
It helps to prevent the spread of your cookies

when you bake them — chilling the dough solidifies the fat and will result in fluffier cookies.

Makes the keto sugar cookies

more chewy/crisp in texture.

Chilling the dough will help to dry it out slightly, which concentrates the sugars

(in this case erythritol).

Concentrates the flavor!

Same reason as above.
To do this, you'll want wrap your keto sugar cookie dough in plastic wrap and allow it to chill in the fridge for 6 (or more!) hours — Then you can roll and cut your cookies.
Once you stamp your cookies, reform the excess dough into a disk and place it in the fridge to bring the butter back to a chilled temperature — I know this step is annoying, but it'll make working with you keto sugar cookie dough so much easier!
Parchment paper
You know how when you make traditional sugar cookies, you sprinkle the surface, your rolling pin and cookie cutters with flour? We won't be doing that…
…instead we'll roll our dough between two sheets of parchment. Super simple swap to save some carbs!
Save Your Favorite Recipes!
Create an account and save all your favorite recipes for easy access!
Decorating Your Almond Flour Sugar Cookies
Let's skip those bright colored sprinkles from the grocery store and decorate these almond flour sugar cookies with low carb bling instead!
Low carb icing is super easy to whip up with ¼ cup of powdered erythritol and a bit of water. If you're feeling colorful, add a few drops of food coloring!
You can grab powdered erythritol from Amazon (it's usually hard to find in stores). My favorite brand is Swerve — their product is always reliable and absolutely delicious.
If you don't have powdered erythritol laying around, add some granular erythritol to a food processor and pulse until your grain becomes a powder.
When adding water to make your low carb icing, add it slowly (I add 1/4 teaspoon at a time), as making your icing too liquid-y will result in soggy keto sugar cookies. Add only as much as you need to form a paste but enough so that you're able to squeeze the icing through a baggie.
You can use pastry bags to ice your keto sugar cookies, but if you'd like to save a few bucks, add your icing to a resealable bag and cut a small hole in the tip.
Storing Your Low Carb Sugar Cookies
I store these low carb sugar cookies almond flour in an airtight container.
If you don't think you'll be able to finish your cookies before their expiration date, toss them into a resealable bag and into the freezer! Zap them in the microwave for a few next time you're craving some low carb desserts.
How to Eat These Sugar free sugar cookies
If you're anything like me, you wont need a reason to eat these sugar free sugar cookies, rather you'll be looking for ways to hide them from yourself!
But if you're looking to enhance the flavor, or just crank up that holiday cheer, here are a few ways to enjoy these keto sugar cookies:
Other Keto Cookies Recipes
Whether you're putting together holiday baskets full of keto cookies and looking for some variety beyond these keto christmas sugar cookies — Or you're simply craving something sweet — There are plenty of ways to satiate your needs with some delicious low carb cookies…
From low carb peanut butter cookies to low carb no bake cookies to keto sugar cookies cream cheese, if you're craving it, there's definitely a low carb version out there!
What're you favorite kind of cookies? Let me know in the comments below!
Easy Keto sugar cookies recipe
Wishing you all a wonderful and happy holiday season. I hope this keto sugar cookies recipe sparks a little joy in your home!
Let me know what you think of this recipe in the comments below!
Almond Flour Sugar Cookies
Almond flour sugar cookies are a lovely companion to any cup of milk, coffee, or hot chocolate! Fluffy and buttery, they'll make you feel cozy every time!
Ingredients
Icing (Christmas Variation):
Chocolate (Halloween Variation):
1/2

Cup

Low Carb Chocolate

melted

Almonds

sliced
Instructions
Place erythritol, almond flour, baking powder and salt in a large bowl and whisk together to combine.

Add melted butter, egg and vanilla extract to the bowl.

Using an electric mixer, thoroughly combine.

Lay a piece or plastic wrap on your countertop.

Place the dough in a ball in the center of the plastic wrap, then press on the top of your dough to form a disk.

Place in the fridge for 6 hours - overnight.

Preheat oven to 375F.

Line a cookie sheet with a piece of parchment paper

Roll the dough using a rolling pin between two sheets of parchment paper until the dough becomes 1/4" thick.

Use cookie cutters to cut into desired shapes. Form excess dough into a disk and place in the fridge for 20 minutes before rolling/cutting again (this will make it easier to use).

Gently place cookies on a cookie sheet (I do this using an super thin spatula) and bake in the center rack of the oven for 7-9 minutes, or until the edges become lightly golden.

Allow to cool, the cookies will continue to harden as they cool.
For Icing:
Place powdered erythritol in a small bowl.

Add water using ¼ teaspoon increments until it's created a paste.

Place into a resealable bag and cut a small hole in the tip.

Decorate your cooled cookies and enjoy!
Nutrition
Calories:
63
kcal
|
Carbohydrates:
1
g
|
Protein:
1
g
|
Fat:
6
g
|
Saturated Fat:
1
g
|
Cholesterol:
13
mg
|
Sodium:
47
mg
|
Potassium:
10
mg
|
Fiber:
0
g
|
Sugar:
0
g
|
Vitamin A:
85
IU
|
Calcium:
20
mg
|
Iron:
0.3
mg
©Little Pine Low Carb. Content and photographs are copyright protected. Sharing of this recipe is both encouraged and appreciated. Copying and/or pasting full recipes to any social media/website/blod is strictly prohibited.
Reader Interactions