Scratch the itch to travel with this version of a classic Thai hangover remedy, keto drunken noodles! Slurp these refreshing and delightfully spicy noodles and wash 'em down with an ice cold beer.
Hungry for more Asian-inspired low carb pasta recipes? Try this keto pad thai, or this keto ramen.
Want to Save This Recipe?
Enter your email below and we'll send it straight to your inbox. Plus you'll get great new recipes from us every week!
[wpforms id="103279"]
Taste the World, at Home.
2020 was going to be my year for world travel. I had visions of far-off beaches and misty mountains and lively, bustling night markets. And oh baby, I was going to eat so much street food! But for reasons I won't mention, those plans have been put on hold. I believe in making the best out of a situation though, and so I thought…
Even if I can't see the world right now, I can still taste it! And the silver lining is, I can make it low carb.
So I made these low carb drunken noodles! They were inspired by pad kee mao, a popular Thai dish that's often eaten as a hangover remedy (kinda funny since they're usually served with a cold brew). I replaced the rice noodles with Shirataki noodles which are well suited to this and other Asian dishes. The sauce and veggies work together with the noodles to create a spicy, flavorful balance.
You don't need a hangover to enjoy these keto drunken noodles! Try them anytime you start dreaming of that trip you want to take and pair them with an ice cold beer.
What to Expect From Keto Pad Kee Mao:
Trust me when I tell you, this isn't one of those low carb dinners that resembles a meal you crave. It is a meal you'll crave. And you'll hardly notice (if at all) the rice noodle to shirataki swap! Before you grab your chopsticks, here's what you can expect:
No special techniques

Ready in 25 minutes

Thick + saucy noodles

Great for meal prep
Ingredient Notes
The sweetener – These keto drunken noodles have a traditional sweet and salty sauce, but instead of adding brown sugar, opt for erythritol-based golden keto sweeteners such as Swerve or Lakanto.
The heat – You can usually find Thai chilis at the grocery store, raw or dried. They pack quite a flavor punch! If you can't find them, spice up your low carb Thai noodles with jalapenos instead. 
Thai fish sauce – this sauce, made from fermented fish

, gives an amazing umami flavor to our dish. It's hard to replicate and one of the key flavor components. You can find this in the grocery store near the soy sauce. 

Xanthan gum is used to thicken the sauce, so it efficiently coats the noodles. Very little is needed! Xanthan gum has a tendency to clump when added to liquids, so be sure to sprinkle over the top, and whisk to fully incorporate.
What Are Shirataki Noodles?
Shirataki noodles are made from the konjac plant, and are often called "miracle noodles". They have virtually no taste when prepared properly, making them the perfect noodle to soak up your favorite flavors.
Now, if you've tried them, you may not have liked the taste. Or, you may have heard some nasty rumors. So, let me share the secret to actually enjoying shirataki noodles:
Prepare them properly. By thoroughly rinsing and drying them. For bonus points, I always like to pan-sear them with oil and aromatics to infuse a bit of flavor–I find this is the best way to make shirataki noodles less rubbery.
They aren't great substitutes for every dish. Truthfully, I find shirataki noodles work best with Asian-inspired dishes, vs. Italian pasta dishes.
🤔 What is the Best Brand of Shirataki Noodles?
I haven't found a huge taste or texture difference from one brand to another, really, it's all in the preparation. That said, I find Miracle Noodles are usually the easiest to find.
🤔 Are Miracle Noodles Good for Keto?
YES! Miracle noodles are mostly water, and a little fiber, with zero digestible carbs.
More Options for Keto Noodles
If shirataki noodles will never be your thing, try enjoying your keto drunken noodles with one of these options instead. NOTE: you'll want to remove as much liquid from these noodles before adding them in.
Recipe Variations
Make these keto drunken noodles your way! Here are some potential variations:
Swap the protein. Try thinly sliced pork or beef, or even just a different cut of chicken (hello, chicken thighs! yum!). Check out my keto beef and broccoli for some tips for stir-frying other meats. 
Add more keto vegetables. Just saute your favorites.
Vegetarian drunken noodles. The great news about low carb chicken recipes like this one is you can skip the protein for a vegetarian option, or sub in shrimp without blinking an eye.
Adjust the heat. Taste the sauce and adjust the heat to your liking. You can always crank it up by adding more chilis.
More Asian-Inspired Keto Recipes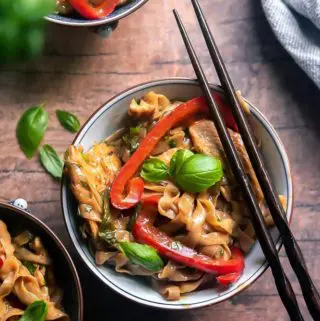 Low Carb Keto Drunken Noodles
Print Recipe
Pin Recipe
Ingredients
Sauce:
2

Teaspoons

Golden Swerve or Lakanto

(note 1)

1/8

Teaspoon

Xanthan Gum

(note 2)

1/3

Cup

Warm Water

1/2

Cup

Soy Sauce

1

Tablespoon

Thai Fish Sauce
Noodles:
2 - 8

Ounce Packages

Shirataki Noodles

fettucini style

1/4

Cup

Sesame Oil

2

Small

Shallot

thinly sliced

3

Cloves

Garlic

minced

1

Bell Pepper

thinly sliced

1-2

Thai Chilis

minced. Can sub for jalapeño peppers

8

Green Onions

cut into 2" pieces

1

Pound

Chicken Breast

boneless + skinless

1

Cup

Fresh Basil

roughly chopped
Instructions
Make the sauce. Add warm water (1/3 cup), erythritol (2 teaspoons), and xanthan gum (1/8 teaspoon) to a bowl and whisk until dissolved. Be sure to sprinkle the xanthan gum over the top, otherwise, it will clump (note 3). Add the soy sauce (1/2 cup)and fish sauce (1 tablespoon), and whisk. Set aside.

Rinse noodles. Rinse your shirataki noodles (2 - 8 ounce packages) thoroughly by draining them in a colander and running water over the top as your toss the noodles with your hands for at least 1 minute. Set aside to drain.

Sear. Heat 2 tablespoons of oil in a large skillet over medium heat. Add chicken (1 pound) and sear each side (about 1-2 minutes) until golden (it won't be cooked through yet). Set seared chicken aside on a plate.

Saute. Add remaining oil to the skillet, along with the bell peppers (1) and shallots (2 small) and cook for two minutes. Add Thai chiles (1-2), garlic (3 cloves) and green onions (8), and cook for another 2 minutes, or until they become fragrant. Add the noodles and toss to coat in the veggies and oil. Fry for about 3 minutes (this helps remove any weird taste the noodles may have, don't skip).

Simmer. Add the chicken back to the skillet, as well as the sauce. Toss to coat everything. Bring sauce to a simmer and allow it to cook for about 5 minutes until the sauce thickens, the chicken is cooked through, and the veggies are tender to your liking.

Serve + enjoy! Remove from heat, stir in the basil (1 cup), serve warm, and enjoy!
Rate this Recipe
Fans Also Made These Low Carb Recipes:
Lindsey's Tips
Lakanto and Swerve are equally as sweet as sugar. If using a different brand, you may want to add more erythritol (it's 70% as sweet as sugar).
Xanthan gum is used to thicken the sauce so it coats the noodles. Only a little is needed, but it makes a big difference!
Xanthan gum will clump if not added properly, so be sure to sprinkle lightly over the liquid, then quickly whisk to combine.
Nutrition
Calories:
313
kcal
Total Carbohydrates:
10
g
Protein:
29
g
Fat:
17
g
Fiber:
2
g
Sugar:
4
g
Net Carbs:
8
g
©Little Pine Low Carb. Content and photographs are copyright protected. Sharing of this recipe is both encouraged and appreciated. Copying and/or pasting full recipes to any social media/website/blog is strictly prohibited.