Shirataki noodles have a lot going for them—no carbs, practically no calories to speak of, and when prepared correctly, have texture but not much flavor of their own—so they're perfect for a simple stir fry. Here's how to make the most of what they have to offer!
For more tasty pasta recipes that keep it gluten free—check out my zucchini noodles, butternut squash noodles, or almond flour pasta.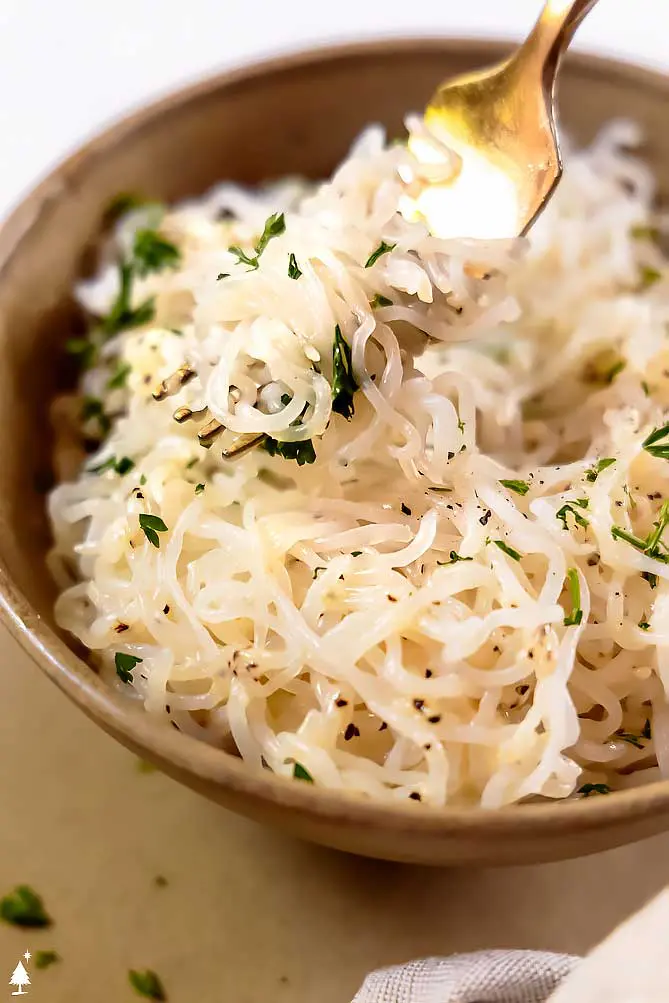 The Secrets of Shirataki
I've gotta be honest, I've been cooking with shirataki noodles for years and I've just now figured out how to make the most of them. Previously, the texture left something to be desired and there was a lingering, almost fishy, smell that I wasn't crazy about. It's all about the cooking method, and now that I've figured it out, you know I have to share my secrets with you.
So say it with me, Shirataki! Here's everything you need to know…
What are Shirataki Noodles (i.e. Miracle or Konjac Noodles)?
Shirataki noodles are made from a fiber called glucomannan found in the root of konjac yams and are a traditional element of Japanese cuisine. Fun fact, shirataki translates to 'white waterfall' because of how smooth and nearly translucent these noodles can be.
Are Shirataki Noodles Healthy?
The carbohydrates found in these noodles are soluble fiber, which isn't digestible–meaning it doesn't contribute to your daily net carb count. They're also very low in calories. That said, "healthy" differs from one eating plan to another…
Are Shirataki Noodles Low Carb, Keto, Paleo, or Gluten Free?
Low carb and keto – Yes, shirataki noodles are keto and a very popular noodle replacement in the low carb community.
Paleo – Depends on what paleo plan you're following, but most people don't consider shirataki noodles paleo.
Gluten Free – Yes, konjac noodles are made from konjac yams, and contain no gluten.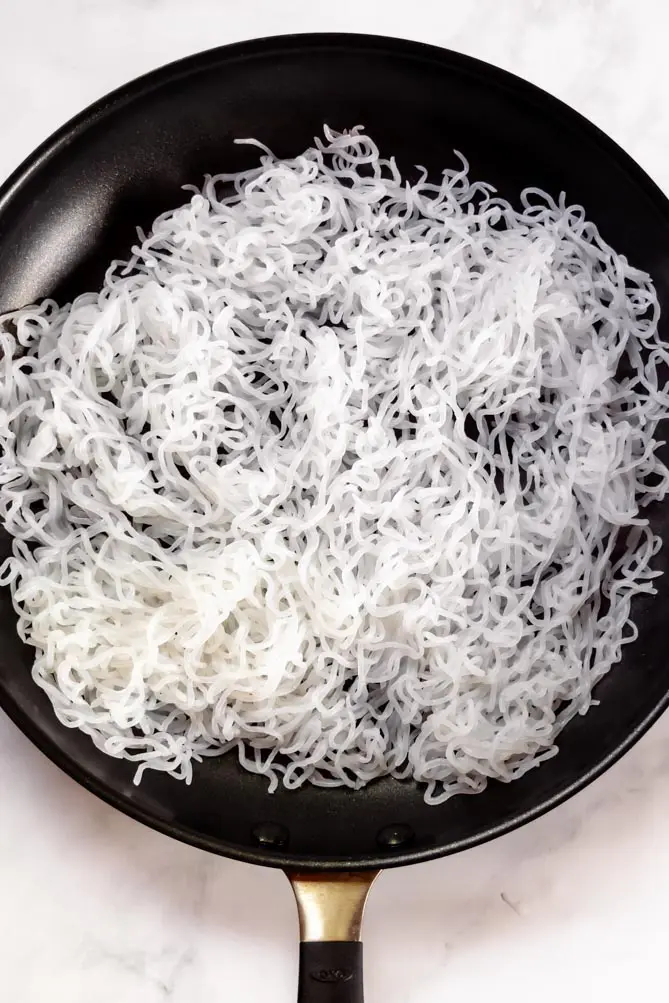 What do Shirataki Noodles Taste Like?
Shirataki noodles have an acquired taste and texture. If you're expecting traditional pasta, you'll be disappointed! But if you're looking for a low carb and calories alternative, they're worth a shot. Taste, try, and move forward with another pasta if these aren't for you.
Konjac noodles are flavorless but great at absorbing whatever sauce or oil you cook them in. I find they're best sauteed in oil, garlic, salt, and seasoning rather than doused in a sauce. I prefer them in stir fries rather than Italian pasta dishes.
Do they make a good pasta substitute? Due to the shirataki noodle texture, I prefer veggie noodles as a pasta substitute.
What about a noodle substitute? Yes! These are my favorite low carb substitute for noodles–stir fries like cow mein and pad Thai, or even soups like ramen are delicious with miracle noodles.
If You Just Can't Get Down with the Taste…
Not a fan of konjac noodles taste and texture? You have other options, don't worry…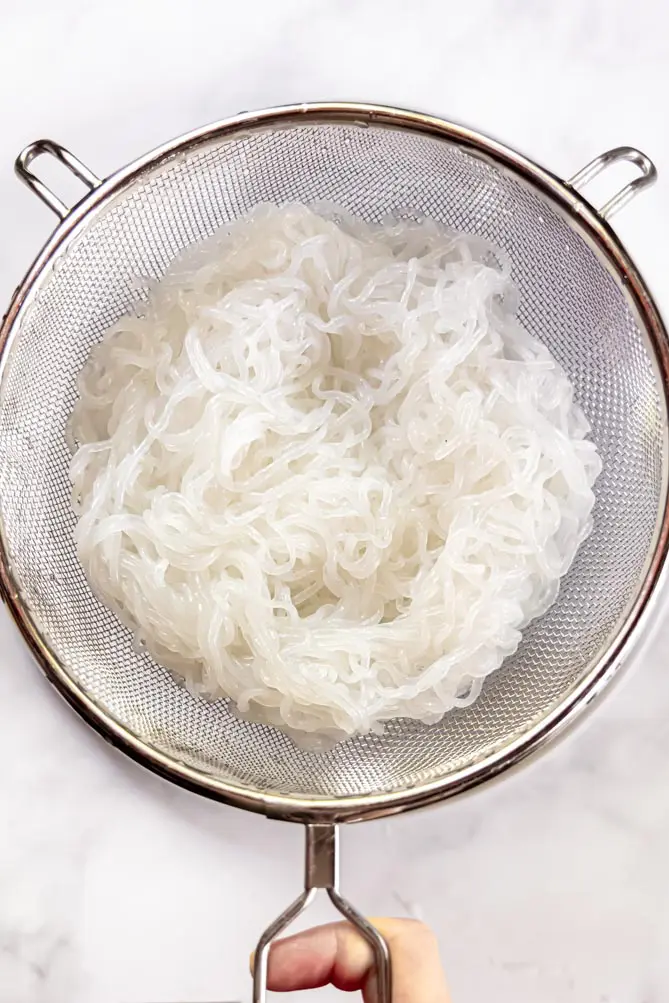 Top Tips for Cooking Shirataki Noodles
The trick to shirataki noodles? Don't take shortcuts. You want to rinse them well and reheat them in boiling water or a dry fry (dry fry is my preference!).
Why do shirataki noodles smell? That 'fishiness' is due to the water that the noodles are packed in.
How to get rid of the shirataki noodle smell? A thorough rinse is the first key step. I find that the rinse, followed by a quick microwave, then a dry fry, is the very best method to make these noodles really shine.
How do you get rid of the rubbery texture of shirataki noodles? Dry frying the noodles will firm up their texture quickly and easily.
Where Can You Buy Shirataki Noodles?
Shirataki noodles are in the refrigerator section of most grocery stores. Typically you can find angel hair pasta, and sometimes fettucini. For a larger selection, look for them on Amazon. They've got more shapes and sizes like miracle rice and spaghetti.
Reheating Konjac Noodles
Konjac noodles taste best warm and fresh. If you do reheat them, be prepared to dap off excess liquid the noodles have released while stored in the fridge. (They are 97% water after all!)
I like to reheat miracle noodles in the microwave.
Best Sauces For Miracle Noodles
Again, I prefer more of a stir fry rather than a sauce (like keto spaghetti sauce or keto alfredo sauce). The oil and aromatics absorb into the noodles, while the high heat of the pan helps the texture of these noodles.
Shirataki Noodle Recipes
I have loads of shirataki noodle recipes, as you'll find, most of them are stir fries vs. saucy dishes. Here are my favorite ways to use them. Can't wait to hear which ones are your favorite miracle noodle recipes: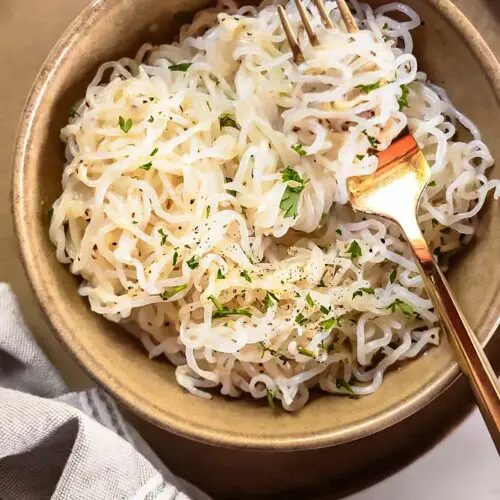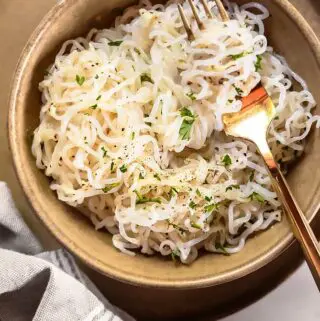 How to Cook Shirataki Noodles
Print Recipe
Pin Recipe
Ingredients
1

7 ounce package

Shirataki Noodles

spaghetti or angel hair

1

tablespoon

unsalted butter

2

cloves

garlic

minced

1/4

teaspoon

kosher salt

1/4

teaspoon

black pepper

3

tablespoons

Parmesan

grated
Instructions
Place shirataki noodles (1 7 ounce package) in a colander and run cold water over them for a few minutes, occasionally tossing. This will remove the fishy smell. While in the colander, I like to cut the noodles so they aren't as long using kitchen scissors, but that's optional.

Place noodles in a microwave safe bowl, and microwave on high for 2 minutes, this will help their texture. Remove from the microwave and dab with paper towels to remove as much liquid as possible.

Melt butter (1 tablespoon) in a large pan over medium heat. Add the garlic (2 cloves) and saute until fragrant. Add the noodles, salt (1/4 teaspoon), and pepper (1/4 teaspoon). Toss and continue to cook until the noodles become opaque and are well coated in butter for 5 minutes. They should no longer squeak in the pan.

Remove the noodles from heat and add the parmesan (3 tablespoons). Toss to coat, and enjoy!
Rate this Recipe
Fans Also Made These Low Carb Recipes:
Nutrition
Calories:
85
kcal
Total Carbohydrates:
1
g
Protein:
3
g
Fat:
8
g
Sodium:
456
mg
Fiber:
0.1
g
Sugar:
0.1
g
Net Carbs:
1
g
©Little Pine Low Carb. Content and photographs are copyright protected. Sharing of this recipe is both encouraged and appreciated. Copying and/or pasting full recipes to any social media/website/blog is strictly prohibited.