This saucy, seasoned, creamy keto bolognese is about to be your new family favorite, 30-minute meal. We love serving it over zucchini noodles or keto pasta and covering it in freshly grated parm.
Want to Save This Recipe?
Enter your email below and we'll send it straight to your inbox. Plus you'll get great new recipes from us every week!
Tastes Like a Cookathon, But…
It only takes 30 minutes to make.
And, oh my word. The amount of flavor packed in is truly a kitchen wonder. Loads of spices, a touch of cream, PANCETTA! (Yes, I know it's unusual, but you have to trust me here). This saucy sauce works oh-so-well with all the noodles. Heck, it's even great over veggies or meat.
Introducing my low carb bolognese. A MAJOR upgrade to your weeknight dinner routine. Hope you and your family are ready for a treat. ENJOY 🍝❤️!! – Linds x
Is This Spaghetti Meat Sauce Keto? Low Carb? Paleo? Gluten-Free?
Keto + low carb – Yes, this delicious spaghetti meat sauce is totally low carb, as long as you serve it with a low carb pasta–see my recs below!
Paleo – Skip the heavy cream, opt for organic/grass-fed meat, and this is a perfect paleo bolognese.
Gluten-free- No gluten here, just be mindful of what you serve your pasta sauce over.
Ingredients for Spaghetti Meat Sauce:
Just a handful of classics–what makes this dish more flavor-packed than traditional keto spaghetti sauce is the addition of red wine, cream, and extra spices. Here's what you'll need to make this spaghetti meat sauce:
The meat: You can use any sort of ground meat you prefer. If using lean meat such as turkey or chicken, add a tablespoon of oil to the pan before browning. I also add pancetta, which I know is not traditional–feel free to skip and add a tablespoon of olive oil to saute the onion instead.
The wine: Great options are malbec, merlot, cabernet, pinot noir, and syrah.
The cream: For a paleo or dairy free alternative you can use full fat coconut milk instead.
The spices: We'll use a combo of crushed red pepper flakes, Italian seasoning, rosemary, nutmeg, salt, and black pepper.
How to Make Keto Bolognese
1. Saute pancetta. Once cooked through, remove to a paper towel-lined plate.
2. Add the onion and cook in pancetta fat. Remove softened onion and set aside with pancetta.
3. Add beef, and break it into small pieces as it cooks.
4. Add garlic and seasoning. Saute until garlic becomes fragrant.
5. Add wine and scrape up brown bits.
6. Add pancetta and onion back to the pan along with tomato paste, sauce, salt, and pepper.
7. Cook uncovered as the sauce thickens. Add the cream and nutmeg and continue to simmer until it has thickened to your liking.
Keto Spaghetti Options
This keto bolognese is so flavor-packed, it doesn't much matter what low carb spaghetti you use. My go-to is veggie noodles as they're quick and easy. You can also use:
BTW, I don't recommend using shirataki noodles–those work best as a rice noodle (vs. wheat noodle) replacement.
Serving Suggestions
Top this keto bolognese as you would the traditional kind. Our must-have toppings are parmesan and fresh herbs like basil or parsley.
You can also skip the ground beef and serve this as a sauce over your favorite keto meatballs (mine are these mozzarella stuffed meatballs), chicken, or shrimp.

Recipe Variations
In addition to using different noodles (above), there are tons of ways to add your own spin to this dish. Here are some ideas for you:
Change the meat. Any ground meat will do.
Or go meatless! Consider using keto vegetables like cauli rice for cauliflower bolognese keto.
Turn this into a casserole, sort of like zucchini lasagna or spaghetti squash casserole. Toss noodles in sauce, then place everything together in a baking dish and top with parmesan.
Use this as a spaghetti meat sauce for other dishes like my zucchini ravioli or cauliflower baked ziti.
More Keto Pastas + Noodles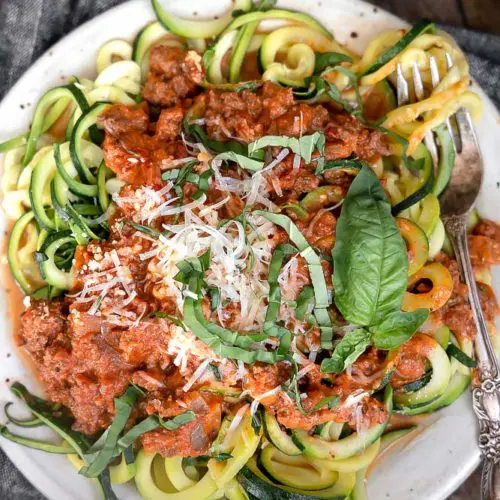 Keto Bolognese
Print Recipe
Pin Recipe
Ingredients
4

ounces

pancetta

(note 1)

1

cup

yellow onion

chopped

1

pound

ground beef

(note 2)

1

tablespoon

garlic

minced

1/4

teaspoon

crushed red pepper flakes

1

tablespoon

Italian seasoning

1

teaspoon

fresh rosemary

minced

1 1/4

cups

dry red wine

(note 3)

1

28-ounce can

crushed tomato

2

tablespoons

tomato paste

2

teaspoons

salt

1/2

teaspoon

black pepper

4

zucchinis

spiralized (note 4)

1/4

teaspoon

nutmeg

1

cup

heavy cream
Garnish:
1/2

cup

Parmesan cheese

grated

fresh basil

chopped
Instructions
Saute. In a large skillet over medium-high heat, cook pancetta (4 ounces) until crispy. Remove cooked pancetta to a paper towel lined plate with a slotted spoon, leaving the pancetta fat in the pan. Add the onion (1 cup) and cook until soft – about 7 minutes. Remove cooked onion to the pancetta plate.

Meat. Add the beef (1 pound) and cook until no longer pink– breaking up with the back of your spoon as it cook. Add the garlic (1 tablespoon), crushed red pepper flakes (1/4 teaspoon), Italian seasoning (1 tablespoon) and rosemary (1 teaspoon) to the pan. Stir and saute until the garlic is fragrant, about 2 minutes.

Simmer. Add the red wine (1 1/4 cups) and scrape up any brown bits that have accumulated on the bottom of the skillet. Add cooked pancetta, onion, crushed tomatoes, tomato paste, salt (2 teaspoons) and pepper (1/2 teaspoon), and stir to combine. Bring bolognese to a boil, then reduce to a simmer. Cook uncovered for 10 minutes.

The noodles. If you like al dente noodles, don't cook the zucchini, just place it in bowls. If you like it a little softer, microwave on high for 1 minute– increasing by 30 second intervals until you achieve your desired texture. (note 5)

Finishing touches. Add the nutmeg (1/4 teaspoon) and cream (1 cup) to the bolognese, stir, and continue to simmer for another 15-20 minutes. This will depend on the heat of your pan– you'll want to reduce the bolognese enough so the sauce can coat your noodles. Taste, and adjust to your liking (note 6). Divide the noodles into 4 bowls, and cover with bolognese. Sprinkle with parmesan, chopped basil (1/2 cup), and enjoy!
Rate this Recipe
Fans Also Made These Low Carb Recipes:
Lindsey's Tips
Pancetta – Ok, I know this isn't traditional, but we love it. You can skip it, just add a tablespoon of olive oil to saute the onion instead. Or, sub in bacon sliced into 1/2″ pieces.
Beef – you can use ground turkey instead. If so, add a tablespoon of olive oil to the pan first.
Dry red wines include malbec, merlot, cabernet, pinot noir, and syrah.
Zucchini noodles – looking for a zucchini noodle substitute? Try edamame noodles or spaghetti squash. Personally, I'm not a fan of shirataki noodles unless they're cooked/sauteed. 
How much to cook the zoodles? This is totally up to you. Personally, I'm not a fan of al dente zucchini noodles, so I cook them for around 2 minutes. But there's a fine line between cooked and soggy! Watch carefully, and be sure to stick to the 30-second intervals.
Want more spice? Add additional crushed red pepper.
Nutrition
Calories:
524
kcal
Total Carbohydrates:
12
g
Protein:
21
g
Fat:
40
g
Fiber:
2
g
Sugar:
5
g
Net Carbs:
10
g
©Little Pine Low Carb. Content and photographs are copyright protected. Sharing of this recipe is both encouraged and appreciated. Copying and/or pasting full recipes to any social media/website/blog is strictly prohibited.
Reader Interactions