Brace yourself, these parmesan crisps are gonna rock your world….
Crispy, crunchy, delicious with toppings or on their own, these bad boys are just the treat you've been looking for!
Because let's face it– whether you're gluten-free or someone who sticks to low carb recipes, there's a plethora of delicious treats we miss out on…
…I mean chomping down on carrot and celery dipped in hummus is great and all, but sometimes, there's that missing umami flavor!
Enter the parmesan crisps.
If you're thinking this is some sort of makeshift junk food, you've got it all wrong.
Gone are the simple carbs that haunt your snacks – forget the GMO corn, the fake cheese products, the nasty cheese potato chips – This recipe is literally just crunchy cheese. Versatile, easy, and dare I say, a little decadent, as far as low carb foods are concerned.
Here's how to make these low carb chips yourself:
Carbs in Cheese? Nope!
So, some quick low carb 101. In our current climate of juice cleanses, smoothie, bowls, and dairy-free lifestyles, cheese isn't exactly the textbook definition of healthy food. On a low carb diet, however, cheese is a beacon of hope – at least in terms of delicious snack food.
Think about it, cheese is primarily made up of fat and protein–elements that play a major role in this particular diet or lifestyle!
We delve into all types of cheese and how they make for an awesome ingredient in low carb recipes and add that much desired "juge"– check out our article here!
What about Low Carb Milk?
Cheese is low in carbs, but, cow's milk isn't…
I know this is slightly off topic, but thought I'd share – if you're looking to cut a few carbs from your diet, check out our post on carbs in milk to see how you may be drinking more carbs than you'd like in your morning cup of coffee.
It Hits All the Right Crunch Points
Perfect for those looking for new low carb snack ideas or low carb appetizers to serve at your next dinner party.
Easy enough to whip up in a pinch when all you have in the fridge is cheese, I love this cheese recipe because it comes with such a satisfying crunch, far crunchier than my favorite low carb crackers.
They crumble easily into your low carb meals—soups and salads immediately come to mind—and they're great low carb snacks on the go!
Plus, as much as we all love our veggie chips, sometimes you'd rather save your carbs for the dip instead of those plantain chips, beet chips or eggplant chips.
Literally, One Ingredient Required
Eating pure cheese is certainly healthier than getting your fix from Doritos or Cheetos, but keep in mind parmesan crisps are best eaten in moderation. If you're following a low carb meal plan like I do, I try to get most of my calories from proteins, veggies and healthy fats – cheese is a special ingredient I treat myself to.
Some may find that the fat and calorie content in cheese is a little high for their needs. Many cheeses are high in fat or sodium—which may believe brings up a whole host of health concerns.
How to Make Low carb Parmesan Crisps
While this is a one ingredient job, there are a few things that will determine your parmesan crisp success. A quick look at what I learned:
Pick Your Cheese
You truly can use any kind of cheese you'd like here. I found that the Mexican shredded blend seems to crisp up the best, but cheddar, parmesan, mozzarella–anything goes. Edit–any shredded cheese–cream cheese or cottage cheese probably won't work too well–but you be the judge.
Anyway, the Mexican blend gets a little crispier, as it has a higher fat content than, say parmesan. You'll typically find these three cheese or four cheese blends in any supermarket—and for some reason the specific fat content you'll get with these gives the crisps the perfect "snap."
If you're looking for something less greasy, I'd definitely recommend using the parmesan or cheddar. Baking time will vary depending on which type of cheese you use. Parmesan, for example, contains very little moisture, so it takes less time to bake than if you opted to use cheddar or Swiss as your base.
The crisps should have a uniform golden brown color when they are done baking.
Consider How You Build Your Mounds
When I was developing my recipe, I've found that some people suggest just placing a slice of cheese in the oven, rather than making small mounds from freshly shredded cheese. It's a different look, to be sure.
The sliced approach yields these sort of bubbly, square cheese chips. They look a bit more like standard chips, but may be more calorie dense than their shredded counterparts—it's just more cheese.
My preference—and much of the internet's—is to build small mounds of shredded cheese. For one, when the crisps are done, you'll get these light, crispy chips with this glorious lacy texture. But, in order for the crisps to turn out like fancy restaurant garnishes, you'll need to construct them with purpose—here are a few pointers:
Make small mounds of cheese—don't make them too big.
Aim for a flat circle shape, leaving some space between shreds—this is how you get that pretty lacy look. It also keeps the calorie count within normal range.
Avoid adding too much cheese to the center—keeping a consistent thickness will keep things crispy—no gooey surprises.
Leave plenty of space between crisps. They spread out as they bake.
Don't Forget the Parchment Paper
Anyone who has made pizza knows that washing a baking sheet with hard cheese attached to it is an impossible task—one that requires steel wool and a whole lot of elbow grease.
This recipe essentially is all hardened cheese on a pan, so be smart and use parchment paper. Skip this step and you'll be stuck scraping and scrubbing for hours to come.
How to make parmesan crisps without parchment paper? Easy. Your best option is to use a silicon baking sheet—the chips will slide right off with minimal effort.
Or, you can use non-stick cooking spray or butter to grease a basic metal sheet. The latter option adds a few more calories to the recipe, so if that's a concern, I'd recommend grabbing a roll of parchment paper before you get started.
Cheese Chips Microwave, oh Yes You Can!
The microwave is a polarizing appliance, so the idea of microwaving cheese may be just a tad off-putting for some. But, for the convenience cooks among us, I'm pleased to report, you can, in fact, make microwave parmesan crisps. Your yield will be a bit smaller due to the obvious size limitations, and you won't get that same oven-baked golden brown patina—but, these
Here's how to make them:
Cut a piece of parchment paper roughly the size of your microwave's turntable. Place this on a microwave-safe plate, or directly in the microwave—your choice.
Make small, uniform piles of cheese.
Microwave on high for 1 ½ minutes.
Remove from heat and cool. Blot with a paper towel to eliminate excess oil.
Gettin' Spicy
Like Cheese-its, Doritos, and the various off-brand powdered cheese snacks best left languishing in the snack aisle, these low carb chips can be dressed up with any flavor your heart desires.
A few ideas: 
Cajun
Italian
Onion powder
Garlic powder
Cumin
Paprika
The only consideration here is—pairings. Cumin and paprika likely won't compliment a blend of parmesan and asiago, for example, but they definitely give a batch of cheddar chips an extra dimension of flavor.
Herb and cheese pairings don't necessarily get the same attention as wine and cheese pairings, but they come in handy if you're trying to figure out how to best season your parmesan crisp creations. Here are a few guidelines:
Cheddar—Cheddar is super versatile—it works well with herbs like chives or dill, as well as chili powder, cumin, and oregano. Onion and garlic work well, too, but too much of these guys may overpower the flavor of the cheese.
Monterey Jack—A good time to whip out that unused package of taco seasoning, Monterey Jack perfectly complements that blend of cumin, oregano, and paprika. It's also a mild enough cheese that a little experimentation is likely to yield some tasty results.
Mozzarella—Mozzarella is such a mild cheese; you can pair it with Italian spices or Mexican. Try mozzarella crisps with a blend of fresh herbs—mint, parsley, cilantro, or chives. Or go bold with a collection of stronger flavors—think rosemary, garlic, thyme.
Asiago—This Italian cheese may be paired with flavors like sage, rosemary, parsley, sundried tomato—or basil, oregano, and crushed red pepper flakes for an added kick.
Parmesan—Parmesan, of course, works well with Italian flavors—think oregano, basil, and garlic powder. You can also go earthier—using toppings like rosemary, thyme, or tarragon. Because parmesan is a drier cheese, you could pair with olive oil, salt, and pepper for a simple, yet satisfying bite.
Go Wild with the Toppings
What's great about this recipe is that you can layer these low carb snacks with just about anything…
Skip the low carb tortilla chips and load these up with a pineapple salsa, grilled chicken and black beans for homemade low carb nachos! Or revel in the delicate, sophisticated beauty of your savory Florentine crisps.
So, whether you opt to use your parmesan crisps sparingly—to adorn a homemade soup or a big, crunchy salad—or go full on snack mode—here are some options from the low carb food list, either complex carbohydrates or protein that'll take your parmesan crisps to a whole new level.
Chives before baking
Top with jalapeno
Tomato
Bacon
Pepperoni
With all that in mind, there are several parmesan crisps brands you can buy on Amazon or at the market—but they tend to be more expensive than simply buying the cheese and making them yourself. Buying parmesan chips Costco or parmesan chips Walmart or may be more cost-effective—but nothing beats homemade.
If you're sticking to this low carb food list printable, and at the store, be leery of gluten free crackers—they tend to be higher in carbs than you'd think!
With recipes like this and low carb bread, it's hard to even miss carbs!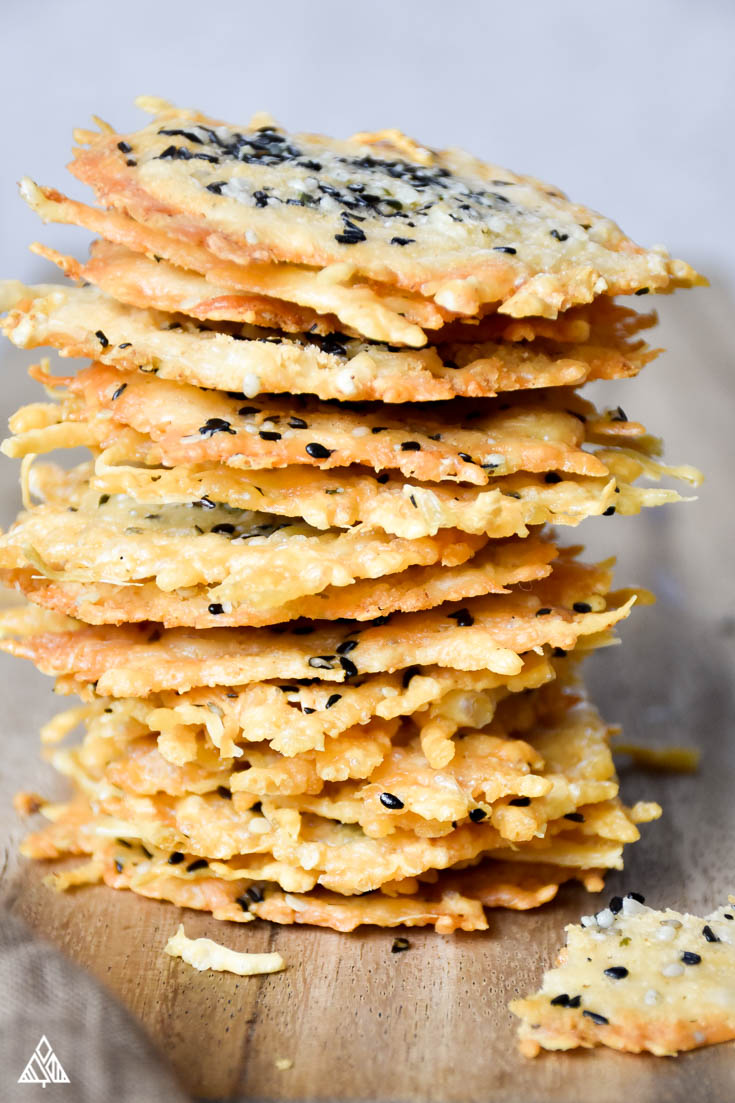 Parmesan Crisps
This recipe is literally just crunchy cheese, doesn't get better than that.
Ingredients
1

Cup

Parmesan Cheese,

shredded

1

Teaspoons

Garlic Powder,

(optional)

1

Teaspoons

Onion Powder,

(optional)

1.5

Teaspoons

Sesame Seeds,

(optional)

1.5

Teaspoons

Hemp Seeds,

(optional)
Instructions
Preheat oven to 400°F.

Line baking sheet with a cut sheet of parchment paper (or Silpats).

In a bowl, stir together parmesan cheese, garlic and onion powder until combined.

Place by spoonful onto the lined baking sheet. Mounds should be about 2 inches apart and slightly flattened on top.

In a separate bowl, combine the seeds.

Sprinkle the seeds on top of each mound of cheese.

Bake for 5. Crisps will be done as soon as the edges are golden brown. If not done in 5 minutes, check every 2 minutes as they burn easily.

Once cool, you can take them off the baking sheet. Enjoy!
Did you make this recipe?
Let me know if you tried this recipe, I'd love to see and share it! Post a photo on our Facebook wall, or tag us on Instagram @the_littlepine
©TheLittlePine.com. Content and photographs are copyright protected. Sharing of this recipe is both encouraged and appreciated. Copying and/or pasting full recipes to any social media is strictly prohibited.
Nutritional Information
Nutrition information will vary based on the specific products. To be safe, check the nutrition facts labels of your products. Optional object listed above have been left out of nutritional data.
Nutrition Facts
Parmesan Crisps
Amount Per Serving
Calories 78
Calories from Fat 45
% Daily Value*
Total Fat 5g 8%
Cholesterol 11mg 4%
Sodium 267mg 11%
Potassium 21mg 1%
Total Carbohydrates 1g 0%
Protein 6g 12%
* Percent Daily Values are based on a 2000 calorie diet.