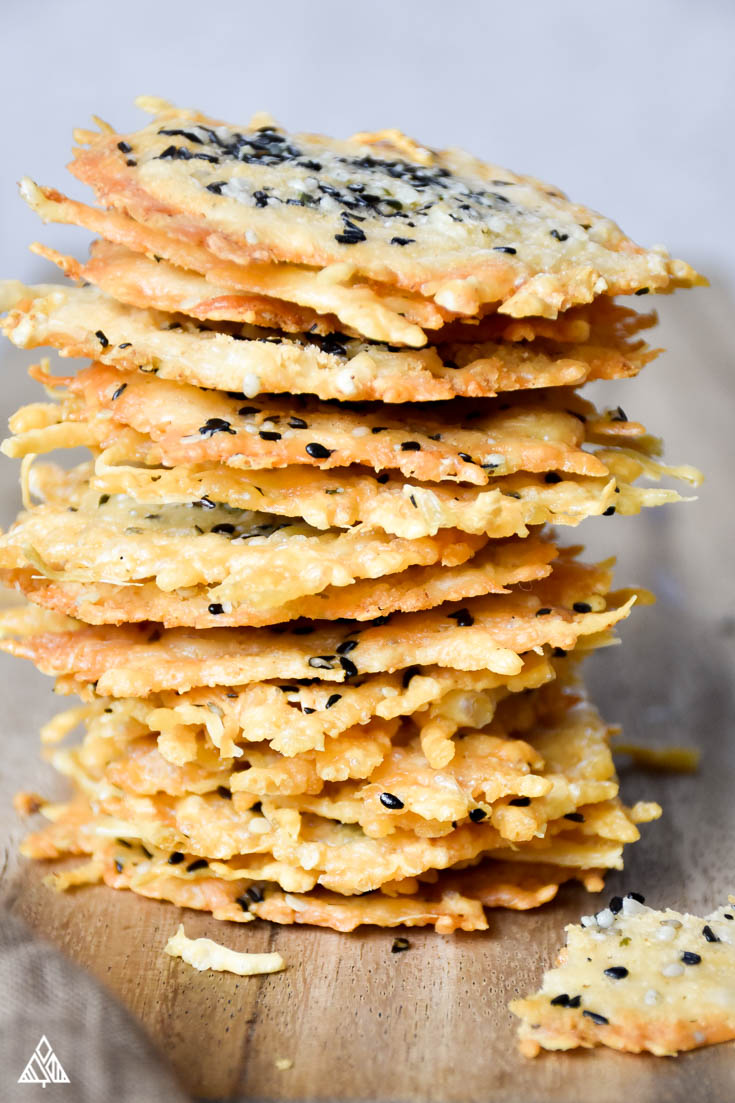 [no_toc]
Brace yourself, these parmesan crisps are gonna rock your world. Crispy, crunchy, delicious with toppings or on their own, these bad boys are just the treat you've been looking for!
Because let's face it– whether you're gluten-free or someone who sticks to low carb recipes, there's a plethora of delicious treats we miss out on…
Enter the parmesan crisps Barefoot Contessa herself would be proud of!
If you're thinking this is some sort of makeshift junk food, you've got it all wrong. Gone are the simple carbs that haunt your snacks — This recipe is literally just crunchy cheese. Versatile, easy, and dare I say, a little decadent, as far as low carb foods are concerned!
Let's get snackin'!
Why Parmesan Crisps Are The BEST!
Warning: you wont be able to get enough of these parmesan crisps!
Perfect for those looking for new low carb snack ideas or low carb appetizers to serve at your next dinner party.
Easy enough to whip up in a pinch when all you have in the fridge is cheese, I love this cheese recipe because it comes with such a satisfying crunch, far crunchier than my favorite low carb crackers.
They crumble easily into your low carb meals—soups and salads immediately come to mind—and they're great low carb snacks on the go!
Plus, as much as we all love our veggie chips, sometimes you'd rather save your carbs for the dip instead of those plantain chips, beet chips or eggplant chips.
Ingredients List For These Low Carb Chips
This low carb chips recipe can be as simple as you'd like it to be, as there's only one required ingredient: CHEESE!
On a low carb diet, cheese is a beacon of hope — at least in terms of delicious snack food! Think about it, cheese is primarily made up of fat and protein — and as delicious as it is, there are hardly any carbs in cheese. 
In fact, if you pick wisely, there can be a surprising amount of protein in cheese — and parmesan happens to be at the top of the list!
How to Make Cheese Crisps
While this is a one ingredient job, there are a few things that will determine your cheese crisp success. A quick look at what I learned:
Picking The Right Cheese For Keto Cheese Chips:
Use whatever cheese you're craving to make keto cheese chips, as long as you keep in mind that not all cheeses melt as well as others…
I've found that the drier the cheese, the crispier the chip! Varieties like cheddar, jack, parmesan, asiago, mozzarella (low moisture) all work great! Cheese like cream cheese and cottage cheese? Not so much…
Baking the Parmesan Chips
When developing this recipe, I found a billion different ways to make parmesan chips:
Some people just place a slice of cheese on a pan and in the oven. Other recipes bake the cheese in a thin, even layer and cut into chips once it has all melted together.
My preference is to build small mounds of freshly shredded cheese. For one, when the crisps are done, you'll get these light, crispy chips with this glorious lacy texture!
But, in order for the crisps to turn out like fancy restaurant garnishes, you'll need to construct them with purpose—here are a few pointers:
Make small mounds of cheese—don't make them too big.
Aim for a flat circle shape, leaving some space between shreds—this is how you get that pretty lacy look.
Avoid adding too much cheese to the center—keeping a consistent thickness will keep things crispy—no gooey surprises.
Leave plenty of space between crisps. They spread out as they bake.
Whatever shape you choose, you'll need to use a Silpat of Parchment Paper…
How to make parmesan crisps without parchment paper? Easy. Your best option is to use a silicon baking sheet—the chips will slide right off with minimal effort.
Keto Cheese Chips Variations
These keto cheese chips can be dressed up with any flavor your heart desires! There are two ways you can make a personalized version of these cheese crisps: what you mix in, and what you put on top.
Here are a few ideas for what to mix into the cheese crisps: 
Bacon, I used this in my cheese chip recipe
Cooked Green Onion, I used this in my cheese chip recipe
Cajun
Italian
Onion powder
Garlic powder
Cumin
Paprika
The only consideration here is — pairings. Cumin and paprika likely won't compliment a blend of parmesan and asiago, for example, but they definitely give a batch of cheddar chips an extra dimension of flavor.
Cheese Chips Toppings — Go Wild!
What's great about this cheese chips recipe is that you can layer these low carb snacks with just about anything. If you're wondering what to serve parmesan crisps with, here are a few ideas:
Skip the low carb tortilla chips and turn these into a parmesan crisps appetizer, by smothering them in salsa, grilled chicken and black beans — homemade low carb nachos anyone? Or revel in the delicate, sophisticated beauty of your savory Florentine crisps.
Here are some options from the low carb food list that'll take your parmesan crisps to a whole new level:
Chives
Top with jalapeño
Pepperoni, I used this in my no crust pizza bites recipe
Parmesan Crisps Dip
Or, don't mix or top them with anything, dip them instead! Try my low carb pizza sauce or pesto recipe, you'll love either choice!
Cheese Chips Microwave, oh Yes You Can!
The microwave is a polarizing appliance, so the idea of microwaving cheese may be just a tad off-putting for some (I don't even own one!). But, for the convenience cooks among us, I'm pleased to report that based on many happy recipe testers, you can in fact, make microwave parmesan crisps.
Now, if only you could cook parmesan crisps stovetop style…
Where to Buy Parmesan Cheese Crisps
As much as I love making my own parmesan cheese crisps, there are several parmesan crisps keto brands you can buy on Amazon or at the market. They tend to be more expensive than simply buying making them yourself…
For those interested, I've seen parmesan crisps Costco and parmesan crisps Walmart sell — but nothing beats homemade!
Parmesan Crisps Recipe
I'm beyond thrilled to be sharing this parmesan crisps recipe with you guys, and can't WAIT to hear what you think!
If you're interested in exactly how many carbs you'll be saving, check out the parmesan crisps nutrition below!
Parmesan Crisps
One delicious, crunchy bite of this amazing parmesan crisps recipe, and ya'll are going to be wondering where these low carb snacks have been all your life!!
Print Recipe
Instructions
Preheat oven to 400°F.

Line baking sheet with a cut sheet of parchment paper (or Silpats).

In a bowl, stir together parmesan cheese, garlic and onion powder until combined.

Place by spoonful onto the lined baking sheet. Mounds should be about 2 inches apart and slightly flattened on top.

In a separate bowl, combine the seeds.

Sprinkle the seeds on top of each mound of cheese.

Bake for 5. Crisps will be done as soon as the edges are golden brown. If not done in 5 minutes, check every 2 minutes as they burn easily.

Once cool, you can take them off the baking sheet. Enjoy!
Nutrition
Calories:
78
kcal
|
Carbohydrates:
1
g
|
Protein:
7
g
|
Fat:
5
g
|
Saturated Fat:
3
g
|
Cholesterol:
11
mg
|
Sodium:
268
mg
|
Potassium:
21
mg
|
Fiber:
1
g
|
Sugar:
1
g
|
Vitamin A:
130
IU
|
Calcium:
204
mg
|
Iron:
1
mg
©Little Pine Low Carb. Content and photographs are copyright protected. Sharing of this recipe is both encouraged and appreciated. Copying and/or pasting full recipes to any social media/website/blod is strictly prohibited.
Reader Interactions