Succulently juicy shrimp tossed in a garlic infused lemon butter sauce; this shrimp scampi spaghetti squash is just as good as the traditional version, but with a sneaky addition of veggies. This spaghetti squash recipe is quick and easy to make, let me show you!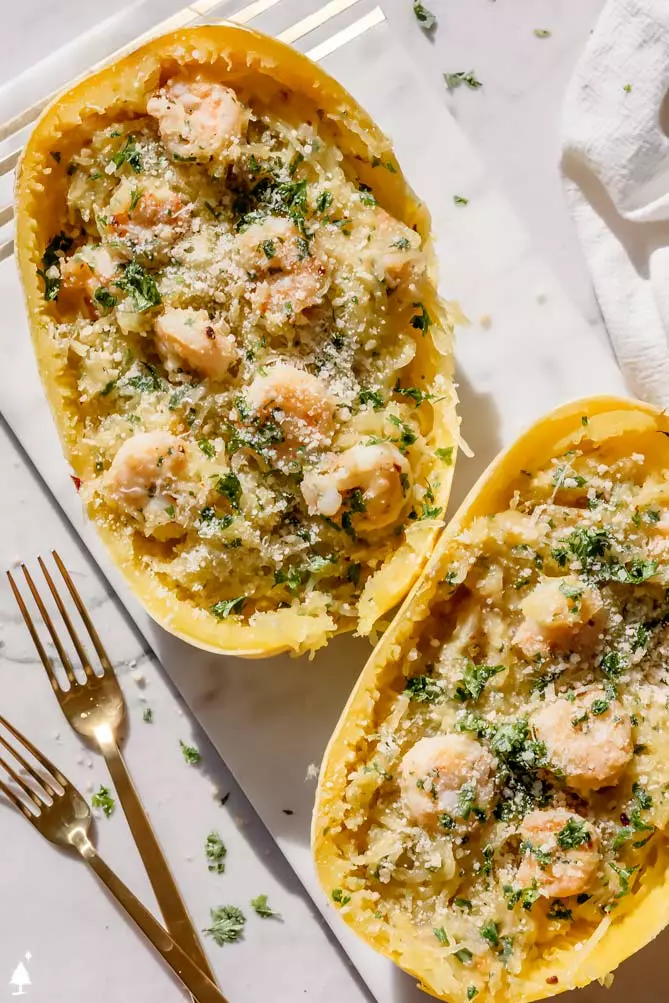 Want to Save This Recipe?
Enter your email below and we'll send it straight to your inbox. Plus you'll get great new recipes from us every week!
Ingredients For Shrimp Scampi Spaghetti Squash
Unbelievably easy to make, but oh-so full-of-flavor; this spaghetti squash with shrimp comes together with your shrimp scampi staples, plus spaghetti squash.
The sauce: is made of butter, garlic, shallot, red pepper flakes, lemon juice, lemon zest, white wine., parmesan, and parsley. Opt for a dry white wine such as Chardonnay or Sauvignon Blanc. If a shallot isn't available to you, use 1/2 of a yellow onion.
The shrimp: I always prefer large shrimp as they tend to stay juicy when cooked (small shrimp are easier to overcook and make tough!). We always purchase frozen, wild caught, for the freshest option. Peeled and deveined will save you loads of time!
The noodles: spaghetti squash! If you purchased an extra large squash, don't feel like you need to add all the noodles, only add as much as your sauce will coat for optimal flavor.
Potential Substitutes
We absolutely love this shrimp spaghetti squash as is, but I understand if you're looking for something a little different. Here are a few ways to tweak things to your liking: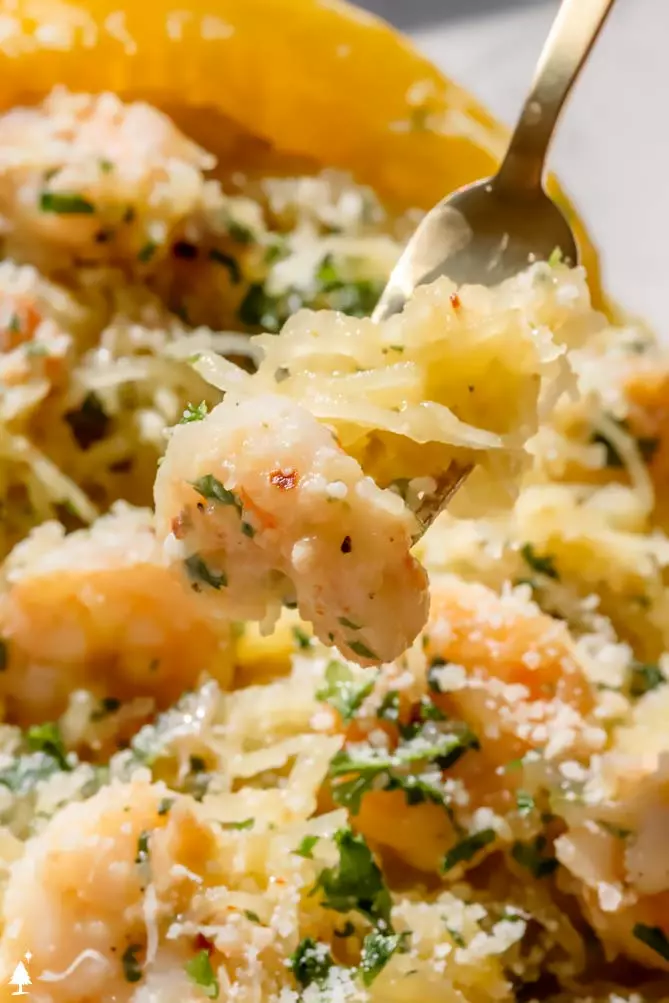 How to Make Shrimp Spaghetti Squash
This shrimp scampi spaghetti squash is so easy to make, it's one of the few dishes I feel I can make on a busy weeknight! Here's how.
Cook your squash: I like to do this in the microwave to save time. Make sure to keep it slightly al dente, as we'll continue to cook the noodles in the pan.
Saute the shallot, garlic, and red pepper flakes in melted butter.
Add the shrimp, salt, and pepper. Continue to saute until cooked through.
Make the sauce by adding the wine, lemon juice, and lemon zest.
Add the butter, parsley, and spaghetti squash and toss to coat.
Place the spaghetti squash shrimp scampi back in the squash shells for stuffed spaghetti squash, or place a serving on a plate and enjoy!
Why is my spaghetti squash mushy?
Spaghetti squash gets mushy quickly when overcooked. The best way to cook spaghetti squash so you don't overcook it is in the oven, just check it early and often, and pull as soon as you're able to shape noodles with a fork. Although it's my favorite way to cook spaghetti squash, the microwave is easier to overcook spaghetti squash.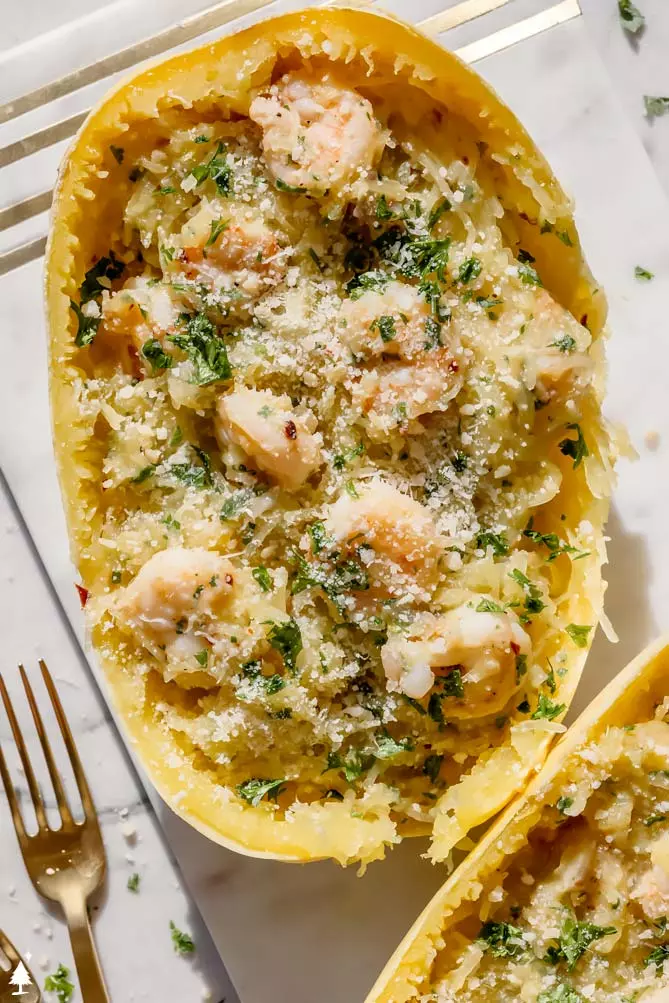 What Goes With Spaghetti Squash and Shrimp?
This dish is the perfect keto spaghetti dish if you're looking for a low carb meal. Or, you can:
Serve it as a side to high protein Italian dishes like salmon bruschetta or caprese chicken.
Or with other sides like roasted vegetables or brussels sprout salad.
If you're looking for a carb to serve alongside spaghetti squash and shrimp, I recommend a slice of buttered toast.
Storing, Reheating, and Freezing
Although we don't typically have leftovers of this shrimp scampi spaghetti squash, you can easily reheat them for delicious make-ahead meals! Here's how:
Store spaghetti squash in an airtight container, with parmesan and parsley separately so you can top it fresh just before serving.
Reheat in the microwave with a damp paper towel over the top.
I don't recommend freezing spaghetti squash, its high water content will get watery when defrosted.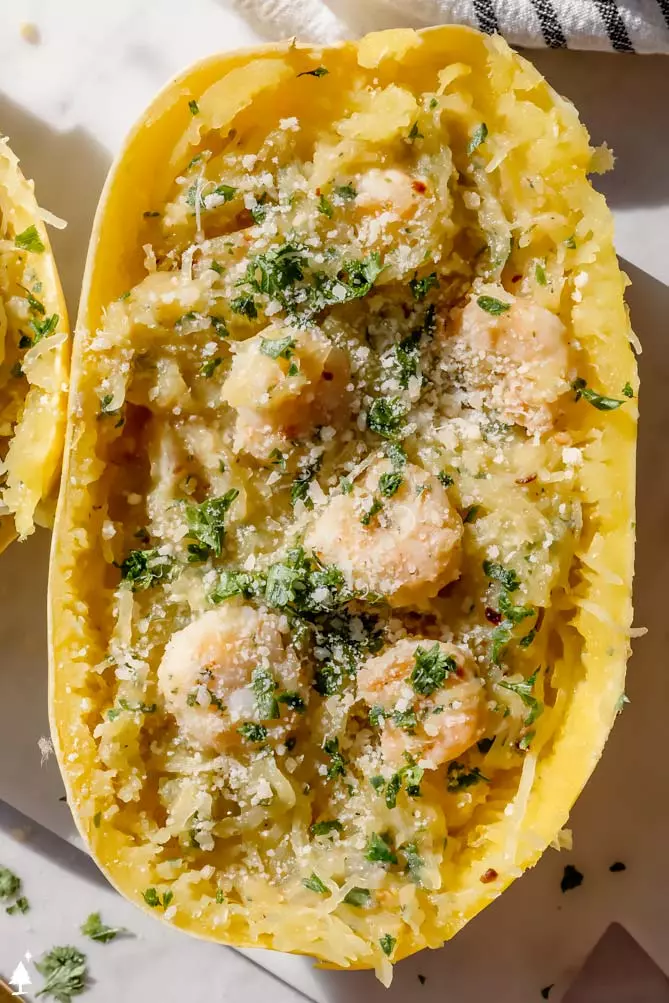 See how to make this Shrimp Scampi Spaghetti Squash on TikTok.
More Shrimp Recipes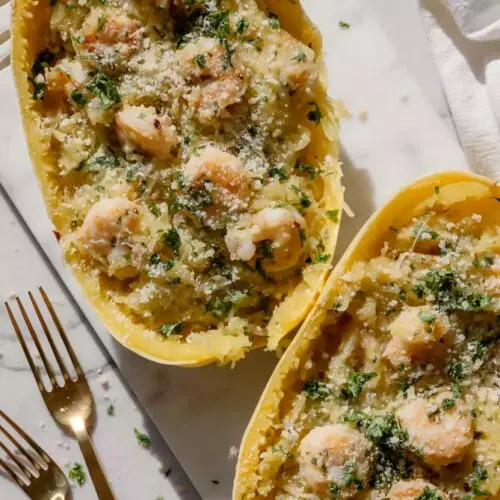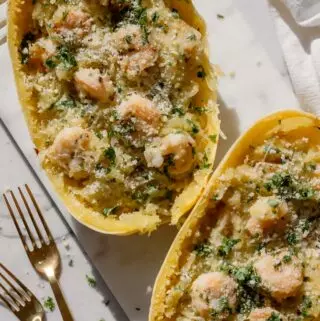 Shrimp Scampi Spaghetti Squash
Print Recipe
Pin Recipe
Ingredients
1

medium spaghetti squash

about 2 1/2 pounds

Kosher salt and freshly ground black pepper

1

pound

large shrimp

peeled + deveined, tails removed

1 1/2

teaspoon

Kosher salt

divided

1/2

teaspoon

black pepper

divided

6

tablespoons

unsalted butter

1

shallot

thinly sliced

4

cloves

garlic

minced

1

teaspoon

crushed red pepper flakes

1/4

cup

dry white wine

1/4

cup

fresh lemon juice

1/2

teaspoon

lemon zest

about 1/2 a lemon zested

1/4

cup

fresh parsley

chopped

Freshly grated Parmesan

grated
Instructions
To bake the spaghetti squash: Preheat oven to 400 F. Option to line a rimmed baking sheet with parchment paper. Cut the squash in half lengthwise with a sharp knife — if you're having trouble getting through the stem, you can slice that off. Place the squash cut side down on your prepared baking sheet and bake in the preheated oven until the flesh is tender enough to flake with a fork, about 30 minutes. (Psst–overcooking the squash can make this dish mushy, we like our spaghetti squash slightly al dente). Scoop the seeds out with a spoon and discard. Then shape the spaghetti using a fork.To microwave the squash: Pierce the flesh of the squash all over with a fork. Microwave on high for 5 minutes, flip and microwave the other side for another 5 minutes. Let the squash sit on the counter for at least 5 minutes before slicing in half, removing the seeds, and flaking the noodles.

Keep the spaghetti squash bowls on a plate and set aside. Keep spaghetti squash warm by placing foil over the top.

Melt 4 tablespoons of butter in a large skillet over medium heat. Add the shallot 1/2 teaspoon of salt and 1/4 teaspoon of pepper and saute until soft, about 3-4 minutes. Add the garlic and red pepper flakes and continue to cook until fragrant, about 2 minutes.

Add the shrimp and sprinkle with 1 teaspoon salt and 1/4 teaspoon pepper. Continue to cook until the shrimp are golden pink and cooked through, about 2 minutes per side.

Add the white wine, and scrape up any brown bits from the bottom of the pan. Add lemon juice, and lemon zest and simmer until slightly thickened. Remove from heat, and stir in 2 additional tablespoons of butter and parsley.

Add spaghetti squash to your pan and toss to coat in the sauce. Scoop into the squash boats, top with additional parsley, red pepper flakes, and parmesan, and enjoy!
Rate this Recipe
Fans Also Made These Low Carb Recipes:
Nutrition
Calories:
334
kcal
Total Carbohydrates:
22
g
Protein:
18
g
Fat:
20
g
Sodium:
1570
mg
Fiber:
4
g
Sugar:
8
g
Net Carbs:
18
g
©Little Pine Low Carb. Content and photographs are copyright protected. Sharing of this recipe is both encouraged and appreciated. Copying and/or pasting full recipes to any social media/website/blog is strictly prohibited.