Cheesy, garlicky, and so easy to make, this stuffed spaghetti squash is where health food meets comfort food, without any compromise. In under 30 minutes, this baked spaghetti squash will show you how easy it is to love pasta (again), while sneaking in an extra serving of veggies.
Is spaghetti squash healthy? Is it better for you than pasta?
Spaghetti squash is low in calories and carbs, yet high in fiber. It's a great pasta alternative for those reducing their carbs or who are gluten free or paleo. It's also an easy way to sneak in an extra serving of veggies.
How do You Cut and Bake Spaghetti Squash?
Slicing through the thick and firm spaghetti squash stem can be tricky. If you're struggling to get through it, here are a few tricks to make it easier:
Remove the stem. Remove the top of the squash, including the stem, then slice through the center.
Microwave first. Puncture your squash all over with a fork, then microwave for 5 minutes to soften. This will make the stem easier to slice through.
Skip the stem. Slice in half on one side of the stem, so you don't have to cut through the stem.
Once sliced, remove the seeds, the place the sliced squash cut side down on a baking sheet. Bake until your squash is easy to shred with a fork.
How to Make Stuffed Spaghetti Squash
The hardest step to making stuffed spaghetti squash is prepping your boats. After that, just mix, sprinkle and bake!
1. Mix your panko/pork rind and parmesan topping.
2. Combine the shredded squash with mozzarella and salt.
3. Stuff your squash boats with spaghetti squash.
4. Sprinkle with the topping.
5. Bake in preheated oven until the top is crispy and golden.
Baked Spaghetti Squash Pro Tips
Although spaghetti squash is easy to make, it's also easy to over/under cook when you're first getting started. Here's how to get perfect al dente noodles:
Should spaghetti squash be soft or crunchy? We prefer a slight crunchy vs. mushy–they'll hold up better in sauce, and give you more of a spaghetti-like experience. Al dente noodles are especially important if you plan to reheat leftovers.
How do you keep spaghetti squash from being mushy? When baking, check your squash frequently, and don't overcook it. Remove it from the oven when the squash is just soft enough to not taste like a raw vegetable. While you're waiting for the squash to cool, flip it so it's cut side up, otherwise the heat will continue to cook and soften your noodles.
Can you freeze stuffed spaghetti squash? You can, however, spaghetti squash is loaded with water. Reheating it from frozen is a sure way to achieve mushy spaghetti squash.
How to reheat stuffed spaghetti squash? I like to reheat this stuffed spaghetti squash in the oven to re-crisp the panko on top. You can reheat it in the microwave, but the topping won't be as crisp.
Substitutions + Tweaks
As delicious as this recipe is, there are plenty of ways to add your spin. From mixing in a little spice to adding protein. Here's how you can make stuffed spaghetti squash to your taste:
Amp up the herbs, think basil, or rosemary.
Add some (cooked) protein, such as shredded chicken, mozzarella stuffed meatballs, shrimp, ground turkey or sausage. Or keep this a veggie stuffed spaghetti squash and mix in some sauteed mushrooms.
Maybe a different cheese? Try white cheddar, pepper jack, or whatever you're feeling.
Mix in a little sauce – reduce the amount of cheese, and add some sauce, think spaghetti squash alfredo or try some keto spaghetti sauce.
Add some heat with red pepper flakes.
Looking for other noodle alternatives?
Spaghetti squash is my favorite veggie noodle, but there are loads of alternatives to try, all of which would work here. Check out my butternut squash noodles or zucchini noodles–if using either of these, you'll need a casserole dish and to reduce the bake time.
I wouldn't use shirataki noodles here, those are best in Asian inspired dishes.
More Pasta Alternatives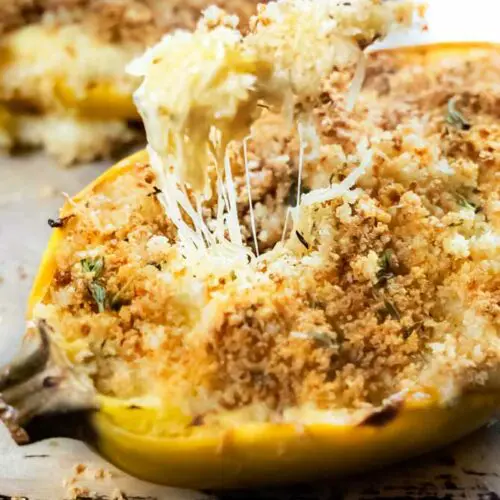 Stuffed Spaghetti Squash
Print Recipe
Pin Recipe
Ingredients
1

medium spaghetti squash

2 1/2 pounds

1

cup

Parmesan

grated

½

cup

panko or crushed pork rinds

3

cloves

garlic

minced

2

teaspoons

fresh thyme leaves

1

tablespoon

olive oil

1 1/2

teaspoons

Kosher salt

divided

1/2

teaspoon

black pepper

12

ounces

mozzarella

shredded. divided
Instructions
Preheat oven to 400 F. Option to line a baking sheet with parchment paper for easy cleanup.

Slice spaghetti squash in half (see tips below) and use a spoon to remove and discard the seeds. Place squash cut side down on prepared baking sheet and bake in preheated oven until the squash shreds easily with a fork, 35-45 minutes depending on the size of your squash (don't overcook, your noodles will become mushy!).

In a small bowl, combine the parmesan, panko, or crushed pork rinds, garlic, thyme, olive oil, 1/2 teaspoon of salt, and black pepper in a bowl. Set aside.

Once spaghetti squash is cool enough to handle, shred with a fork into spaghetti "noodles". Combine squash with the remaining 1 teaspoon of salt and mozzarella–you can do this in the spaghetti squash boats to save dishes, although I find it's easiest to do in a large bowl. Place squash back in the boats and flatten the top. Sprinkle with an even layer of the parmesan combo. Return boats to rimmed baking sheet and bake in the oven until the top is golden about 15-20 minutes.
Rate this Recipe
Fans Also Made These Low Carb Recipes:
Lindsey's Tips
Having trouble slicing the squash? You can either:

Microwave it. Keep the squash whole, poke it with a fork all over, and microwave on high for 5 minutes. Flip, and microwave on high again for 5 minutes. Allow it to sit and "steam" for 5 additional minutes before slicing.
Slice off the stem. Your boat wont be as pretty, but it will be easier to cut.
Microwave for 5, slice in half, then finish in the oven. Test your squash after 20 minutes to see if it's cooked enough.

Low carb/keto – use crushed pork rinds instead of panko. To crush the pork rinds, place them in a plastic bag, and seal the top. Hit the bag with a rolling pin until panko sized.
Nutrition
Calories:
329
kcal
Total Carbohydrates:
17
g
Protein:
20
g
Fat:
21
g
Sodium:
1268
mg
Fiber:
3
g
Sugar:
5
g
Net Carbs:
14
g
©Little Pine Low Carb. Content and photographs are copyright protected. Sharing of this recipe is both encouraged and appreciated. Copying and/or pasting full recipes to any social media/website/blog is strictly prohibited.