This spaghetti squash pad Thai is so good, you'll forget the traditional version is made with rice noodles. A delectable sauce, and juicy chicken, all complimented by crisp veggies and fresh herbs–it's one of my favorite ways to use spaghetti squash!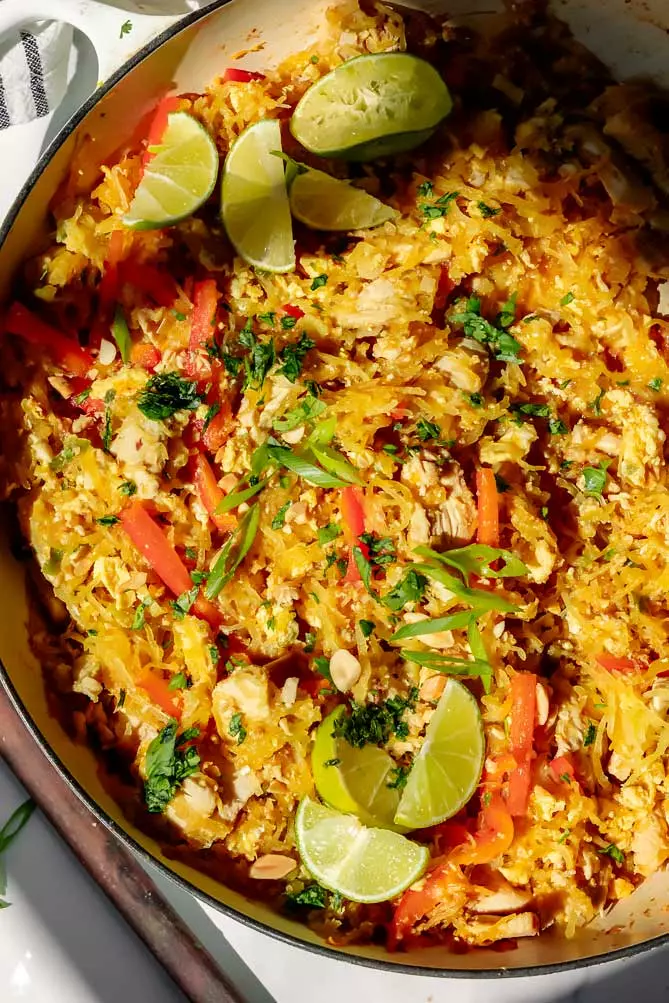 Ingredients You'll Need
All you need are your typical pad Thai ingredients, plus a spaghetti squash. Feel free to tweak this recipe based on your personal taste and preference, see our favorite ways to do this below!
The sauce: Lime juice, fish sauce, soy sauce, sriracha, and brown sugar. If you're looking for a keto pad Thai, feel free to sub in your favorite sweetener substitute. Whisk until the sugar has fully dissolved.
The veggies + herbs: Garlic, green onions (a lot!), spaghetti squash, and cilantro. The fresh herbs make all the difference in flavor, so don't skip them.
The meat + eggs: Thinly sliced chicken breast and eggs. I find that chicken is easiest to slice by placing it in the freezer for 10 minutes, then using a really sharp knife.
Recipe Variations
We love this spaghetti squash pad Thai as is, but it's also easy to tweak! Here's how you can add your spin:
Try different noodles: If you're making keto Thai food, consider zucchini noodles, cucumber noodles, or shirataki noodles. If you're eating gluten free, try butternut squash noodles or almond flour pasta.
Go veggie by skipping the chicken. You can also sub in shrimp here.
Add more veggies, might as well right? Shaved carrots, shredded cabbage, anything goes!
Change up the sauce. This one is easy to make sweeter, spicier, and saltier, whatever you're craving, just mix in a few more dashes.
How to Cook Spaghetti Squash
If you haven't cooked with spaghetti squash much, I'm so, SO excited for you. It's subtle taste a pasta-like texture make it an incredible substitute in so many recipes. Plus, it's easy to work with. Here are my 2 favorite methods for getting your spaghetti ready to rumble:
In the oven: Slice squash in half and place cut side down on a baking sheet. Bake at 400 F for 30 minutes, or until the spaghetti squash is subtle enough to flake into strands with a fork.
In the microwave: Honestly, my favorite way to make spaghetti squash, because it doesn't heat up the whole house! Simply pierce your squash all over with a fork and microwave on high for 5 minutes. Flip the squash with oven mitts and repeat on the other side. Allow your squash to cool for 5 minutes (it'll continue to soften), then slice in half, remove the seeds, and keep going!
How to Make Spaghetti Squash Pad Thai
Now that you have your squash prepped, the rest is easy! Here's how to make spaghetti squash pad Thai in a few simple steps:
Whisk together your sauce.
Cook chicken.
Cook eggs, garlic, and scallions.
Add the spaghetti squash, chicken, and sauce back to the pan, and cook everything together until well combined and heated through.
See how to make this Spaghetti Squash Pad Thai on TikTok.
More Spaghetti Squash Recipes
Reader Interactions