It's that time of year:
Flowers are blooming, birds are singing, and… dun dun dun… it's time to bring out the shorts.
Which always seems to come too soon after a long, comfort food eating and sunless winter. Amirite?!
Unfortunately, we're just going to have to brave baring our colorless legs until some pigment back comes back…
However, I've got just the idea for that comfort food eating streak we've all been on. Salads. Yummy, delicious, goody filled salads.
Because guess what friends, it's salad season. And I'm kicking it off with this epic strawberry salad.
It may be simple, it may be healthy, but it sure is delicious!
This year, you're ready to step up your salad game. No more mayo drenched pasta salads or mundane strawberry fruit salads coming from your kitchen…
Not you. You're better than that.
Which is why you're gonna treat your crew with this strawberry walnut salad recipe at Friday night's BBQ.
They'll scoff at the other options after one glance at this vibrantly colored, nutrient packed option.
In this bowl of magic, we have quite the fusion of flavors. A lot of sweet, a little savory, a hint of tang, topped with a nice crunch.
Not to mention the nutrient density of each and every ingredient used in this powerful little bowl of salad perfection! Here are a few of the reasons your body will thank you for eating a bowl of this:
Strawberries
Strawberries are bomb diggity. Delicious on their own, yet make for a great addition to almost any dish.
Plus, they're fantastically healthy… I mean there's a reason this fruit is shaped like a heart!
Research suggests that "consuming 1 cup of strawberries may help improve heart health by reducing total cholesterol levels and lowering blood pressure, reduce the risk of some cancers, have anti-inflammatory effects and support cognitive function" (source).
They also happen to be "among the top 20 fruits in antioxidant capacity". In fact, one serving (8 strawberries) supplies more Vitamin C than an orange! (source).
Save Your Favorite Recipes!
Create an account and save all your favorite recipes for easy access!
How lucky are we that a fruit this delicious also happens to be super healthy?
PS did you know strawberries aren't berries rather the receptacle of a flower?! (source)
Walnuts
Walnuts are a delicious yet often forgotten nut. They typically only make an appearance in the occasional loaf of sweet bread…
…However, they're subtle taste and texture make them a great ingredient to add to all sorts of dishes. And they're ridiculously health!
Walnuts are the only nuts that contain high amounts of omega-3 fatty acids…
…"which promote heart health and help lower blood pressure. You'll get 2.5 grams of ALA [a type of omega-3 fatty acids] per ounce of walnuts, but you don't need a whole ounce to get results; eating even a few walnuts per day has been found to have health benefits" (source).
Omega 3's need to be consumed from food, because unlike other fats, our bodies are unable to produce them from scratch (find out more here).
They've been shown to have beneficial effects on brain function (source), "help prevent heart disease and stroke, may help control lupus, eczema, and rheumatoid arthritis, and may play protective roles in cancer and other conditions" (source).
In addition to being an awesome source of healthy fats, Dr. Oz states that walnuts have been shown to reduce stress.
Salads like this are the perfect way to sneak a serving of walnuts into your diet.
To increase the flavor of walnuts, try roasting them in a pan or in the oven with a little salt… mmmm!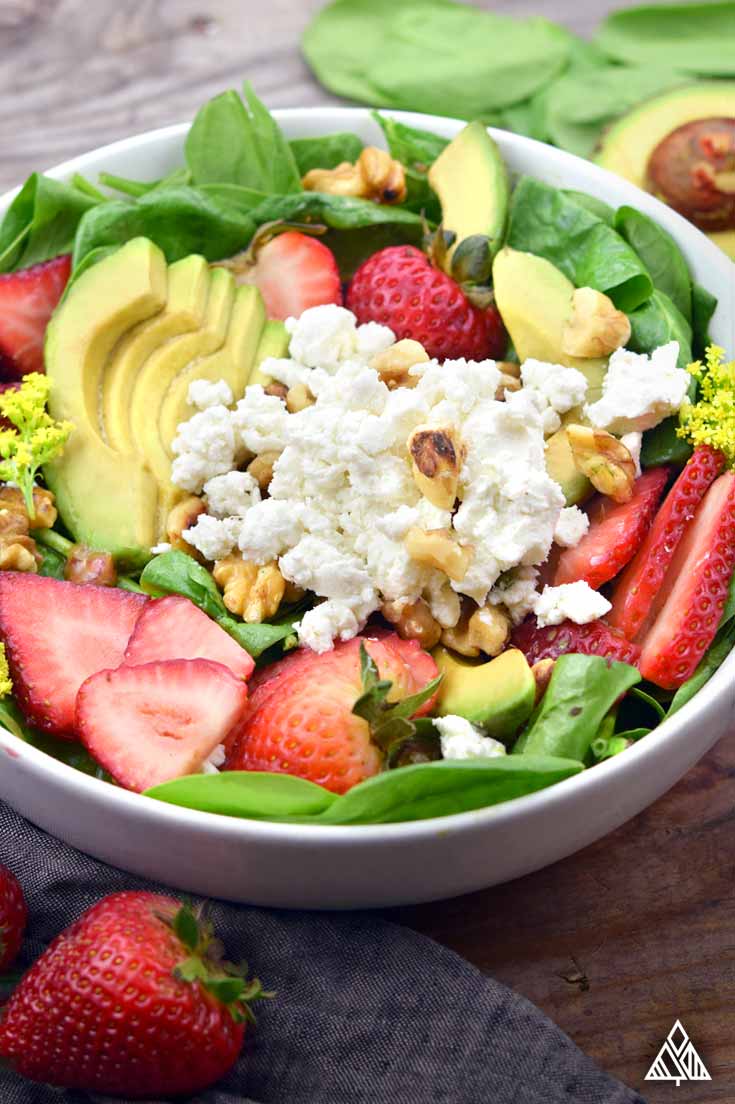 Avocados
This green fruit provides nearly 20 vitamins, minerals and phytonutrients.
It's high in fat and fiber, yet low in sugar. They make for the perfect addition to any salad, smoothie or sauce. And mannnnn are they tasty or what!?
Avocados are "'nutrient booster", enabling our bodies to absorb more fat-soluble nutrients, like vitamins A, D, E and K, in foods that we eat with the fruit" (source). 
They contains a phytochemical called beta-sitosterol, which "can help prevent cholesterol from being absorbed from the digestive tract (although there's no proof yet that it lowers the risk of coronary heart disease)" (source).
The National Health and Nutrient Examination Board found avocado consumption to be associated with better diet quality, nutrient intake and reduced risk of metabolic syndrome.
The coolest bit about avocados is you can easily grow your own avocado tree using a glass of water, some tooth picks and the pit of your used avocado.
Yes, it can take anywhere from 5-13 years for this gem to bear fruit. However, they'll add some awesome foliage to your yard in the interim!
Now as far as the dressing goes…
We all know the key to salad perfection is a good dressing. And this strawberry salad balsamic is one of the best salad dressing I've stumbled upon.
It's so tasty, it's become my go-to dressing for just about every salad I make!
I pulled it from The Lemonade Cookbook. Ummmm have you ever been to a Lemonade restaurant before?!
It's an amazing chain that caters to the healthy food loving community. All their recipes are seasonal and focus on fun and interesting ways to incorporate your veggies.
Their cookbook also happens to be full of incredible recipes that are pretty easy to make! Check it out here.
I love making this salad for my weekly meal prep.
I toss all the salad ingredients together in a large bowl, add some grilled chicken and divvy this combo up into individual containers. Then I use smaller containers to individual pack the dressing (a small ziplock baggie works perfectly). Place it all in the fridge and lunch is ready when you are!
I find salads like this that aren't full of liquidy veggies (like tomatoes) make for a super easy meal prep.
Hope you enjoy this berry delicious (sorry I had to) strawberry salad as much as I do!
Strawberry Salad
Author:
Ingredients
*Salad
6 Cups Spinach (or more if you prefer)
1 Avocado, cubed
1 Cup Strawberries, cubed
1/4 Cup Goat Cheese
1/4 Cup Walnuts, chopped (I roasted mine to bring out the flavor)
*Dressing
1 Small Shallot, minced (Mine came out to about 1/4 Cup + 1/8 Cup once minced)
2 Tablespoons Honey
3 Tablespoons Sherry Vinegar
2 Tablespoons Balsamic
3 Tablespoons Extra Virgin Olive Oil
1/4 Cup Canola Oil
1 Teaspoon Coarse Salt
1/2 Teaspoon Black Pepper
Instructions
Add all salad ingredients to a bowl.
Add all dress ingredients to a bottle with a lid. Secure the top and shake vigorously.
Dress the salad and enjoy!