For a quick and easy side dish that's packed with nutrients, give this baked asparagus a whirl. They're slightly sweet and tender with delicious caramelized edges, and make a great accompaniment to any protein. Here's how to cook asparagus in the oven, and everything else you need to know.
Roasted Asparagus Ingredients
Oven roasted asparagus doesn't need much to be delicious; a simple drizzle of oil, salt, and pepper is all we typically use. But it's also easy to jazz if that's what you prefer. Think:
Lemon juice
Freshly grated parmesan
Minced garlic
Crushed red pepper flakes
How to Trim Asparagus
There are two ways to trim asparagus, I find it easiest to do by hand (option 2), as the asparagus will naturally break right where the asparagus becomes tough. Use whatever method works best for you:
Slice: Place asparagus on a cutting board and slice where the green meets the white portion, about 1 1/2″ from the bottom.
Snap: Grab asparagus in the center with one hand, and at the end with the other. Break and the asparagus will naturally separate.
How to Cook Asparagus in the Oven
Oven roasted asparagus is quick and easy to make. Here's how to cook asparagus in the oven and some important tips to keep in mind:
Wash and completely dry the asparagus, this will allow the edges to caramelize. Like other roasted veggies (such as roasted broccoli), damp asparagus will steam instead of roast.
Toss in oil and seasoning: Make sure the tips are lightly coated in oil, so they don't burn. Then sprinkle with seasoning.
Spread into a single layer on a rimmed baking sheet, making sure not to overcrowd the veggies–again this will steam rather than roast.
Roast at a high temp: this is how you'll achieve the perfect baked asparagus texture.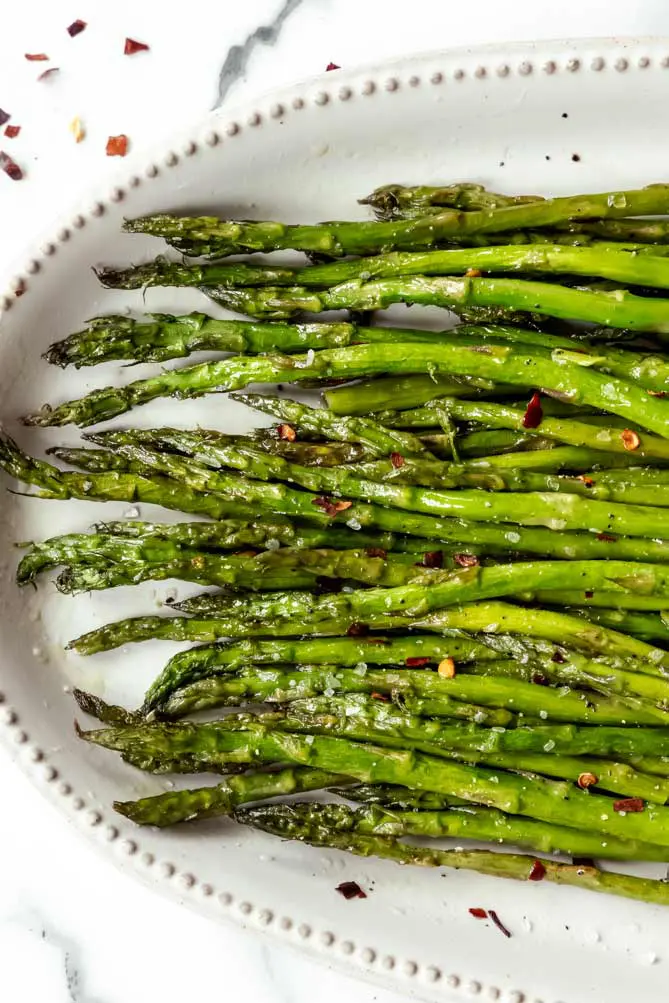 What to Serve with Baked Asparagus
Baked asparagus goes so well with any grilled, baked, or seared protein. We love it as a side to beef, chicken, lamb, pork, and fish. Think baked salmon or sous vide pork tenderloin.
How to Store Oven Roasted Asparagus
Asparagus has the best taste and texture right after baking. If you do have leftovers, here's how to make the most of them:
Store: in an airtight container in the fridge, I love a large resealable bag for this.
Reheat: in the oven on a sheet pan. You can also reheat them in the microwave, however, they'll lose some of their beloved caramelization.
To freeze? I don't recommend freezing oven roasted asparagus, as they'll get spongy when defrosted.
More Ways to Love Your Leftovers…
Think beyond reheating, roasted asparagus can be diced up and thrown into all sorts of delicious recipes. Think:
Eggs, such as scrambles, omelets, crustless quiche, or frittata.
Salads, any and all of them.
Or a bowl of grains with feta and a lemon dressing. I love doing this with a myriad of veggies, like roasted butternut squash and roasted cauliflower.
Sandwiches, burgers, anything that can use a bit of sweetness from these roasted vegetables.
More Roasted Veggies
Reader Interactions