Sometimes, the most satiating food to help curb your cravings is a handful of crispy, crunchy, salty and buttery keto crackers!
Which is why I LOVE this recipe so much. It's a serious reminder that keto crackers are every bit as tasty (if not tastier) than regular crackers. Top them with sliced deli meat for on-the-go low carb lunches, or serve them with your favorite low carb appetizers to get any party started!
No matter how you eat these crunchy treats, I know you're gonna love them! So turn on that oven and let's make some keto rosemary crackers!
[no_toc]

How to Make Keto Crackers
I wanted to make this keto crackers recipe as EASY as possible, because when a craving strikes, the last thing you need is to be working in the kitchen!
We'll be using a few keto foods staples in this recipe (swap recommendations below):
Cheese

, I used mozzarella to keep the color of these keto chips "light"

Almond flour
Egg
Salt
Rosemary
And here's how we'll make them:
1. Place ingredients in a food processor.
"Pulse" ingredients a few times, to chop/incorporate everything. Then, we'll leave the processor on until a ball of keto crackers dough forms.
You'll want to scrape down the side of the food processor halfway through to ensure all the ingredients incorporate together!
2. Roll the dough fathead crackers between 2 sheets of parchment paper.
As with most low carb recipes, we'll be rolling the fathead crackers dough between 2 sheets of parchment paper.
This is lieu of "flouring" our workspace, which is used in regular baking to prevent the dough from sticking to the surface. Since wheat flour isn't one of our low carb flours, we'll save ourselves some carbs by simply using 2 sheets of parchment paper in its place!
Roll the keto crackers dough into a thin and even layer — too thick and your crackers won't crisp, too thin and they can burn easily. I find ¼" to be the happy medium.
3. Cut your dough.
Have some fun with this step! I used a pizza cutter to make squares in my keto crackers dough. You can also use a ravioli cutter, or small cookie cutters.
4. Bake, then flip and bake again.
After baking our keto crackers, the cheese will gently melt the ingredients back together — making them easier to flip. I flip the crackers by using 2 spatulas. This allows the other side to brown equally.
* I received a few questions after my last crackers recipe about keto crackers dehydrator style. I prefer not to use the dehydrator for this recipe, as I find the cheese tastes best after it has melted and crisped in the oven.
5. Turn the oven off and leave your keto crackers in! (the ultimate trip to crispy keto crackers).
At this point, your keto crackers should be browned along the edges.
Feel free to pull them out here, or turn off your oven and allow your keto crackers to crisp in the oven while it cools, about 10 minutes. The trick here is to leave the oven door closed (opening it will release the heat).
Save Your Favorite Recipes!
Create an account and save all your favorite recipes for easy access!
Low Carb Crackers Variations
Since there are so few ingredients in these low carb crackers, there are only a few items to swap. Here are a few:
Swap the cheese.

Cheddar is delicious, pepper jack is nice if you'd like some spice! Stick with a meltable cheese —

cheese like feta won't form into crackers.

Try different herbs.

Skip rosemary if you'd prefer plain butter crackers. Add garlic, maybe paprika and cumin?

Substitute almond flour for almond meal.

Keep in mind almond meal will add brown flecks of almond skin to these keto crackers,

but if it's what you have

, toss it in!

Skip the egg.

Not quite vegan keto crackers

(we're still using cheese),

but you can make keto crackers recipe flax by skipping the egg and making a

flax egg

.
Storing Your Cheese Chips
I store these cheese chips in an airtight container in the fridge. This helps them to stay crisp and fresh. If they lose a bit of their crispiness, pop them back in the oven for a few minutes before eating.
How To Eat These Almond Flour Crackers
There are plenty of tasty low carb foods to serve these almond flour crackers with! Here are a few of my favorites…
Low carb lunch ideas — pack these keto crackers up with some:
Sliced turkey and cheese

Salami or pepperoni
Keto appetizers — serve them alongside:
How to Calculate a Serving of This Gluten Free Cracker Recipe
It can be hard to calculate the nutritional information for this gluten free cracker recipe, as everyone will roll and cut their dough differently.
I was able to make 45, 1 ½" square crackers using this recipe, which were about ¼" thick. Which means the nutritional information below is based on 5 crackers.
I suggest you cut the dough, and count the number of crackers you're able to make. Divide that by 9, then you'll have the number of crackers per serving based on the keto crackers nutritional information below!
Are These Paleo Crackers?
For those of you sticking to a paleo AND low carb meal plan, I'm sorry to say these crackers aren't for you. However, I LOVE this paleo crackers recipe — it uses keto nuts and seeds only, making this this keto seed crackers recipe dairy free!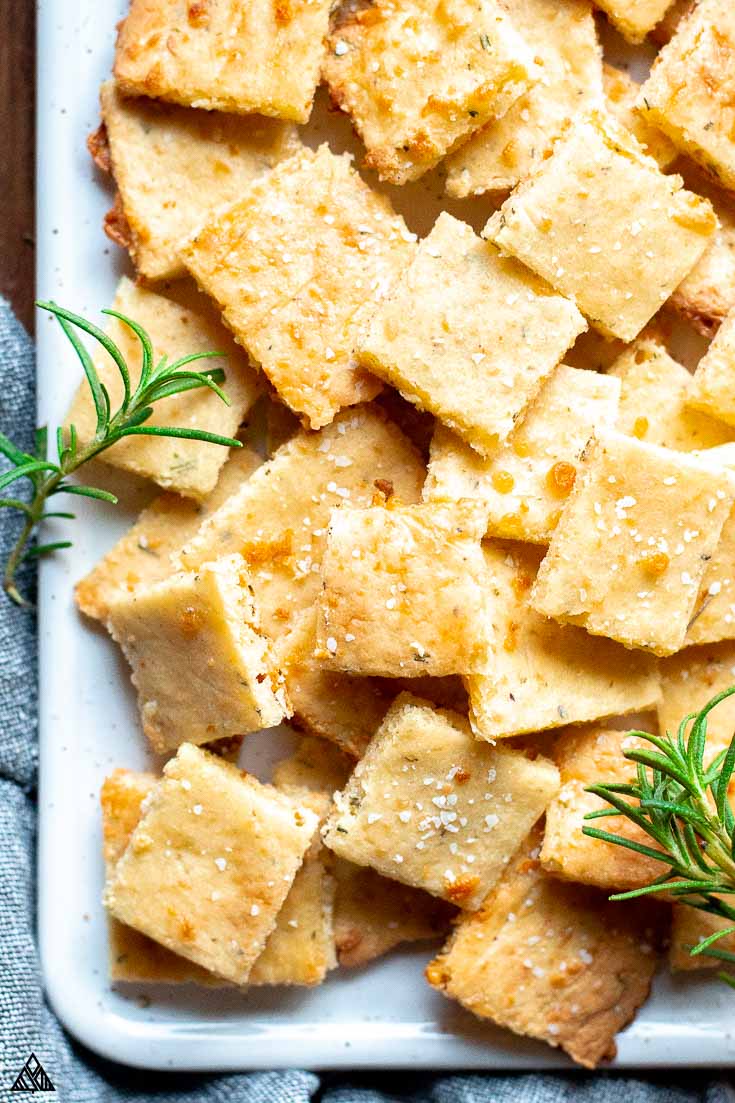 Looking For More Low Carb Chips?
I love chips, especially low carb chips. And I know a lot of you do too! In fact, they're the #1 craving you guys have shared with me (over desserts, I couldn't believe it!). If you're' looking for more ways to satiate your cravings, check out these recipes:
Keto Crackers Recipe
Without further ado, here is your new favorite keto crackers recipe! Hope you love 'em as much as we do! Let me know your thoughts in the comments below!
Super Buttery Keto Crackers
This super easy, low carb and keto crackers recipe is the perfect way to satiate your salty, crunchy, cheese cravings!
Servings:
9
*see notes below
Ingredients
2

Cups

Meltable Cheese

shredded. I use mozzarella, cheddar and jack would both be delicious

1

Cup

Almond Flour

1

Egg

1/2

Teaspoon

Salt

1

Teaspoon

Rosemary

fresh, optional
Instructions
Preheat oven to 350.

Place all ingredients in a food processor and "pulse" 20 times.

Press "on", and allow the ingredients to continue combining until they form into a ball.

Remove the dough from the food processor using a rubber spatula and place it on a sheet of parchment paper.

Place a second sheet of parchment over the dough.

Use a rolling pin to roll the dough into a thing and even layer about ¼ - ⅛" thick — the thinner the dough the crunchier the cracker.

Use a pizza cutter to cut straight and evenly spaced lines in the dough. Rotate the parchment paper 90 degrees and add straight lines going perpendicular to your existing lines. The cleanest way to do this is to clean off your pizza cutter between each slice (I use a damp paper towel).

Place cut crackers on a baking sheet (with the parchment still underneath) and bake in the oven for 12-14 minutes, or until the edges start to crisp up and lightly brown

Remove from the oven and allow them to cool for a few minutes, until you can handle the crackers with your hands.

Use a spatula to carefully flip you dough (it should be in one piece).

Place it in the oven for another 4-6 minutes, until this side crisps up as well.

Once your crackers have reached your desired "doneness", remove them from the oven, and allow them to cool slightly. Then use the pizza cutter to cut them along your perforated edge.

Serve with dip or sliced deli meat and enjoy!
Notes
* The servings will vary depending on the size you cut your crackers

, and how thin you roll your dough. Using this recipe I was able to make 45 crackers that were roughly 1.5" square.

This would make a serving size = 5 crackers.
You can swap the rosemary with whatever herb you're craving.
For
plain crackers
, skip the herbs all together.
Nutrition
Calories:
152
kcal
|
Carbohydrates:
3
g
|
Protein:
8
g
|
Fat:
12
g
|
Saturated Fat:
3
g
|
Cholesterol:
37
mg
|
Sodium:
292
mg
|
Potassium:
25
mg
|
Fiber:
1
g
|
Sugar:
0
g
|
Vitamin A:
195
IU
|
Calcium:
155
mg
|
Iron:
0.7
mg
©Little Pine Low Carb. Content and photographs are copyright protected. Sharing of this recipe is both encouraged and appreciated. Copying and/or pasting full recipes to any social media/website/blod is strictly prohibited.
Keto Crackers Store Bought
Wouldn't it be easier if you could grab a box of keto crackers whole foods sells? I have yet to find any store bought version of this keto crackers recipe almond flour, but will keep you posted!
Reader Interactions