Homemade sugar free chocolate chips are life!!
A long long time ago, I bought a bag of sugar free chocolate chips. When all was said and done, they ended up costing me around $9! So, I decided to pull out the low carb shopping list and try making my own. This ended up saving me tons of dough, plus, they taste even better!
So now I have no problem adding sugar free chocolate chips to all sorts of low carb recipes — I even weave them into my low carb snacks!
If you're on board with saving money and rewarding your taste buds, then let's do this!
[no_toc]
How to Make Sugar Free Chocolate Chips
These sugar free chocolate chips are SO easy to throw together — it's a melt and pour kinda recipe. Here are some tips to make your chocolate making nice and easy:
Pst, this is a variation of my low carb chocolate recipe, so if you've tried that then you know what's in store!
Set up your double boiler.
1. Use a double boiler, or a pot of boiling water with a heat safe bowl nestled on top.

2. You'll want to melt ingredients together in stages — starting with the solid ingredients: cocoa butter and unsweetened baking chocolate. The easiest way to melt these together is to break them into smaller chunks.

3. We'll then add erythritol and salt — adding these ingredients into the mix while our sugar free chocolate chips are still over the double boiler allows them to dissolve more easily.
4. Remove the sugar free chocolate chips from the heat add stir in the vanilla.
Pour the sugar free chocolate chips into a mold.
Now, you have some decisions to make about your sugar free chocolate chips. Here are the two ways you can make them, with my opinion on each option:
1. Buy a sugar free chocolate chips mold on Amazon.
This is what I did to achieve the consistent shape and size of my sugar free chocolate chips. I much prefer this method as I have ZERO pastry bag skills…
If you're making your sugar free chocolate chips this way, place your molds (here's the one I used) on a baking sheet so they're easier to move without spilling. Then pour your melted sugar free chocolate chips into the molds and use a flat edge to scrape them into each hole.
Before allowing your chocolate chips to harden, be sure to gently tap the molds on the counter to get any air bubbles out of your low carb chips.
2. Use a pastry bags to create your chocolate chips.
Or, use a pastry bag or a resealable Ziploc by simply pouring the melted sugar free chocolate chips into your bag, and cutting a very small tip off the corner. Line a baking sheet with parchment paper and slowly pinch little dots out of your baggie.
I find this method to be pretty tedious, and I have a hard time making the chips look pretty! However, you won't have to buy the mold!
Allow your chocolate chips to harden.
Place your baking sheet of chocolate chips into your fridge or freezer until they've hardened and slide out of the molds easily.
Storing Your Low Carb Chocolate
I store this low carb chocolate in an airtight container in the fridge or freezer. These chocolate chips don't contain the same additives as store bought products, so they may melt more easily.
Adding this Keto Chocolate to Recipes
This keto chocolate is the perfect addition to all sorts of low carb dessert recipes! Try adding it to some these keto recipes more a major upgrade:
Keto Chocolate Chips Snack Ideas
I use these keto chocolate chips all the time in my low carb snacks! Here are some ideas to get your mouth watering:
Low Carb Chocolate Chips Recipe Variations
As with most low carb dessert recipes, you can customize these low carb chocolate chips to suit your cravings. Here are some ideas:
Low Carb Dark Chocolate Chips
The "darkness" of your low carb dark chocolate depends on the amount of unsweetened baking chocolate you add to this recipe. So, if you'd rather dark chocolate chips, add more unsweetened baking chocolate.
Alternatively, if you're looking for milk chocolate chips, add less unsweetened baking chocolate. In fact, you can make…
Sugar Free White Chocolate Chips
White chocolate is pretty similar to this recipe without the unsweetened baking chocolate, plus the inclusion of some heavy cream powder. Follow my sugar free white chocolate recipe, and pour it into chocolate chip molds!
What about low carb chocolate bars?
Your melted sugar free chocolate chips can be poured directly into molds for low carb chocolate bars, or sugar free chocolate drops instead! Top them with all sorts of tasty low carb foods for delicious low carb dessert ideas.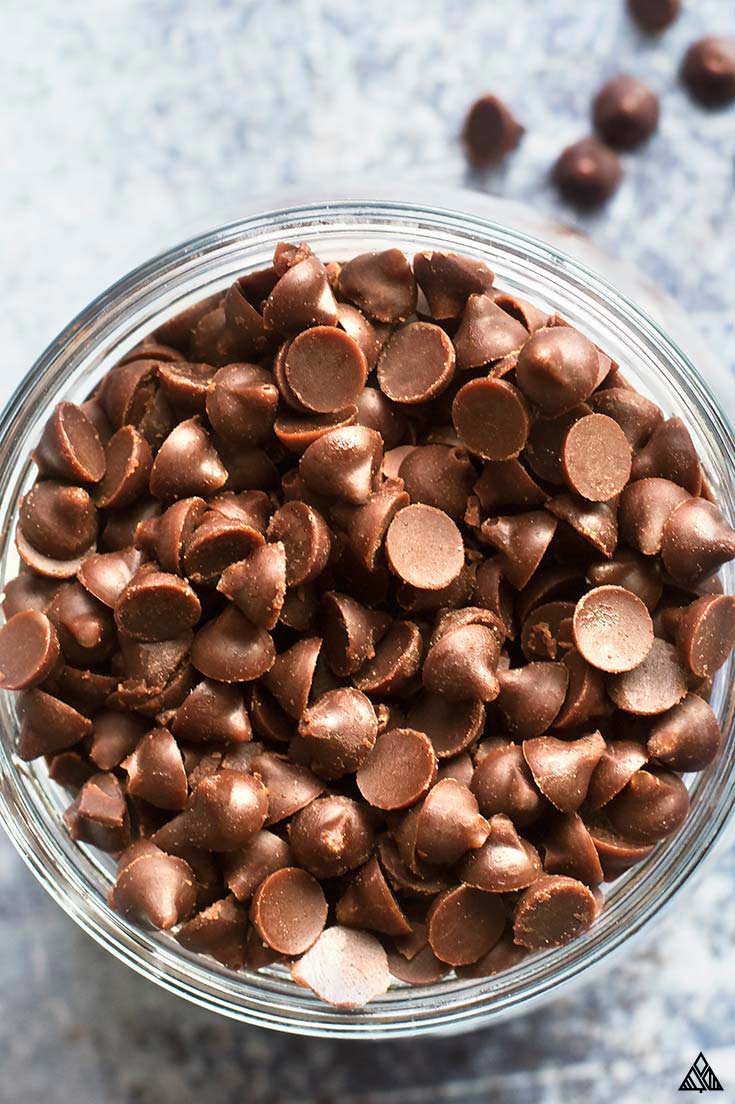 Store Bought Stevia Sweetened Chocolate Chips
To save yourself some time, you can totally buy the sugar free chocolate chips Target sells!
The only product I've seen there is Hershey's sugar free chocolate chips keto (aka sugar free chocolate chips HEB), which are sweetened with malitol (same with the King Arthur sugar free chocolate chips). Fair warning, this sugar alcohol may have an effect on your digestive system!
The sugar free chocolate chips Whole Foods sells are the same ones I purchased on Amazon. These are stevia sweetened chocolate chips and they're very popular in the low carb community!
Sugar Free Chocolate Chips Recipe
Without further ado, here is the highly requested recipe for sugar free chocolate chips! I hope you enjoy! Let me know what recipes or snacks you add them to in the comments below!
Sugar Free Chocolate Chips
This recipe for keto sugar free chocolate chips is exactly what your low carb desserts need! Add them to your cookies, brownies, pancakes, or beyond!
Instructions
Use a double boiler to melt the cocoa butter and baking chocolate.

Stir these ingredients together until they're fully melted and combined.

Add the erythritol and salt, and stir until they're incorporated.

Remove from heat and stir in the vanilla.

Pour the melted chocolate into your chocolate chip mold and place it in the fridge. Alternatively, you can pour the melted chocolate into a pastry bag and cut a small hole in the tip, then line a baking sheet with parchment paper and create chips.

The chocolate chips will set in about an hour in the fridge, but you can always place them in the freezer if you're craving them sooner. Enjoy!
Notes
The nutritional information below is based on 1 serving for the entire recipe. I know you wont eat the whole recipe as a serving, but sharing the macros this way is easiest for you to calculate the nutritional information based on your preferred serving size. This is because everyone will yield a different number of "chips" based on the method you use to create them, or the mold you use.
To calculate the nutritional information for your chips, divide the macros below by the number of servings you create with your version, and viola!
*Cacao vs cocoa butter are 2 different forms of creating butter from cacao beans -- cacao is cold pressed, whereas cocoa is heated. Both will work in this recipe.
Nutrition
Calories:
295
kcal
|
Carbohydrates:
9
g
|
Protein:
5
g
|
Fat:
14
g
|
Saturated Fat:
9
g
|
Cholesterol:
0
mg
|
Sodium:
7
mg
|
Potassium:
235
mg
|
Fiber:
4
g
|
Sugar:
1
g
|
Calcium:
29
mg
|
Iron:
4.9
mg
©Little Pine Low Carb. Content and photographs are copyright protected. Sharing of this recipe is both encouraged and appreciated. Copying and/or pasting full recipes to any social media/website/blod is strictly prohibited.
Reader Interactions