Pumpkin, Coconut Milk & Ginger… Oh my!
A delectable combination of ingredients that will make your taste buds sing!
They also happen to be the perfect fixings for many of your favorite fall recipes.
This soup is the bomb diggity (yes, I still use this phrase in situations like this). Not only because of how incredible it tastes, but also because it happens to be one of the easiest recipes in my arsenal!
I am talking… open, pour, stir, serve. My kind of cooking!
So when you're looking for something extremely easy and delicious, here's your recipe 🙂
I put together this recipe one chilly Saturday afternoon. I was feeling particularly giddy about the frigid fall air and dramatically vibrant leaves.
Once the leaves start changing colors it's pumpkin time in my house!
I slapped a can of pumpkin puree on the counter and got to thinking about all the creative things I could make with it!
I was starving and needed to eat a substantial meal as quickly as possible.
So I reached into my pantry and grabbed my favorite ingredient when whipping up a hearty vegan/vegetarian/paleo friendly (come on now, could you ask for anything more?!) meal… Coconut milk.
Coconut milk is extremely rich in flavor and body. Not to mention it has the most incredible taste! Literally, whenever I cook with coconut milk I am tempted to "sneak snack" it straight from the can.
It leaves you feeling satiated and well nourished because of its nutritional makeup.
It's jam packed with nutrients and healthy fats. In fact, 50% of the fat found in coconuts is Lauric Acid, making it one of the top food based sources of Lauric Acid. (source)
Because of this, your body gets the nutrients it needs to stay full longer. Adding this ingredient to a soup, sauce, or sauté turns a side dish into a meal.
Can you tell I love coconut milk?!
Don't be fooled by the "light" coconut milk, I would never mess around with that stuff! Go for the full fat, it tastes significantly better and it satiates you.
So if you're feeling as giddy about fall as I am, make this soup 🙂
My ideal Saturday this time of year? Snuggled up on the couch, watching Hocus Pocus, in my favorite sweat pants (that I've owned since high school) enjoying a nice bowl of pumpkin soup with coconut milk and ginger.
Save Your Favorite Recipes!
Create an account and save all your favorite recipes for easy access!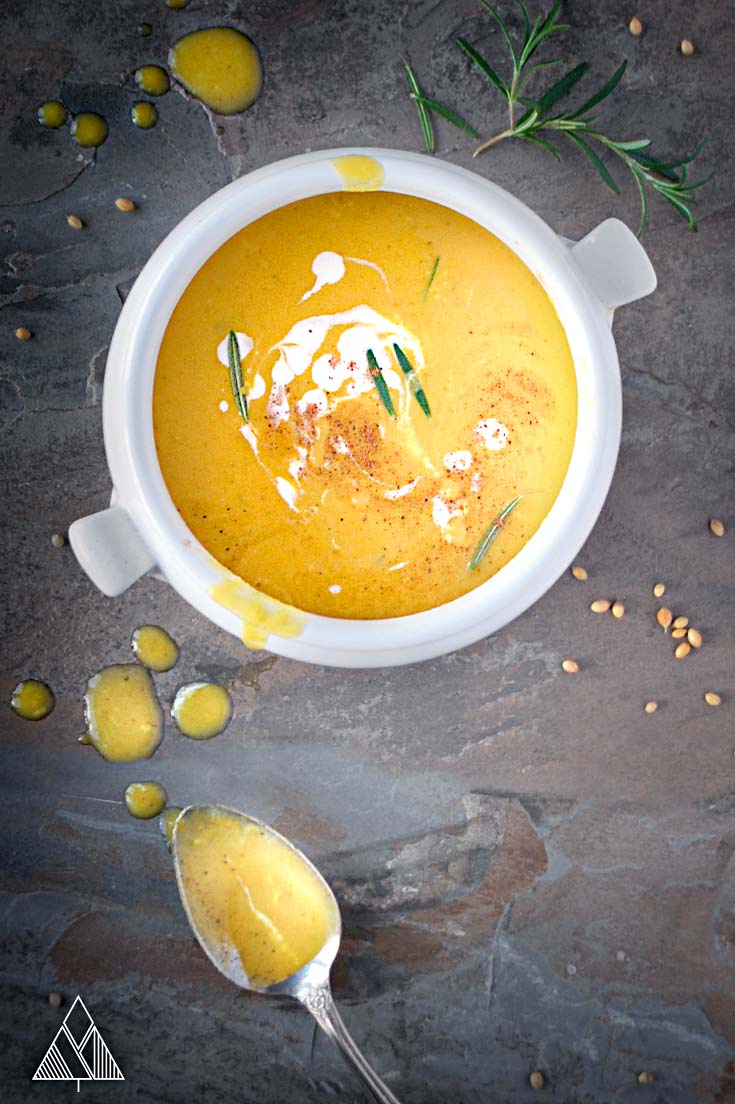 Pumpkin Soup
Pumpkin Soup with Coconut Milk & Ginger
Author:
Ingredients
1 15 ounce can of [url href="https://www.thelittlepine.com/go/pumpkin-puree"]Pumpkin Puree[/url]
2 cups or Chicken/[url href="https://www.thelittlepine.com/go/vegetable-broth"]Vegetable Broth[/url]
1 15 ounce can of [url href="https://www.thelittlepine.com/go/coconut-milk"]Coconut Milk[/url]
2 Tablespoons of Fresh Grated Ginger
1 Tablespoon of [url href="https://www.thelittlepine.com/go/olive-oil"]Olive Oil[/url]
1/2 Tablespoon of [url href="https://www.thelittlepine.com/go/cumin"]Cumin[/url]
2 Tablespoons [url href="https://www.thelittlepine.com/go/curry-powder"]Curry Powder[/url]
Salt & Pepper to Taste
Cilantro for garnish
Instructions
In a medium sized sauce pan heat the olive oil. Add the cumin and curry powder and roast for 1 minute. (You can skip this step, however I think roasting the spices adds a nice flavor :))
Add all other ingredients to the pan.
Stir, combine, and heat to desired temperature.
Serve with chopped cilantro on top and enjoy!