Pancakes make the world go round.
Seriously. Amirite???
A breakfast classic, pre-work fav, Sunday brunch staple. Really there's no such thing as a bad time for pancakes.
Unless you don't eat grains and are looking for something healthy…
Then it might be a bad time for classic American pancakes.
Which is why we whipped up something extra special to share with you. These 3 ingredient, paleo, grain fee pancakes will wow your socks off.
Light, fluffy, ultra delicious and completely guilt free!
Give these pancakes a try and you won't miss the good fashion kind.
Are you as excited as we are about these?!
I mean seriously… who wouldda thought that transitioning to a paleo lifestyle (or even just eating clean in general) would mean you could still eat pancakes?!
Here are some of the many reasons why I love these guys:
1| First and foremost, I work really hard to balance out the macronutrients in my diet (i.e. fat, protein and carbohydrates).
This meal supplies a healthy amount of fat (in the egg yolk and nut butter), protein (again in the egg and nut butter) and carbohydrates (from the bananas).
2| To elaborate on the point above, these pancakes are low in sugar.
Who knew there was such thing as low sugar pancakes?!
So if you (like me) are watching the amount of sugar you consume, the only sugar in this recipe comes from the banana.
So don't smoother you cakes in syrup to keep sugar calories down!
3| 3 Ingredients. I mean seriously. No explanation needed.
4| It's a paleo recipe that doesn't call for a billion expensive flours.
Bam! Take that! Guaranteed you have all these ingredients waiting for you in your kitchen. You won't be breakin' the bank on this recipe.
This recipe calls for 3, super simple, super clean ingredients.
First we've got bananas.
Go for the extra ripe ones, if they've got brown spots on them then they'll be perfect!
Peel them and toss em' in a bowl. Mash the with a fork until they're smooth-ish (a consistency you wouldn't mind munching on).
Then add the nut butter and eggs, and whatever else you're feeling!
I love to add some cinnamon and of course nutmeg. Try a few drops of vanilla for a little extra pizazz!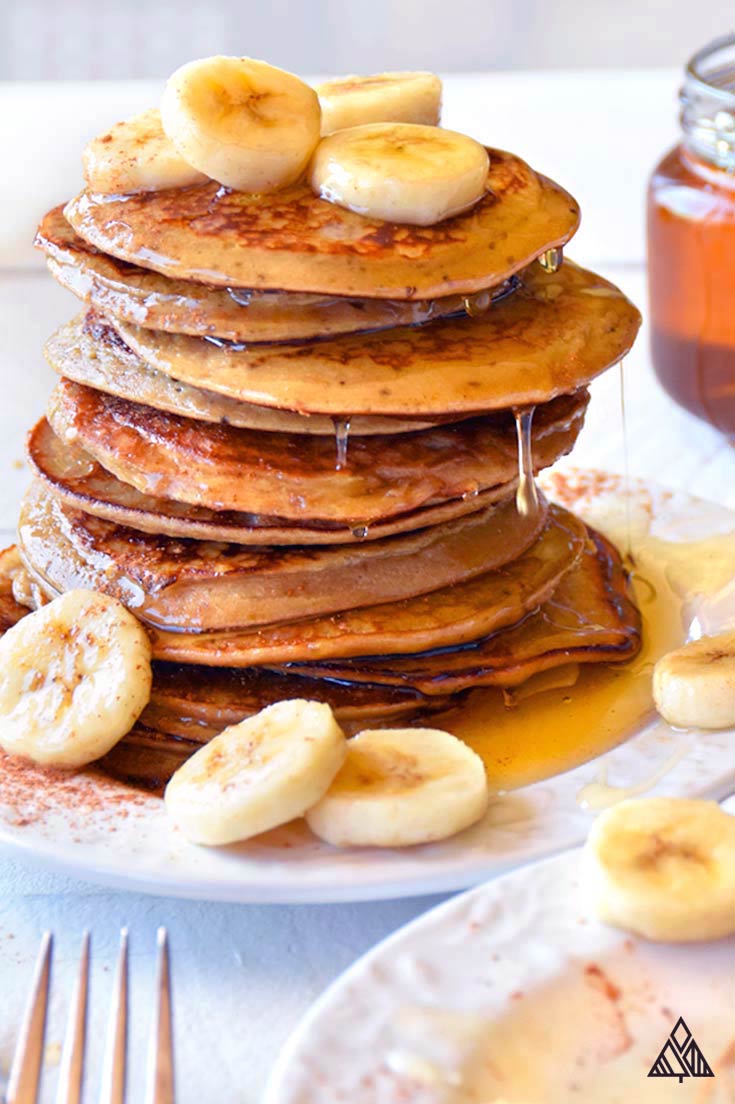 Another thought, if you're looking for some extra sweetness, add a few drops of liquid stevia. Just a thought!
A note on the nut butter…
You can use whichever nut butter you fancy. I typically go with almond butter, YUM.
I love using chunky almond butter in this recipe because it adds a little extra crunchy surprise to your pancakes!
Another great option is sunflower seed butter.
Whichever butter you choose, carefully read the label before purchasing. Most nut butters are a vehicle from processed ingredients and tons of sugar – and no body wants that!
But don't be deterred, there are plenty of nut butters that are strictly nuts and maybe some oil. Check out these brands for inspiration:
2. Woodstock's All Natural Almond Butter
As far as pancake size, these pancakes work best small, so make lots of small pancakes instead of one mondo cake!
I typically grease the skillet with coconut oil to add a little extra flavor. Ghee, butter, or cooking spray work fine as well.
PS, this is an important step. As you can imagine, if the skillet isn't properly greased you'll get nothing but flip disaster!
I also like getting the skillet warm before pouring the pancake batter on it. Some bloggers suggest heating multiple skillets at a time to speed up the pancake making process, however I'm lazy and hate doing all those dishes 🙂
Last but not least… let's discuss the toppings. Historically the most epic component of any pancake feast.
You may feel your options are limited because these are paleo pancakes…
But fear not, these flavorful golden discs offer just enough sweetness to be delicious enough on their own.
In fact, I usually eat them plain, without toppings! But this is because I'm trying to keep my sugar intake down, and find most pancake toppings are laden with carbohydrates and sugar.
If this isn't something you worry about, go with the classics!
100% pure maple syrup is considered by most as a paleo topping. You can also go with raw honey for a heartier, sugary topping. (go with local, raw unfiltered honey for additional health benefits!)
Try dowsing your pancakes in fruit, unsweetened coconut flakes, sliced nuts even dark chocolate chips!
If you're feelin' decadently trendy, try adding some coconut whipped cream. Or ghee, a great way to add some healthy fat to your breakfast.
Let us know in the comments below your favorite toppings or anything you added to your make paleo pancake perfection!
Enjoy! Happy pancake eating 🙂
Perfect Paleo Pancakes
Author:
Ingredients
2 Eggs
1 Banana
2 Tablespoons Nut Butter (I use Almond Butter)
optional: Cinnamon
optional: Nutmeg
Instructions
Mash the banana in a bowl with a fork until smooth(ish).
Stir in the egg, nut butter, and whatever spices you'd like to use.
Grease a pan with coconut oil, or butter. Pour batter into 3-4″ round pancakes on the skillet.
Cook until each sides becomes golden brown and flip.
Cook other side until golden brown.
Serve with maple syrup, shredded coconut, fruit or topping of your choice and enjoy!