This year I started brainstorming pumpkin recipes at the beginning of August.
Yes, I will admit this is a little early to be planning my fun for fall…
In order to prevent further judgement, I should share with you that I live in the mountains, and our dramatic temperate swings totally justify this early preparation!
Up here you'll find yourself wearing as little as shorts and a tank one day, then the next day having to bundle up in full on snow gear! Fall can be brief!
Therefore, to embrace every minute of fall, you have to plan early and properly.
Fall is my absolute favorite season… and I'm hoping you feel the same way!
The vibrant colors of the changing leaves, the crisp morning air, cozy fall wardrobes, and shorter days that allow for more couch snuggling time.
However, if you're anything like me, the most exciting thing about fall is that it's pumpkin season… Let the baking begin!
How amazing is the smell of pumpkin spiced pastries baking in the oven?
Not to mention the fabulous texture pumpkin adds to baked goods.
It's a nutritious ingredient to add to any recipe from muffins, pancakes and pies, to your early morning lattes and/or smoothies!
Can you tell pumpkin is one of my favorite ingredients??
Consuming pumpkin is incredibly good for you. It's chocked full of Vitamin A, which helps your vision especially in low light. It's also rich in an antioxidant called carotenoid, which gives this squash its bright orange color. (source)
Pumpkin is a great source of fiber, consuming it can help fill you up and aid in digestion! (source)
Despite all the health benefits of pumpkin, most pumpkin baked goods tend to be loaded with sugar, white flour and preservatives.
I personally try to avoid these ingredients, although we all know that at this time of year it gets much harder to eat clean and to say no to the foods we all desperately want to eat!
The easiest way to stick to your healthy eating plan? Cook/bake from home, using only whole ingredients or healthier alternatives.
If you work with the right ingredients and tested recipes (like these paleo pumpkin muffins), you'll find that using healthier ingredients doesn't take away from the taste!
This recipe combines some of the tastiest whole ingredients used in baked goods!
They key to healthy baking? Take advantage of spices. They come from whole ingredients and add tons of flavor to whatever you make!
Some of my favorites for baking are:
Cinnamon
Nutmeg
Ground Ginger
Ground Cloves
Apple/Pumpkin Pie Spice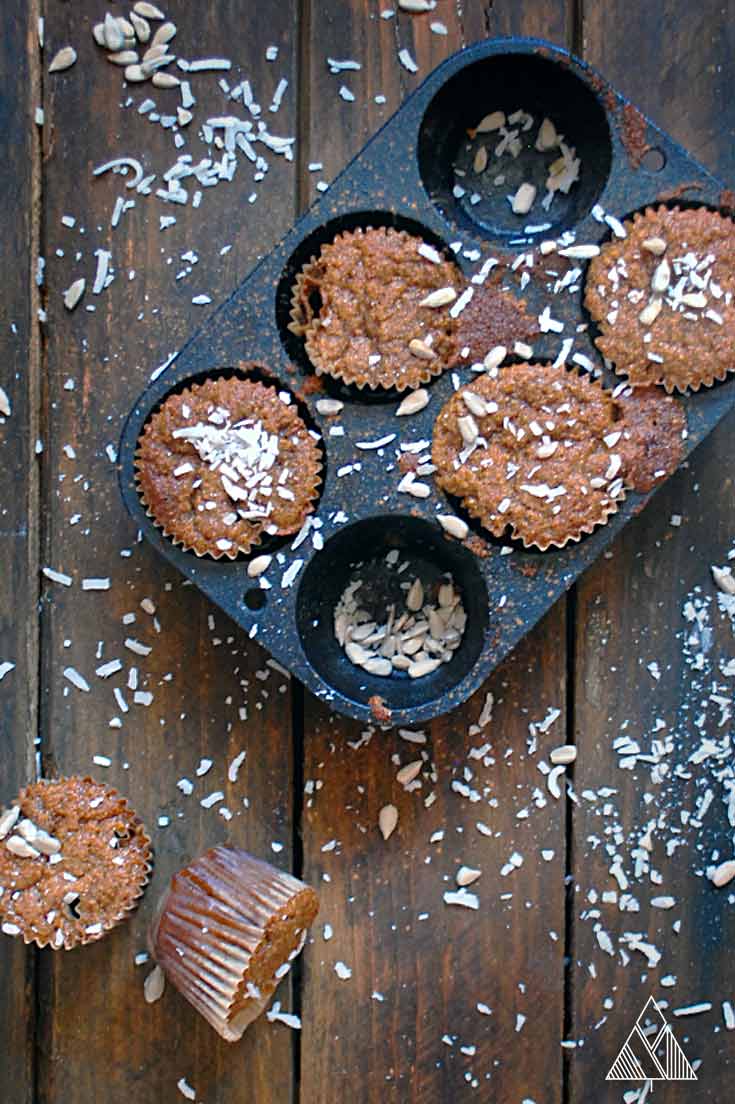 Another ingredient I rely on when baking healthier recipes is coconut flour.
Coconut flour is a delicious alternative to white flour. It's easy to make from home (follow our instructions here). And is a great source of fiber; in fact 58% of it's calories are made of fiber!
Finding an ingredient to sweeten your baked goods that's "healthy" ain't easy! Sugar is sugar. So, what you have to do is try to find something that's the lesser of two evils.
Maple syrup is sugar, but if you are going to splurge, maple syrup is the way to go. What differentiates maple syrup from refined sugar? It contains a few antioxidants and minerals such as zinc and magnesium that sugar does not.
This doesn't mean you should drink maple syrup by the galloon! In fact 2/3 of this ingredient is sucrose, or table sugar (source). Still, it works as a sweetener in times of need!
Paleo Pumpkin Muffins
---
I hope you enjoy these paleo pumpkin muffins!
Leave a comment below to let us know how you like cooking with pumpkin and some of your favorite fall traditions!
Paleo Pumpkin Spice Muffins
Author:
Prep time:
Cook time:
Total time:
Ingredients
¾ cup [url href="https://www.thelittlepine.com/go/coconut-flour"]coconut flour[/url] ([url href="https://www.thelittlepine.com/how-to-make-coconut-flour/"]get the recipe to make your own here![/url])
½ cup [url href="https://www.thelittlepine.com/go/pumpkin-puree"]pumpkin puree[/url] (canned/homemade)
¾ cup [url href="https://www.thelittlepine.com/go/maple-syrup"]maple syrup[/url]
6 eggs
1 teaspoon [url href="https://www.thelittlepine.com/go/cinnamon"]ground cinnamon[/url]
½ teaspoon [url href="https://www.thelittlepine.com/go/ground-ginger"]ground ginger[/url]
¼ teaspoon [url href="https://www.thelittlepine.com/go/cloves"]ground cloves[/url]
¾ teaspoon [url href="https://www.thelittlepine.com/go/baking-soda"]baking soda[/url]
1 teaspoon [url href="https://www.thelittlepine.com/go/apple-cider-vinegar"]apple cider vinegar[/url]
Instructions
Preheat the oven to 350
Line your muffin tins with baking cups.
Combine all ingredients in a large bowl. (Note: Coconut flour tends to clump together due to the oils in the flour. I usually run mine through a sifter before adding to baked goods, to prevent clumps of flour that are hard to get out!)
Divide the batter into the 12 tins.
Bake for 25-30, you'll know the muffins are done when the edges start to brown and the center is firm.
Let these sit for 10 minutes before serving, and enjoy!