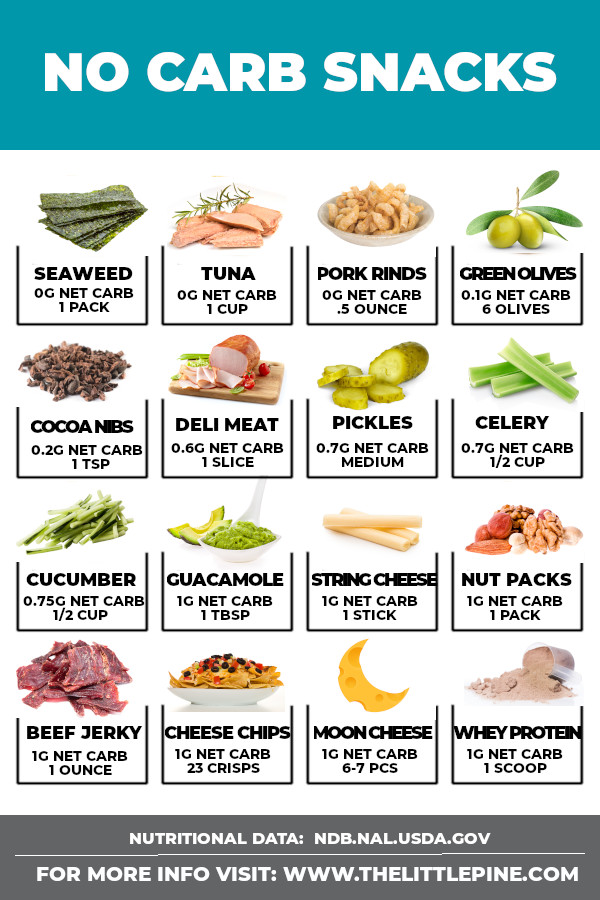 This awesome list of no carb snacks is here to help satiate you between meals and fuel you throughout the day!
Because one of the easiest ways to derail your low carb meal plan is to get too hungry. And snacks (better yet no carb snacks) are the perfect way to prevent that! Take the "I got too hungry" excuse out of your vocab and munch on these no carb snacks instead.
Use this table of contents to skip to the section you're looking for:
[toc]
No Carb Snacks
There are very few "no carb" foods — which is why this NO CARB snacks list is limited compared to a LOW CARB snacks list. But have no fear, there are plenty of tasty, protein packed options below!
The no carb snacks on this list are based on foods with 1 gram (or less) of net carbs — meaning the fiber minus the total carb count.
For more details of each product, check out the info below this no carb snacks keto chart!
Low Carb Snacks to Buy
Here's a list of low carb snacks to buy to make your low carb eating plan as easy and delicious as possible!
Pro Tip: A lot of these snacks have a decent shelf life. I like to purchase them in bulk on Amazon or at Costco. This is a great way to cut down on costs and fill your kitchen with no carb snacks — so getting too hungry won't result in an accidentally splurge!
Net Carb Free Snacks To Make
If you're in a cooking mood, or looking for something more specific, check out these carb free snacks for diabetics to make! These are some of my favorite low carb recipes. My kitchen is usually stocked with one or two of them!
Pst, if you don't see the low carb snack recipes you're looking for, be sure to let me know in the comments below!
Where To Grab Low Carb Snacks On The Go
If you know you'll be out and about, it's a great idea to grab some snacks (that don't need refrigeration) to stash in your bag/purse. But if you're in a pinch, here are some places you can grab easy low carb snacks on the go:
High Protein Low Carb Snacks
If high protein low carb snacks are your goal, then you're in luck — animal products are the closest to no carb snacks you can get! Anything from sliced deli meats to eggs to meat sticks.
Be sure to read product labels before purchasing! Far too often these foods include added sugar — especially beef jerky!
Low Carb Sweet Snacks
Unfortunately, most low carb sweet snacks contain some carbs — foods such as low carb flours, most sweeteners and fruit all contain carbs.
The closest to no carb snacks for my fellow sweet tooth-ers is low carb protein powder.
If you grab the right container, they'll often contain 1-3 grams of carbs per scoop of powder. Check out my best tasting protein powder article for some recs!
Plant Based Healthy Low Carb Snacks
Although significantly lower in carbs than most foods, fruit and vegetables are primarily composed of carbohydrates — which is why you didn't catch any fruits on this no carb snacks list.
Vegetables are also composed of carbohydrates, but they're significantly higher in water content, resulting in fewer carbs.
If you're looking for plant based healthy low carb snacks, you'll want to try something like:
Guacamole

Seaweed

Pickles

Cucumber Sticks

Celery Sticks
For more information on how to incorporate fruit and vegetables into your low carb meal plan, check out my ultimate guides to low carb fruits and low carb vegetables.
Low Carb Snack Ideas — When You Have More Time
Now that you know which foods belong on this no carb snacks list (and which don't!), it's time to get creative. Mix and match your favorites into more substantial meals.
Here are some low carb snack ideas to get you started:
Wrap sliced

deli meat

around a

pickle

Wrap

lettuce

around

sliced deli meat

and

cheese

Spread

nut butter

inside

celery sticks

Use sliced

cucumbers

as crackers for your favorite

cheese
Mix cocoa nibs in with a small nut pack

Make sandwiches using

oopsie bread

and

deli meat

Fill

hard boiled eggs

with

guacamole
Scramble eggs

with

shredded cheese
What're your favorite no carb snack ideas? Share them in the comments below!
Low Carb Snacks
When it comes to low carb snacks (as opposed to NO CARB snacks), there are a ton more options — I'm talking keto fruits, cottage cheese, low carb Greek yogurt, more keto vegetables.
Check out some of these choices instead!
Conclusion
There you have it low carb friends! I hope you enjoy these no carbs snacks. Come back and let me know your favorites in the comments below! Or, if I missed your favorite no carb snack, what is it?? Enjoy!