Let's be real, low carb restaurants are hard to come by…
…which can make dining out a whole affair for those of us on a low carb meal plan.
Things like group dinners, happy hours, communal meals continue – which are supposed to be fun, but can cause stress if you're worried about what you'll be eating.
You shouldn't have to go through life worried your low carb meal plan will wreak havoc on your existing obligations. 
So, I put together this low carb restaurants guide to help you navigate any menu, at any restaurant. Plus, a list of tools to help you stick to your plan instead of giving in to temptations!
Because trust me, I know how hard it can be, especially since there aren't low carb restaurants on every street corner. But with this guide, it'll be a breeze.
Use the table of contents to skip to whatever section you're looking for:
Your Guide to Low Carb Restaurants : 10 Tips for Success
So before we look at specific foods, I've laid out the low carb restaurants "ground rules" for staying on course, no matter where your social life takes you.
From arming yourself with information to staving off the pre-dinner hunger pangs—here is what you need to know before heading off to eat.
1. Do Your Research
Know before you go—pretty much every restaurant has a website these days, with menus you can check out from the comfort of your own home.
Scroll through the menu and identify the low carb restaurants options—things that come with minimal starches or ones that can be swapped out for an extra side of veggies, a salad, or a cup of soup.
In some cases, you might be able to get creative…
Say you're going to an Italian restaurant—ask if you can get some of the pasta sauce in a bowl with meat and veggies, rather than the noodles.
Or order a couple of low carb appetizers instead of a full entrée—a cheese plate or a shrimp cocktail, plus a big salad with low carb salad dressing offers variety—and keeps meal size to a reasonable minimum.
2. Set Goals
Speaking of goals, you'll want to go in with a plan of attack, because the truth is, you'll more than likely find yourself at a not so low carb restaurant.
Know the things you should leave off your plate—grains, sugars, potatoes. It's easy to give into peer pressure when dining in a group.
Plan swaps or thing you want to leave out ahead of time and so you can go in with a clear head.
3. Don't Go to Dinner Starving
This is one of those old-movie star tricks…
Try eating a small, but satisfying low carb snack before heading out to eat—think a handful of nuts, a piece of cheese or even some low carb crackers. They'll take away those creeping hunger pains, making it easier to say no to dinner rolls and other complimentary, low carb  pitfalls.
4. Sharing is Caring 
Restaurant portions are huge, especially at fast-casual spots and major chain restaurants.
Bring a buddy and split one or two mains. Even the act of transferring items to a smaller plate can help make sure your eyes aren't bigger than your stomach.
Splitting dishes is great for portion control. So is eating off a small plate.
5. Stay Hydrated
Drinking water is just a good life tip, for anyone.
We're often more dehydrated than we know, and sometimes eat when we feel like we need something. Drink plenty of water throughout the day, as well as during your meal, sometimes you're thirstier than you are hungry.
6. Avoid the Obvious Pitfalls
Some restaurants make splurging all too easy…
With the bread on the side or dishes that come with rice or chips, dining out can feel like a minefield, with starches at every turn.
If you're dinning alone, make any place a low carb restaurant by asking the server to skip the bread basket and leave off the complimentary rolls or chips.
It does get a little more difficult if you're out with a large group—when naturally, those who aren't concerned with carb counts and food comas are going to want to dive right in…
Practice restraint and order a satisfying low carb drink while you wait for the entrée to arrive. Look, you don't want to fill up before the main event arrives, anyway, right?
7. Be Leery of Sauces
Sauces. Bringer of flavors, the toast of every plate… and, unfortunately, the source of so many carbs and sugars of indiscriminate amounts.
Of course, some sauces, like Béarnaise sauce, olive oil, and mayo contain mostly fat. Others, like ketchup, contain mostly carbs. Gravies can go either way.
If you've got any concerns about the sauce, ask the waiter about its ingredient profile. Find out if it contains things like sugar or flour. As a point of reference, sauces like teriyaki or BBQ can be pretty sugary. If it's questionable, get the sauce on the side and add a little to your meal.
Same goes for salads, play it safe by ordering low carb salads with the dressing on the side.
8. Keep in Mind Your Low Carb Fruits and Low Carb Vegetables
Keep an eye out for greens, cauliflower, zucchini, celery, mushrooms—these guys are all low in carbs and high in key nutrients.
Fruit-wise, consider things like avocado, apricot, grapefruit, and berries.
When thinking about grains and starches—don't forget about things like corn, peas, and potatoes. These guys have a lot of health benefits, to be sure, but they're pretty high on the carb chart.
9. Take Things Slow
Look, I could wax poetic on the virtues of slow eating for ages—the benefits extend well beyond helping you keep your carb intake in check, too. For one, it gives your brain a chance to acknowledge that you're full.
Second, eating slow allows for better digestion, reduces the risk of overeating, minimizes bloating, and helps you enjoy your food more. Sounds like a win, right?
10. Instead of Dessert, Try a Warm, Soothing Drink 
Let's be real, most restaurants aren't serving gourmet low carb desserts…
So, if you're solo, you'll be fine skipping this course.
But if you're with the crew, there's also one person who needs to end things on a sweet note. But, chances are you're probably not still hungry at the end of a big meal out.
For one, you'll need to fend off the peer pressurers in the group—you know the ones, they emerge at office birthday parties, family gatherings, and other communal dining affairs—much to the chagrin of vegans, dieters, and those of us doing our low carb thing.
If you'd like to indulge, or think you'll be there for a while, try ordering a cup of coffee or tea instead, while you wait for your group to finish with dessert.
If it's too late for coffee, ask for decaf or an herbal tea—just skip the sugar and ask for half and half if you'd like to dress it up.
If you do want some more food, ask for fruit.  Many restaurants will serve you a selection of berries or a fruit salad if you don't feel like cake. Or, get a cheese plate.
Low Carb Restaurants : By Restaurant Type
It's not likely you'll find a Cracker Barrel low carb menu or an Olive Garden low carb menu; In fact the menus at most restaurants we know and love illustrate all possible examples of carbohydrates…
Which can make the simple act of eating out, a headache!
But GREAT news, even if you don't live near a bunch of low carb restaurants, every place you go will have low carb foods, you'll just need to get creative. After reading this guide, you'll be ordering low carb Applebees for the whole crew!
Let's dive in…
Deli/Subs 
The sandwich counter isn't the most expected place for low carb grains, but it's surprisingly easy to turn into one of your new, favorite low carb restaurants, especially if you know which items you need to look out for!
Deli food is totally customizable—you can easily just eat meat and vegetables.
Best Choice: Ask for your sandwich in a bowl or to-go container. Grab a fork, and voila! Way tastier than a salad.
Some delis will even wrap your sandwich in lettuce for that handheld quality.
Generally speaking, most meats and cheeses are in the clear, as are veggies like lettuce, tomatoes, onions, and cucumbers.
As far as sauces go, mustard is a great choice (my personal fav) as is plain mayo, oil and vinegar.
Avoid: Bread and Chips (sorry).
Steer clear of sauces like BBQ, Ketchup, Teriyaki, Honey Mustard—these are usually packed with sugar.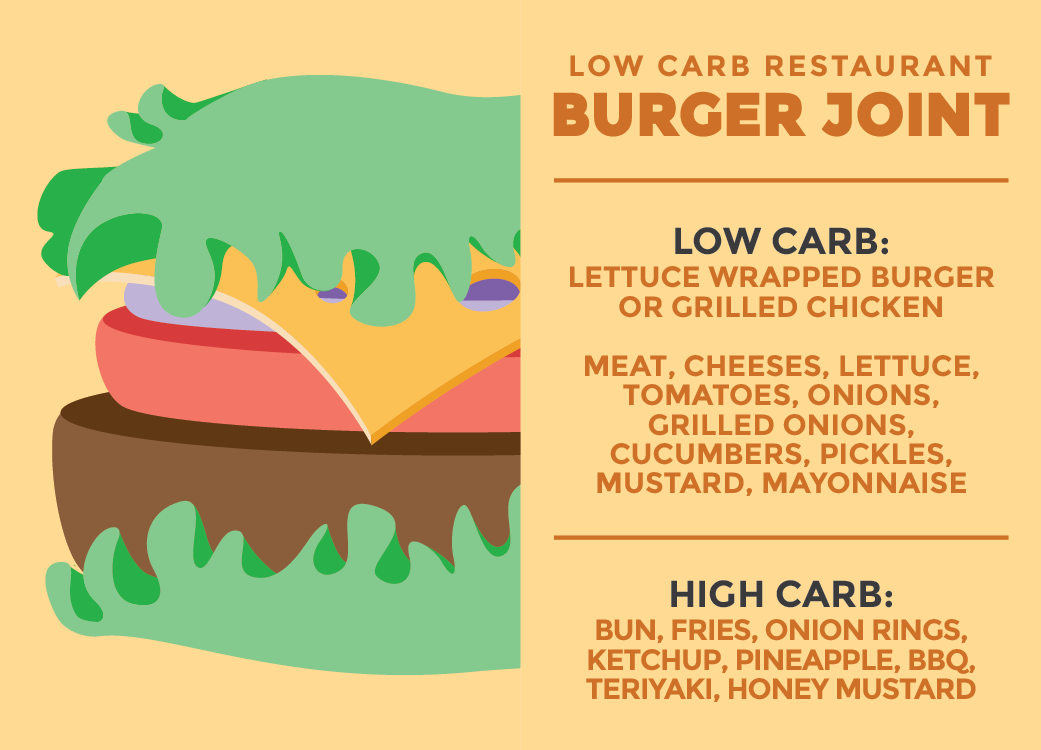 Burger Joint
The classic burger joint is rife with hard food decisions.
I mean, who doesn't love a breaded chicken sandwiches, onion rings, buns, buns, buns—and a smattering of sauces…
That said, if you can say no to those tempting and not so low carb side dishes, it's one of the easiest low carb restaurants to order a decent and decadent!
Best Choice: Your best bet here is going to be a lettuce wrapped burger or grilled chicken. Most places will do this, but if they don't, skip the bun and ask for extra veggies.
Enjoy the veggie toppings—pickles, onions, grilled onions, lettuce and tomatoes. Top with mustard.
Depending on your eating plan, mayonnaise, guac and bacon are all pretty low in carbs. And there's hardly any carbs in cheese. Only factor with these ingredients is their high fat content, as burgers are already a high fat item.
But as you can see, just because you can't do the bun, doesn't mean you're skipping out on flavor. Load up on the sugar-free and less-starchy items, and you'll still be able to eat like a king.
Avoid: While the breads, fries, onion rings are pretty self-explanatory, you'll want to make a point of avoiding items like BBQ sauce, pineapple, honey mustard, ketchup, and teriyaki.
These toppings are surprising sources of carbs and a whole lot of sugar. On top of that, sweet pickles and relish aren't great choices themselves.
Steakhouse
The steakhouse might feel decadent, but it's actually one of the easier places for swaps as far as low carb restaurants go.
In most cases, dishes are topped with butter and come with a number of sweet sauces and starchy add-ons—but it's also a place where you can enjoy some more reasonable fare like grilled salmon, a piece of steak, steamed vegetables.
Best Choice: It's a steakhouse, you'll want to dive right in and order the best thing on the menu—steak.
Most of the proteins should be a good choice, make sure to avoid breaded items, and ask your server about the sauces served with or on the options you're interested in.
Pair it with a side of low carb steamed veggies or a salad with the dressing on the side and you're in the clear.
Avoid: While the mains aren't generally too bad, the steakhouse experience comes with a vast array of high-carb sides such as bread, potatoes and fries (sorry guys).
Fried Chicken
Unlike the steakhouse, you're probably better off skipping the signature fried bird and instead, opting for something a little lighter…
Go for the grilled chicken breast instead and look toward veggies as your sides.
Best Choice: Your best bet is going to be grilled chicken breast, but in a pinch, you can always ditch the breading and eat the meat.
As far as side dishes go, fried chicken joints aren't abound with low carb options—check out their veggie options. Steamed, lightly sautéed (in oil) or a salad would be your best options.
If these aren't options and you're really jonesing for some greens, ask how they prepare their coleslaw. It's typically a sugar based mayo, but it may be your best option.
Green beans are another OK choice—1 cup has 7 grams of carbs, 3.4 of which are fiber.
Avoid: Fried or breaded chicken, biscuits, mashed potatoes, mac and cheese—these guys are the usual carb-laden suspects.
But, you'll also want to avoid a number of the sauces—honey mustard, BBQ, gravy, you get the idea.
Bar
If you can avoid eating at the bar, this is probably for the best, as bars wont be on many low carb restaurants lists…
But, sometimes hunger strikes at inopportune times, or more likely, you don't want to skip happy hour with your buds. That said, there's a few things you can do:
Wings: if you're craving wings, make sure they're not breaded. Also sauces such as teriyaki, bbq, sweet and sour tend to be high in carbs—see if you can order wings without the sauce. Or, traditional buffalo sauce is typically much lower.
Charcuterie plates: Think cheese plates, meats, olives, and the like. Of course, skip the bread, crostini, hummus, and certain fruits.
At nicer drinking establishments, you might find seafood items like oysters, ceviche, shrimp cocktail.
Dive-y spots, you might be able to get a burger (sans bun) or wings.
Avoid: Well, fries, buns, anything starchy. Again, sauces can be an unsuspecting source of carbohydrates.

Italian
Pizza, pasta, bruschetta, rolls on the side—the Italian restaurant at first glance, doesn't seem especially accommodating for the low carb eater…
But, you'd be surprised at the multitude of options—think grilled seafood, chicken, etc.
Best Choice: Caprese salad is a great choice to start, as are those tasty Italian meat, cheese, and olives apps.
Antipasto salad with dressing on the side is loaded with meats, cheeses and olives – yum.
Check out their grilled protein dishes—seafood, chicken, veal etc. Make sure your protein isn't breaded, even lightly. If you're craving a sauce-y dish, veal or chicken piccata is traditionally lower in carbs, ask your server how the sauce is prepared.
Accompany these with some grilled or roasted veggies and you've got a pretty good selection as far as low carb restaurants go!
Avoid: (and this will sound like a lot) the risotto, pizza, calzone, bread, breaded meats, pasta, lasagna, croutons, calamari, fried mozzarella sticks. Veal/chicken/eggplant parm.
Mexican Food
Forget tacos and burritos, there's more to Mexican food than food that comes in wrap form.
Think grilled meats, ceviche, fresh salsas, and guacamole. While some things are more obvious, the amount of carbs in beans and corn are high and often forgotten about. Skip these two ingredients—they contain more carbs than most vegetables. 
Eating out low carb Mexican food is my favorite option for a low carb restaurants:
Best Choice: Salad or burrito bowl (minus the rice/beans). Sometimes called a "bare burrito". If they don't make this way, order a burrito, unwrap and eat the inside with a fork. Fajitas (no tortillas). Ceviche.
Avoid: tortilla, tortilla chips, rice, beans, corn, fried or breaded fish/meat.
Go for It: meat, fajita veggies, salsas, cheese, guacamole, sour cream. Grab veggies to dip in guac instead of chips. Pollo Asado. Eat the inside of tacos.
For more detailed tips, check out my Low Carb Mexican Food Article
Japanese
Japanese food isn't too tricky to navigate for the low carb diner.
Sure, sushi has far too much rice for a low carb diet, but most Japanese restaurants have plenty of low carb foods. Steer clear of noodle or rice-based dishes, as well as teriyaki, which comes loaded with plenty of sugar.
Best Choice: Sashimi with soy sauce (unless you're gluten free), wasabi and ginger makes for an incredibly delicious main course—if you like fish that is.
Some sushi restaurants will wrap sushi rolls in cucumber or seaweed instead of rice. You can also order hand rolls sans rice.
If you're not a fish person, order the stir fries without or cornstarch.
Avoid: Sushi rice, rice, tempura, sweet sauces, and teriyaki sauce.
Vietnamese
Your best option at a Vietnamese spot is to stick to the protein, broth and veggies. A lot of Vietnamese sauces are pretty sugary, so you'll want to avoid them. Peanut sauce, ncoc cham, hoisin sauce—all start from a sugar base.
Best Choice: Pho, without the noodles. I usually order double meat and veggies, then load up with tons of lime and herbs. Yum!
Avoid: Sandwiches, sweet sauces, rice, noodles—all the stuff you know to avoid.
Thai
Thai is one of the tougher restaurant options for those following a low carb meal plan. Between the sweet sauces, rice and noodles everywhere you look, staying on the right track is no small feat.
If you're looking for low carb restaurants, I'd probably avoid Thai food, unless a restaurant near you makes some dishes you're comfortable with.
Best Choice: Satay skewers, which are typically served as an app—minus the peanut sauce.
Larb, which is minced meat (typically pork) served in a lettuce cup. This can be a good choice, although it's traditionally made with a little sticky rice and sugar—ask your served if you're worried this may through you off.
Cucumber salad may be your best veggie choice, although again, sugar is typically used in the dressing.
You'll more than likely be able to order steamed meat and veggies. If there's a stir-fry without sweet sauces or breading, even better (in terms of flavor). Load up on lime and cilantro toppings to add flavor.
Avoid: Many Thai sauces are loaded with sugar—such as my personal favorite, peanut sauce. Curries, too, are hit or miss, so it's probably better to avoid them.
And then there's the noodles, rice, and anything fried.
TBH, I love Thai food, and find it easiest to eat low carb Thai food at home. You can make low carb curry and peanut sauces, poured over vegetable noodles or miracle rice for almost the real thing!
Chinese
Like Thai food, Chinese cuisine can be a carb-laden minefield. Stick to the basics, think steamed veggies, meat, and nothing with breading for stress free low carb take out Chinese ordering.
While it's unlikely you'll find low carb noodles on the menu, you can eat pretty well:
Best Choice: Steamed veggies and meat is your best choice.
Stir fries can be a good choice, if made without cornstarch (ask your server) and without any sweet sauce. Egg drop soup can be a great low carb soup, but again, only if it's made without cornstarch.
Avoid: Tempura, rice, noodles, fried, breading, sweet sauces and cornstarch.
For more detailed tips, check out my Low Carb Chinese Food Guide
Indian
While Indian restaurants can be a boon for the vegans and vegetarians among us, the starchy foods and unpredictable sauce situation can prove to be a tricky dining situation for us low-carbers.
Most Indian restaurants don't focus on providing low carb bread or low carb rice, so you're better off keeping things simple and looking toward the protein offerings.
Indian food is another one of those places—sadly if you're goal is to find low carb restaurants, I'd probably avoid it.
Best Choices: Your best options will be kebabs or tandoori meat dishes, although the sauce situation varies by restaurant, so this is a good place to ask your server.
When in a pinch, I try to order to protein and veggie that looks to have the least amount of sauce on it. You've gotta do the best you can.
Avoid: Unfortunately, the myriad sauces and stewed veggies aren't exactly the picture of a low carb paradise.
Avoid rice, potatoes, dal, saag, naan, chickpeas, lentils, and samosas.
Low Carb Fast Food Restaurants
The beauty of trying to navigate fast food restaurants on a special diet lies in the fact that menus, and the ingredients that make them, are public knowledge—making your job eating at one of these low carb restaurants pretty easy!
Plus, many of these chains have options to tide you over in a pinch—when it comes to low carb fast food taco bell even has options!
For more detailed tips, check out my Low Carb Fast Food Guide
Gas Station/Convenient Store
Not exactly the most ideal in terms of low carb restaurants, the gas station or convenience store stop is typically an act of desperation.
In this case, just read the labels, In a pinch, you can put together a makeshift meal from some proteins—jerky and nuts, specifically. Be leery of jerky loaded with carbs, as sugar is often added to sweeten the meat. Same with nuts, stick to salted.
Beyond that, steer clear of candy, energy bars, chips, sodas—you know, junk food.
Low Carb McDonalds
Not exactly a beacon of healthy eating, McDonald's is more of a last resort than anything. Still, sometimes hunger strikes and the only place for miles is framed by a set of golden arches.
Here is a look at some of the better choices for the low carb eater at McD's.
Go for it: Burger, sandwiches and egg dishes can be ordered without bread or muffins.
Avoid: Bun, muffin, biscuit, hash browns, fries, shakes and sodas.
Nutrition Content:
Cheeseburger (everything) | Calories: 300g Carbs: 33g Fat: 12g Protein: 15g
Cheeseburger (no bun/ketchup) | Calories: 140g Carbs: 3g Fat: 10g Protein: 10g
Grilled Chicken Sandwich (everything) | Calories: 380g Carbs: 44g Fat: 7g Protein: 37g
Grilled Chicken Sandwich (no bun) | Calories: 160g Carbs: 4g Fat: 2g Protein: 29g
Egg McMuffin (everything) | Calories: 300g Carbs: 30g Fat: 12g Protein: 18g
Egg McMuffin (no bun) | Calories: 160g Carbs:3 g Fat: 11g Protein: 12g
Low Carb Starbucks
Starbucks is easy to order low carb from—if you're cool with drip coffee, cold brews, iced or hot tea.
Things get tricky when you're going for anything that resembles a milkshake more than a basic cup of joe.
Go for it: Cold Brew, Drip Coffee, Iced Coffee, Iced Tea, Americano, Espresso—so long as these guys are ordered unsweetened (no pumps, please), you're in the clear.
Starbucks is pretty good about their milk options, too—so you can add a little dash of low carb milk.
Avoid: Iced Tea Lemonades, Sweetened Teas, Starbucks Refreshers, Mocha, Latte, Cappuccino, Macchiato, Flat White, Frappuccino.
While the iced teas and refreshers don't sound so bad, they do contain an ample amount of sugar. 
If you REALLY need one…
Grande Latte, with almond milk | Calories: 100g Carbs: 9g Fat: 6g Protein: 3g
Grande Cappuccino, with almond milk | Calories: 100g Carbs: 9g Fat: 6g Protein: 3g
Iced Caffe Latte, with almond milk | Calories: 100g Carbs: 6g Fat: 4g Protein: 2g
Low Carb Milk Options from Starbucks: Almond milk is your lowest carb choice. Soy milk is the highest carb, followed by nonfat milk.
Low Carb Taco Bell
In most cases, you don't show up at a Taco Bell expecting to eat healthy. Known for its ill-advised taco creations, this spot is more of a pit stop in the middle of nowhere than one of the nation's best low carb restaurants.
Don't let low carb dieting get in the way of your road tripping adventures. However, as compared to its other fast food counterparts, The Bell actually has some solid low carb options.
Go for it: Power Bowl without rice and beans. Salads, no rice and beans. Tacos without the shell.
Avoid: Pretty self-explanatory, but you'll want to steer clear of items like tortillas, rice, beans, and the chips.  And, for the sake of your health, anything that appears to be a liquefied cheese is better left alone.
Examples
Power Bowl, no rice and beans | Calories: 250g Carbs: 7g Fat: 15g Protein: 21g
Low Carb Drinks
Low carb drinks are probably your easiest option when it comes to dining out. Thanks in part to the ubiquity of water (boring, sure, but oh so necessary), and the recent upswing in carbonated water drinks.
If you're bored of plain old water, ask the waiter for a soda water with a lime or lemon twist—it's one of my favorites, as it feels a little more special, like a cocktail.
Or you can get cozy with a hot coffee or a cup of tea. Order half and half or low carb milk on the side, but skip the sugar. Cream, half and half and nut milk alternatives contain less carbs than regular milk.
For more detailed tips, check out my Low Carb Milk Guide
Low Carb Alcohol
If you're going the adult beverage route, try Champagne, dry wine, light beer.
Spirits are also a good bet—just cool it on the mixers. Instead of juices or cocktail mixes (ahem… margarita mix) drink it straight, on the rocks, or mixed with club soda and a slice of lemon.
Of course be careful, if you're eating low carb you may react to alcohol differently.
For more details, check out my Low Carb Alcohol guide.
Conclusion
In the end, it's likely that you may not be stoked on all of the options above—I get it—it's hard to eat out in a world designed for those who seem to eat anywhere without a care in the world.
But, there are plenty of low carb restaurants and options for you, if you know where to look! Or you may find sticking to low carb recipes is more your thing.
What're your favorite low carb restaurants?