Salty, snappy, and too-good-to-eat-just-one, this procession of keto French fries will delight and satisfy all your fry cravings!
Looking for more keto side dishes? Try these:
French Fries That Make You Feel GOOD.
Man. I love fries. They live at the center of my food-obsessed dreams. They're one of my top 5 favorite foods. They'd be on my last meal request list. I know they're simple. That they aren't unique. But they're just TASTY. And no one can deny it.
But the truth is, I've never felt good after eating them.
Greasy fingers and lips, carb coma (because you know I had more than one), and totally bloated from the salt and grease bomb I just ingested. So it dawned on me. I like to cook. And I'm pretty creative. Why not work up a fry recipe that makes me feel good?
I had a strict list of criteria that my keto french fries must meet to be worthy of sharing. Each variation had to be:
Salty
Soft inside with a crispy exterior
Dippable
Mild in flavor
Hard to eat just one
Behold – my keto french fry phenomenon! Each recipe is just as delicious as the others, and all have unique features that make them delectably munchable for different reasons. Read on to see which fry will curb your cravings, and happy dipping!🍟❤️ – Linds x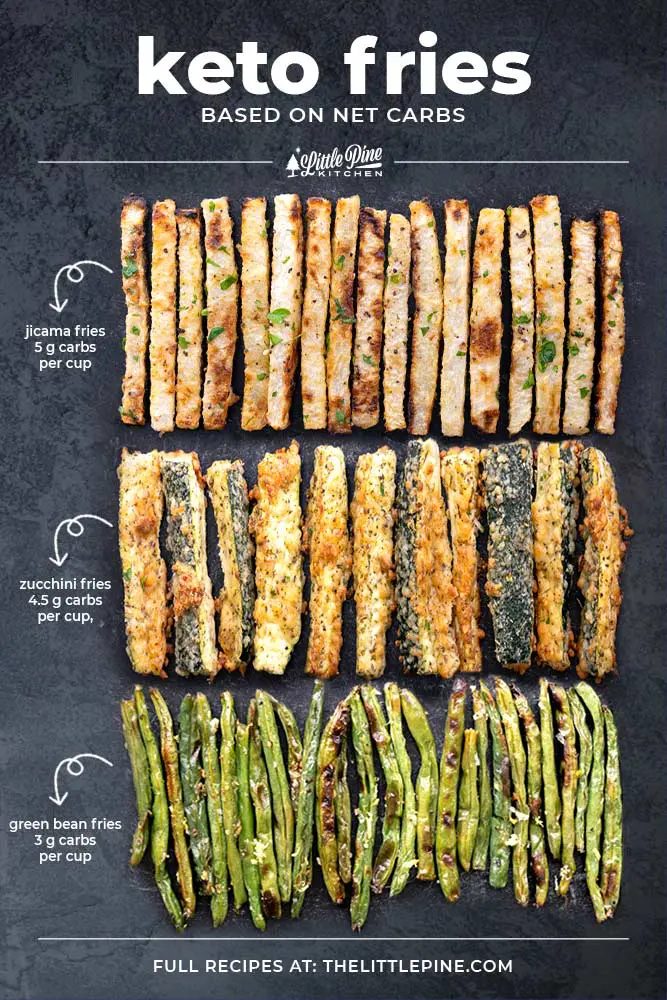 French Fry Substitutes: Your Options
There are a handful of ways to make keto french fries. Here's everything we've tried–  ordered by what we like the MOST as a french fry substitute to LEAST:
Jicama Fries – The high water content of this starchy veggie crisps up beautifully, while its mild flavor makes it similar to potatoes. Keto french fries jicama are a little less starchy and a lot less greasy than traditional, which honestly makes me like them *maybe a little* more! We found these to be most similar to traditional fries in taste, texture, and look.
Keto fried green beans – If you don't mind heating up the oil and turning on the fans, this has to be the tastiest option. Most similar to fries in that, these are FRIED. They're dipped in my perfected keto tempura batter and are the perfect vehicle for all the ranch.
Rutabaga Fries – Another great option, rutabagas fries are high in water content, so they crisp up similarly to jicama. Personally, I prefer jicama to keto french fries rutabaga, because of the flavor– jicama is milder, while rutabaga has a slight licorice taste. Choose whatever you prefer!
Summer squash – Obviously, you won't get the same crispy crunch from baked summer squash as deep-fried potatoes. So, to crisp things up, I coat matchstick sliced squash in grated parm and herbs. Both summer squash and zucchini are more of a substitute than a dupe, but we love them as a side to anything you'd serve fries with!
Baked keto green beans – If you're looking for something quick, easy, not crispy on the outside, and more of a delicious side than a french fry substitute, these green beans are for you. With 5 minutes of prep, and simple olive oil, salt, pepper, and garlic seasoning, they're a delicious (and healthier!) replacement to good ole spuds.
Stir fried green beans recipe – quick easy, a little more side dish than french fry sub. But amazing!
The Seasoning
How you season your fries will depend on the dips you plan to serve them with. TBH, I like simple salt and pepper seasoning. But you can get funky with things like cajun seasoning, old bay, keto taco seasoning, garlic salt, chili powder, paprika, etc.
What to Expect From Keto French Fries: Substitute or Dupe?
The truth is, all options for keto french fries are less starchy than potatoes, AND they're baked (not fried). So, if you're expecting greasy, potato-y, starchy fries, you'll be disappointed. If you prep yourself for a delicious substitute (a substitute you might like even MORE!) then you'll love these low carb french fries.
Each is salty, each crisps up in its own way, and each goes wonderfully with your classic french fry dips. They're a marvelous accompaniment to all the classics…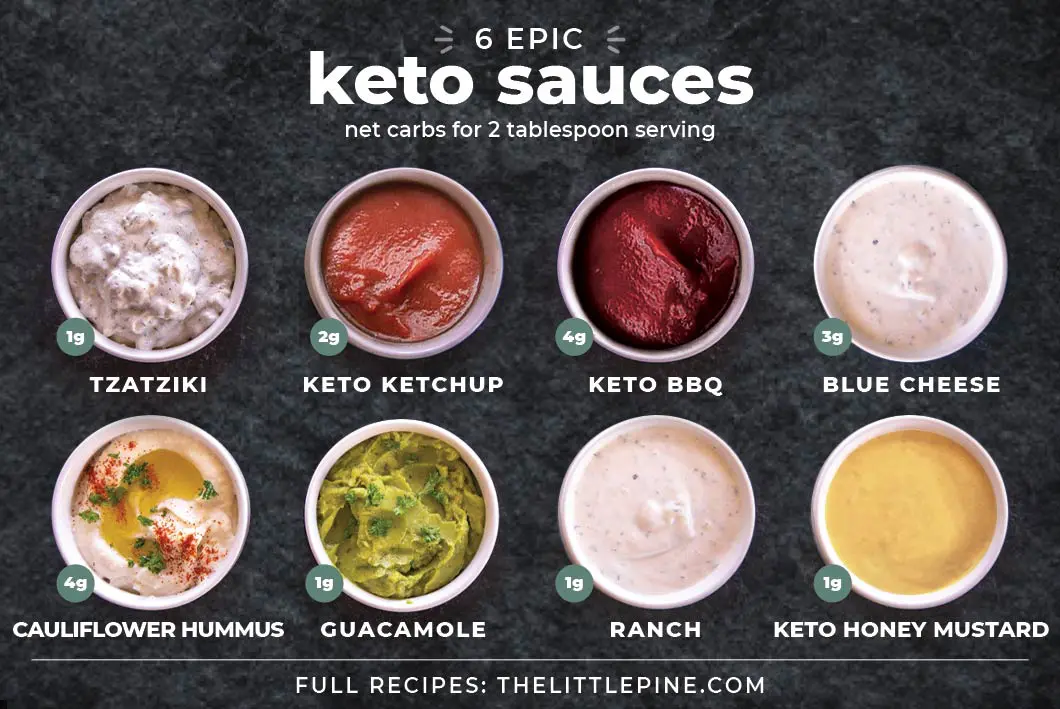 All The Keto Sauces
French fries are just a vehicle for SALT and SAUCE, which is why I've got a recipe for all the keto sauces I've ever craved (most storebought sauces contain added sugar). Here are some faves:
In n Out's animal style sauce, check out my keto animal style fries for recipe
Do I Dare Reheat?
Just like regular fries, keto french fries are best enjoyed fresh from the oven. If you happen to have leftovers, you can typically reheat them in the oven until their surface is slightly crisp and their interiors are heated through.
OR! An air fryer will crisp your leftovers up nicely!
More Veggie Based Low Carb Side Dishes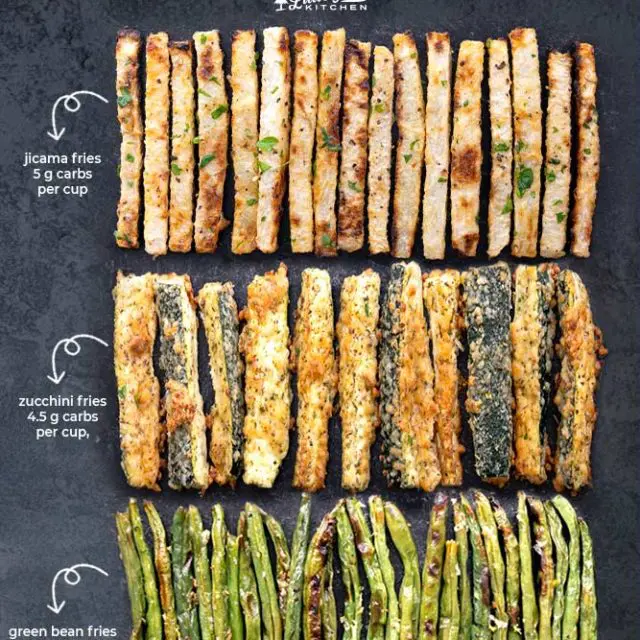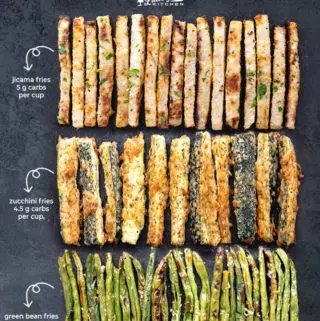 Keto French Fries
Print Recipe
Pin Recipe
Ingredients
Select Your Veggie (1 From Below):
1

Jicama

2

Rutabaga

3

Zucchinis
Coating for Jicama + Rutabaga:
1

Tablespoon

Avocado or Vegetable Oil

Salt and Pepper
Coating for Zucchini:
2

Eggs

whisked

1/2

Cup

Parmesan Cheese

grated

1

Tablespoon

Italian Seasoning
Instructions
Preheat oven to 400 F and line a baking sheet with parchment paper.

Prep Veggies...

For zucchini: Cut the tops off the zucchinis (3), then cut each in half and quarter each half lengthwise.For rutabaga or jicama: Remove thick skin (I find the easiest way to do this is with a sharp knife) and cut into fry strips.

Coat Fries...

For zucchini: Place whisked eggs (2) in 1 wide-mouthed bowl, and combine Italian seasoning (1 tablespoon) and grated parmesan (1/2 cup) in another. Dip each fry into the whisked egg, then in the Italian seasoning/parmesan. Press the parmesan into the fries to adhere.For rutabaga or jicama: Toss the fries in oil (1 tablespoon) and season with seasoning.

Place on a baking sheet, and bake:

For zucchini: for 16-20 minutes, or until the parmesan starts to brown.For rutabaga or jicama: for 35-45 minutes, tossing halfway in between.
Rate this Recipe
Fans Also Made These Low Carb Recipes:
Lindsey's Tips
Nutritional information for the jicama fries (for 1 serving if you divide the recipe in 4): 93 calories, 15g TOTAL carbs, 7g NET carbs, 1g protein, 4g fat
Nutritional information for the rutabaga fries (for 1 serving if you divide the recipe in 4): 102 calories, 17g TOTAL carbs, 13g NET carbs, 2g protein, 4g fat
Nutritional information for the zucchini fries (for 1 serving if you divide the recipe in 4):
Nutrition
Calories:
139
kcal
Total Carbohydrates:
6
g
Protein:
9
g
Fat:
9
g
Sodium:
244
mg
Fiber:
2
g
Sugar:
4
g
Net Carbs:
4
g
©Little Pine Low Carb. Content and photographs are copyright protected. Sharing of this recipe is both encouraged and appreciated. Copying and/or pasting full recipes to any social media/website/blog is strictly prohibited.