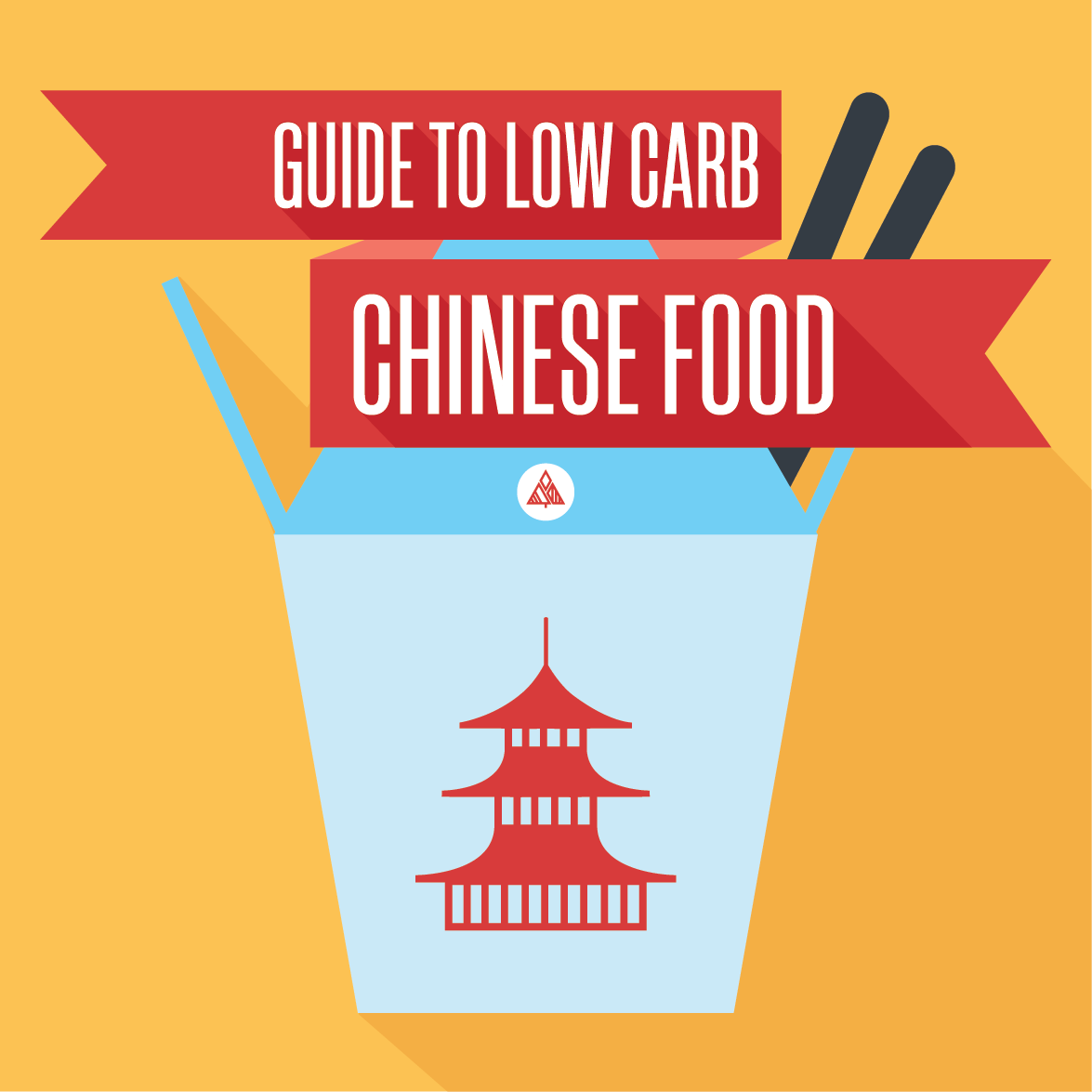 Netflix, cozy sweatpants, and low carb Chinese food. Whip out those chopsticks, and let relaxation mode begin – a relaxation mode that doesn't end in a food coma from eating too many egg rolls and shrimp chow mein…
…because, believe it or not, you can order low carb foods from not so low carb restaurants –  you just need a few pointers to get started.
Here's my guide to low carb Chinese food – everything you need to know from dining in to dining out, from sauces to veggies, I've got you covered!
[toc]
Low Carb Chinese Food + What to Avoid
When eating low carb Chinese food, these are the dishes or ingredients you'll want to avoid:
Skip the sauce, or order it on the side.
Ask if your dish was made with cornstarch and if it can be left out.
Don't order the obvious carbs like rice, pot stickers or noodles.
Watch out for high carb vegetables.
Skip the deep fried or breaded dishes.
Sauces
Most sauces used in our favorite Chinese food dishes are filled with sugar (i.e. simple carbs).
If you're not ready to part with your beloved sauce, see if your server will bring it on the side for dipping — slow ween for the win! To give you an idea, here are some of the worst offenders, which not-so-coincidentally happen to be the most popular:
Sweet and Sour Sauce. Typically made with brown sugar, fruit juice, ketchup and cornstarch. 7 grams of carbohydrates per tablespoon*.
Duck Sauce Made of apricots, sugar, and corn syrup. 10 grams of carbohydrates per tablespoon*.
Plum Sauce This is made with plums and sugar. 8 grams of carbohydrates per tablespoon*.
Hoisin Sauce The very first ingredient in this sauce is sugar, followed by water, soybeans, sweet potatoes and cornstarch — Pass. 7 grams of carbohydrates per tablespoon*.
Char Siu Sauce Again the first ingredient on this list is sugar, another skip. 14 grams of carbohydrates per tablespoon*.
Save Your Favorite Recipes!
Create an account and save all your favorite recipes for easy access!
Cornstarch
Cornstarch is frequently used in Chinese cooking to thicken sauces and soups and crisp meat and veggies. It's a pure starch made from finely ground corn flour.
You may think a little cornstarch wont mess up your low carb dinners — however just 1 tablespoon of cornstarch has 7 grams of carbs — personally, I don't want to waste carbs on something I can't enjoy the flavor of!
The problem with cornstarch as an ingredient in sauces and soups is that everything blends together. Yet another reason to skip the sauce.
Ask your server if cornstarch is used in the soups. Safest best is usually the egg drop, which will have a broth-y consistency without the cornstarch.
Now, as far as cornstarch in regards to tenderizing meat and veggies — you can typically ask for this step to be skipped. Simple as that! But you still have to ask for the sauce on the side, sorry.
Obvious Carbs
This probably goes without saying, but just incase… skip the high carb Chinese food options we all know so well…
The rice, the noodles, the wontons, the egg rolls, the pot stickers and the fortune cookies — Hate to break it to you, but none of these have a place on a low carb food list! That said, if you're cooking low carb Chinese food recipes at home, you can swap these for low carb ingredients, check my recs below!
High Carb Vegetables
In the carb department, not all veggies are created equal, and these veggies could harsh your mellow:
Water Chestnuts – 10 grams of carbohydrates per cup*
Baby Corn – 8 grams of carbohydrates per cup*
Snow Peas – 5 grams of carbohydrates per cup*
Carrots – (raw, chopped) 12 grams of carbohydrates per cup*
That said, there are plenty of low carb vegetables for you to load up on:
Bok Choy – (cooked/boiled + shredded) 3 grams of carbohydrates per cup*
Celery – (raw, chopped) 3 grams of carbohydrates per cup*
Scallions – (raw, chopped) .4 grams of carbohydrates per tablespoon*
Asparagus – (raw, chopped) 5 grams of carbohydrates per cup*
Spinach – (raw) 1 grams of carbohydrates per cup*
Skip the deep fried or breaded dishes.
At this point of the article, you probably hate me, but I'm just speaking the truth. Deep fried = high carb. Breaded, well I think you already know the answer to that.
Some capital offenders include General Tso Chicken, Sweet and Sour Shrimp, etc.
How to Order Keto Chinese Food
Although it may seem like a lot is off the list, there are still a ton of delicious keto Chinese food items you can order!
Appetizer
High Carb Appetizers:
– Wontons
– Eggrolls/Spring Rolls
– Rice (unfortunately all varieties)
– Anything fried
Low Carb Appetizers:
– Lettuce wrap without the sauce
Is egg drop soup low carb?
This varies depending on restaurant — some restaurants use more cornstarch than others. Ask your server if cornstarch is used – you may also be able to tell from the color/consistency; Egg drop soup sans cornstarch is clear and thin, while cornstarch adds a milky color. 
Main Course
You're safest low carb Chinese food order: steamed meat and veggies. But, if you'd like to see what else is out there, here are the do's and don't…
High Carb Chinese Food Main Course:
– Noodles
– Rice
– Deep fried/breaded
– Stir-fries that include pineapple and pineapple sauce
Low Carb Chinese Food Main Course:
– Steamed protein (chicken, steak, or shrimp) and low carb veggies
– Stir Fries – ask that no cornstarch is used
– Look for thin, savory sauces over thick, sweet ones. Your taste buds can usually tell if a lot of sugar is used in the sauce… you just have to listen
This is a great time to ask your server about the ingredients used in the sauce to see if they fit with your plan. Here are some dishes that tend to be lower in carbs, but again ask your server to see how the restaurant preps:
– Sizzling Shrimp Platter
– Peking Duck (avoid the pancake and the sauce)
– Moo Shu Pork (avoid the pancake and the sauce)
– Egg Foo Yung (without the gravy)
– Chicken with mushrooms
– Moo goo gai pan
– Szechuan prawns
– Curry chicken/shrimp
Carbs in Chinese Food — Popular Dishes
Although this isn't every dish you'll find on the menu, here's the carbs in Chinese food based on a few of the most popular dishes:
Carbs in Chinese food beef and broccoli
This popular dish is higher in carbs than you may think. According to Panda Express' nutritional info, it's got 13 grams of carbs, 9 grams of protein and 7 grams of fat – Imma skip this one.
Carbs in kung pao chicken
This chicken peanut and veggie dish contains 14 grams of carbs, 16 grams of protein and 19 grams of fat (again according to Panda Express).
Is Chinese chicken and broccoli low carb?
This is another dish in which a cornstarch has probably been used. Ask you server before ordering!
Cooking Low Carb Chinese at Home
If you're looking for more low carb Chinese choices, I strongly suggest cooking at home! You'll have more control over what goes into your meal, and the substitution are endless. Here are some of my favorite ingredients for low carb Chinese food:
Low carb rice Substitutes 
Rice isn't exactly one of the low carb grains, however there are tons of low carb substitute for rice that taste almost as good (plus most of them are loaded with nutrients!)
Cauliflower rice
Miracle rice – these are worth a try! Made from the Konjac plant, they contain no calories or carbs (crazy I know). They have a different consistency, let us know what you think! (buy them here)
Low Carb Noodles Substitutes
Vegetable Noodles are pretty dang cool. Try zucchini, summer squash or butternut squash for your best bet and toss them in your favorite low carb sauce!
Miracle noodles – same concept/brand as above, but in noodle form. (buy them here)
Explore Asia Noodles – this option may not be for everyone as they may be higher in carbs, but I had to share because I love them! 2 oz of noodles has 25 grams of protein! (buy them here)
Cornstarch Substitutes
Arrowroot Powder works just as well. It's the same amount of carbs as cornstarch, but I find I use less for the same result.
You can skip tenderizing, you may be surprised that there isn't a huge difference.
Low Carb Flours + Breading Substitutes
Almond flour and coconut flour are great low carb flours — but for that thicker crunch, I'd opt for pork rinds or sesame seeds.
The Oil – worth the splurge
I know having a pantry full of fancy oils can get expensive, but when cooking low carb Chinese food, it'll add a TON of flavor to your dish, while sparing you the carbs.
Here are my go-to cooking oils for Chinese food:
Sesame Oil. Adds a tasty, nutty flavor to your dish that you can't get away with in many other types of cuisine. So tasty.
Canola Oil. Not strong in flavor so it doesn't take away from the yummy food you're frying up – but it's perfect for cooking high heat items – needed for stir fries.
*All nutritional information pulled from USDA Food Composition Databases (unless otherwise noted)
Conclusion
So, next time you're craving a cozy night on the couch or heading to your favorite Chinese food joint, you know just the low carb Chinese food to order. Stick to the 5 tricks to low carb Chinese food eating success, and you'll be one happy, low carb foodie!
Let us know your favorite Chinese food order below! Or share the low carb recipes for Chinese food you love!